NEW YORK -- Amare Stoudemire came into training camp looking the most physically fit he had been in years. He even said his posture improved and he grew an inch to 6-11.
But his game? That's been hunched over so far.
Stoudemire scored just 10 points in 22 minutes during Monday's 102-93 loss to the Magic. In the postgame locker room, he wore dark glasses and sat with his head slightly down.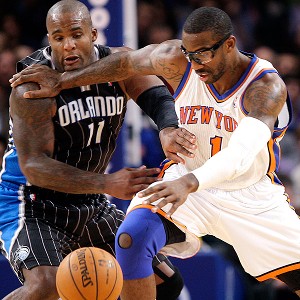 AP Photo/Seth Wenig
Monday's game was a struggle for Stoudemire."It's basically my fault out there. I'm taking all the blame for tonight's loss," he said. "I got into foul trouble. I didn't play many minutes in the first half. It definitely won't happen again."
The scene was reminiscent of Nov. 14, 2010, at the Garden. After the Knicks lost their fifth straight game, an obviously dejected Stoudemire said he was disgruntled with the team and said it needed to play with a greater sense of urgency. From that point, the Knicks went on to win 13 of 14.
Can Stoudemire back up another guarantee? First, he'll have to review the game film from Monday to see what went wrong.
After Stoudemire picked up two fouls in the first quarter, he was replaced by Josh Harrellson and never quite got into the flow of the offense during the game.
The Magic took advantage of Stoudemire's benching, and when he returned they went right at him harder. They were more aggressive attacking the basket and they swung the ball around well to the open outside shooter. In fact, the 17 3-pointers the Magic made tied the most by an opponent in Knicks history.
Stoudemire did find a spark at the start of the fourth quarter, scoring three straight baskets, including a thunderous one-hand dunk on Glen Davis that gave the Knicks a 85-83 lead with 7:41 remaining. But then the Magic went to a zone and Stoudemire hardly caught the ball from that point on.
Stoudemire credited the Magic for adjusting their defense to play keep-away with him. While he said the Knicks needed to move the ball better in the closing minutes, he said his guys still had a chance to win the game -- and he fell short for them.
"I was ready to rock," STAT said. "In the fourth quarter, I was telling myself, 'They can't keep a good man down.' So I was ready. I was amped up and ready to go in the fourth quarter. I figured in the fourth quarter it was time for me to really dominate, and that's what I started to do.
"But, again, it's my fault tonight. We lost the game because I got into foul trouble and it won't happen again."
STAT played like an MVP candidate last season, averaging 25.3 points and shooting 50 percent from the field. But through 13 games this season, with the Knicks standing at 6-7, Stoudemire's numbers are down across the board, except for his rebounding (8.1 per game).
Stoudemire didn't have a full training camp to adjust to a team with eight new players. Through 13 games, he's already played alongside three different starting point guards: Toney Douglas, Iman Shumpert and Mike Bibby.
Stoudemire is simply not tag-teaming with elite pick-and-roll talent yet -- although Shumpert has the potential one day. Baron Davis, who's slated to return at the end of the month, is obviously the short-term answer, but who knows what kind of playing (and conditioning) level he'll be at when he finally takes the court.
After the Magic game, Stoudemire gave his take on his early season's struggles.
"l'm still trying to figure it out," he said. "It's somewhat early, but I'm also trying to figure out my areas here in the offense. It takes a little time, but I'm staying with it, staying focused, staying confident and working through having a little bad stretch here, as far as basketball play. But I'm staying confident and continuing to work on my game.
"I worked extremely hard this summer, as hard as I've ever worked before. So I'm confident that the hard work will pay off."
You can follow Jared Zwerling on Twitter.