Carmelo Anthony couldn't make shots on Monday afternoon. Neither could his teammates. And it sounds like the mounting misses are starting to get to the Knicks' superstar.
"It seems like we can't shoot the ball in the ocean right now, everybody," Anthony said. "We get stops, but then on the other end we can't score the basketball. I don't know what is it. We just have to get out of that slump, that shooting slump. We've got to start making shots."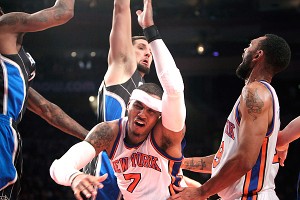 AP Photo/Seth Wenig
Carmelo Anthony shot just 9-for-27 on Monday.
Anthony was speaking in the collective "we" after Monday's loss to Orlando, but he could have easily pointed the finger at himself.
He missed 18 of 27 shots, including seven of his eight 3-point attempts against the Magic. He did finish with a game-high 33 points -- the fifth time he's cracked the 30-point mark this season -- but it came at a cost.
In the fourth quarter, Anthony missed his last three attempts of the game, giving Orlando the opportunity to turn a three-point lead into seven-point edge with 1:29 to play.
After the loss -- the Knicks' third straight -- Anthony defended his shot selection.
"A lot of them were wide open," he said. ".... I was trying to take advantage of the defense."
Mike D'Antoni also defended Anthony, who took close to 40 percent of the Knicks' shots on Monday.
"He's attacking and he should do that," the coach said.
All of the attacking took a toll on Anthony, who suited up despite a right ankle injury that forced him to miss Saturday's game at Oklahoma City.
Anthony tweaked the injury in the fourth quarter when he stepped on Hedo Turkoglu's foot. He also had trouble supporting his shot with his left wrist, which was sprained in a loss to Memphis.
"I couldn't really control the ball. So a lot of my shots were long, flat," Anthony said. "But that's neither here nor there. I'll get better at that."
Overall, the Knicks hit just 41 percent of their shots including an abysmal five of 20 from beyond the arc.
They are shooting 41.7 percent on the season, the fifth-worst rate in the league.
"I don't know what is it. We just have to get out that slump, that shooting slump. We've got to start making shots," Anthony said. "... We are playing defense but when you can't score the basketball, it makes it hard."
About an hour after the final buzzer, Anthony sauntered across the locker room with his right ankle heavily taped, his left wrist wrapped in a bandage. It was clear he was less than 100 percent.
So, by all means, give him credit for playing hurt on Monday. But his shooting really hurt the Knicks.
You can follow Ian Begley on Twitter.