Friday, December 17, 2010
Gallo goes silent in second half

---
By Ian Begley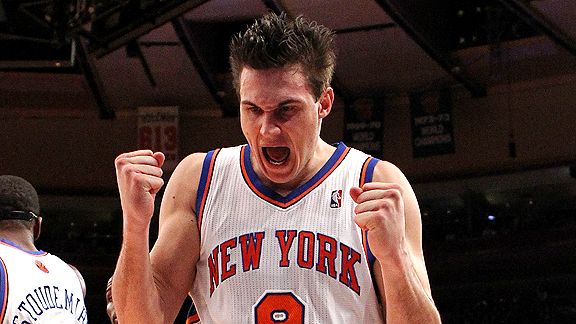 Al Bello/Getty Images

Danilo Gallinari had reason to be pumped about his 21-point first half, but the excitement didn't last.

Recap | Box score | Photos

After lighting up the Heat for 21 points in the first half, Danilo Gallinari had just four in the final 24 minutes.

The third-year forward had a simple explanation for his second-half struggles: LeBron James.

The most-hated man in Madison Square Garden was all over Gallinari after halftime, helping limit him to 2-of-8 shooting in the final two quarters of the Knicks' 113-91 loss to the Heat.

"LeBron was playing a different defense [in the second half] for sure," Gallinari said. "He was denying the ball and he was putting his body to me more."

Gallinari also said guarding James for large stretches of the game affected his energy on offense. James finished with 32 points, 11 rebounds and 10 assists.    

"For sure it is not easy. Because you have to run around and guard one of the best offensive players in the league. So it's not easy," Gallinari said. "You have to play on both sides."

After shooting 6-for-8 from the field in the first half, Gallinari got off just five shots in the third. Raymond Felton said Miami wasn't letting Gallinari get free off of the pick-and-roll early in the second half.

"That's what happens where you're hot like that," Felton said.

The Heat and Knicks were knotted up at 57-57 in the first half, but Miami quickly seized control with a 21-9 run in the first seven minutes of the third.

The Knicks shot just 30 percent in the second half and scored just 34 points.

"We started the second half and we missed some foul shots and we missed some shots we thought we could make," coach Mike D'Antoni said. "It deflated us a little bit."


---