Wednesday, April 13, 2011
Kemba: I'd be "thrilled" to be a Knick

---



Madison Square Garden has always been a second home of sorts for Bronx product Kemba Walker.

As a senior at Rice HS, Walker went head-to-head against Derrick Rose in a game played on the Garden floor.

He also put on a show at MSG during the 2011 Big East tournament.

What does Walker, who declared for the NBA Draft on Tuesday, think about the possibility of playing at the Garden full-time with the New York Knicks?

"I haven't thought about it but it would definitely be special definitely to have MSG as my home," Walker said on Wednesday after he threw out the first pitch at Yankee Stadium.

The Knicks have a first-round pick in the 2011 Draft, but they won't be selecting in the lottery. So, unless his stock free-falls before the draft, the Knicks will have to trade up to select Walker. But if it happens, Walker said he'd be happy to suit up for the Knicks.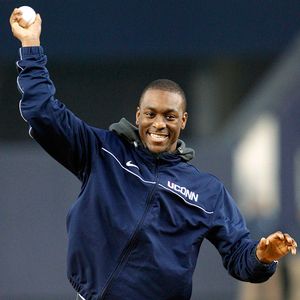 AP Photo/Kathy Willens
Connecticut guard Kemba Walker throws out the first pitch before the New York Yankees' baseball game against the Baltimore Orioles at Yankee Stadium Wednesday, April 13, 2011 in New York. Walker announced Tuesday that he will enter this year's NBA basketball draft.


"It would be amazing. Especially because I'm from New York so if that happened, I'd be thrilled," Walker said.  

Walker grew up in the Sack Wern housing projects in Soundview and played hoops at the Gauchos Gym, a deep three-pointer away from the Stadium.

But he said Wednesday night was the first time he'd ever set foot inside the Stadium.

"It was a place that everybody always wanted to go but you just never had the opportunity or the time really to go," he said. "I was always playing basketball."

Walker was at the Stadium with the rest of the Huskies as the Yankees honored the 2011 National Champs. Walker and his teammates hung out on the field during batting practice and sat in the dugout.

Walker chatted with Joe Girardi and shook hands with Derek Jeter. The Yankee manager asked him to sign a baseball for the Yanks.

"For those guys to come over and acknowledge us and tell us how great a run we had, it's cool," Walker said.

After the meet-and-greet, Walker took the mound and threw an outside pitch to Yankees catcher Russell Martin. The PA announcer called it a strike, but Walker knew better.

"That wasn't a strike," said a smiling Walker. He added that it was a privilege and an honor to throw out the first pitch in front of the Bronx faithful.

Walker announced his intention to enter the draft at a press conference in Storrs. He has yet to hire an agent, but he said that he'd likely made a decision in the next week.

He led UConn to the title on April 4. So what have the last nine days been like?

"It's been a crazy week since the championship. It's been a lot of fun," he said. He later added: "It's like a movie."

Walker is projected as the ninth overall pick by ESPN.com's Chad Ford. He says he is not concerned over the league's pending labor fight (the CBA expires at the end of the league's calendar year).

"Most likely it will, but that's not really a problem," Walker said. "Eventually basketball will come back. I think I put myself in a great situation to get picked up."


---