New York Knicks:

2014 NBA draft
June, 26, 2014
Jun 26
11:58
PM ET
By
Ian Begley
| ESPNNewYork.com
[+] Enlarge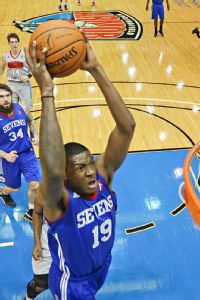 Chris Marion/NBAE/Getty ImagesThe Knicks hope Thanasis Antetokounmpo brings the boom to the 'Bockers.
The
Knicks
have selected
Thanasis Antetokounmpo
with the 51st pick in the second round of the 2014 NBA draft. He is the older brother of
Giannis Antetokounmpo
-- the "Greek Freak" who took the NBA by storm last season in Milwaukee.
Here's a quick look at Antetokounmpo:
The athletic, 6-foot-6 wing had a strong showing in the D-League last season with the Delaware 87ers. Antetokounmpo has a seven-foot wingspan and is viewed as a strong finisher at the rim. His biggest attribute for the Knicks could be on defense.
Thanks to his wingspan and athleticism, Antetokounmpo is seen by some as a strong defender. He also has a quick first step and is an excellent finisher at the rim, though he needs to improve his jump shot.
Knicks take French center with 57th pick:
The Knicks acquired the 57th pick in the draft for cash from Indiana, which selected French center
Louis Labeyrie
. The 6-foot-10, 22-year-old played last season with Paris-Levallois, averaging 2.3 points, 2.7 rebounds and 0.5 blocks in 12.8 minutes per game.
June, 25, 2014
Jun 25
7:55
PM ET
By
Ian Begley
| ESPNNewYork.com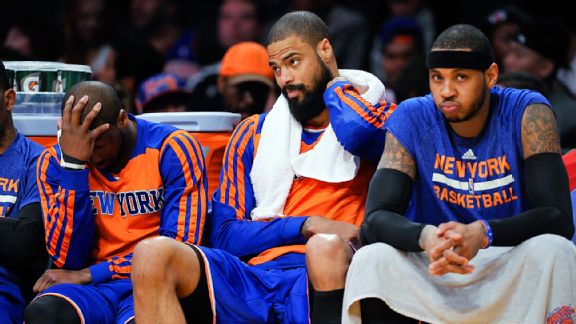 Robert Hanashiro/USA TODAY SportsWednesday's trade might give Melo confidence in the Knicks' ability to compete in the East.
The
New York Knicks
and
Dallas Mavericks
have completed a deal
to send
Raymond Felton
and
Tyson Chandler
to Dallas in exchange for
Jose Calderon
,
Samuel Dalembert
,
Shane Larkin
,
Wayne Ellington
and the 34th and 51st picks in the Thursday's draft.
Here is what the deal means for the Knicks:
Good for Melo?
One of the primary goals for
Carmelo Anthony
in free agency is to put himself in a position to win immediately. This trade, on its surface, appears to leave the Knicks in a position to be more competitive than they were before it. Therefore, it might give Melo confidence that the Knicks can at least compete in the East in 2014-15.
As Anthony said in a recent interview, "The average person is looking at it as, 'Next year you win the championship if you go here.' We're looking at the big picture here now."
How did the Knicks get better in this deal?
[+] Enlarge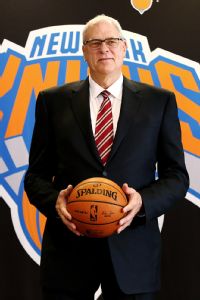 Nathaniel S. Butler/NBAE/Getty ImagesPhil Jackson made his presence felt in a big way with Thursday's deal with the Mavericks.
Felton struggled on both ends of the floor last season, so the Knicks have upgraded at point guard with Calderon.
Chandler also had a down season -- by his standards -- but the Knicks might be hard pressed to find someone Chandler's equal when it comes to rebounding and protecting the rim. Dalembert, based on recent seasons, would be a downgrade at the center position from Chandler.
But this trade might have also helped the Knicks in other ways this summer.
Depending on if they decide to waive Dalembert or not, the Knicks might also end up under the salary cap. If they do end up under the cap, they might be able to use a larger exception than the taxpayer exception (which starts at $3 million), which is currently at their disposal, in free agency this summer.
This might help them attract another significant rotation player to New York and, in turn, make Carmelo more apt to re-sign.
[Update: I have more accurate information on the potential Knicks' exception here. The Knicks actually would only get a better exception if they let Carmelo walk.]
It's worth noting, though, that Anthony and Chandler were close. Still, Anthony had to look at Chandler's situation and realize that he wasn't a part of the team's long-term future. So the notion of Chandler not being around next season shouldn't sway Anthony greatly -- in terms of his views on re-signing with the Knicks -- one way or another.
That said, could Chandler's presence in Dallas make the Mavs a more attractive destination for Anthony this summer? We'll have to wait and see on that.
Phil makes presence felt:
Chandler wasn't happy with how things went last season. Publicly and privately, he expressed his frustration with ex-coach Mike Woodson's defensive schemes and the idea that the Knicks were about to retool the roster.
So we wouldn't be surprised if Chandler went to management with his concerns and it, in turn, decided to deal him.
Jackson sending Chandler out a year before his contract ends is a sign that the Zen Master is willing to make major moves to overhaul the team as soon as possible. It's also a sign that he might be aggressive in making trades and chasing available free agents
this
summer despite the Knicks' limited resources.
Any attractive piece he adds this summer could help in courting Carmelo this summer and other free agents in future offseasons.
Cap implications:
If the Knicks keep all of the players in this trade, they will have saved $3 million in cap space for 2014-15 but forfeited $5.2 million in cap space in the summer of 2015, when they are expected to chase big-name free agents.
Calderon is under contract through 2016-17 at between $6.7 million and $7.7 million per season. Dalembert's contract for next season is a team option for $3.8 million. He has $1.8 million in guaranteed money. Ellington is under contract for $2.7 million for 2014-15. Larkin is on a rookie contract through 2017-18.
Felton was on the books through 2015-16, owed a total of $7.6 million. Chandler was under contract through the 2014-15 season for $14.6 million.
Depending on what they do with Dalembert, this deal could save the Knicks between $3 million and $5 million in salary after this transaction. If they decide to cut Dalembert, they could be under the projected salary cap of $63.2 and have a larger salary-cap exception to use in free agency.
It is unclear at this point what their plans are for Dalembert. Also, it's worth noting the Knicks can immediately trade in a separate deal the players they've received from Dallas. If they don't trade them immediately, they'd have to wait 60 days to do so, per collective bargaining agreement rules.
What about Calderon?
Calderon is a strong shooter but struggles on defense. His shooting can be a big asset in the triangle offense and is an upgrade from Felton, who shot 39 percent from the floor last season and just 31 percent from beyond the arc.
Calderon averaged 11.4 points and handed out 4.7 assists last season. He hit 45 percent of his 3s.
Also, as Bleacher Report's Howard Beck notes, Calderon is close with
Memphis Grizzlies
center
Marc Gasol
, who is a free agent in 2015, so Calderon could be counted upon to do some recruiting for the Knicks that summer.
And the picks?
The Knicks had been trying to deal for a first-round pick and also hoped to get a second-round pick between 30 and 40. The Knicks might target a big man like Florida's
Patric Young
, whom they worked out, with the 34th pick.
Question: Do you like this trade? Do you think it will help the Knicks keep Carmelo?

You can follow Ian Begley on Twitter.
June, 4, 2014
Jun 4
8:28
PM ET
By
Ian Begley
| ESPNNewYork.com
P.J. Hairston
will work out for the
Knicks
on Thursday, according to ESPN's Jeff Goodman. Goodman reports that the Knicks will also look to trade for a first-round pick, which could be construed as a sign of their interest in Hairston.
The 6-foot-5 shooting guard is projected as a mid-to-late first-round pick by ESPN's Chad Ford, so if the Knicks are serious about acquiring Hairston, they might have to get into the first round to draft him.
[+] Enlarge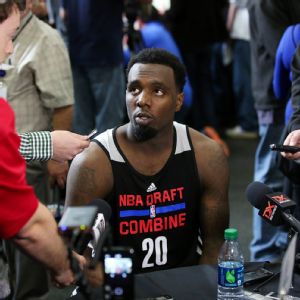 Gary Dineen/NBAE/Getty ImagesP.J. Hairston will work out Thursday for the Knicks, who don't have a pick in this year's draft ... yet.
New York doesn't currently own a pick in the 2014 draft. It dealt its first-round pick to the
Denver Nuggets
in the
Carmelo Anthony
trade and its second-round pick to the
Houston Rockets
in the Marcus Camby trade.
Team president Phil Jackson had previously stated that the Knicks would be interested in buying a draft pick if there is a player worth acquiring.
"Teams do sell draft picks," Jackson said last week. "We are going to approach teams and ask them if they're willing to allow us to buy a draft pick if we feel like there's a player we want to have at a position that comes up. So that's a bang-bang situation."
Jackson said it is unlikely that the Knicks will be able to acquire a first-round pick, but if the right situation presents itself, they would likely listen.
Would Hairston be a good fit for the triangle offense? A skilled scorer with deep shooting range, Hairston averaged 21 points on 45 percent shooting in the D-League last season after being suspended and eventually dismissed by North Carolina.
The Hairston workout is intriguing because the Knicks currently have depth at shooting guard. With rookie
Tim Hardaway Jr
.,
Iman Shumpert
and
J.R. Smith
on the roster, the Knicks have a veritable logjam at the position. Would they look to move Shumpert or Smith in a deal to acquire a first-round pick in order to take Hairston?
This is all conjecture, of course, but, given Hairston's workout, it's worth considering.
In other draft news, the Knicks worked out Florida center
Patric Young
on Wednesday.
You can follow Ian Begley on Twitter.