New York Knicks:

All-Star
February, 7, 2013
2/07/13
7:19
PM ET
By
Jared Zwerling
| ESPNNewYork.com
The NBA announced Thursday night that Knicks forwards
Steve Novak
and
James White
will participate in All-Star Saturday night competitions on Feb. 16 in Houston.
Novak will participate in the 3-point shootout, along with
Ryan Anderson
(Hornets),
Matt Bonner
(Spurs),
Stephen Curry
(Warriors),
Paul George
(Pacers) and
Kyrie Irving
(Cavaliers).
"He may be the best shooter in the league,"
Charles Barkley
said of Novak on TNT during the announcement.
White will be in the dunk contest, along with
Eric Bledsoe
(Clippers),
Jeremy Evans
(Jazz),
Kenneth Faried
(Nuggets),
Gerald Green
(Pacers) and
Terrence Ross
(Raptors).
In addition to White and Novak,
Carmelo Anthony
and
Tyson Chandler
will be in Houston, suiting up for the Eastern Conference All-Star team.
You can follow Jared Zwerling on
Twitter.
December, 27, 2012
12/27/12
3:38
PM ET
By
Jared Zwerling
| ESPNNewYork.com
Carmelo Anthony
is the second frontcourt player in the latest Eastern Conference All-Star voting, released by the NBA on Thursday.
LeBron James
is first with 970,314 votes and Melo has 891,759.
Both players lead the East, but
Kobe Bryant
is No. 1 overall with 977,444 votes and
Kevin Durant
has 924,898. Also for the Knicks,
Tyson Chandler
is fifth on the East frontcourt list with 260,000 votes and
Amar'e Stoudemire
, who could return on Jan. 1 against the Trail Blazers, is 10th with 90,996. In the backcourt,
Raymond Felton
, who could be out until right before All-Star Weekend in Houston, is seventh with 66,745 votes.
Here's the entire Eastern and Western Conference leaderboard:
EAST
Frontcourt:
LeBron James (Heat) 970,314; Carmelo Anthony (Knicks) 891,759;
Kevin Garnett
(Celtics) 328,716;
Chris Bosh
(Heat) 308,194; Tyson Chandler (Knicks) 260,000;
Paul Pierce
(Celtics) 171,601;
Joakim Noah
(Bulls) 129,331;
Josh Smith
(Hawks) 111,260;
Anderson Varejao
(Cavaliers) 99,955; Amar'e Stoudemire (Knicks) 90,996;
Shane Battier
(Heat) 88,800;
Andrew Bynum
(Sixers) 84,939;
Luol Deng
(Bulls) 76,400;
Brook Lopez
(Nets) 67,991; and
Jeff Green
(Celtics) 52,785
Backcourt:
Dwyane Wade
(Heat) 645,875;
Rajon Rondo
(Celtics) 574,272;
Deron Williams
(Nets) 309,778;
Kyrie Irving
(Cavaliers) 258,193;
Ray Allen
(Heat) 195,142;
Monta Ellis
(Bucks) 71,287; Raymond Felton (Knicks) 66,745;
Jrue Holiday
(Sixers) 56,683;
Jason Terry
(Celtics) 52,833; and
Brandon Jennings
(Bucks) 49,122
WEST
Frontcourt:
Kevin Durant (Thunder) 924,898;
Dwight Howard
(Lakers) 616,150;
Blake Griffin
(Clippers) 489,795;
Tim Duncan
(Spurs) 299,434;
Pau Gasol
(Lakers) 197,377;
Kevin Love
(Timberwolves) 189,949;
Omer Asik
(Rockets) 131,002;
Rudy Gay
(Grizzlies) 125,562;
Serge Ibaka
(Thunder) 111,963;
Marc Gasol
(Grizzlies) 99,271;
Zach Randolph
(Grizzlies) 97,778;
LaMarcus Aldridge
(Trail Blazers) 97,090;
Dirk Nowitzki
(Mavericks) 93,491;
Metta World Peace
(Lakers) 85,279; and
Chandler Parsons
(Rockets) 78,235
Backcourt:
Kobe Bryant (Lakers) 977,444;
Chris Paul
(Clippers) 542,564;
Jeremy Lin
(Rockets) 496,133;
James Harden
(Rockets) 283,691;
Russell Westbrook
(Thunder) 232,074;
Steve Nash
(Lakers) 166,262;
Tony Parker
(Spurs) 111,032;
Ricky Rubio
(Timberwolves) 96,466;
Stephen Curry
(Warriors) 78,380; and
Manu Ginobili
(Spurs) 70,813
Balloting will conclude on Jan. 14, and starters will be announced live on TNT on Jan. 17 during a special one-hour pregame show at 7 p.m. ET, featuring Ernie Johnson,
Charles Barkley
, Shaquille O'Neal and
Kenny Smith
.
You can follow Jared Zwerling on
Twitter.
November, 13, 2012
11/13/12
6:44
PM ET
By
Ian Begley
| ESPNNewYork.com
Carmelo Anthony
,
Tyson Chandler
,
Amar'e Stoudemire
and
Raymond Felton
are the Knicks on the All Star ballot.
Anthony leads the NBA in scoring average (27.3 per game), Chandler has been a defensive force for the 4-0 Knicks, who are the league's top defensive club. And Felton has helped the Knicks lead the league in assists and assist-to-turnover ratio entering play Tuesday.
Stoudemire, though, is a curious addition.
The forward has missed the first four game thus far as he recovers from knee surgery and isn't expected to return until mid December.

Ex-Knicks on the ballot include
Chauncey Billups
(Clippers),
David Lee
(Warriors),
Danilo Gallinari
(Nuggets),
Zach Randolph
(Grizzlies) and
Jeremy Lin
(Rockets).
Fans elect the All Star starters from among the players on the ballot.
The rest of the team is voted on by the coaches.
Fans can
vote on NBA.com
, Twitter and Facebook.
You can tweet a vote for one player per day. The tweet must include a player's first and last name, along with hash tag #NBABALLOT. Facebook voting will allow fans to fill out one full ballot (three in the frontcourt and two guards from each conference) per day, through a custom application on Facebook.
Fans can also vote via text message by texting the player's last name to 6-9-6-2-2 ("MYNBA"). Fans can vote for up to 10 players per day via text.
Balloting will conclude on Jan. 14, and starters will be announced live on TNT on Jan. 17.
The NBA All-Star ballot lists 120 players -- 60 each from the Eastern and Western conferences -- with 36 frontcourt players and 24 guards from each conference comprising the list. Fans select three frontcourt players and two guards from each conference. Previously, the ballot featured three positions with fans picking two guards, two forwards and a center.
The 120 players on the ballot were selected by a panel of media who regularly cover the NBA:
Steve Aschburner (NBA.com), Jonathan Feigen (Houston Chronicle),
Doug Smith
(Toronto Star/PBWA), and
Kenny Smith
(TNT).
Question:
Do you agree with the Knicks on the ballot? Would have have added anyone? Taken anyone off?
Let us know your thoughts in the comments section below.
You can follow Ian Begley on Twitter.
February, 25, 2012
2/25/12
10:58
PM ET


ORLANDO, Fla. -- Team New York, consisting of Knicks guard Landry Fields, former Knicks star Allan Houston and Cappie Pondexter of the WNBA's Liberty, won the Shooting Stars event on All-Star Saturday Night.

Houston hit the half-court shot in both rounds for New York, which recorded the two best times of the competition, 38.7 seconds in the first round and 37.3 in the final.

New York defeated Team Texas in the final round. Team Texas consisted of Rockets forward Chandler Parsons, former Rockets point guard Kenny Smith and Sophia Young of the WNBA's Silver Stars.

Team Orlando consisted of Magic point guard Jameer Nelson, former Magic forward Dennis Scott and three-time WNBA All-Star Marie Ferdinand-Harris.

Team Atlanta featured Hawks guard Jerry Stackhouse, former Hawks guard Steve Smith and Lindsey Harding of the WNBA's Dream.
February, 24, 2012
2/24/12
3:42
PM ET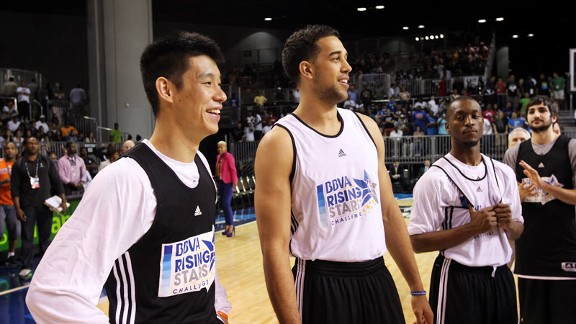 Joe Murphy/NBAE via Getty ImagesJeremy Lin, Landry Fields, Kemba Walker and Ricky Rubio at Friday's practice.
Jeremy Lin
and
Landry Fields
, the Knicks' starting backcourt, will be teammates in the Rising Stars Challenge at 9 p.m. in Orlando, Fla.
The event was formerly known as the Rookie Challenge and pitted the best second-year players against top rookies during All-Star weekend. The format is different this year: TNT analysts
Shaquille O'Neal
and
Charles Barkley
conducted a draft and built teams with a mixture of first- and second-year players.
Lin and Fields will play for Team Shaq. Nets rookie
MarShon Brooks
will play for Team Chuck.
Other players with ties to New York and New Jersey:
• Bobcats guard
Kemba Walker
of Team Shaq is a Bronx native who played for Rice High School in Harlem.
• Cavaliers guard
Kyrie Irving
of Team Chuck played for St. Patrick's High School in Elizabeth, N.J.
• Cavaliers forward
Tristan Thompson
of Team Shaq spent two years at Saint Benedict's Prep in Newark, N.J.
• Jazz forward
Derrick Favors
of Team Chuck was drafted by the Nets and traded to Utah in the
Deron Williams
blockbuster.
TEAM SHAQ
•
Norris Cole
, Heat
•
Landry Fields
,
Knicks
•
Blake Griffin
, Clippers
•
Brandon Knight
, Pistons
•
Jeremy Lin
,
Knicks
•
Greg Monroe
, Pistons
•
Markieff Morris
, Suns
•
Ricky Rubio
, Timberwolves
•
Tristan Thompson
, Cavaliers
•
Kemba Walker
, Bobcats
TEAM CHUCK
•
Kyrie Irving
, Cavaliers
•
DeMarcus Cousins
, Kings
•
Derrick Williams
, Timberwolves
•
Paul George
, Pacers
•
MarShon Brooks
,
Nets
•
John Wall
, Wizards
•
Evan Turner
, 76ers
•
Gordon Hayward
, Jazz
•
Kawhi Leonard
, Spurs
•
Derrick Favors
, Jazz