New York Knicks:

Allan Houston
October, 8, 2014
Oct 8
12:26
PM ET
By
Ian Begley
| ESPNNewYork.com
The Knicks have hired Kevin Whitted to coach their D-League team.
The Westchester Knicks announced the hire on Wednesday morning.
Whitted was teammates with Westchester Knicks GM
Allan Houston
in Tennessee.
He also has experience coaching professional basketball. He coached for three seasons as an assistant in the D-League. Whitted has also been nationally recognized as a basketball skills developer, training and developing elite level players in the NIKE Skills Academies.
"This is an incredible opportunity and I am very excited to be in Westchester," Whitted said in a statement. "I look forward to working closely with Allan and the entire Knicks organization in building a development system that is both fruitful and competitive."
Houston said that he wanted a coach who has a working knowledge of the D-League and one who can coach the system Knicks coach Derek Fisher uses with the NBA club.
It is unclear how well Whitted knows the triangle. The coach will speak to the media on Thursday in an introductory press conference.
Said Houston: "Kevin has a proven track record of developing players and is committed to the processes and development of this team. Our relationship goes back to when we both attended the University of Tennessee. I'm confident in his ability to lead and provide an environment for players to grow on and off the court. This is an exciting time for this organization and community."
Former Bulls guard Craig Hodges was considered for the Westchester Knicks head coaching position. He could be added as an assistant to Whitted's staff.
Knicks ink Mbenga: Phil Jackson announced on Wednesday that the Knicks signed 7-0 center Didier Mbenga. Mbenga was likely signed to a training camp deal. Mbenga won two titles in Los Angeles under Jackson. He most recently played overseas.
You can follow Ian Begley on Twitter.
September, 26, 2013
9/26/13
3:33
PM ET
By
Ian Begley
| ESPNNewYork.com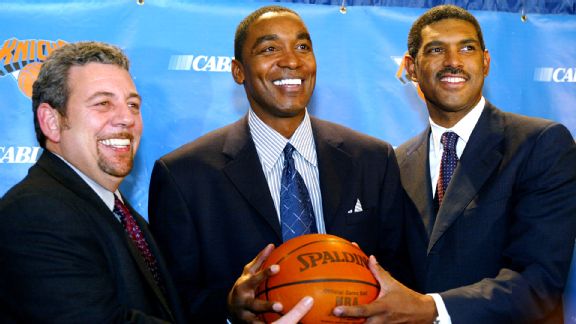 REUTERS/Mike SegarSome see these guys as an unholy trinity. Will they be reunited? Or is two out of three not so bad?
NEW YORK -- The Knicks announced Thursday that former team executive Steve Mills will be back in the fold,
replacing GM Glen Grunwald
. Here's what the move may mean for the organization going forward:
BIGGER ROLE FOR ALLAN HOUSTON:
Houston, the Knicks' assistant general manager, will likely see his profile and responsibilities grow now that Grunwald is out. Mills is a top-notch executive with solid connections around the league, but he is not known as a talent evaluator. It's fair to assume that Houston, a longtime Knicks player with close ties to team owner and MSG chairman James Dolan, will play a bigger role in talent evaluation and personnel decisions. Houston will likely be aided by fellow Knicks veteran personnel men Mark Warkentien and
John Gabriel
along the way.

WILL ISIAH THOMAS BE BACK?
Probably not in any official capacity. Mills previously worked with the Knicks for 10 years as president of MSG Sports (Dolan oversees MSG as its executive chairman) and hired Thomas to run the Knicks. But Thomas and Mills reportedly had a falling out over how things unfolded during the Anucha Browne Sanders sexual harassment lawsuit. Browne Sanders, the Knicks' former senior vice president of marketing and business operations, successfully sued MSG; a jury in October 2007 ordered the Knicks to pay her $11.6 million after finding she endured crude insults and unwanted advances from then-coach Thomas.
Don't forget, though: Thomas will always have Dolan's ear as an unofficial adviser. Dolan admitted as much when his attempt to hire Thomas fell through in 2010.
WHY NOW?
It's certainly strange to shake up the front office with training camp practice set to start Tuesday. One thing is clear: Dolan was not comfortable with Grunwald running the team heading into what could be its next overhaul in 2015. The contracts of
Amar'e Stoudemire
,
Tyson Chandler
,
Andrea Bargnani
and
Carmelo Anthony
will come off the books going into the 2015-16 season, so the Knicks will have a chance to overhaul the roster in the summer of 2015. The team hopes that Anthony, who can opt out of his contract after this season, can be a part of that overhaul.
Dolan could have been upset over the Nets winning the battle of the headlines this summer from the Knicks. That would be a petty reason to get rid of Grunwald, who did a solid job in the offseason, given the Knicks' cap situation.
There's also a theory among those familiar with the Knicks' politics that Thursday's move paved the way for Houston to take over as president and GM in the future. Elevating Houston to president and GM now would make him culpable for Grunwald losing his title. Grunwald will remain with the Knicks as an adviser.
TROUBLE FOR MIKE WOODSON?
The reassignment of Grunwald may mean less job security for the Knicks' head coach. Woodson's contract has a team option for next season. With Grunwald out, there is one less voice in the room to support the coach when the front office and Dolan discuss Woodson's future. Woodson and Grunwald are close. The pair, along with Thomas, played college basketball together at Indiana University.
BRINGS BACK BAD MEMORIES:
Mills presided over the Knicks during a troubling period both on the court and in the courthouse. As mentioned, he served as the president of MSG Sports during the Browne Sanders sexual harassment suit. He also ran the team during a period of poor on-court results. After Mills hired Thomas in 2003, New York missed the playoffs in six of the next seven seasons.
QUESTION:
What do you make of the Knicks' decision to bring in Mills and demote Grunwald?
You can follow Ian Begley on Twitter.
March, 2, 2012
3/02/12
10:55
AM ET
By
Ian Begley
| ESPNNewYork.com
In the wake of Steve Novak's remarkable night against Cleveland, ESPNNewYork.com's Ian O'Connor posted an interesting question on Twitter on Thursday afternoon.

If you had to pick one player for a sudden-death, open three-pointer, would you pick:

A) Allan Houston
B) Bill Bradley
C) Trent Tucker
D) Steve Novak

If you're drawing up the play, who gets the ball?

Let us know in the comments section below.
October, 18, 2011
10/18/11
2:22
PM ET
By
Jared Zwerling
| ESPNNewYork.com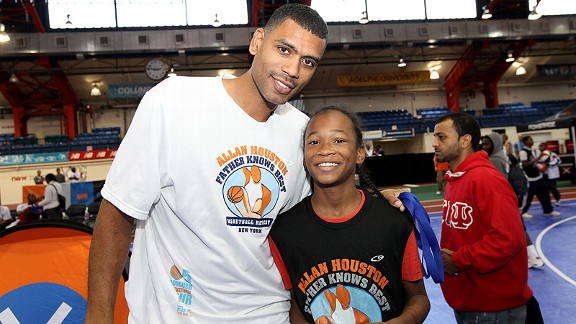 Monica Schipper Photography
Allan Houston poses with one of the attendees at his "Father Knows Best" program on Saturday.
How many pro athletes can get to say they've been recognized by the President for their community work? For one of the purest shooters to ever play in the NBA,
Allan Houston
, that's probably the biggest swish in his career.
This year, Houston received the President's Council on Service and Civic Engagement Award from the Obama administration. When Houston's not manning his posts as Assistant GM of the Knicks and GM of the D-League's Erie BayHawks, he's running his Legacy Foundation, which includes the "Father Knows Best" program. Its mission is to provide a unique combination of basketball and relationship-building activities for fathers, children, mentors and mentees, emphasizing leadership, communication and the importance of spending quality time together. Some of the statistics are staggering: According to the National Fatherhood Initiative, 90 percent of all runaway and homeless children are from fatherless homes; 75 percent of all adolescent patients in chemical abuse centers come from fatherless homes and 71 percent of high school dropouts come from fatherless homes.
On Saturday, the iStar Charity Shootout Five Borough Basketball Tour hosted the "Father Knows Best" program to raise money for Houston's fatherhood initiative. 2,500 participants took part in basketball clinics and relationship development. During the event, I sat down with Houston, who is currently co-producing a film project addressing fatherlessness, for a candid conversation about the issues he's tackling.
Jared Zwerling: How was today's experience?
Allan Houston:
I just love getting a chance to hear from the young men and women. The uniqueness of our event is that you feel like, as a coach and as a father, you're talking with other fathers and coaches about the impact they're having on the kids' lives. So then what you do is you translate that on the court. You teach a father, coach or mentor how to do certain basketball drills, how to train them. On the court, it kind of translates because you're doing these drills together. Sometimes the father may make a mistake or something, or the daughter may make a mistake, but the message is that the job of a parent, a father, is to train them to be the best that they can possibly be according to our experience and knowledge. That's why we named it "Father Knows Best." That's our ultimate legacy. That's the most important thing. There are so many issues in society -- we talk about the violence, the drugs, the unwanted pregnancies -- but at the end of the day, it comes down to what we taught our children to be. This is where society has been affected. Kids going to school and stabbing someone. What makes a kid want to do that? Because he's missing something at home. We can't look at the aftereffect; we have to look at the source, so to me that's why this is important. Fatherhood, mentoring, teaching and training.
Zwerling: What do you try to instill in the fathers, mentors and coaches?
Houston:
First of all, as a man the most important thing you have in your life now is your child that you're carrying. That's it. Everything else comes second; personally, for me, other than your relationship with God and your wife. Let's talk about how you can be most effective at being a father. I had a conversation with a guy. He said, "This kid is having trouble; he's not listening to his mom." And so we just talked together and I broke it down. I said to the kid, "The bottom line is, your job when you graduate, you're going to have a coach, you're going to have an employer that's going to need to trust you that you can do your job, do what you're supposed to do. If you're not practicing that or working on that right now, you're going to fail. Talk to your mentor. Form those foundations and habits now. We're using the game of basketball to teach those deep truths and lessons to a seventh grader who doesn't have a dad. That's what it's all about.
Zwerling: What did it mean to you having your father, Wade, here today, looking back on your experiences with him and knowing what you learned about being a good father?
Houston:
First of all, to me, it's why this whole thing is here because if I hadn't had the experience, if I hadn't seen the example from him ... Every day that I wake up and I go to bed, my wife and I talk about, "Our kids are watching us. They're watching how I work, they're watching if I'm lazy. They're watching how I deal with anger. They're watching how I treat my wife. They're watching how I show love. They're watching me." So mentoring a father is all the same because they're watching. If you walk with somebody and you're with somebody, you're going to be like that person. I saw that. That's what I saw. He didn't have to say a lot at all. He's a man of few words, but whatever he said, it's like gold because he backs it up with his actions. To me, that's what's important. So all that everybody sees today, he can just sit back there and say, "Man, that's the proof."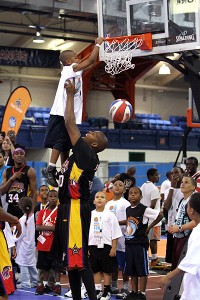 Monica Schipper Photography
During the day, kids of all ages took part in different basketball stations with their fathers, mentors and coaches, learning about proper instruction and the importance of teamwork, cooperation and respect for each other.
Zwerling: What issues do you hear from the kids?
Houston:
We don't get a chance to get into deep issues, but I did have a young man come up to me and say, "Man, I don't have a father. It's tough out here." I want to make sure there's a balance between us speaking with the fathers and speaking with the kids. So one of the things that we did is we asked 10-year-olds, 15-year-olds, "What kind of father are you going to be when you get older? What kind of mother are you going to be?" So they're thinking already, I want to be a father one day. And if you're not a father, you're probably a mentor to somebody and you don't even know it. You're a senior in high school; somebody's looking up to you right now. I think it comes back to the responsibility of someone to say, "It's bigger than me, I'm passing something on, it doesn't matter if you're 12, 18." If you're going from middle school to high school, then somebody's looking up to you.
Zwerling: What effect has your program had on your NBA peers?
Houston:
I don't know how we can access that because this is more about kids coming from communities without fathers around. We've had NBA players -- I can't name names -- and they come and really say, "This is a powerful thing that you're doing." Every NBA player, every athlete, I think once you get to this level in life, whether you have kids or you're about to have kids, understands that this is so much bigger than this sport. We played a video of
Dennis Rodman's
Hall of Fame speech.
After they saw that speech, they were stone-faced. I commend Dennis because at the end of the day, at the pinnacle of your career, you've got everything that millions and millions of people dream of doing, but you cannot understand why your father left you. The only regret you have is that you'd rather be a better father. To me, it doesn't get any more meaningful and foundational than that. And it came from his own words. I wanted them to understand that.
Zwerling: Did you feel like a big goal was accomplished today by teaming up with the iStar Charity Shootout?
Houston:
Oh yeah, because what they've allowed us to do is make a statement and a real presence in and around the New York metropolitan area. This is a statement we're making along with the Mayor's office, along with agencies that are committed to family services and fatherhood. We're making a statement that this is serious. This is an issue that needs to be talked about, addressed and people need to understand the magnitude of fatherhood and parenting because there's one thing I walk away with: We have to understand that we are creating the next generation by what we do. You can't fault some people because they haven't learned from their experience. Now we're trying to get into the trenches.
Zwerling: And making it bigger working with Obama, right?
Houston:
Look, everybody sees how important it is. What happens is there are so many layers and dynamics to it that you can't just say, "Alright, let's do something." There are so many services, there are so many people, there's so much money, programs. There's a lot that needs to be done. You have to talk about it first; you have to address it and make it known. People who have a voice collectively have to keep making noise.
Zwerling: Based on your success off the court, being a GM and running your Legacy Foundation, how important are those images for kids to understand that a Plan B is necessary?
Houston:
Oh man. This is the first time that it actually has come up from the kids, multiple times. I was surprised by how many kids came up to me and talked about after basketball. Somebody was like, "Well, how did you get paid after you retired?" Some parents came up to me and said, "You need to talk to them about why education really is so important." So we talked about salary cap stuff -- I didn't get into a lot of details -- but I broke it down to them that there's so much more than just the game of basketball and sports that you have to be prepared, trained and intelligent to read and think. Your habits have to be a certain way, so you can transition out of sports. If you don't establish those habits now, then it's hard when you're 20-something-years-old to start those kinds of habits. What you do on the court, off the court, in the classroom, it's all the same. Your habits, the way you treat class, your relationships -- it's all the same. Do it right or don't do it.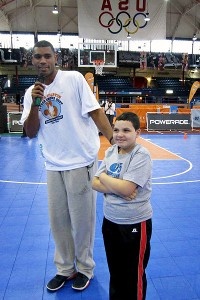 Courtesy of Anthony Donahue
A special guest named Gianna, 12, spoke about how her mentor and older brother, Anthony Donahue, host of TheKnicksBlog Radio, helped her battle back from brain cancer. Gianna, whose favorite Knicks player is Houston, is still not cancer-free, but she's on her way to a full recovery.
Zwerling: In your downtime, what do you enjoy doing with your kids?
Houston:
What is downtime (
laughs
)? You know what I like to do? I love waking up early, making them breakfast, taking them to school, having time in the morning with them. With six kids, it's like a reality show. I think having those conversations. We get up, we have time in the morning just to connect and we actually say a prayer before we get in the car. We want them to understand that it's not just your mind, it's your body, it's your spirit. Your spiritual being is the most important part of it because that guides everything else. First, you train that and then you can make healthy decisions, have a healthy perspective. My wife and I really try to talk to them a lot when they get home. My wife is great about staying on top of their study habits and what's going on with them socially. We just try to talk all the time. In between sports and other activities, we try to just support each other, be around each other all the time.
Zwerling: How do you hope to grow "Father Knows Best?"
Houston:
What today was is a launch. It's not just a launch for an initiative; it's a launch for an actual seven-week program called "FISLL," which is an acronym for faith, integrity, sacrifice, leadership and legacy. What we do is we have a program that the families come into once a week for seven weeks. We go through basketball stuff, we do workshops, we have a curriculum that we're giving them -- and with that curriculum, they're at home during the week addressing certain issues. It's like a mirror. You look in a mirror and say, "How can I help build my family and connect with my family?" After that seven weeks, we just try to measure and see how it's helped. The goal is to launch as many of these programs all over the city. We've been asked to bring it nationally, but we want to have a firm foundation. iStar is great because we're going to continue to help raise private or public money to where this program can truly grow. The blessing for me is that we've learned that you can do a camp like this, but unless you're going deep into the community ... And it's not just the projects. It's Greenwich, Connecticut, it's Westchester, it's Jersey. Everybody needs this talk. We don't want to put a band-aid on our problems that we keep talking about in society; we want to get down to the nitty gritty and do some surgery.
You can follow Jared Zwerling on
Twitter.