New York Knicks:

Amar'e Stoudmire
September, 19, 2014
9/19/14
10:22
AM ET
With training camp one week away, we're examining the burning questions facing the
New York Knicks
.
Today's question:
Who's the most important bench player?
This question is a little difficult to answer considering we don't know who Derek Fisher will start yet.
Will he start
J.R. Smith
or have Smith return to being the super sixth man again? Will
Iman Shumpert
start or be a critical sub for Fisher? How about
Tim Hardaway Jr.
?
If Smith were to come off the bench, he obviously would be the most important bench player. If Fisher wanted to bring Shumpert off the bench while starting Smith, then Shump would be the vital bench player who would have to provide critical defense and outside shooting.
My guess is that Fisher will start Shumpert and Smith at shooting guard and small forward to go with
Jose Calderon
,
Carmelo Anthony
and
Samuel Dalembert
. So operating under that assumption, my vote for most important bench player is
Amar'e Stoudemire
.
The reason? If Stoudemire can stay healthy, he gives the Knicks another dimension -- a big man who can score, rebound and block shots -- with All-Star experience. Yes, he may not be the same player he once was due to age and health. But entering his final season under contract, Stoudemire will be even more motivated than he already is, and that is saying quite a bit.
Last season, Stoudemire averaged 11.9 points, 4.9 rebounds and 55.7 percent shooting in 22.6 minutes a game. He played in 65 games; it's unclear how many games he can play this season for Fisher.
The Knicks will have to monitor Stoudemire's health and keep him fresh if they can make the playoffs. But Stoudemire showed glimpses of what he can do when feeling good last season. In 14 games during March, Stoudemire averaged 16.9 points, 6.6 rebounds, 56.9 percent shooting and 28.4 minutes.
While we don't expect Stoudemire to have those kind of numbers for this entire season, the Knicks can use a big man who can provide scoring punch to help Anthony. There will certainly be challenges ahead for Stoudemire. Besides trying to keep his knees healthy, he has to adapt his game to the triangle. Can he and will the Knicks allow him to play in back-to-backs?
But when feeling good, Stoudemire clearly gives the Knicks something they don't have much of, and that is a big man who can score in double figures -- sometimes with ease.
Fisher will have several key bench players, like Hardaway Jr., who will be looking to take another step forward and provide a spark with his outside shooting.
Andrea Bargnani
, who is also in a contract year, will give the Knicks some scoring if he can stay healthy.
Jason Smith
might be a solid fit in the triangle with his ability to knock down the midrange jumper.
Cleanthony Early
could provide the Knicks with length and athleticism if he can earn Fisher's trust as a rookie.
Quincy Acy
and
Travis Outlaw
provide Fisher with two veteran forwards.
Pablo Prigioni
will give Fisher a savvy point guard who can shoot. And
Shane Larkin
could be a wild card if the Knicks can tap his first-round potential.
But a healthy Stoudemire can add a different dimension off the bench -- a former All-Star scoring big man who is highly motivated in a contract season.
Question:
Who do you think is the Knicks' most important player coming off the bench?
June, 2, 2014
6/02/14
11:45
AM ET
If any NBA executive is interested in trading for players on the Knicks' roster, Phil Jackson is willing to listen.

Jackson
"I don't think it's any secret that everybody that we have on our roster is up for discussion, if we have other teams call us up," the Knicks president said on Friday. "I mean, we have players that are free agents in
Amar'e [Stoudemire]
,
Andrea [Bargnani]
,
Carmelo [Anthony]
,
Tyson [Chandler]
, guys that are in situations that are not to be discussed. But the roster that we have beyond that is open for discussion. And if people call up, want to talk about it, we'll discuss it with them."
Jackson mentioned Stoudemire, Bargnani and Chandler because those players are entering the final year of their contracts. The Knicks would like to let those contracts expire in order clear cap space for the summer of 2015. The market for those players may be stronger closer to the trade deadline because any team acquiring Chandler, Bargnani or Stoudemire would be responsible for only the remainder of their salaries, not the full salary.
But If Jackson gets an offer for the players mentioned above, that benefits the team, he probably wouldn't hesitate to strike a deal.
Jackson said Friday that he would not be opposed to taking on salary this summer –- and impact the Knicks' cap space for the summer of 2015 –- if he was presented with the right trade.
"It has to be part of a discussion," Jackson said of taking the Knicks' cap space in 2015 into consideration while making moves this summer. "But if we get back what we think we need to fill out the character and the type of player that we want to have, we're going to go forward with it anyway. We're not the only team that [is] going to be chasing these players [in 2015]. We have to understand that. We might feel that we have one of the best places in the world to play, but people are susceptible to their backgrounds and where they're from and families, etc. We understand that, chasing free agency, this team has been through it."
Speaking of free agents, the Knicks, of course, would listen to sign-and-trade offers for Anthony if they have assurances that he has ruled out re-signing with New York.
Jackson has also made it clear in the past that he won't hesitate to shake up the roster this summer, if the right opportunity presents itself. In a speech after the final game of the regular season, Jackson told the players that there will be personnel changes this summer.
"He said that there's going to be changes, some of us won't be in this room next year," said a Knicks player who heard Jackson's address.
Jackson said on Friday that he hasn't told any of the Knicks directly that he's looking to trade them.
According to a league source, the Knicks president told
Raymond Felton
during exit meetings that he would consider trading him in the offseason.
Jackson denied that on Friday.
"We're telling players, get yourself ready, start a 10 to 12 week program of exercise, weight training, conditioning so when you come back here you're not trying to get in shape in September. You are in shape so you're play in October. That's the message we've given," Jackson said.
Question: If you were Jackson, which Knicks would you look to trade this summer?
You can follow Ian Begley on Twitter.
April, 11, 2014
4/11/14
12:28
PM ET
By
James Herbert
| ESPNNewYork.com
Carmelo Anthony
can't afford to let his injured right shoulder affect him. The
New York Knicks
have four games remaining on their schedule, and it's possible their playoff dreams could be dashed on Friday.
They're in Toronto to face the third-seeded Raptors, while the eighth-place
Atlanta Hawks
are in Brooklyn. If the Nets and Knicks lose, Anthony and company will be mathematically eliminated from postseason contention.
Carmelo's status:
Anthony met the media for the first time since Sunday's game in Miami, and said he would play after getting some rest this week. "They didn't allow me to do too much," Anthony said. "I had like two days to just not do nothing, just get the treatment. And then yesterday I just shot, ran, no contact. So I'm trying to save all that for tonight."
He first hurt his shoulder when he got tangled up with Brooklyn's
Joe Johnson
last Wednesday and still doesn't know exactly what is wrong with it, but said it was a different feeling than when he tore his left labrum and rotator cuff late last season. Anthony does not expect to need surgery, and he doesn't see the need for tests.
"At this point, what is the test gonna do?" Anthony said. "If they say something's really bad with it, I'm still not going to sit out, so I'd rather just wait until it's all over with."
New York head coach Mike Woodson said he was not worried about Anthony saying he'd play no matter what.
"Melo's a competitor, he's a true pro and I wouldn't expect anything less," Woodson said. "I know he's gonna play."
Scoreboard watching:
While nursing his shoulder, Anthony kept his eyes on the Hawks, who earned a come-from-behind win against Boston on Wednesday that spelled trouble for the Knicks' playoff chances.
"Just to know what they're doing, watching them, and then knowing our situation, knowing my situation, it's been a hard week," Anthony said. "For us it's just do what we can do at this point, which is win tonight."
Woodson channel-surfed between Toronto's game against the
Philadelphia 76ers
and that Atlanta game, but said the result didn't make him didn't break any furniture. "I wasn't real happy going to bed, but what are you gonna do?" Woodson said. "We just gotta go figure it out ourselves and see what happens, and maybe have a little luck on our side."
Stoudemire
Must-win:
Woodson compared New York's tough task to what he faced as the coach of the Hawks in 2008, when his team qualified for the last spot in the East in the season's final week. Both
Amar'e Stoudemire
and Anthony did their best to stay positive.
"You gotta somewhat love it," Stoudemire said. "You gotta be optimistic about it. It brings out the best in you. It's a back-against-the-wall type of challenge, so you gotta look at it as a challenge and accept it."
"It's a big challenge," Anthony said. "As a competitor it's a fun challenge, too, because you gotta give it all you got at this point. There's no time for any mistakes, any slippage. But it is what it is right now. We have to win all four of these games. It's not a given if we win all four of these games that we still can get in there, but we have to do our part."
April, 5, 2014
4/05/14
12:40
AM ET
The
Knicks
' playoff hopes took a major hit Friday night.
The
Atlanta Hawks
' blowout win and New York's last-second loss to the
Washington Wizards
left the Knicks one game back of the eighth-place Hawks with five games remaining.
If the Knicks lose to the
Miami Heat
on Sunday, their season will essentially be on life support.
[+] Enlarge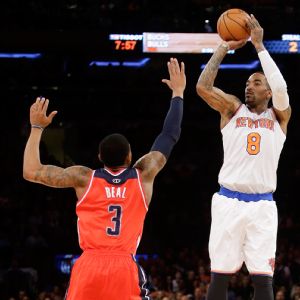 AP Photo/Frank Franklin IIJ.R. Smith pumped in 32 points against the Wizards, but it wasn't enough.
"We've been up against the wall this whole time. Miami's just another team we gotta go [through],"
Carmelo Anthony
said after his 10-point, nine-turnover outing in a one-point loss to the Wizards. "We've had some pretty good wins on the road. We wanna keep it up. We've got five games left. We wanna try to make this happen."
The Knicks are two games behind the Hawks in the loss column, and Atlanta holds the tiebreaker based on conference record. So if the Knicks and Hawks finish tied, the Knicks will not make the playoffs.
"It makes it extremely hard, but we put the pressure on ourselves from the beginning of the season to be in this situation,"
J.R. Smith
said after pouring in a game-high 32 points. "We don't have any choice but to come out fighting if we really want to make it, and I think we do, so I feel good about it."
The schedule also favors the Hawks, who, despite some recent talk of tanking, beat the
Cleveland Cavaliers
by 19 on Friday. Four of Atlanta's final seven games are against opponents under .500.
In fact, three of the Hawks' opponents (
Milwaukee Bucks
,
Boston Celtics
,
Detroit Pistons
) are a combined 100 games under .500.
If Atlanta wins three of its final seven games, New York would need to go 4-1 in its final five to get into the playoffs. If the Hawks go 2-5 to finish the season, the Knicks would get in if they went 3-2.
In other words, the odds are against the Knicks. That's why Friday's loss felt so deflating to
Amar'e Stoudemire
.
"It was right there for us to take. We just didn't take it," Stoudemire said.
The Knicks were up 89-88 with 33 seconds remaining, thanks to a
Raymond Felton
3-pointer. But
Bradley Beal
-- the same player who hit a game-winning layup against the Knicks in December -- hit a jumper coming off of a screen with 23 seconds to play to put the Wizards up one.
The Knicks then called a 20-second timeout to set up an ill-fated play that seemed a bit disjointed.
Coach Mike Woodson said he wanted to set up a play that would have allowed Anthony and Stoudemire to work in a two-man set, but the Wizards did a solid job denying Anthony the ball.
Anthony eventually got the ball from Felton, more than 25 feet from the basket, and tried to split two Wizards defenders on a drive. But the ball slipped out of his hands and ended up in the hands of Smith, who missed a fadeaway 3-point attempt at the buzzer.
"This one was tough," Felton said.
The loss left the Knicks in desperation mode. Now, they need to win nearly every one of their final five games -- starting Sunday in Miami -- to make the postseason.
"We should have won the game," Stoudemire said. "It's a game that we had in our hands, so we have no excuses now. We have to keep fighting, keep playing hard and see if we can win in Miami."
You can follow Ian Begley on Twitter.
April, 4, 2014
4/04/14
10:27
PM ET
Carmelo Anthony
picked the worst possible time to have one of his worst games of the season.
Anthony, who injured his right shoulder in the first half, had a season-high nine turnovers, missed nine of 14 shots and let the ball slip out of his hands with the game in the balance, as the
Washington Wizards
snuck out of Madison Square Garden with a 90-89 win Friday night.

The loss dropped the
Knicks
(33-44) a game behind the
Atlanta Hawks
(33-42) in the race for eighth in the East and two games in the loss column. Atlanta beat the
Cleveland Cavaliers
by 19 at home on Friday.
Anthony was diagnosed with a strained shoulder after the game. An X-ray came back negative, according to the Knicks. Anthony said he expects to play Sunday.
As far as the playoff race goes, four of the Hawks' final seven games are against teams with sub-.500 records.
More troubling for the Knicks' playoff chances? The Hawks own the tiebreaker based on conference record.
Bruised by Beal:
Once again, the Knicks can blame
Bradley Beal
for stealing a win away from them at the Garden.
Raymond Felton
had knocked down a 3-pointer with 33 seconds to play to give the Knicks a one-point lead, but then Beal knocked down a jumper with 23 seconds left to put the Wizards up one.
Beal also hit a layup with less than 10 seconds to play to give Washington a win at MSG in early December.
Anthony scored just 10 points on 5-for-14 shooting, and his turnovers crushed the Knicks.
J.R. Smith
led New York with 32 points -- hitting eight of 16 3-pointers -- but he also made a costly defensive mistake late in the game.
Off when it counted:
Anthony had a chance to win the game in the waning seconds, but as he tried to get a shot up, the ball slipped out of his hands. It was the end of a frustrating night for the Knicks star.
Smith had a fantastic night, but missed a last-second attempt from beyond the arc after the ball slipped out of Anthony's hand.
John Wall
had 19 points and eight assists for the Wizards. Beal finished with 28 points on 12-for-22 shooting.
Amar'e, Marcin go head to head:
Amar'e Stoudemire
turned back the clock to his Phoenix days in the third quarter -- he dunked on
Marcin Gortat
via a feed from Anthony. Prior to that sequence, Stoudemire blocked a Gortat dunk attempt, and Gortat dunked on Stoudemire.
Stoudemire finished with 16 points in 30 minutes but was off the floor for several key stretches in the fourth quarter. The Knicks were outscored 38-22 in the paint.
What's next:
The Knicks will host the
Miami Heat
on Sunday.
You can follow Ian Begley on Twitter.
April, 4, 2014
4/04/14
9:19
PM ET
It's looking more and more like
Andrea Bargnani
and
Kenyon Martin
won't return during the regular season.
Knicks
coach Mike Woodson said Friday that neither Bargnani nor Martin have started any on-court activity.
Martin, out since Feb. 3 with an ankle injury, said Wednesday he was getting closer to a return but didn't provide any specific details. Bargnani has been out since Jan. 24 with a torn ligament in his left elbow.
Amar'e Stoudemire
has taken Bargnani's spot in the starting lineup and is playing well. The Knicks are 12-3 since Stoudemire was inserted in the starting lineup.
If Bargnani does return, it will be interesting to see if his presence adversely impacts the Knicks' chemistry.
Melo's 62 honored:
Madison Square Garden honored
Carmelo Anthony
's record-setting, 62-point performance earlier this season with a visual retrospective at the Garden 366 exhibit on the Madison Concourse.
Anthony's 62-point night on Jan. 24 broke the franchise record previously held by Bernard King, who scored 60 back on Christmas Day 1984. Anthony also broke the Garden record of 61, set by
Kobe Bryant
on Feb. 2, 2009.
High expectations for Shumpert:
Phil Jackson said Thursday that he liked what he saw from
Iman Shumpert
against the
Nets
. Shumpert had four steals in the first half to help spark the Knicks to an easy victory.
Woodson also praised the third-year guard and said expectations are high for Shumpert. "Iman didn't play one game with me, as me being the head coach and I threw him right in as a starter. That's how much I believed in Iman based on his style of play and what he brought to the table," Woodson said. "That hasn't gone away. I just expect more from him. I think we all do. If he plays like he did the other night, he impacts the game, he changes the game *#133; so I'm pleased with his play. We're going to continue to push him, and he's got to continue to give us more. That's what we're looking for."
What's been the key to the Knicks winning 12 of their past 15?
"It's just been a lot of things going on with our ballclub," Woodson said. "The fact that [
J.R. Smith
] is playing better, [Stoudemire's] minutes have grown. He's playing at a high level. It makes life a little different. We got to continue on that pace if we're going to make the playoffs."
You can follow Ian Begley on Twitter.
February, 22, 2014
2/22/14
10:04
PM ET
By
Matt Winkeljohn | Special to ESPNNewYork.com
ATLANTA -- One night after banking one of the worst losses of the season in Orlando, Fla., the
Knicks
lost their grip on a very winnable game when the
Atlanta Hawks
rallied from a 17-point, third-quarter deficit to send New York home with a 107-98 loss that saddled the Knicks with a 1-3 road trip.
Carmelo Anthony
was his usual brilliant offensive self with 35 points -- although he managed seven in the fateful 39-25 fourth quarter -- and
Tyson Chandler
added a season-high 23 rebounds to go with 10 points.
New York, though, vanished on defense as the free-falling Hawks put together a 20-2 run over the end of the third quarter and the beginning of the fourth to take control for good and end an eight-game losing streak.
The hero?
Atlanta second-year forward
Mike Scott
, who scored a career-high 30 off the bench. He didn't start even though Hawks All-Star forward
Paul Millsap
was out with a right-knee contusion, and Atlanta coach
Mike Budenholzer
went with a small lineup that featured small forward
DeMarre Carroll
opening in the power spot.
Atlanta made 16 of 31 3-pointers.
What it means
: The Knicks and Hawks split their four-game season series. More importantly, New York fell another game behind Atlanta in the race for the final playoff spot in the East. The Hawks (26-29) lead the
Detroit Pistons
(23-32),
Cleveland Cavaliers
(22-34) and then the Knicks (21-35) by 5½ games.
The way it turned
: The Hawks scored on seven straight possessions wrapped around the end of the third quarter and the beginning of the fourth, including six straight 3-point shots. The first two came at the end of the third quarter to jump-start Atlanta's 20-2 burst.
A most excellent timeout
: As soon as Scott threw down an alley-oop on a pass from reserve guard
Louis Williams
early in the second quarter, Knicks coach Mike Woodson called timeout. With 9:35 left in the period, that fast break gave Atlanta a 33-23 lead after the Hawks had scored the first nine points of the period.
All the Knicks did from there was close the second quarter on a 29-6 run for a 52-39 halftime lead.
Anthony and
Amar'e Stoudemire
each scored eight points in the period, and Chandler added eight points and six rebounds.
Keep calm and move along
: Things got a bit frosty with 5:47 left in the third quarter when Anthony, Woodson and Carroll all drew technical fouls at a stop in play. It was not immediately clear what all of the fuss was about, but Anthony clearly was chirping aloud about something just moments earlier.
Only one free throw was taken, and Atlanta's
Kyle Korver
made it to shrink the New York lead to 63-49.
What's next
: After wrapping up a four-game road trip, the Knicks return home -- briefly -- for a Monday game against the
Dallas Mavericks
. They'll play Thursday at Miami to kick off a stretch during which four of five games will be on the road. Hopefully, general manager Steve Mills will come up with another player or two, and quick.
January, 12, 2014
1/12/14
1:28
AM ET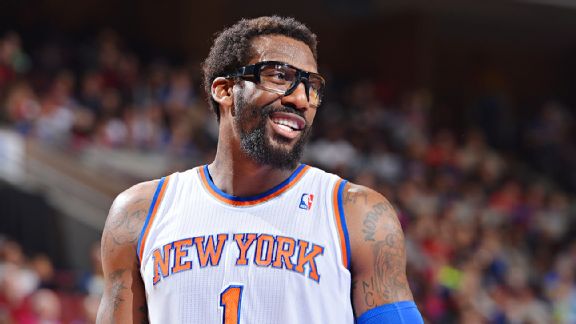 Jesse D. Garrabrant/NBAE/Getty ImagesAmar'e Stoudemire has had much to smile about over the past five games.
PHILADELPHIA --
Amar'e Stoudemire
played above the rim against the Sixers, throwing down three monstrous dunks on his way to 21 points on 8-for-10 shooting in the Knicks' 102-92 win in Philly.
"He's getting his power back and he's getting his confidence back,"
Carmelo Anthony
said. "I think when he plays like that and we start believing in him a little bit more, he's only going to get better."
Stoudemire has been pretty strong of late, scoring 35 points over his past 49 minutes of playing time.
In his past five games, Stoudemire is averaging a solid 10 points in 23 minutes.
"It's just coming together as a whole. I'm feeling great," Stoudemire said.
No one knew quite what to expect from Stoudemire coming into the season, but expectations were pretty low. Stoudemire was coming off of a knee procedure over the summer -- his third in a 10-month span -- and the Knicks were limiting him to just 10 minutes per game.
Now, though, the minutes limit is gone and Stoudemire is putting up solid numbers. And Anthony's impressed.
"He's had so many injuries over the past couple of years. That could mess you up mentally, and I think it bothered him for a long period of time mentally," Anthony said. "So now he's just starting to bounce back, get his confidence back and his legs and his game. We're supporting him."
You can follow Ian Begley on Twitter.