New York Knicks:

Andy Rautins
December, 10, 2011
12/10/11
1:30
PM ET
The Knicks expect to hold a press conference this afternoon to introduce new center
Tyson Chandler
.
Chandler
agreed to a deal
on Friday.
The parameters of the deal are still being worked out.
To get under the cap, the Knicks had to move
Chauncey Billups
and
Ronny Turiaf
. Nothing is official yet, but the Knicks will get rid of Billups
through the new amnesty clause
.
Turiaf
is reportedly being
dealt to the Wizards. Getting rid of Billups opens $14.2 million in cap space. Dealing away Turiaf frees up $4.8 million.
The Knicks are expected to complete a sign-and-trade with Dallas to acquire Chandler, according to ESPN.com's
Marc Stein
. The Knicks will reportedly send
Andy Rautins
to Dallas in the sign-and-trade. This would give Dallas a large trade exception for losing Chandler.
We expected to have more on this soon after speaking with Knicks GM
Glen Grunwald
.
You can follow Ian Begley on
Twitter
.
November, 2, 2011
11/02/11
5:56
PM ET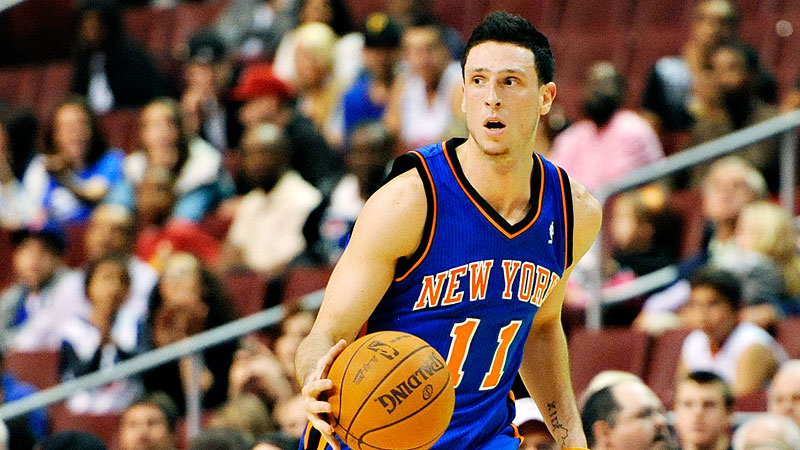 Howard Smith/US Presswire
Knicks guard Andy Rautins hopes to contribute more as a reserve guard in his second NBA season.
Like the rest of his NBA brethren,
Andy Rautins
is going to miss a few paychecks during the lockout.
To offset that, he's found a way to save some money.
The Knicks guard has stayed in his parents' home outside of Syracuse during the lockout, sleeping in his childhood bedroom.
"It's nice to get some home cooked meals up here," Rautins, a former Syracuse star, said in a phone interview. "It's nice because it's a rare opportunity to spend time with family and friends. Normally, you'd been in a busy season by this time. But I've been trying to see the positives in [staying home] and there's a bunch so far. It's saving me a lot of money right now and I think that's a big concern for a lot of players."
If the lockout extends, Rautins will consider pursuing an internship at his financial adviser's Manhattan firm to learn about investment advice and financial planning.
"Andy is actively planning for his life after pro sports," says
Mark Doman
, Rautins' financial adviser and the senior vice president of True Capital Management. "A lot of guys say it, but Andy wants to take steps during his career to make sure he is financially secure."
With the lockout looming, True Capital Management conducted a cost analysis to determine the financial burden on Rautins if the lockout dragged on for anywhere between three to 12 months.
"Andy wanted a number to wrap his head around, so we provided one," Doman said.
Rautins opted to stay at home rather than pay for housing in the greater New York area. The only major expense he incurred was paying travel to and from Los Angeles, where he worked with out other players represented by his agent,
Bill Duffy
. No rent, no bills, no nothin'.
"It's just the right thing to do. You want to set yourself up for the future," said Rautins, who has a pending team option on his 2012 contract.
Drafted in the second round by the Knicks, Rautins played in just five games last season. His season was cut short by knee surgery in April.
When he was healthy last season, Rautins said he learned a lot playing against former point guard
Raymond Felton
and
Toney Douglas
every day in practice. He also got to pick veteran
Chauncey Billups
' brain for a few months.
Rautins hopes to slide into a regular role as a reserve shooter and point guard in his second year, whenever it starts.
"I want to have a much bigger role than last year," he said. "Last year I didn't really get much of an opportunity to play…. I feel like I've matured and I have a lot more experience [as a point guard]."
Rautins has been working extensively on his ball handling at Syracuse for the past few weeks after playing for the Canadian National Team at FIBA Americas over the summer. He says his knee is fully healed he's feeling fine after suffering a concussion and broken nose in the FIBA Tournament.
"I'm ready to go," Rautins said. "I feel good."
Both physically and financially.
March, 23, 2011
3/23/11
6:33
PM ET
By
Jared Zwerling
| ESPNNewYork.com
Things are getting real serious around the Garden these days. The Knicks are 1-6 in their last seven games and they only have 12 left until the playoffs.
But a little comic relief never hurts.
Thanks to teammates and best friends
Landry Fields
and
Andy Rautins
, fans can take a small step back from all the "pan-Knicking" going on and enjoy their improv off the court.
"The Andy and Landry Show," which debuted this past Sunday and will continue with three-minute episodes every week on MSG.com, features the two rookies exploring different landmarks in New York City.
In the first segment,
the duo headed to the legendary Shubert Theater to learn song and dance moves from cast members of the Tony Award-winning Broadway musical "Memphis."
"Shooting the show has been an awesome introduction to New York City," Fields said. "I hope some of the antics Andy and I got into are as funny to the viewers as they were for us."
"It's been really cool to be a part of this show, and more fun to hang around the city with my boy Lando," Rautins said. "We can't wait to share these episodes with the fans."
For more info on the show, please visit
msg.com/andyandlandry.
You can follow Jared Zwerling on Twitter.