New York Knicks:

Bernard King
January, 25, 2014
Jan 25
4:56
PM ET
By
Ian Begley
| ESPNNewYork.com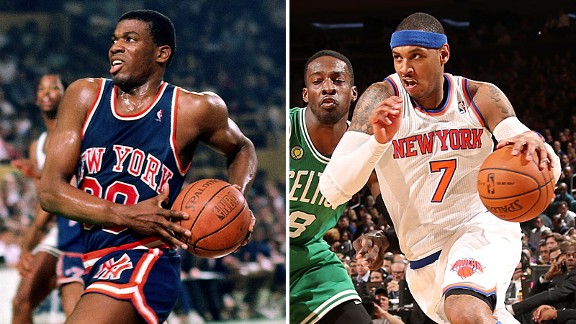 Getty ImagesBernard King texted Carmelo Anthony after the latter's record-setting night on Friday.
Knicks legend Bernard King got off a plane in Houston late Friday night with a phone filled with text messages.
"Are you watching the game?"
"Are you seeing this?"
He wasn't, but King soon found out that his Knicks single-game scoring record was broken. And he couldn't have been happier.
"I am delighted for Carmelo, I'm happy as can be," King said Saturday in an interview on ESPN New York 98.7 FM's "The Alan Hahn Show." "All records are meant to be broken. I'm delighted that it was Carmelo. He's a Knick through and through. It should be held by a Knick player."
Anthony set the franchise single-game scoring record and the Madison Square Garden single-game mark Friday night when he hung 62 points on the
Charlotte Bobcats
.
The previous franchise mark was held by King, who scored 60 points against the Nets on Christmas Day, 1984.
King and Anthony have a special bond.
Anthony has frequently cited the Hall of Fame forward as one of his favorite players, one of the scorers he tried to emulate growing up. The two have grown close since Anthony came to New York in a blockbuster 2011 trade.
Anthony referenced his relationship with King on Friday night when he talked about the "special" nature of breaking his idol's record.
"Definitely a special moment, man," he said.
Anthony and King are among a handful of humans who know what it's like to be in the kind of "zone" Melo found himself in Friday.
King explained the experience to Hahn: "People cannot understand unless they experience it firsthand, really what that's like. You're connected to the ball, you're connected to the flow of the game. You're connected to the seams in the defense. You're connected to the defensive schemes that the opposing team is running to defend you. You're connected to your teammates and where they're going to be on the floor. Everything comes together completely at that moment. When you're in a basketball zone there is no way an opposing team, defensively, is going to stop as great a player as Carmelo Anthony."
The Bobcats found that out the hard way as Anthony torched them for 37 points in the first half and 56 through three quarters. He finished with 62 on 23-for-35 shooting and pulled down 13 rebounds.
Afterward, King texted him, "You were in a basketball zone tonight."
But how many more nights does Anthony have at the Garden?
He will test free agency over the summer. King doesn't have any insight into Anthony's decision, but believes the star forward will re-sign with the Knicks.
"There's no greater organization, there's no greater city to play in than New York," King told Hahn. "I think that if you look at Melo and his time here in New York, he has relished that. And I really don't see Melo leaving New York. This is from my perspective. Where else is he going to go? The fans love him here. And certainly, the performance last night is one for the ages, it's historic."
Spoken like a guy who's had a few of them himself.
You can follow Ian Begley on Twitter.
January, 25, 2014
Jan 25
1:32
AM ET
By
Ian Begley
| ESPNNewYork.com
NEW YORK --
J.R. Smith
noticed something different about
Carmelo Anthony
as soon as he stepped in the arena on Friday.
"His whole demeanor was different. Normally he's smiling, joking -- stuff like that in warmups. But tonight, he was serious," Smith said. "I saw that look in his eyes."
What Smith saw was the look of one of the best scorers in the NBA at the top of his game.
Anthony set the Knicks and Madison Square Garden single-game scoring record on Friday night by pouring in 62 points against the
Charlotte Bobcats
.
Anthony's 62 is the highest point total in the NBA this season and the highest since
Kobe Bryant
had 65 in 2007. It broke Bernard King's Knicks record of 60 points and Bryant's Madison Square Garden record of 61.
"Tonight was one of those special nights for him," Knicks coach Mike Woodson said. "He got it going and everything he threw up was going in, man."
Things felt different for Anthony the moment he opened his eyes on Friday morning.
"Sometimes you just wake up and you just feel that day is going to be something," he said. "Shootaround, it felt like everything was clicking."
Anthony said his focused sharpened before the game when the team, at the behest of Woodson, watched a video montage of its game footage interspersed with motivational words from Muhammad Ali, one of Anthony's favorite athletes.
"It was a special moment," Anthony said.
It was one of many to come.
Anthony started the game by hitting eight of his first 10 shots and pouring in 20 points. He had 37 by halftime, capped off by a runner from half court at the buzzer. Anthony then came out and hit his first five shots in the third quarter. By then, everyone in the building knew they were witnessing something special.
After Anthony broke his career mark of 50 with a layup at the 3:54 mark of the third, the Garden crowd started chanting "Melo, Melo" in unison.
"I haven't heard them like that since last year," Anthony said. "So it was good to get that feeling back here."
The Knicks entered Friday's game with a 7-15 record at the Garden, so the home crowds haven't had much to cheer about.
New York had lost five straight coming into play Friday. The team was dealing with renewed questions about its head coach's job security and whispers about potential fractures in the locker room. And then there was the omnipresent question about Carmelo's pending free agency.
But all of that took a backseat for one night, thanks to Anthony's hot hand.
"We all needed it," he said. "I needed it, we needed it."
Anthony started to tire in the fourth quarter, missing four of his first five shots. He tied King's mark on a layup. The only remaining drama on the night was if he could catch Kobe's 61.
Woodson thought about taking him out earlier in the fourth, but Anthony insisted that he was fine.
He took the ball on the wing and fought through a double-team, spinning away from it and hitting a leaner off glass to get to 62 with 7:22 to play. Anthony finished the night hitting 23 of 35 shots, including 6-of-11 from 3.
"It's surreal for me right now," Anthony said about an hour after hitting the shot. "It hasn't really sunk in yet."
Carmelo's performance puts him in select company. He's the first player in NBA history to have 60 points, 13 rebounds and hit 13 3-pointers, per Elias. He's also the first player to score 62 points and commit zero turnovers since the NBA started tracking individual turnovers in 1977-78.
In addition to those marks, he'll be forever linked to Kobe, his longtime friend and mentor, and King, his boyhood idol.
"I made history tonight," Anthony said. "It's only a small group of people that know what that zone feels like. Tonight, I was one of them."
You can follow Ian Begley on Twitter.
January, 24, 2014
Jan 24
10:00
PM ET
By
Ian Begley
| ESPNNewYork.com
NEW YORK -- Move over,
Kobe Bryant
. Move over, Bernard King.
Carmelo Anthony
scored a career-high 62 points on Friday night to set the Knicks' single-game scoring record, previously held by King (60). Anthony also set the Madison Square Garden scoring record, which was previously held by Bryant (61).

Anthony seemed to take a season's worth of frustration out on the
Charlotte Bobcats
. He had 20 points in the first quarter, a career-high 37 at halftime (including a runner from halfcourt at the buzzer) and he opened the second half by hitting his first five shots.
The only suspense left in the game was Anthony's overall point total.
He broke his career mark of 50 with a layup with 3:54 to go in the third quarter. He broke Michael Jordan's mark of 55 points with a free throw at the 1:25 mark of the third. Through three quarters, Anthony was an eye-popping 22-for-30 from the floor and had 56 points.
He scored points No. 61 and 62 on a spin move away from a Charlotte double-team. He leaned toward the goal and let the ball go with hands in his face. It hit the rim twice and fell in.
Melo finished 23-for-35 from the floor. He hit six of his 11 3-point attempts and added 13 rebounds.
He had the highest scoring night in the NBA since Bryant hung 81 points on the Raptors in 2006 and scored 65 points a season later.
A message from the MSG faithful:
Knicks coach Mike Woodson took Anthony out of the game after he hit his final basket. The crowd delivered a rousing ovation and later chanted "We want Melo!" It was a call for him to return to the floor and return to New York after this season.
Anthony will opt out of his contract at the end of the season and test free agency.
Anthony's heroics couldn't have come at a better time for New York. The Knicks had lost five straight entering play Friday. The losing streak led to renewed speculation about Woodson's job security. Players had publicly questioned their coach's defensive schemes. Anthony openly questioned his team's fight after a loss to Brooklyn.
But, for one night, all of that was forgotten. Anthony spent the final seven minutes of the game on the bench, soaking in the scene, surrounded by his teammates.
Smith sizzles:
J.R. Smith
has struggled with consistency throughout the season but he seemed to thrive off Anthony's energy on Friday. The Knicks' sixth man had 14 points on 5-for-9 shooting and hit three of four 3s.
Tim Hardaway Jr.
had 10 points and point guard
Raymond Felton
added 11 and five assists.
Big help:
With
Andrea Bargnani
out,
Cole Aldrich
and
Jeremy Tyler
filled the void off the bench for New York (16-27). Tyler had eight points, five rebounds and two blocks in 22 minutes. Aldrich had eight rebounds in 15 minutes.
What's next:
The Knicks play the Lakers on Sunday.
You can follow Ian Begley on Twitter.
April, 9, 2013
4/09/13
1:29
PM ET
Newly minted Hall of Famer Bernard King firmly believes that his Knicks can get past the Heat.
"I certainly think that they have a chance to beat any team they face, whether it's Miami or whatever," King said yesterday, according to a report in the
New York Post
. "The Knicks are a very deep team. They have a tremendous bench, and obviously in terms of their 3-point shooting, that puts tremendous pressure on the defense. It spreads the floor, and it allows [Tyson] Chandler to roll to the basket to get easy buckets around the hoop. I like their style of play, and I like the defense that they're playing."
King, who was elected to the Basketball Hall of Fame on Monday, was born in Brooklyn and played four seasons in New York, averaging an NBA-best 32.9 points per game in 1984-85.
He said Monday that he likes the way the Knicks match up against Miami. The Heat have lost three of four meetings against New York.
"It's all about matchups," King said. "I think they match up well. That's what it's all about is matchups -- not your record. When I was with the Knicks, we played Detroit in the first round. We weren't supposed to win. We beat them. We faced the Celtics. They had four Hall of Famers. We weren't supposed to be in that series. We took them [to] seven games. I think the Knicks match up well against the Heat, and I think the Heat know that. Obviously the Knicks are going to have to play at their highest level to beat them. Are they capable? Yes."
August, 8, 2011
8/08/11
7:05
PM ET
By
Jared Zwerling
| ESPNNewYork.com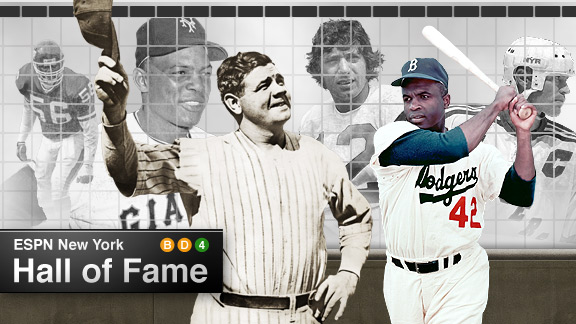 ESPN.com illustration
Vote: Pick the ESPN New York Hall of Fame class »
In honor of ESPN New York's inaugural
Hall of Fame ballot
, here are my top five Knicks: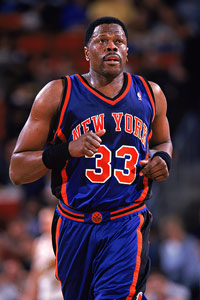 Otto Greule Jr./Allsport
Patrick Ewing appears on this list, but he isn't a finalist for the ESPN New York Hall of Fame in 2011.
•
O'Connor: Where's Ewing?
•
The Ewing debate

•
Meet the finalists

1. Walt Frazier:
If you meet Frazier he'll tell you, "Unequivocally, I'm the greatest Knick ever." And he's right. With the Hall of Famer running the point in New York, the Knicks won championships in 1970 and '73. Seven of his 10 years in New York resulted in All-Star Game appearances, including MVP honors in 1975.
2. Patrick Ewing:
During his 15-year career in New York, Ewing did it all: He was an 11-time All-Star and 1992 Olympic gold medalist, and is the franchise leader in points, rebounds, blocks and steals. The greatest center in Knicks history also led the team to Game 7 of the 1994 NBA Finals.
3. Willis Reed:
Reed defined the key Knicks attribute -- tenacity -- especially when he played in Game 7 of the 1970 Finals with a severe thigh injury. While he may have been overshadowed by the great centers of his era (Abdul-Jabbar, Russell and Chamberlain), he was a dominating force down low for the two-time champion Knicks.
4. Dave DeBusschere:
DeBusschere is the greatest trade piece in Knicks history. With Frazier and Reed -- and later, Earl Monroe -- the Knicks had plenty of offense, but DeBusschere brought All-Defensive abilities to the 1970 and '73 title teams. During the roughly six seasons he spent in New York, he played in five straight All-Star Games.
5. Bernard King:
In a tight squeeze for fifth place, King wins out over Monroe. Though Monroe was a champion, fans at Madison Square Garden have never seen a home-team scorer like King. He led the NBA in points per game in 1984-85 (32.9) and he was a two-time All-Star and All-NBA selection.
February, 22, 2011
2/22/11
12:37
AM ET
By
Ian Begley
| ESPNNewYork.com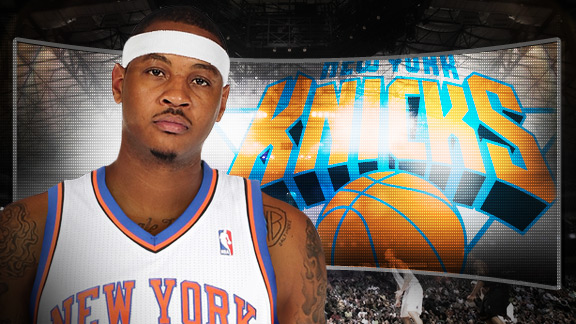 ESPN.com IllustrationCarmelo Anthony will wear a Knicks uniform. His jersey number remains a mystery.
Carmelo Anthony
will have to adjust to new teammates and a new coach when he joins the Knicks. He'll also have to pick out a new number.
Anthony wore No. 15 for his 7½-year tenure with the Nuggets. He also wore No. 15 during his one season at Syracuse University.
But that digit will be off limits for Anthony in New York. The organization retired No. 15 twice, for
Earl Monroe
and
Dick McGuire
.
Anthony wore No. 22 during his tenure at Oak Hill Academy. But that number won't be available for Anthony in New York, either. It was worn by Knicks great
Dave DeBusschere
and retired by the organization in 1981.
It is highly unlikely that the team would make either number available for Anthony.
This isn't the first time Anthony has had to switch his number. The four-time All-Star and Brooklyn native had to switch from No. 22 to 15 at Syracuse because the Orange retired No. 22 for
Dave Bing
.
A team official was unsure of which number Anthony would wear with the Knicks when contacted late Monday night.
Anthony, however, may have hinted at which number he'd choose to wear with the Knicks earlier this season. While speaking with reporters after the Nuggets' 120-118 win over New York on Nov. 16, Anthony said former Knicks great
Bernard King
was his favorite player.
"I'm a big fan of Bernard King. That's my idol," he said. "That's my favorite basketball player."
King wore No. 30 with the Knicks. That number is currently available.
December, 24, 2010
12/24/10
12:58
PM ET
By
Mark Simon
| ESPNNewYork.com
No matter what you are doing Christmas Day, if you commit to watching the Knicks and the Bulls, stick with the game all the way through, regardless of the score.

Because history says you never know what will happen for the Knicks on Christmas Day. One game in particular, celebrating its 25th anniversary this year, serves as the ultimate teacher.

In the 1985-86 season, the Knicks were in their second year of being decimated by injuries to star forward Bernard King and center Bill Cartwright. Rookie center Patrick Ewing would eventually fall victim to the malaise that infected the franchise for three seasons, one similar in nature to that which befell the 2009 Mets.

The Celtics, on the other hand, were on their way to an all-time great season. The 67-15 mark would be their best in the Larry Bird/Kevin McHale/Robert Parish era and the team would go on to win the NBA title.

For the first two-and-a-half quarters, the holiday game at Madison Square Garden matched up as it would be expected to, with the Celtics leading 58-33.

Then came the unexpected -- the NBA equivalent of what the Eagles did to the Giants last Sunday.

The Knicks used a 20-5 run to cut the Celtics lead to 10 by the end of the quarter. Then Ewing took over the game in the manner expected of him when the Knicks made him the No. 1 pick in the preceding NBA Draft. He scored 18 points in the fourth quarter, including 12 straight for the Knicks in one stretch. They would tie the game on two free throws by Rory Sparrow in the final minute.

The Knicks would rally again in overtime, evening things on a 3-pointer by the ever-clutch Trent Tucker with 11 seconds left. The teams would reverse roles in the second overtime, the Knicks playing like a team on its way to the NBA Finals. A Ewing hoop put the Knicks ahead for good, and they would win, 113-104 in one of the most entertaining finishes in the history of the franchise.