New York Knicks:

Brooklyn Nets
April, 25, 2014
Apr 25
6:44
PM ET
NEW YORK –- Even a decade later after the Nets swept the Knicks out of the playoffs, Jason Kidd still is needling those
Stephon Marbury
-led Knicks.
Before Game 3 against the
Toronto Raptors
, the Nets head coach was asked if he could ever recall a time when something seen in a newspaper was ever used as bulletin board material for a team.
Kidd initially couldn't recall anything that the Nets might've done during his time in New Jersey.
Then a reporter mentioned how
Tim Thomas
once called
Kenyon Martin
"fugazi" during the Knicks-Nets first-round series back in 2004.
"Oh, um, that wasn't really a series," Kidd deadpanned. "It wasn't."
Kidd and the Nets swept Marbury's Knicks, 4-0, in a series that was more hotly contested off the court. Not only was there the Knicks-Nets rivalry but it was punctuated by the rivalry between Kidd and Marbury, the former Net who was traded for Kidd and felt strongly that he was the best point guard in the league at the time.
And there was Thomas and Martin's feud which began when Thomas basically all but challenged Martin to a fight and called the Nets power forward "fugazi" which was a slang term for a fake tough guy.
The next day, Martin showed up at a media availability wearing the New York Daily News' back page on his chest. The News' back page had a picture of Thomas with the headline "Whiny Tim." Martin taped it to the front of his practice jersey like a marathoner's number –- giving new meaning to bulletin board material.
The whole conversation was brought up because Kidd was asked if the Nets used Raptors GM Masai Ujiri's "F--- Brooklyn!" pep rally cry as bulletin board material.
"It's never thrown on a bulletin board," Kidd said in general terms of anything inflammatory said off the court. "We just focus on the game. That's between the fans and the media for them to have a story or talk about. For the players, it's about basketball and being able to execute."
Except, or course, a decade ago when the Nets and Knicks played in a lopsided first-round series that proved to be more memorable for what was said off the court.
October, 17, 2013
10/17/13
6:39
PM ET
(Re-posted from our Nets blog.)
The rivalry between the Knicks and Nets may be as hot as it has ever been this season.
But
Richard Jefferson
says there was no doubt in his mind that the Nets ran New York when he, Jason Kidd and
Kenyon Martin
had their high-wire act going in the early-to-mid 2000s.
"When the Knicks were done and they weren't in the playoffs and the one year they did make the playoffs while we were there, we swept them out," Jefferson said earlier this week. "As far as a dominance thing, there was only Nets basketball.
[+] Enlarge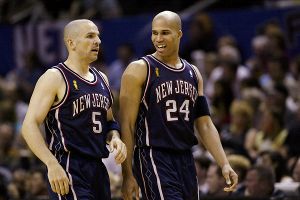 Jed Jacobsohn/Getty ImagesAs far as Richard Jefferson is concerned, the Nets owned New York in the early 2000s, when the franchise called New Jersey home.
"I don't care if there is one Garden, when we were there, there was only one team in town and that was the Nets."
The Nets were a nightly highlight machine with Kidd lobbing alley oops to Martin and Jefferson. But they saved some of their best for the
New York Knicks
.
After playing before mostly half-empty home crowds at the Meadowlands, the Nets took great delight whenever playing the Knicks on the Madison Square Garden stage.
"This is when the Nets and Knicks rivalry was high and not because the Knicks were good," Jefferson said. "It was mainly because the Knicks sucked."
They took great joy in sticking it to the Knicks. But those Nets really loved the crowd, the unique lighting and the big-game buzz at MSG. Most of the Nets then would never admit it publicly, but they would have loved playing their brand of basketball before the Garden. And they knew that even Knicks fans had to respect and appreciate the show they would put on sometimes there.
"I don't care," said Jefferson, now with the Jazz. "As long as I live, Knicks fans love me and hate me because they respected everything that we did."
During one game at the Garden, Kidd was basically putting together a personal highlight reel. He delivered one of his most memorable passes as a Net, one that ranks behind the unforgettable bowling ball pass he once rolled across halfcourt toward
Lucious Harris
with enough backspin to slow down for Harris to scoop up for a layup in a game against the Knicks at the Meadowlands.
But this one pass at the Garden was the best pass Jefferson said he had ever caught from the point guard. Martin threw a quick outlet pass to Kidd, who was near halfcourt already looking to start a break. Instead of catching the outlet, Kidd, with his back turned to Jefferson, tapped a no-look pass by his head to a streaking Jefferson, who caught it near the free throw line on his way for an easy dunk.
Jefferson actually began to laugh as he caught the ball because of how ridiculous the pass was.
"I was like, don't miss this because this is going to be a SportsCenter top-10 play," Jefferson said. "Guys would see SportsCenter and see his highlights and don't understand that was an everyday thing for seven years in practice. He would give you four or five passes that you never ever seen before. It was absurd."
"We were just putting on a show," Jefferson continued. "We were clowning people. J-Kidd threw one off the glass to Kenyon and you heard a Nets chant in the Garden. That was the most disrespectful thing."
Tell us your favorite Nets moment versus the Knicks below.
October, 8, 2013
10/08/13
8:32
PM ET
WASHINGTON –- One Las Vegas oddsmaker considers the
Brooklyn Nets
to be the best team in New York.
Bovada has the Nets at 10-1 odds to win the championship this season, behind Miami (2-1), Chicago (8-1), Oklahoma City (8-1) and the L.A. Clippers (9-1). Houston and Indiana are tied with the Nets at 10-1.
The Knicks are 22-1 odds to win it all.
As far as winning the Eastern Conference, the Nets were given 11-2 odds, putting them behind Miami (1-1), Chicago (4-1) and Indiana (5-1). The Knicks are behind Brooklyn with 9-1 odds of winning the conference.
Do you agree or disagree with the oddsmakers? Let us know below.