New York Knicks:

Charles Oakley
March, 14, 2014
3/14/14
6:00
AM ET
Ex-Knick
Charles Oakley
is pretty familiar with Phil Jackson. He played for and against Jackson at different points in his 19-year NBA career.
Oakley's well aware of Jackson's new role in New York. And the former Knicks enforcer predicts that Jackson will be a "great" addition to the franchise.
"He's someone with a brand, an ex-Knicks player, 11 championships -- he's got he whole resume," Oakley said in a phone interview. "Having him is like taking a test and already having the answers. You can't go wrong when his hand is involved in what you're trying to do."
[+] Enlarge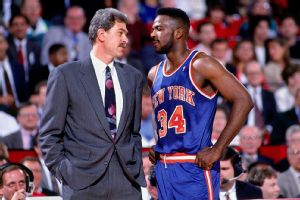 Nathaniel S. Butler/NBAE/Getty ImagesCharles Oakley thinks Phil Jackson would be great with the New York Knicks.
A league source has told ESPN that Jackson and the Knicks are expected to finalize a deal that will give the legendary former coach control of the club's front office by the end of this week. An official announcement might not come until next week, the source said.
Oakley predicted that Jackson, who has won 11 titles as a coach and two as a player with the Knicks, can help the franchise end its 41-year title drought.
"In this case, everyone's watching him like, 'What can he do? Can he pull the rabbit out of the hat again?" Oakley said. "He's done it with Michael [Jordan], Scottie [Pippen], Kobe [Bryant], Shaq [O'Neal]. Does he have one more left in him?
"All eyes are going to be on him. They don't call him the 'Zen Master' for nothing. We know he's going to have to put a great group together, whatever he tries to do. I know that he's going to be successful because it's been like that. I know that he's going to always try to get the right pieces, but it's hard to get pieces now."
Oakley, though, thinks that owner James Dolan, who has a history of getting involved in his executive's basketball decisions, needs to give Jackson the "power" to shape the Knicks' roster the way he sees fit.
"I think [Dolan] convinced Phil to come here [so] then to go back on what you said, it's going to look bad on Dolan's end because Phil is a guy who's got a lot of credibility and I think that the people in New York, they want something positive to happen," Oakley said.
"If you sign a man for three, four, five years [and] if you tell him he's got the power and authority to make moves, I know it's tough to give someone power when you've had power for so long [and] you give it to a man whose done this and done that somewhere else. Now he comes in here and things don't start out the way you plan, you might get a little irritated, but you just have to bite you're tongue," Oakley added. "They told me many times throughout my career to bite my tongue and I told them my tongue's been bleeding since I was born."
The outspoken Oakley was on Knicks teams in the 1990s that battled Jackson's Bulls. He's at a bit of a loss to explain why this year's Knicks team has been such a disappointment. The Knicks are 26-40 and on the outside of the playoff picture in the woeful Eastern Confernce.
"They don't have a bad team now. I think they have enough talent now to win as many games as they did last year (54). It just didn't happen," Oakley said. "That's up to the players. Look at what happened this year compared to last year -- it's a disaster.
"I'm putting a lot on the players head but they should be a lot better than where they are."
Chef Oak:
Oakley recently appeared on Food Network's "Chopped." Oakley didn't win the show's "all-athlete" show but said he had a good time. He's been a cook since his playing days, when he says he cooked meals for his teammates. ... Oakley and ex-NBAer
Jason Williams
are teaming up to organize a charity golf tournament on Long Island in June to benefit the homeless. Oakley is also organizing a "Back to Basics" summer basketball camp at Manhattan College.
Question:
Do you agree with Oakley? Will Phil be 'great'?
Up now:
Mike Woodson says Phil would be good in New York
and
Celtics president Rich Gotham says that Boston will hate the Knicks when Jackson comes
. Ian O'Connor says that
getting Phil may be the next best thing to Dolan selling the team
, Johnette Howard argues that
James Dolan's pursuit of Phil Jackson reeks of desperation
and Henry Abbott wrote that
Phil Jackson doesn't know everything
.
What's next:
The Big East tournament is at MSG, so the Knicks are off until Saturday (when they play the Bucks).
You can follow Ian Begley on Twitter.
August, 29, 2012
8/29/12
3:43
PM ET
By
Jared Zwerling
| ESPNNewYork.com
Based on their offseason moves, the Knicks, on paper, now have their best defensive team since 2000-01.
The interior addition of
Marcus Camby
and perimeter one of
Ronnie Brewer
, coupled with
Tyson Chandler
and
Iman Shumpert
(when healthy), means the Knicks have the right role players in place to stop most teams night-in and night-out.
But how about stopping the best teams? A veteran NBA scout believes the Knicks are on the verge of doing that.
"I think the smart thing to do if you're an organization is you try to either fit your coach to what you want the culture to be, or you fit your culture to the coach. Either way, you try to have some synergy," the scout told ESPNNewYork.com. "I really give the Knicks credit because what they have learned is they're not going to get away with just outscoring people. At some point, you have to be able to stop people to beat the very best teams when it really matters."
In order for the Knicks to have a chance at that,
Carmelo Anthony
and
Amare Stoudemire
need to be on the same page consistently with the defensive-focused Mike Woodson. That will also help their defensive-minded teammates maximize their abilities, because as the old adage goes, "You only play as well as your best players."
"You can't just be a run-of-the-mill team and defend your way to a championship," the scout said. "You've got to have great players, but if you also have that talent that buys into getting stops, that's when you go from being a 50-win team to say a 60-win team that actually has legitimate championship aspirations."
Even the Showtime Lakers of the 1980s, with all their great offensive talent, were one of the top 10 defensive teams in the league. Their coach, Pat Riley, brought that same full-court mentality to the Knicks in the following decade, which
John Starks
and
Charles Oakley
experienced first-hand. And that's something Woodson will have to get across to his team during his first full training camp in New York, which starts a month from now.

"Before Pat Riley, it was all different types of identities. We had the pieces, but it was a different identity," Oakley told ESPNNewYork.com. "Pat Riley had a good philosophy and a way of structuring stuff. But the individual's got to want to do it. He said, 'I want you to play less minutes, I want you to do this, I want you to do that.' My thing is, I want to win. I said, 'Okay, cool.' If your numbers are going down and you're winning, it's an asset for the team."
Oakley said that Anthony and Stoudemire need to think beyond their individual talents and recognize how they can help the team come together. That starts with playing tough on defense, which Oakley was all about in New York for 10 years from 1988 to 1998.
"I can do my job all I want, but anybody else got to want to do their job just as hard as I do," he said. "We know Carmelo and Amare can score, Tyson is a defensive guy. But it's like a mansion. They got the house; now you just got to buy the furniture. I think with the Knicks, this is their second year together, and the furniture's in now."
Starks said Anthony and Stoudemire showed some promise defensively under Woodson in the last 24 games of the season. And this summer, Anthony improved on that end during the Olympics and Stoudemire worked with
Hakeem Olajuwon
on shot-blocking techniques. But Starks agreed with Oakley, stating that both stars need to prove it over a full 82-game season.
"The most important thing is that Woodson held everybody accountable on that end of the court, and [Anthony and Stoudemire] responded very well," Starks told ESPNNewYork.com. "Everything starts with your key players, and when your key players buy into that end of the court, everybody else follows. It should be good to have a whole training camp, as well as a preseason, for him to really enforce what he's trying to get across to them. Defense first, offense second."
Starks said that while this season's Knicks is different offensively compared to his former teams, in that their scoring will come more from the perimeter (mostly Anthony generated), he said they both have anchors down low.
"We had defensive-minded players right off the bat:
Patrick Ewing
,
Anthony Mason
, Charles Oakley, guys like that," he said. "It made our job, as guards, much easier, because if guys got past us, we had those guys down there. This team is similar to that. You have a good shot-blocker in Tyson Chandler. He covers for a lot of guys' mistakes. You have to have that big man in the back in order to play the best brand of basketball. They have that as well in Marcus Camby."
Chandler and Camby will really come in handy against the Heat, with
LeBron James
and
Dwyane Wade
constantly attacking, as well as the Thunder and Lakers with
Serge Ibaka
and
Kendrick Perkins
, and
Pau Gasol
and
Dwight Howard
, respectively. What's especially great with having Chandler and Camby, according to the scout, is that both players can defend the best big men in the league one-on-one. That will enable the Knicks players to double-team less throughout the game and stick to who they're guarding more often, therefore making them have to work more to get their shot off.
"You don't talk about stopping LeBron James or guys like that," the scout said. "What you do is you try to make them work for every point they get, you try to make them take more shots to get to their points than they normally would, you try to make them take more difficult shots, you try to just make it more difficult and not allow them to be as efficient as they normally would be. The Knicks now have the ability to do those things."
With all the talk about how the 1992 Dream Team would fare against the 2012 Olympic squad, how about a Knicks' old vs. new defensive contest, featuring last decade's team and this one?
"It would definitely be a fun game," Starks said. "Obviously this team is more perimeter-oriented, more so than the teams that we had. We were more of an inside-outside type of team. It would be curious to see how the two styles would match up."
Stay tuned on Friday for an interview with Jeff Van Gundy, where he discusses this season's Knicks and reflects on his time with the team in the 1990s.
You can follow Jared Zwerling on Twitter.
August, 17, 2012
8/17/12
3:18
PM ET
By
Jared Zwerling
| ESPNNewYork.com
Charles Oakley
was the ultimate role player. He recognized that
Patrick Ewing
and
John Starks
were the Knicks' go-to scorers and playmakers, and he needed to make his mark with rebounding and hustle. Together, they reached the 1994 Finals.
Speaking to the New York Post
about this year's Knicks, Oakley said that
Carmelo Anthony
,
Amare Stoudemire
and
Tyson Chandler
have to understand their roles better.
While Chandler has more specific duties (defend and rebound), Anthony and Stoudemire are faced with more responsibilities. They can score, like Ewing and Starks, but can they become better playmakers this season to help the entire team? That's what Oakley is waiting to see.
"I think it's all about how you view your team and everybody knowing what their roles are," he told the Post. "You look at Miami. The first year together they made the Finals, but the second year they won it. They had a better understanding of their roles together. I think that's what the Knicks need to do and players need to understand if they're the first option, second option or third option. When a team is paying you $100 million, you shouldn't be arguing over who is first."
Oakley said Anthony and Stoudemire need to focus on making plays for others, like
LeBron James
and
Dwyane Wade
do.
"You see it with the Miamis, the Oklahoma Citys, the Bulls -- their top guys make others better," he said. "If that's the case, I'm going to make sure that my top two guys have the ball at all times."
Regarding roles, Oakley has been impressed with Stoudemire working with
Hakeem Olajuwon
to develop more post-up moves and an improved defensive presence.
"He's looking to fine tune his game, because if you want to be successful in this league you have to change up your game," he said. "Amare is just doing whatever it takes to make himself better, and for that I tip my hat to him."
With
Mike Woodson
planning to use Stoudemire more on the block this season, that should boost the opportunities for the Big Three to play off each other better, instead of encountering spacing issues on the court, forcing the ball to stall at times. The best teams in the league are able to find an almost rhythmic, pre-programmed balance between passing and scoring, and that's the Knicks' biggest task offensively. On the defensive end, they're locked and loaded.
You can follow Jared Zwerling on Twitter.
February, 22, 2012
2/22/12
8:13
PM ET


Former Knick Charles Oakley doesn't like Charles Barkley -- and he isn't afraid to let you know about it.

Oakley went after Barkley during an appearance on the Jim Rome Show. Barkley has been an outspoken critic of the Knicks under Mike D'Antoni.

Here's what Oakley had to say about Sir Charles:

"Barkley for his size was a good player but he's a coward, though. ... He wasn't a leader and wasn't a role model. Now he talks so bad about younger guys, I don't respect that from him. … He wants to be funny, that whole TNT thing and all that, they're like some clowns on that show."

He also went after Boston's Kevin Garnett and Oklahoma City's Kendrick Perkins.

Here's Oakley on Garnett: "He's one of the weakest guys to ever play the game. He's a complementary player and went to Paul Pierce's team and won a championship. I wouldn't consider him a top 10 tough guy."

Here's Oakley on Perkins: "He's just like Garnett. They holler and complain. If Kendrick Perkins would play basketball, Oklahoma City would win a championship the next three or four years. … You're a power forward, you don't let guys dunk on you. I played 18, 19 years I got dunked on three times ..."

Thanks to Reid Cherner at USA Today for the heads-up.
December, 22, 2011
12/22/11
7:03
PM ET
Mike D'Antoni's
recent claim that the Knicks are a championship contender may have been a surprise to some.
But not
Charles Oakley
.
The former Knick is onboard.
"I agree with it. You can't sit here and say they don't [have the talent to contend]. I'd be lying if I did," Oakley said in a phone interview with ESPNNewYork.com earlier this week. "I'm not a hater. They've got the pieces, now he's got to coach them."
Oakley picked the Knicks to win "48 to 50" games.
"If
Carmelo [Anthony]
does what he's supposed to do, and everybody else does the same, then they're going to have a successful year," he said.
Less than two months earlier, Oakley
questioned the Knicks' credentials
in a scathing critique of D'Antoni.
So why the change of heart?
Two words:
Tyson Chandler
.
Oakley thinks the addition of Chandler will help the Knicks climb into contention. And the legendary enforcer has firsthand knowledge of what Chandler can bring to a team.
Oakley served as a mentor of sorts to Chandler when both were on the 2001-2002 Chicago Bulls. Chandler was in his first season in the league, straight out of high school. Oakley was in his 16th.
"He was my veteran when I came in as a rookie," Chandler said.
Oakley taught Chandler the importance of preparation and professionalism. He also sprinkled in a few tricks on patrolling the paint.
"It definitely impacted me," Chandler said. "I saw that he wasn't even playing that much, but every day he was in the weight room and on the treadmill. He was ready whenever Coach called on him."
How fitting: the guy who personified the Knicks' gritty defensive teams of the 1990's taught Chandler the ropes.
After all, the organization is hoping Chandler can restore some defensive pride to a team that hasn't had any to speak of in recent years.
"I know what my job is in coming here. I know I came here to defend," Chandler said the day the Knicks signed him. "I'm going to defend the rim and I'm going to rebound. I'm going to get extra shots. I know if we play on both ends, and we play as a team, the sky is definitely the limit."
The sky may be the limit, but the Knicks were in the basement of the NBA's defensive stat comparisons last season.
They ranked 20th in rebounding and 26th in opponent field goal percentage last year. They allowed an average of 105.7 points per game -- the third-highest total in the league. Forty-five of those points were scored in the paint (fifth-highest in the league). They also were out-rebounded by 3.5 boards per game.
Oakley thinks Chandler, the skinny kid from California whom he mentored 10 seasons ago, can help the Knicks turn all of that around.
Oakley called the 7-foot-1 Chandler "a guy who can clog the middle, block shots and bring energy to the game."
That same guy helped turn Oakley, who came oh-so-close to winning a title with the Knicks, into a believer in this current edition of the team.
"I didn't win nothing, so I've got nothing to brag about," Oakley said. "They've got a chance to get something to brag about."
You can follow Ian Begley on Twitter.
October, 28, 2011
10/28/11
1:32
PM ET
By
Jared Zwerling
| ESPNNewYork.com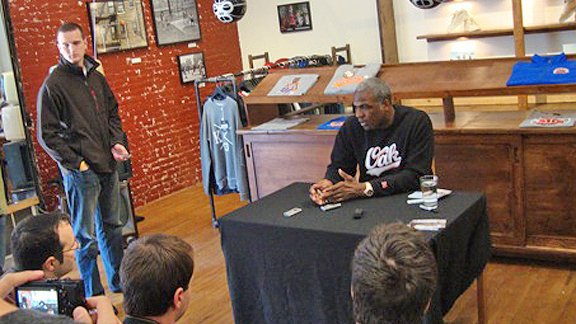 Courtesy of K1X
Charles Oakley meets with the media at last week's launch event for his new signature clothing line with German-based K1X.
With another long and "big day" ahead of NBA labor negotiations -- as Knicks guard and union VP
Roger Mason Jr.
tweeted
-- here's something that will help you pass the time: a candid conversation I had with
Charles Oakley
on Tuesday talking about his post-career, hoops and the lockout. Let's just say the guy stays active -- just like he did around the basket for the 'Bockers. Last week, he was in New York City to promote
his new clothing line with K1X,
a German-based company. And that's where we started off.
Jared Zwerling: How did you get connected with K1X?
Charles Oakley:
Just a few years back, I got in touch with one of them at my car wash [in Brooklyn]. We started talking about [two of their endorsers]
World B. Free
and
Ron Artest
[now
Metta World Peace
], and how I could get involved.
Zwerling: From a design standpoint, did you give your creative two cents?
Oakley:
We met a couple of times at All-Star [Weekend] in Phoenix [in 2009], different photo shoots and stuff like that. I agreed with what they were doing with it. I thought they were doing a good job. Hopefully we can get people wearing it. Next year, we might be working on sneakers. Hopefully we can build something with K1X, where I can branch off and I can get my own store and sell my own products.
Zwerling: Is this your first time working on a clothing launch?
Oakley:
Yeah. The second one I'm working on is in Cleveland. It's called Cocktail Collection. Hopefully we can collaborate and create a great brand. It's a little bit different than K1x. It's more of a hat, T-shirt line. K1X is also shorts, jackets and sweatshirts.
Zwerling: Since your playing days, have you been more interested in fashion?
Oakley:
I've always been into fashion. I'm also working on a couple of movies, working on a cooking show, working on a restaurant in New York. Hopefully it'll feature Oak's turkey burgers.
Zwerling: With Madison Square Garden getting renovated, maybe you can open a turkey burger concession stand in there?
Oakley:
I don't know about all that (laughs).
Zwerling: Have you gotten a chance to check out the arena's new features?
Oakley:
Nah.
Zwerling: You mentioned the movie projects. What are you working on?
Oakley:
I invested in a couple movies. I did one with [producer]
Kevin Edwards
called "Joy Road." It actually came out last week. I'm investing in another movie called "Pastor Brown." We shot it about two summers ago. We're hoping it's going to be out in January or February. It's about two daughters; they both go to college. One's coming home; one's going to New York, undecided about her career. It's about the ups and downs. It's a good movie.
Zwerling: You're keeping busy I see. And you have a cooking show as well?
Oakley:
It's still in the works; hopefully something catches on. I like being in the wildlife and trying to start a fire with two pieces of wood, and hopefully it sticks (laughs).
Zwerling: Do you fire up the grill a lot?
Oakley:
I do it all. I grill, I cook in the kitchen, I cook in the car, I cook in the garage if you got an oven in there. I cook whatever. Breakfast food. I mean, all around. I'm like a surround-sound system. If you want to cook, you've got to know how to cook everything. What you like, what somebody else likes -- a lot of different things.
Zwerling: With the show, would you incorporate hoops talk or just keep it to the food?
Oakley:
We've worked on me hosting a talk show with my man [former New Jersey Net]
Jayson Williams
. We shot some pilots in New York about a year or two ago. It was me hosting, cooking and talking at the same time. I would let someone else make a dish and I'd talk to them. It was me cooking -- different things. We've been shopping it around. We're on a shopping streak with networks. They said it takes time.
Zwerling: I know you had back surgery during the summer. Will you be healthy enough to return to the Bobcats bench if there's a season?
Oakley:
That's still up in the air right now. I don't want to be out there if I can't be 100 percent. I want them to give me their full attention. I don't want to have them second guessing me if I can't tell them what to do. I think that's the most important thing to the game. A lot of coaches cut corners; they're not really giving details. They're trying to talk details; you've got to show them the details. You've got to be on the floor. We're losing what our game is really about; it's about going out, playing hard and knowing what you're doing.
Zwerling: What things do you teach the players when it comes to rebounding and playing the post?
Oakley:
It's a different game now. You can play zone, you can't hand check. We're trying to show them what we need as a team and what's in the league now. When you go back to the 80s and early 90s, it's a whole different ballgame. We're away from that; that's why the game is terrible right now. Guys aren't getting better. They stay in one stage. And they wonder why guys can't hit free throws, why guys can't make shots down the stretch? You just can't start hitting shots and making free throws; you've got to work on it.
Zwerling: What do you think about all the under-jersey pads players wear now for protection? Back then, there was hardly any of that.
Oakley:
I think it's embarrassing. It's my opinion; everybody has an opinion. You condition to take the bumps and bruises. You're going to get hurt no matter what you got on.
Zwerling: What rules today do you like and dislike?
Oakley:
I never liked when you can change the rules during the year. That kills the game. They don't catch on like they did in the older days, and the playerrs don't catch on quick. They forget about this rule, they forget about that rule. I don't know if they know the rules. It's nothing against them; the league shouldn't be like that. I think it's a control game. I feel sorry for the fans who watch and think they're getting their money's worth out of it.
Zwerling: But the league has a strong core of superstars right now.
Oakley:
I can't count 10 superstars in the league right now. You've got to be easy saying superstars; just say they're good players. As an ex-player, no offense, but I go about what I see. I think when we played, you couldn't dribble the ball seven, eight, nine, 10 times to get a shot off. I mean, you would be dead after two or three dribbles. Now it's a dribble game and low-percentage game for shooting outside.
Zwerling: Where do you think fans then can watch the best-quality basketball?
Oakley:
I don't know. I think when you look for good basketball, you might have to go back and look at some old films. LA, Boston, Chicago. All those teams had marquee players, Hall of Fame guys. If you have a Hall of Fame guy on your team, you're going to see good basketball. The Bulls when they had their run; the Pacers, Utah. We [the Knicks] tried to get over the hump, but we didn't have enough to win the big one.
Zwerling: It's interesting because the Knicks could use a guy like you right now. What does it mean to you when you hear fans say, "We need an Oak?"
Oakley:
I mean, I guess they appreciate the way I played the game. I tried to play within my skills. When we played, you had to play your position. If you were a center, you played center; if you were a forward, you played forward. Now, you've got guys trying to play two positions. That's another thing I don't like about the game -- they're trying to make the NBA European-style.
Zwerling: A lot more 3-point shooting, like the Knicks.
Oakley:
Well, I ain't going to say shooting. They can't really shoot. It's good for the European guys to come over here because they're more sound. They learn the fundamentals. U.S. players are not fundamentally sound. We're just an And1 team. I think AAU -- I didn't play AAU growing up -- doesn't teach the guys fundamentals.
Zwerling: Looking back on your time playing, what do you credit for helping you understand how to play the game, in your eyes, the right way?
Oakley:
I just came in with attitude. I was from a small Division II school, didn't know what to say. I was in good shape, my conditioning was always high. I knew my role was a scorer in college, but when I got to the NBA, to the Chicago Bulls, they had a guy who could get 30 [
Michael Jordan
], and I knew I was a good rebounder. I almost had to make a U-turn with my game. In the NBA, everybody wants to be a scorer, so I figured, well, let me play defense, rebound -- just play tough. Those are the most important things. Know what you're doing, know who you're playing with, know what you can do at all times on the court.
Zwerling: What were you like during practice?
Oakley:
I was all out. I mean, in Chicago, my first year I was the third power forward, so I had work to do. I came from Division II, I didn't have any respect. People said he's going to be the steal of the draft, so I guess I was the steal of the draft. But now I had to prove to management why I was the steal of the draft -- coming in on time, knowing the plays, knowing what the coach wanted out of me, knowing what management expected from me. I stayed out of trouble, did the right thing.
Zwerling: When the 1998 lockout happened, what was your mentality back then? Did you ever think about playing overseas?
Oakley:
Nah, I didn't want to play overseas. I knew both sides would always work it out. When we were locked out, we had some ups and downs. I think what's going on is players don't play themselves and players don't draft themselves. It's in the hands of management. I was a long-shot player. When you take me from Division II to the ninth pick in the draft, you expect me to perform. It creates a whole standard for why they would give another guy from a small school a chance to play in the league. It wasn't just me getting drafted to the league; it was players from all the black colleges, all the small colleges around the U.S. It said that no matter where you went, if you did what you were supposed to do, you would get a chance.
Zwerling: So what does this lockout come down to?
Oakley:
I don't know what this lockout comes down to. I have nothing to do with it. But people are getting laid off and they gotta find another job. That's what I'm worried about. I ain't worried about the athletes.
You can follow Jared Zwerling on
Twitter.
October, 26, 2011
10/26/11
11:17
PM ET
By
Jared Zwerling
| ESPNNewYork.com
More than a year since
Charles Oakley
suffered a sciatic nerve condition in a run-in with Las Vegas security, the former Knicks power forward says he's still in some pain and may not return to the Charlotte Bobcats bench -- if the NBA lockout is resolved.
Over the summer, Oakley, who finished his first season as an assistant coach, underwent surgery to address the back pain he was experiencing, which came from a May 2010 incident at the Aria Resort & Casino.
According to the Associated Press,
the complaint contended five officers wrestled the 6-foot-9 Oakley to the ground and punched and handcuffed him after a verbal dispute over whether Oakley could return to a VIP pool area. It said Oakley was taken to the hospital with injuries to his neck, back, head and wrist.
Oakley, who may go under the knife yet again -- this time for a growth on his arm that keeps coming back -- says he's "up in the air" about committing to work for a team run by one of his longtime friends and former teammates,
Michael Jordan
. That's because Oak wants to teach by being on the court; not by yelling instructions from the sidelines.
"I don't want to be out there if I can't be 100 percent," Oakley said. "I want them to give me their full attention. I don't want to have them second guessing me if I can't tell them what to do. I think that's the most important thing to the game. A lot of coaches cut corners; they're not really giving details. They're trying to talk details; you've got to show them the details. You've got to be on the floor. We're losing what our game is really about; it's about going out, playing hard and knowing what you're doing."
While the collective bargaining agreement negotiations continued, Oakley launched a signature apparel line with K1X last week at the German-based company's store in New York City's SoHo district. Oakley joins Los Angeles Lakers small forward
Metta World Peace
(formerly
Ron Artest
) and basketball legend
World B. Free
as one of K1X's main endorsers.
Oak is also in the process of finalizing another apparel deal with Cleveland, Ohio-based Cocktail Collection, pitching a sports meets cooking talk show with ex-New Jersey Net
Jayson Williams
, and executive producing two films, "Joy Road" and "Pastor Brown."
You can follow Jared Zwerling on
Twitter.
October, 16, 2011
10/16/11
2:53
PM ET
Charles Oakley
showed up at K1X's store in Soho to promote his new clothing line, but spent a lot of his time ripping the Knicks.
Here are some highlights from the former Knicks bruiser's interview with
the New York Post
:
On Amare Stoudemire:
"Amare's good; he's good in his way. He's a West Coast player trying to translate to the East Coast. And the longer he plays in the East, the more his body's gonna get damaged, because he's got to take a beating now."
On Mike D'Antoni's system:
"I don't think [it can be successful], but that's his coaching style. They knew when they signed him. ... When you go buy a Bentley, you know it's not a Volkswagen. When they signed him, they knew what they were getting. That conversation should be dead, because it's a West Coast offense playing in a hard-nosed city. You always give somebody a chance to prove themselves. I mean, this is his fourth year. He's had a lot of time. ... I think it's just more half-court offense, and they need the big, tough guy. He don't want to play that way, but finesse, it's not gonna work."
On the Carmelo Anthony & Stoudemire Era:
"I mean, they've got hype. But hype don't win nothing."
On the organization's feelings about both he and all-time great Patrick Ewing
: "[The Knicks] don't want nothing to do with me. I don't know why. I tried to deal with them on several occasions. I'm not gonna keep trying. They don't like Patrick, either. They won't give Patrick a job, so I know they won't give me a job. Patrick should have a job before anyone. He's probably the best guy since
[Walt] Frazier
,
[Earl] Monroe
... he's the main guy on the list."
On
Isiah Thomas
: "I don't understand how he even got a job with management. He had nothing to do with the Knicks, then he talked bad about the Knicks ... If I see him, he'd better turn around and go the other way."
December, 17, 2010
12/17/10
10:56
AM ET
By
Jared Zwerling
| ESPNNewYork.com
The Knicks-Heat rivalry from 1995 to 2000 was one of the most physical and heated in sports history. It all started when
Pat Riley
resigned with the Knicks and took over as head coach and team president of the Heat in September 1995, and the rivalry became a battle-tested affair of brawls, game-winning shots and down-to-the-wire playoff series. Former Knicks power forward
Charles Oakley
was part of the rivalry from 1995-96 to 1997-98, and his aggressive style of play exemplified what it was all about. He shared his thoughts on tonight's rekindled rivalry and reminisced about the past.
How do you see the Knicks-Heat matchup unfolding tonight?
Both teams are doing well right now; they've got the chemistry going. I think the Heat and the Knicks both started off slow, but now they've picked up a fast pace. I think whoever comes in and can play consistent early in the game [will have the edge]. The Knicks were a team, in the past, that couldn't get scoring coming out of the gate in the third quarter and fourth quarter. But I think this year, they've been doing a great job. If they can sustain four good quarters against the Heat, they can win. Also, the Heat have no inside for Amare and I think the Knicks have great role players. Everybody is figuring out what they're supposed to do on a consistent basis. That's the most important thing -- how quickly you can get down your role. I tell the team, "Watch Utah play basketball. They're a team that's going to play the same way for a whole 48 minutes, no matter what happens. They can be down 20 or down 30, but still win." Miami's a team that's really trying to get a rotation and understand how they should be playing too. But with all the hoopin' and hollerin' that's going to be going on in the Garden, I don't think the fans should react like Cleveland fans. The Knicks are on a different page. They shouldn't turn back a page; they should turn it forward. The Knicks have got something established and the fans shouldn't spoil it with, "We don't like LeBron" chants because he didn't come to New York.
The Garden will definitely be electric, but the Knicks will really have to buckle down on their transition defense because the Heat is lethal on the fastbreak with LeBron James and Dwyane Wade.
Well, my thing is, if the Knicks are making buckets, like they've been doing, they don't have to worry about transition defense. If you're making your shots, you can eliminate a lot of fastbreak buckets.
So what's your greatest memory from those rivalry days in the late 90s?
With Pat Riley and without Pat Riley, playing against Zo [Alonzo Mourning], Tim [Hardaway] -- it was just a grind-out, just like Baltimore and Pittsburgh playing [in the NFL]. It was like every game was down to the last five, 10 seconds. It was tough. We didn't wear pads like a lot of guys are wearing now in the NBA. I think guys who wear that on the basketball court look soft personally. That's why we separated differently from the guys who play now. No disrespect to them, but they wear them because they prevent injuries. It was a war back then. We played so hard. I tried to make plays and give my team an opportunity to win.
Initially the rivalry started when Riley went from New York to Miami. But was there a game or specific moment that you think really heated up the series?
My thing is, we took one game at a time, but when we played them, it was just all out. I didn't do anything differently than any other night. Our job was the same no matter who we played. Fans and the news reporters got into all the hype about Miami, the Knicks, the Knicks and the Bulls. But at the end of the day, you've got to play defense and score points to win the game. Officials might call the game closer, but you can't get caught up in that because you can lose your mindset of what you're trying to do. It was fun for the coaches and players had to play the game. Some guys got more riled up and hyped up, but my thing is, I had to do it for 82 games because my job was the hardest. I didn't get 20 shots a night. I had to go get rebounds, I had to do what I could to make stops. My part of making the pot was hard. I had to go buy all the ingredients and then someone else sitting in the kitchen had to make it.
Were your emotions different in the locker room before a Knicks-Heat game?
Nah. Well, in the playoffs, we always cut our hair bald. But I didn't get caught up into that. You've go to know how to be a professional on the court and off the court.
In those games, every possession felt like a last-second shot situation.
Like I said, it was a grind. I talk to guys today and we didn't have a lot of blowouts against good, playoff teams. You wouldn't beat teams by 20, 30 points. We knew what we had and they knew what we had, and every possession was key because we had to limit our turnovers, know who's going to have the ball in clutch situations. That was the key I think -- everybody knew who was supposed to have the ball with the clock running down. We knew our role, we knew our position, we knew what we had to do to get points and get stops. That's the big difference in a ballgame now than back then.
Well, because of newer rules that favor increased scoring, such as no hand checking and having to pass the timeline in under eight seconds, the game is more fast-paced now. Even look at a traditional halfcourt team like the Spurs -- they are running for the first time in 16 years.
The guys now, they still can play above the game and the game is so much easier for their ability now. Back then, it wasn't. You had to know how to play to play. Now you can be an average player and still be good because the rules changed to guys' abilities now. Now I'd say only 20% of the young kids are tough. Back when we played, it was probably 50, 60%. It's a different mindset now. A lot of these kids try to assimilate with guys in the NBA, so it's more jumpshooting and dribbling the ball -- not really going to the hole as much. I was just telling somebody that back in the day, we could make a fastbreak dunk like it was nothing. But if you do it in the halfcourt, that's a real man's dunk. The game is all about hype now.
Can you imagine if the new technical foul rule was around back then? Because of the intensity in those Knicks-Heat games, you guys would have been T'd up so much, no one would be playing.
My thing is, we knew who our captain was. We didn't have 10 guys who were all looking for calls. That's embarrassing to basketball, anyway. I'm for that rule. I'm not for a lot of rules of the game, but I'm for that rule. I also hate the zone defense; the NBA should never have it. That should be something separate. I've voiced my opinion, but it is what it is.
What was the trash talking like when you guys played?
I don't trash talk with guys because that's not basketball. They said Larry Bird trash talked, but I never heard Bird say anything in the years that he played in the NBA. He would speak to you -- that's it.
Do you and the fellas ever get together for reunion games?
Nah, but I go to the golf course. I went to John [Starks'] golf outing earlier this year. I go down to Virginia Union and see Terry [Davis] and some of the guys down there. I see Michael [Jordan] and Scottie [Pippen]. I talk to Allan [Houston], Mase [Anthony Mason], Larry [Johnson], so we still stay in touch.
How's your golf handicap?
I don't have a handicap. I can beat [Charles] Barkley, though. He'll never beat me. He might have used to be able to beat me in basketball, but he can't no more.
Do you ever hit the hardwood today?
I play every now and then. I go to Detroit and play with these guys and play Knockout. I play in Atlanta every now and then. Last time I played with the pros I was in Vegas. But now I play about 10 times a year probably.
Stay tuned for an interview with former Heat point guard Tim Hardaway, who shares his thoughts on the rivalry from his team's perspective.
You can follow Jared Zwerling on Twitter.
December, 13, 2010
12/13/10
1:07
PM ET
By
Jared Zwerling
| ESPNNewYork.com
On what motivated the Knicks after their sluggish start:
"Ever since [Amare] Stoudemire made that speech about stepping up [after the Knicks' 104-96 loss to the Rockets on November 14, their fifth in a row], he's stepping up and they're stepping up. They're playing great. My thing is, sometimes when you're a leader, you've got to make statements like that. Everybody said he needed to be motivated, and I think when you're trying to motivate the 11th or 12 guy, you've got to let them see it for themselves. I think it was a great adjustment by him. They were saying that he shouldn't have gone to the [news]papers, but sometimes in New York, that's a statement. I mean, when you go to the papers in New York, you've got to stand behind it, and the talent has to go up because of what the people in the city stand for and what they know about sports."
On the adjustments Stoudemire and Raymond Felton have made:
"When you make an interview statement like that in the paper, after your team drops to 3-7 on the season, you've got to step your game up and let everybody else follow. And that's what he did. He's been a great player -- he's making his jumpshot and he's making the adjustment playing with a whole new team. I think he enjoys playing for coach [Mike] D'Antoni, since he coached him in Phoenix. But, most of all, they're winning and it's positive. They needed a change and Raymond [Felton] and the whole team is playing well. Raymond is coming from the Bobcats and he's getting a chance to play his style of basketball, because I think Larry Brown was too much controlled. Now he's got a little more freedom, and I think when people get freedom, they show you what they can do. He was the number five pick in the [2005] draft, so he had to have some kind of style of play to make him number five in the draft. He's playing ball."
On Felton playing at a career-high level:
"He's a fast guy, he's fiesty, he's a strong guy -- you can't take that away from him. He's making them go and Amare is
really
making them go."
On the surprising rise of Landry Fields:
"My thing is, sometimes you do the background on people and when you go to a school like Stanford, a lot comes with being a smart guy and being determined. Some guys can catch on quicker. You don't have to be at a big-time school, like North Carolina, Duke or Georgetown, to understand the game. I mean, when you understand books, sometimes books can carry over to the court, because it's all about knowing what you're doing, studying."
On the Knicks' tough upcoming home stretch, starting with the Celtics on Wednesday and then the Heat on Friday:
"Well, when you're on the road like that, [winning eight road games in a row], it's perfect timing. I mean, that's when you want [that challenge], when you're clicking. If you ain't clicking, you don't want to see that. Now they're clicking and it's just like, 'Hey, our record speaks for itself and when you come to our house, we're going to show you what our record means.'"
As a prelude to the Knicks-Heat game, Oakley and former Heat point guard Tim Hardaway will reminisce with me about the teams' historic rivalry from the late 90s. Stay tuned later this week.
You can follow Jared Zwerling on Twitter.