New York Knicks:

Charlotte Bobcats
June, 13, 2013
6/13/13
12:22
PM ET
By
Jared Zwerling
| ESPNNewYork.com
Jason Kidd
hasn't coached one day in the NBA.
Patrick Ewing
, on the other hand, has been an assistant in the league for 10 years.
[+] Enlarge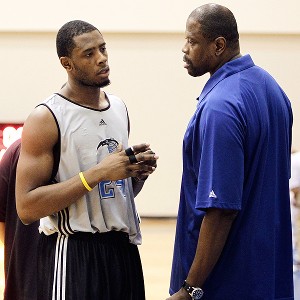 AP Photo/John RaouxPatrick Ewing Jr. has his dad's back.
That math didn't add up for Ewing's son,
Patrick Jr.
, when the
Brooklyn Nets
named Kidd their new head coach.
On Wednesday, Ewing Jr. tweeted, "For real though I'm mad J Kidd got a head coaching job a year after retiring n my pops has been coaching 10 years n barely gets a look.
He added later: "Im not mad at J Kidd or hating that he got the job. I'm happy for him. I like him. I just dont get y other qualified coaches get overlooked."
Ewing, who built his Hall of Fame legacy as the Knicks' All-Star center, retired after the 2001-02 season and became an assistant coach for the Wizards. He then served as an assistant for the Rockets (2003-06) and Magic (2007-12).
Ewing took a season off from coaching, but sources confirmed Tuesday that he will become the associate head coach of the Bobcats.
A day later, Kidd got the Nets job.
"I love the Knicks," Ewing Jr. tweeted, "but the best offer they had was NBDL HC?" That referred to the Knicks' offer to Ewing last fall to coach their D-League team, the Erie BayHawks.
During a Thursday appearance on ESPN New York 98.7 FM, the elder Ewing was asked why he hasn't landed a head-coaching job in the NBA.
"I don't know. Maybe they think big men can't think," he said. "The point guard runs the show, but as a center, I'm the leader of the defense, I'm the one that's barking out the defensive schemes, the defensive plays. Just as much as a point guard can think, big men can think also."
He added: "All I can do is just keep on working, keep on getting better, keep on improving, and hope that one day I would have that opportunity to have somebody believe in me to give me a chance."
You can follow Jared Zwerling on Twitter.
April, 15, 2013
4/15/13
2:34
PM ET
By
Ian Begley
| ESPNNewYork.com
Carmelo Anthony
,
Tyson Chandler
and
Kenyon Martin
will not play on Monday night in Charlotte, according to the Knicks.
The absences are expected.
The Knicks say Anthony is out due to a sore left shoulder. Anthony said after Sunday's win over the Pacers that he'd probably sit out of the Bobcats game because the matchup is inconsequential for the Knicks.

New York has clinched the Atlantic Division title and the No. 2 seed in the Eastern Conference, so they have nothing left to accomplish in the regular season.
Chandler and Martin have been battling injuries but both are expected to be ready for the playoffs.
Chandler has missed five consecutive games and 15 of the past 19 due to a bulging disk in his neck. Martin has missed the past three games with a sprained left ankle.
Head coach Mike Woodson said on Sunday that the swelling in Martin's left ankle has receded.
"We're all pleased about that," Woodson said.
There's a chance that
Rasheed Wallace
will suit up for the Knicks against Charlotte.
Wallace has not played since Dec. 13 due to a stress fracture in his left foot. He had surgery in late February to repair the injury. Wallace has been running for the past few days.
Woodson said Wallace's status for Monday's game was dependent on how he felt on Monday morning.
With their big men seemingly on the way back, the Knicks on Monday waived forward/center
Solomon Jones
.
The Knicks signed Jones on Friday to provide relief for all of the injuries on their front line.
Jones looked out of sync at times in his two games with the Knicks, which was expected because he had little time to practice with his teammates.
In one start and one game off of the bench, Jones averaged 1.5 rebounds, 0.5 blocks and 1.5 turnovers in 13 minutes.
The team is expected to sign a player to fill the roster spot vacated by Jones.
You can follow Ian Begley on Twitter.
April, 15, 2013
4/15/13
1:05
PM ET
By
Ian Begley
| ESPNNewYork.com
Monday's game in Charlotte is going to have a "last day of school" feel to it.
The Knicks would rather be done with the regular season and on to the playoffs. But they are contractually obligated to play the Bobcats. So here are a few things to keep an eye on; tipoff's at 7 p.m.:

WHO'S IN? WHO'S OUT?
With the No. 2 seed and Atlantic Division title wrapped up, the Knicks have nothing left to accomplish in the regular season. So Monday's game will give healthy players a chance to rest and injured players an extra day to heal.
Carmelo Anthony
said Sunday that he plans to sit out of the Charlotte game. And he could use the rest. During the Knicks' 13-game win streak, he averaged 36 minutes per game. That's not an exorbitant figure, but don't forget: Anthony isn't far removed from having fluid drained from his knee. He has looked strong since the procedure, but a little rest never hurts.
J.R. Smith
, who hasn't missed a game all season, could also use a breather. Same goes for
Raymond Felton
, who injured his knee late in the Chicago game on Thursday.
As for the injured Knicks, big men
Kenyon Martin
(ankle) and
Tyson Chandler
(neck) will not make the trip but are expected back for the postseason.
Marcus Camby
(plantar fascia) is not expected to play but also should be available for the playoffs.
SHEED SIGHTING?
There's a possibility that
Rasheed Wallace
could play against Charlotte. Wallace hasn't played since Dec. 13 due to a stress fracture in his left foot. He had surgery to repair the fracture in late February.
He recently started running and Mike Woodson said Sunday that if Wallace feels OK on Monday morning, there's a chance that he could play against Charlotte.
"We're just going to gauge it and see how he feels ... and go from there," Woodson said.
SCORING RACE:
Entering play Monday, Anthony leads
Kevin Durant
by 0.6 points per game for the scoring title. Durant's Thunder play the Kings on Monday night. If Durant scores 71 against Sacramento, he'll pass Anthony with one game to play.
If Anthony sits out the Knicks' final two regular-season games, Durant will need to score a total of 99 points to win the title.
You can follow Ian Begley on Twitter.
March, 29, 2013
3/29/13
2:52
PM ET
By
Jared Zwerling
| ESPNNewYork.com
The Knicks have won six in a row -- the longest current streak in the NBA -- and their Friday night opponent, Charlotte, has lost eight straight road games by an average of 23.1 points.
The Knicks' last winning streak of at least seven straight games -- the longest in the
Carmelo Anthony
era -- came more than a year ago (Feb. 4-15, 2012).
Tipoff is set for 7:30 p.m. at the Garden. Here are three main things to watch for:
1. "Just Remarkable" for a third time?
J.R. Smith
is coming off two consecutive games with 30 or more points, and the Knicks won both games. Smith has been a man on a mission, attacking the rim in transition and in half-court sets. With the Bobcats struggling as of late, the sky's the limit for the Knicks' sixth man.
Smith has also applied his aggressiveness to the glass. To go along with his scoring outbursts in the past two games, he had eight offensive rebounds (four per game). Without the injured
Tyson Chandler
and
Amar'e Stoudemire
, Smith has given the Knicks another sorely needed inside punch besides Anthony.
2. A more efficient Melo?
In his past two games, Anthony shot 33.3 percent and 40 percent from the field -- and he combined for 50 attempts. On the season, he's shooting 43.5 percent.
Anthony recently returned from injury, and the Knicks are loading up on him in the low post so he can take most of the shots; therefore, defenses are making it a bit tougher on him. To alleviate some of that pressure, the Knicks should mix it up a bit more, with Anthony facilitating pick-and-rolls or running off additional screen sets. That would free him up more for jump shots.
Playing alongside
Kenyon Martin
, a timely and hard-nosed screener, should continue to work well for Melo. Martin has already helped Melo with his offense, and the power forward's offensive board work has been huge.
3. How about a dominant first quarter?
As I mentioned, the Bobcats have been struggling lately, except for the overall play of New York City native
Kemba Walker
(26.3 points in his past three games). The Knicks' starters should look to take advantage early and then hope to get some rest later in the game. Anthony played 40 minutes Wednesday night, and coach Mike Woodson would like him down to 33-35.
You can follow Jared Zwerling on
Twitter
.
March, 29, 2013
3/29/13
2:24
PM ET
By
Ian Begley
| ESPNNewYork.com
GREENBURGH, NY --
Tyson Chandler
received treatment on a lingering neck injury during the Knicks' shootaround Friday morning. The All-Star center is questionable for Friday night's game against Charlotte at Madison Square Garden, according to Knicks coach Mike Woodson.
"I'd like to think he's getting better, but he's just continuing to get his treatments and he'll let us know when it's time to step back out on the floor," Woodson said.
Chandler has missed the past eight games. The Knicks are 6-2 in his absence.
Chandler said Tuesday that he still feels lingering pain and "spasms," as well as painful sensation from his neck to his shoulders, from a small bulging disk in his neck. Earlier this week, he made it sound as if he was in no rush to return to the court.
"This is not going to be something that I'm just going to be able to fight through," said Chandler, who is averaging 10.7 points, 11 rebounds and 1.1 blocks per game.
With Chandler out, Woodson will start
Pablo Prigioni
,
Raymond Felton
,
Iman Shumpert
,
Carmelo Anthony
and
Kenyon Martin
against the Bobcats.
NO REGRETS REGARDING AMAR'E'S MINUTES:
Amar'e Stoudemire
said Thursday that he started to feel soreness in his knee a few days before the Knicks' loss to Oklahoma City on March 7, the last game he played before undergoing another knee debridement.
That led to questions over Stoudemire's usage. With Carmelo Anthony sidelined with a knee injury, Stoudemire played around 30 minutes per night in all four of the Knicks' games in a five-day stretch.
Woodson said he had no issue with how Amar'e was used in the days leading up to his injury.
"I thought we did a pretty good job in monitoring his minutes," Woodson said. "Maybe got out of hand a little bit. ... Things happen, man. Again, I tip my hat to Amar'e because he's put a lot of work in into trying to get back this season, and to have two knee surgeries in one season is tough. But if anybody can make it back it'll be Amar'e, I promise you that."
Stoudemire said Thursday on a conference call to promote his documentary, "Amar'e Stoudemire: In The Moment," that he was uncertain whether he could make it back for the playoffs.
WOODY LOSES A BET:
Woodson, an Indiana alum, held an orange in his hand while talking to reporters Friday morning after losing a bet with Anthony over the Syracuse-Indiana game on Thursday night.
Syracuse beat Indiana to advance to the Elite Eight. Woodson said some players suggested he coach Friday's game against the Bobcats with an orange tie.
"It's a sad day in New York," Woodson said. "My Hoosiers took it on the chin."
Anthony, of course, led Syracuse to the national title in 2003.
You can follow Ian Begley on Twitter.
December, 5, 2012
12/05/12
9:45
PM ET
By
Jared Zwerling
| ESPNNewYork.com
WHAT IT MEANS:
J.R. Smith
went from goat to hero.
Smith, who struggled from the field all night, drilled a fadeaway jumper from the left wing as time expired, and the
New York Knicks
escaped with a 100-98 victory over the
Charlotte Bobcats
on Wednesday. On the previous possession, Smith (6-for-16, 1-for-9 3-point range) caused a deflection that gave the Knicks the ball, but didn't go in for a layup on a two-on-one fast break, instead backing it out, which drew the ire of his teammates, as they were forced to use a timeout.
The Knicks trailed by eight with 6:13 left in the fourth quarter, but came back to improve to 13-4, and now own the top record in the Eastern Conference. They have won four in a row heading into their marquee matchup with the
Miami Heat
on Thursday night.


MELO TIME:
Carmelo Anthony
, who had been averaging 30.7 points in his previous six games, came out gunning en route to 20 first-half points. He then missed his first 10 shots of the second half before finally getting a layup to go with 2:34 remaining in the fourth quarter. But 24 seconds later, he dove into the Knicks' bench trying to save a loose ball from going out of bounds, and was forced to head to the locker room due to a laceration on his left middle finger. Melo had just one point the last time the Knicks played the Bobcats, on Jan. 24 (0-for-7 shooting).
HOMECOMING:
North Carolina product
Raymond Felton
, playing in front of several friends and family members, struggled to shoot the ball in the first half (2-for-9, 0-for-4 3-point range), in large part due to the fact he was wearing a wrap on his bruised left hand. But Felton was a different player after taking the wrap off. He ignited a 7-0 third-quarter run with a 3-pointer and a pair of assists. Then, he produced a five-second violation with 1:10 remaining and converted a driving layup to make it 98-all with 56.3 seconds left. Felton finished with 17 points, 9 assists and no turnovers.
WHERE'S THE D?
The Knicks allowed one of the league's worst offensive teams to hit 47 percent of its shots, 43.8 percent of its 3-point attempts. New York was also outrebounded, 50-36. The Knicks went 13-for-41 from 3-point range.
CONTROLLING THE PAINT:
Tyson Chandler
dominated inside in the first quarter, scoring eight points on 4-for-4 shooting while grabbing nine rebounds (four offensive). The 30-year-old center, who played in Charlotte in 2009-10, ended up with 18 points and 17 rebounds.
NEW YORK NIGHTMARE:
Kemba Walker
, a former standout at now defunct Rice High School, and Mount Vernon native
Ben Gordon
torched the Knicks all night, scoring from both the perimeter and by taking the ball to the rim. Walker had 25 points and 11 assists, while Gordon added 17 off the bench.
COMEBACK CITY:
The Knicks trailed by 10 late in the second quarter, but closed the first half on a 12-4 run to trail just 53-51 heading into the locker room.
THIRD TO FORGET:
The Knicks missed 14 of their last 16 shots in the third quarter -- at one point going through an 0-for-11 stretch. Still, they trailed by just 75-72 going to the final period.
RETURN OF KIDD:
Jason Kidd
returned from a four-game absence due to back spasms, and came off the bench for the first time since 2004. Kidd was not sporting a headband over the cut on his head, just a bandage. He had seven points in 25 minutes.
WHAT'S NEXT:
The Knicks head to Miami to take on the defending champion Heat on Thursday night. New York stunned Miami, 104-84, on Nov. 2, making 19 3-pointers, while turning it over just 12 times.
LeBron James
& Co. are going to be out for revenge in this one.
December, 5, 2012
12/05/12
12:42
PM ET
By
Ian Begley
| ESPNNewYork.com
It's the game before The Game.
The Knicks will visit an improved
Charlotte Bobcats
team Wednesday night, a day before their showdown Thursday in Miami against the Heat.


Here are a few things to watch:
HOW SHARP ARE FELTON AND KIDD?
Raymond Felton
will play through pain on Wednesday. The Knicks' starting point guard suffered a bone bruise and contusion in the lower portion of his left hand and will play with added padding on his left thumb and palm.
Felton said his hand is still sore, so how will that affect him on the floor? He said on Tuesday that he might feel discomfort while catching a pass, but his shot and ability to handle the ball should not be affected.
Also in the backcourt,
Jason Kidd
will play for the first time in 10 days. Kidd, 39, has missed the past four games due to lower back spams. He said on Tuesday that he feels no pain in his back. He will come off the bench on Wednesday and his minutes will be limited because the Knicks have the second game of a back to back on Thursday and play four games in five nights.
Point guard play has been a key factor in the Knicks' 12-4 start. They have the best assist-to-turnover ratio in the league and average the fewest turnovers per game, thanks in large part to their floor generals.
PLAYER OF THE MONTH?
Carmelo Anthony
's one of the hottest players in the NBA, averaging 30.7 points over the Knicks' last six. Anthony was named Eastern Conference Player of the Week on Monday and is a strong candidate to win the Eastern Conference Player of the Month award.
His 26.6 per game average is the second-highest in the league. And Anthony ranks eighth in PER, a ranking of a player's per-minute production developed by ESPN's John Hollinger.
It should be noted, however, that Anthony struggled mightily in his last game against Charlotte. He scored a career-low one point while missing all seven shots from the field in the Knicks' blowout win on Jan. 24.
This season, Anthony has found a way to impact the game when he doesn't score (see his performance vs. San Antonio earlier this year), so if he has a tough time scoring on Wednesday, look for him to find other ways to help the Knicks.
CATS' MEOW:
The Knicks have lost three of four road games but, if previous statistics are any indication, they should be able to take care of business against Charlotte. New York ranks first in offensive efficiency (points scored per 100 possessions) and 10th in defensive efficiency (points allowed per 100 possessions), while Charlotte ranks 27th and 22nd, respectively.
The teams have a similar rebounding rate (percentage of missed shots a team rebounds) and the Knicks, who've won seven of their last nine vs. Charlotte, turn it over nearly four fewer times per game than the Bobcats.
Advantage:
Knicks.
December, 4, 2012
12/04/12
2:47
PM ET
By
Ian Begley
| ESPNNewYork.com
GREENBURGH, N.Y. --
New York Knicks
point guard
Raymond Felton
will play on Wednesday against the
Charlotte Bobcats
despite suffering a bone bruise and contusion in his left hand.
"It's going to be tough, but I'm going to play," said Felton.
The Knicks are also optimistic that
Jason Kidd
(back spasms) will return from a four-game absence. Kidd says he'll play against the Bobcats but might not start.
[+] Enlarge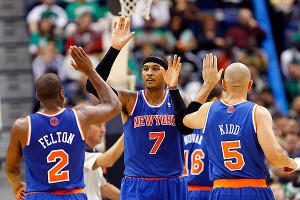 Mark L. Baer/USA TODAY SportsCarmelo Anthony might have both of his point guards in the lineup Wednesday night.
Knicks coach Mike Woodson called Kidd "probable" and wants to see how the 39-year-old feels on Wednesday morning, presumably after the morning shootaround in Charlotte.
"We'll just have to play it by ear and see how he feels," Woodson said. "It would be nice to have him back."
Felton banged his left hand on
Phoenix Suns
guard
Sebastian Telfair
's knee while trying to split a double team in the fourth quarter of the Knicks' win on Sunday.
An MRI taken shortly after the game revealed the bone bruise and contusion.
Felton will play Wednesday's game with his left, non-shooting hand bandaged but doesn't believe that it will affect the way he dribbles the ball. He said he might feel discomfort catching passes and that his hand was still sore, but it's nothing he can't play through.
Assuming Kidd plays against Charlotte, the Knicks will have their full complement of point guards healthy for the first time in 10 days.
Kidd missed the past four games -- beginning with the Knicks' overtime loss to Brooklyn last Monday -- due to lower back spasms.
He is unsure how the injury originated, but said Tuesday that he is pain-free and will not have any limitations due to the injury or conditioning when he returns.
However, Kidd did not expect to start against Charlotte due to his extended absence. Woodson said he'll monitor Kidd's minutes closely because the Knicks play in Miami on Thursday and then travel to Chicago for a Saturday night game.
"I've got to be open-minded because he's here for the long haul and we don't want any setbacks," the coach said.
The Knicks (12-4) went 3-1 without Kidd with wins over Milwaukee, Washington and Phoenix.
New York was able to move the ball well and keep its turnovers to a minimum thanks to Felton and third point guard
Pablo Prigioni
.
Prigioni played an important role off the bench in the wins over Milwaukee and Washington. The 35-year-old rookie and longtime veteran of the Spanish League missed practice on Tuesday for personal reasons, but is expected to make the trip to Charlotte with the Knicks.
Thanks mostly to Kidd, Felton and Prigioni, the Knicks entered play Tuesday with the fewest turnovers per game and top assist-to-turnover ratio in the league.
In other injury news,
Marcus Camby
(sore left foot) sat out of the majority of practice on Tuesday but is expected to fly to Charlotte with the team.
The 38-year-old veteran has played sparingly for the Knicks after missing the entire training camp and preseason with a sore left calf. He's said in recent days that he feels fine physically, so his lack of playing time, particularly during blowouts, has led to questions for Woodson about Camby's role.
"Marcus is a pro about this whole thing," Woodson said. "He's going to do whatever's asked of him and he's done that. When he's really ready to play, we'll get him back out there because we're going to need him."