New York Knicks:

Deron Williams
December, 6, 2013
12/06/13
4:24
PM ET
Everybody's safe. For the moment.
For now, there should be no talk of coach Mike Woodson's future. Nor should there be talk about
Carmelo Anthony
's imminent departure. At this moment, all that should matter is that the Knicks won a game, ended their nine-game losing streak, witnessed a fire-in-the-belly no one knew existed in
Andrea Bargnani
and -- oh, by the way -- have clearly dismissed the notion that they are the worst team in New York City.
That odious title disturbingly belongs to the boys in Brooklyn.
In the aftermath of the Knicks' 113-83 drubbing of the
Brooklyn Nets
, the only conclusion to be drawn is that there can be no conclusion drawn about the boys in Manhattan following the massacre at the Barclays Center on Thursday night.
Bargnani was hitting shots. So was Melo. So were
Iman Shumpert
and
J.R. Smith
, and even
Amar'e Stoudemire
and
Pablo Prigioni
. All told, the Knicks shot 57 percent from the field and hit 16-of-27 shots from beyond the arc, embarrassing the Nets in such alarming fashion that it provoked a cause to pause:
Maybe instead of worrying about Woodson and Anthony, we should be more concerned with Nets coach Jason Kidd and his supposed star,
Deron Williams
.
"We got our butts kicked," Kidd deadpanned. "You've got to give the Knicks credit. They came in shooting around 32 percent. Tonight they looked like the team of last year that made a lot of 3s. When they started the game off, it didn't seem as if they were going to miss. But we stayed the course."
I'm glad he thinks so.
Reality, however, illuminated that neither Kidd nor the Nets, collectively, have the slightest clue what a course looks like. The Nets simply look like straight garbage right now. They can't seem to shoot, pass or play efficiently. Periodically, they vacillate between looking slow, lethargic or soft, and with
Paul Pierce
and Williams both injured,
Kevin Garnett
appears too aged to stop the proverbial bleeding.
The Knicks, as a result, had Christmas early on Thursday night, accentuated by the fact that the Barclays Center might as well have been Madison Square Garden: At one juncture, Nets center
Brook Lopez
was literally booed at the free throw line in his own house as Knicks fans completely drowned out whatever faithful followers the Nets would have you believe they possess.
"I think everybody looked like they had that feeling that we were tired of losing," said Anthony, who finished with 19 points. "It showed from the tipoff."
It needed to.
Let the Knicks tell you what they want, but chaos has permeated this franchise for the past several weeks. Losers of nine straight, mired with the second-worst record in the league, Woodson was in immense trouble, no matter what the Knicks say. Rumors swirled around the league that Melo can't wait for the summer to arrive so he can get out of here. Noise was being made about in-fighting pertaining to Shumpert's stubbornness, Smith's discipline -- on and off the court -- and Thursday night's encounter only exacerbated the situation.
After resembling a bunch of snipers all last season, the Knicks hadn't blitzed anyone this season. Entering the game, they hadn't shot better than 50 percent from 3-point-range all season long. Yet, the Knicks made 63 percent of their 3s within the first three quarters. Shumpert -- of all people -- made five 3s. Even Stoudemire made five of his six shots, pausing the noise. At least momentarily.
Now, everything appears right for the Knicks entering Friday's game versus Orlando. Suddenly, there's light at the end of the tunnel. Just one win over the Brooklyn has quelled the negative momentum, hints of panic by the Knicks' brass appears to have subsided, somewhat.
But it still doesn't mean they're out of the woods. The Knicks' next eight games are all deemed winnable, with a couple against Boston, one against an Atlanta team they've already beaten, plus Cleveland and Milwaukee on their schedule.
"We ended our losing streak; now it's time to build off of this and move forward," Woodson explained.
To do that, the Knicks will have to do most of what they did on Thursday night: be aggressive, hit shots, remain in attack mode and pray that
Tyson Chandler
returns quick, fast and in a hurry.
Until then, the Knicks are still a doormat -- in the pathetic Eastern Conference, for crying out loud. They entered Friday still nine games under .500, still devoid of a perimeter game and still perceived as a franchise on a fast track to irrelevancy. The kind of franchise who'll have a new coach next season and, quite possibly, some other player to lean on outside of a star (Melo) who still may depart.
"I haven't said I'm going anywhere and I'm not saying that now," Melo reportedly said. "I don't know where anyone would get that from."
Hmmm! How about we've got it from a Knicks team still in possession of the third-worst record in the league.
That may not have mattered Thursday night with the Brooklyn Nets to deal with. But there are always the days ahead to consider.
September, 14, 2013
9/14/13
8:16
PM ET
By
Ian Begley
| ESPNNewYork.com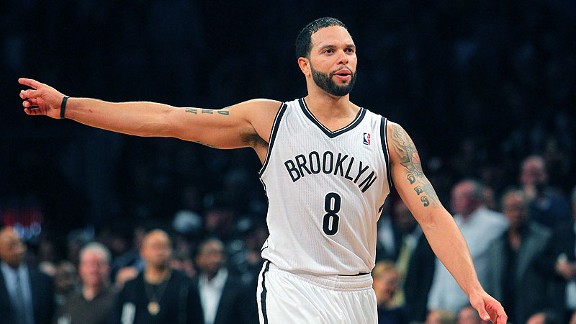 Brad Penner/USA TODAY SportsDeron Williams says he's ready to lead the Nets to Big Apple bragging rights.
NEW YORK --
Deron Williams
has entered the fray -- sort of.
Asked about teammate
Paul Pierce
's assertion that the Nets will eventually take ownership of New York from the Knicks, Williams told ESPNNewYork.com, "That's my teammate so I'm with him. Of course we want to run New York. The Knicks are our rival. I don't get into too much of the talking. We'll decide all that on the court. We have four games to play against them and then the playoffs so I'll let Paul do the talking and I'll just go out there and play."
The Knicks and Nets have engaged in a war of words ever since Nets forward Pierce told ESPN New York 98.7 FM in August, "I think it's time for the Nets to start running this city."
That sparked responses from
Raymond Felton
and
J.R. Smith
, who called Pierce "bitter" and added that there "will be consequences" for his words.
The Knicks and Nets will meet four times in the regular season.
Brooklyn will bring a revamped roster to the East River Rivalry this year. The Nets traded for Pierce,
Kevin Garnett
and
Jason Terry
and hired Jason Kidd as head coach.
Brooklyn is a veteran-laden team that likely won't be together for more than two seasons. Williams acknowledged as much.
"Our time is now," he said. "We have a short window to try to win."
LENDING A HAND:
Growing up in Texas, Williams had a basketball court in his apartment complex and another court in the community recreation center less than a mile from his house.
He'd play constantly on both courts, developing and nurturing the talent that would eventually lead him to the NBA.
"The courts were so close, it just made you want to play basketball," Williams said. "That definitely helped me develop as a young player."
Now that he's a Brooklyn Net, Williams wants to give the same opportunity to kids in the borough.
For the second straight season, Williams has partnered with the Nets, Red Bull and the New York City Department of Parks & Recreation on the "Brooklyn's Got Wings" program to help refurbish local basketball courts.
Last season, Red Bull donated $150 for each of Williams' 663 assists (totaling $99,450) to refurbish two basketball courts near the Barclays Center.
The Albert J. Parham Playground courts in Fort Greene and Nicholas Naquan Heyward Jr. Park in Boerum Hill were renovated thanks to last year's donation.
Refurbishments included new playing surfaces, backboards, rims, fencing, court barriers and draining systems.
"It was a great way for us to give back," Williams said. "This community supports us so in turn we need to support the community."
October, 27, 2012
10/27/12
11:10
PM ET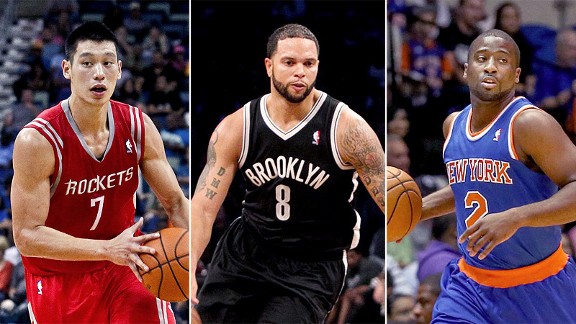 US PresswireJeremy Lin, Deron Williams and Raymond Felton
EAST RUTHERFORD, N.J. --
Brooklyn Nets
All-Star
Deron Williams
said Saturday that
Raymond Felton
is a better playmaker than the point guard he replaced in New York,
Jeremy Lin
.
Lin outplayed Williams last Feb. 4 in a stunning performance off the bench, starting a phenomenon that became known as Linsanity. But the Knicks opted not to match the $25.1 million deal Lin signed with Houston, having already completed a sign-and-trade deal with Portland to reacquire Felton.
Felton played well in a previous stint with the Knicks.
"I would say Raymond Felton is a better point guard than Jeremy Lin, in my opinion," Williams said at the Nets' practice facility.
The Nets host the Knicks on Thursday in their first game at the new Barclays Center.
It would've been hard to imagine Lin not being there after the 10 games that started when he scored 25 points in a 99-92 victory over the Nets at Madison Square Garden. Williams scored 21 points and shot just 7 of 19 that night, though he made amends later in the month when he scored 38 points as the Nets won in their return to New York.
For the full news story, click here.
April, 17, 2012
4/17/12
3:50
PM ET
By
Ian Begley
| ESPNNewYork.com
Here is the latest on Deron Williams from ESPNNewYork.com colleague Mike Mazzeo: New Jersey Nets point guard Deron Williams will miss Wednesday night's game because of a sore right calf, according to the team's official injury report.

Williams missed Monday night's 101-98 loss to the Miami Heat with the same injury.

Williams suffered the injury after a collision with Boston Celtics center Greg Stiemsma Saturday night. Williams, who felt a foul should have been called on Stiemsma on the play, received a technical foul for arguing the call.

The 27-year-old All-Star is averaging 21 points and 8.7 assists in 55 games for the Nets (22-40), who have just four games remaining in what is their final season in New Jersey.

Small forward Gerald Wallace (strained right hamstring), who has missed the past four games, is questionable.
February, 26, 2012
2/26/12
11:55
PM ET
By
Jared Zwerling
| ESPNNewYork.com
ORLANDO -- As it's been since these famous words were said in 2010, "I'm taking my talents to South Beach," the NBA has been all about pairing the popular quoter,
LeBron James
, with his superstar sidekick,
Dwyane Wade
.
That was the case after the NBA All-Star game, when James, who scored 36 points, and Wade, who had a triple-double (24 points, 10 assists and 10 rebounds), once again stepped up to the press conference podium together -- this time at the Amway Center Sunday night. But as they addressed the media, James made sure to give a shout out to his teammates, especially
Carmelo Anthony
.
Though the East lost to the West, 152-149, James complimented the Knicks' small forward for helping the team erase their 19-point first-half deficit.
"Melo played great, as well, in the second half," James said.
Anthony scored nine of his 19 points in the fourth quarter alone, bringing the East team back to make it a three-point game, 146-143. He did it by pushing around his 6-8, 230-pound size in the paint and capitalizing on a series of layups and a few free throws. James knew Melo wanted to win the game as much as he did.
"Being a competitor, no matter All-Star Game or not, you don't want to get blown out," James said. "You have some of the best competitors out on the floor at the same time. Not only me and
Kobe [Bryant]
, but D-Wade and
[Kevin] Durant
and Melo and CP3
[Chris Paul]
... We all wanted to win, and it came down to the last minute or last seconds."
That also couldn't have been possible without the Nets'
Deron Williams
. While he only played 18 minutes off the bench -- he didn't even see the court in the first and third quarter -- it was his performance in the fourth that could've made him the MVP candidate.
D-Will scored eight of his 20 points in the final period on two threes and a layup (after a steal), which decreased the East's deficit to 148-147, with a 1:40 remaining. If he had made his 3-point attempt with eight seconds left, it would've put the East up 152-151, their first lead of the game since the first quarter.
Williams talked through that critical sequence after the game.
"We called a timeout. Coach [
Tom Thibodeau
] drew up a great play to give me a shot," D-Will said. "There were a couple different options. I was the last option. We went through it and we missed our shot."
But overall, Williams said he had a fun time during All-Star Weekend and Anthony was gracious for the opportunity to compete on Sunday.
After the game, Melo tweeted: "To all my fans, thanks for the support this weekend!!!!! Much appreciated. Now back to business." He confirmed he would be
back in New York
tomorrow morning, saying, "I know how important these next two practices are," referring to one Monday afternoon and a second Tuesday morning at the Knicks' training facility.
In the postgame interview room, ESPNNewYork.com took part in a small Q&A session with Williams. Here are some highlights:
Q.) What do games like this mean to you and to fans? Obviously you guys put on a show.
A.) That's what this weekend is about. Just in general, the weekend is about the fans. That's what coach [Thibodeau] said. The fans come out to see the best players in the world playing on one court. And it means a lot to me. I love coming and being a part of All-Star Weekend very year.
Q.) It won't take long for all the talk to shift to free agency and the Mar. 15 trade deadline.
A.) No question. The deadline is on the 15th and every year they move the deadline up.
Q.) Do players pay attention to all the rumors and everything else?
A.) It's impossible not to. There's no doubt that you're coming to ask questions every day. It's part of the game. It's part of our job. Trades happen.
Q.) Is there anything specific that you're looking for the Nets to come out and do in the second half of the season?
A.) Improve. I don't know if we're going to do it right now.
You can follow Jared Zwerling on
Twitter.
February, 26, 2012
2/26/12
10:22
PM ET
By
Jared Zwerling
| ESPNNewYork.com
Recap
|
Box score
|
Photos
RECAP:
After the West scored 88 points in the first half (the most by an All-Star team) and held a 19-point lead, the East stormed back with hot 3-point shooting from the Nets'
Deron Williams
(20 points) and
LeBron James
(tied for a game-high 36 points). With about 1:30 remaining in the game, D-Will had a steal and then a layup to bring the East the closest they had been since the first quarter, 148-147, but the West held on to win 152-149.
The Knicks'
Carmelo Anthony
, a first-time East member, scored 19 points, and his teammate,
Dwyane Wade
, had a triple-double (24 points, 10 assists and 10 rebounds). The West was led by game MVP
Kevin Durant
(36 points) and
Kobe Bryant
(27), who surpassed
Michael Jordan
to become the all-time All-Star scoring leader.
LOCAL HIGHLIGHTS:
Anthony wasn't the usual mid-range jump shooter and attacker from the perimeter. Instead, he was a threat down low, scoring all 19 of his points in the paint on mostly layups and free throws. He also collected four offensive rebounds -- second to
Dwight Howard
and
Russell Westbrook's
five -- and nine overall.
Although Williams only played 18 minutes -- and didn't even see the court in the first or third quarter -- he took advantage of the limited time. He showed off the shooting touch he displayed at Madison Square Garden on Feb. 20, when he lit up the Knicks for 38 points on 8-for-14 3-pointers in the Nets' 100-92 win. Tonight, D-Will scored 20 points off the bench on 4-for-7 from downtown.
JUST FOR KICKS:
Anthony and Williams wore special All-Star colorways of their regular-season sneakers. Melo:
His Jordan Brand Melo M8s
didn't really have a particular theme, but simply matched the blue and white East uniforms. They featured a white patent that took up most of the upper and a navy elephant print along the collar.
D-Will:
His Galaxy Nike Zoom Hyperdunk 2011 Lows
took on Nike's All-Star Weekend "Galaxy" theme, inspired by the space travel that the Orlando region is known for with Cape Canaveral nearby. They featured a splatter graphic along the midsole to represent space and stars, and a colorful nebula graphic printed on both the liner and laces. The outsole actually glowed in the dark. The "Galaxy" theme was led by All-Star sneakers worn by Bryant, James and Durant. In fact, all of Nike Basketball's All-Stars were wearing various models with a similar theme.
CELEBRITY ROW:
NBA legends
Julius Erving
,
Dominique Wilkins
,
Darryl Dawkins
and
George Gervin
were spotted in attendance. In addition,
Magic Johnson
,
Scottie Pippen
,
Clyde Drexler
,
Chris Mullin
and
David Robinson
were honored during a second-half timeout for the 20th anniversary of the 1992 Dream Team.
Mary J. Blige
(national anthem),
Nicki Minaj
(pregame),
Pitbull
,
Ne-Yo
,
Chris Brown
and
Nayer
(halftime) performed at the event.
Athletes: Yankees pitcher
C.C. Sabathia
. Entertainers: Comedians
Kevin Hart
,
Chris Tucker
and
JB Smoove
, and rappers
Lil Wayne
,
Drake
and
Cee Lo Green
. And who else but film director and Knicks fan
Spike Lee
. During pregame layup lines, Lee was standing courtside by his seat, next to
Jesse Jackson
, and calling out to every East All-Star that walked by him. He was making every one of them laugh with his gift of gab. Some were in awe of Lee rocking a special colorway of the iconic Air Jordan IIIs while in a cool suit outfit with an orange Knicks tie.
You can follow Jared Zwerling on
Twitter.
February, 22, 2012
2/22/12
1:51
PM ET
By
Greg Newman
| ESPNNewYork.com
What was the sound you heard in the comments section on the site around 10 p.m. on Monday? That was people jumping off the
Jeremy Lin
bandwagon and onto the
Deron Williams
bandwagon (which is still waiting for a nickname: suggestions are welcome in the comments).
From the Rapid Reaction
:
"Shumpert was really missed tonight"
- BarcelonaCatalunya
Ed.'s note -- I completely agree. Iman Shumpert was out with a knee injury and he could have helped on D, especially with outside shooting. Ian Begley even wrote about this post-game.
"Bottom line is, any NBA team shoots 31 threes and makes 49%, you have to play perfect offense to beat them. This is a one-off loss, with new people on the floor and the Nets shooting like Bird in an All-Star contest. Move on and get ready for Atlanta. Right now, the Knicks have what I'd call 'positive problems,' like your wallet being too small to hold all your Benjamins...."
- wolf.in.pinstripes
Ed.'s note -- True, it's not the end of the world and Lin isn't perfect but that doesn't mean it's time for Knicks fans to hit the panic button.
"Melo had freaking 6 Turnovers 4/11 on the field. lol We will see later on if Melo can get his game going."
- Neo21221
Ed.'s note -- Carmelo Anthony wasn't himself. If chemistry is still a major problem after playing Atlanta, Miami and Cleveland then Knicks fans can start screaming from the rooftops.
"Why blame Melo tonight? Its obviously Lebrons fault"
- Myanks26
Ed.'s note -- I can't find a reason it's not LeBron's fault.
"Face it Lin'wagon fans. DWILL took him to school. He is NOT a good defender. Imagine what's going to happen when he plays against CP3, Westbrook, & Rose."
- Drunyce86
Ed.'s note -- I don't think Lin could have expected a career 35% three-point shooter to explode and go 8-for-14 behind the arc.
From
Carmelo Anthony returns Monday
:
"Shouldn't Lin adjust TOO? While all the comments about Melo ALONE having to adjust? They have many new players on this team and are playing together for the first time. They ALL need to adapt and adjust, starting with the person who touches the ball 80% of the time. Melo is a world-class player, Lin is unproven, we don't know where in the NBA food chain he will settle. When
Baron Davis
is in basketball shape let's see what happens to Lin's minutes."
- 1111Frodo
Ed.'s note -- Lin needs to adjust as well. He is currently adjusting to tons of stuff: being a star NBA player, being expected to be amazing and playing so many minutes. As Jared Zwerling pointed out, the elite PGs only play about 35 minutes a game and Lin has gone from barely playing to 45 minutes every game. I think Baron Davis letting Lin get some rest will be crucial for the rest of the Knicks' season.
"Melo straight up for World Peace"
- tenthousandlakes1966
Ed.'s note -- Are we talking about peace in the world or that guy who wears number 15 for the Lakers who is averaging 4.7 points per game and used to be Ron Artest? If it's the former: I say go for it! If it's the latter, then Knicks fans will be able to really question the team's chemistry.
We'll run FanSpeak in this space on a regular basis, so keep commenting and make your voices heard! (Hey, at least now you know we're paying attention.)
February, 20, 2012
2/20/12
10:19
PM ET
By
Ian Begley
| ESPNNewYork.com
Recap
|
Box score
|
Photos
WHAT IT MEANS:
Clearly,
Deron Williams
took this whole "Linsanity" thing personally.
Williams was torched by
Jeremy Lin
on Feb. 4 for 25 points and seven assists, in the Harvard grad's first opportunity to play major minutes. Lin went on to lead the Knicks to seven wins in their next eight games.
On Monday, Williams returned the favor. The New Jersey point guard went off for 38 points on 10-for-22 shooting. He hit a career-high eight 3-pointers to lift the Nets to their 10th win of the season.
Lin finished with 21 points on 7-for-18 shooting. He had nine assists and three turnovers. The Knicks (16-17) lost for the second time in 10 games since Lin began playing significant minutes.
THE BAD:
You can't blame
Carmelo Anthony
for this loss. The Knicks forward returned for the first time in seven games but didn't ruin the Knicks' flow, as many had predicted he would. He had 11 points and six assists. He made four of 11 shots.
The Knicks really struggled guarding the perimeter (they missed
Iman Shumpert
, who was out with a left knee injury). The Nets torched the Knicks from beyond the arc, hitting 15 of their 31 attempts. They were led by Williams, who hit eight of 14 3-point attempts. The Nets shot just 39 percent from the floor, so the outside shooting was the difference.
FOUL TROUBLE:
Tyson Chandler
picked up his fourth foul with 6:36 to play in the third in a skirmish with
Kris Humphries
. Chandler and Humphries got into it again midway through the fourth, and Chandler picked up a technical, relegating him to the bench once again.
In an unrelated note, Garden fans got on Humphries again, booing him each time he touched the ball. Humphries was briefly married to reality star
Kim Kardashian
.
THE GOOD:
Baron Davis
made his season debut for the Knicks. He finished with three points and an assist in 10 minutes. He should help the team with depth at point guard, which has been an issue all season.
Landry Fields
had 10 points (5-for-10) and 11 rebounds.
Amare Stoudemire
had 17 but just four rebounds.
WHAT'S NEXT:
The Knicks take on the Atlanta Hawks (19-13) in New York on Wednesday, the first game of a back-to-back that concludes in Miami on Thursday to close out the first half of the season.
You can follow Ian Begley on Twitter.
February, 15, 2012
2/15/12
11:03
AM ET
By
Mike Mazzeo
| ESPNNewYork.com
Everyone seems to be caught up in "Linsanity."

Everyone ... except D-Will.

"Why would we get excited about the Knicks?" Nets point guard Deron Williams replied when asked about Knicks point guard Jeremy Lin on Wednesday morning. "We're 8-21. I'm worried about us, not what the Knicks are doing."

So, does all the attention the Knicks are getting bother him?

"They're the Knicks," Williams replied.

And the fact that Lin's rise to prominence began against the Nets?

"Y'all got anything about [our game]?" Williams asked. "Anything that's relevant with us?"

Williams said he didn't see Lin's last-second, game-winning 3-pointer against the Raptors on Tuesday night because he hasn't watched TV since he was playing overseas in Turkey.

Williams vs. Lin Part II will take place on Monday night at MSG.
February, 5, 2012
2/05/12
12:45
AM ET
By
Ian Begley
| ESPNNewYork.com
All season long,
Mike D'Antoni
has been searching for a point guard to run his offense.
Turns out, he may have had one buried on his bench.
Third-string guard
Jeremy Lin
ran the Knicks offense with a cool efficiency on Saturday night, finishing with career-highs in points (25), assists (seven) and minutes played (35) in a 99-92 win.
In short, Lin gave the Knicks (9-15) everything they'd lacked through the first 23 games.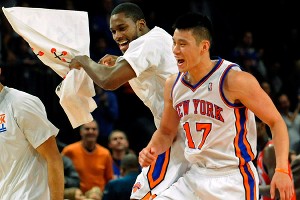 AP Photo/Bill KostrounJeremy Lin brought excitement back to the Garden on Saturday night.
"He played really well," said D'Antoni, whose seat may have cooled down a bit after Lin's breakout performance. "The biggest thing is, he's got a point guard mentality."
Something D'Antoni's club was sorely missing this season.
New York tried to get by with
Toney Douglas
at the point and
Carmelo Anthony
serving as a point forward of sorts. But all that got them was an 8-15 record and an inept offense.
Entering play Saturday, the Knicks ranked 24th in offensive efficiency, 26th in turnover percentage and 25th in assist percentage.
Couple that with the fact that they'd lost 11 of 13, and the were a team in desperate need of a spark against New Jersey.
Who knew they had it in Lin?
The Knicks signed the former Harvard standout off of waivers in late December after he was released by both Golden State and Houston during training camp.
He sat on the bench for most of his first three weeks with the team and even spent three days with the Knicks' Development League affiliate, the Erie Bayhawks.
Lin admitted Saturday night that often wondered whether he'd get an opportunity to really play in the NBA.
"At times it did cross my mind; maybe I might not get a chance," said Lin, who played sparingly for Golden State last season.
Opportunity first knocked for Lin on Friday night in Boston. He had two points, an assists and two rebounds off the bench against the Celtics.
That's certainly nothing to write home about. But the most telling indication of Lin's value came in the second half. With Lin on the bench, the Knicks squandered a 12-point second-half lead.
So with the offense sputtering again on Saturday, D'Antoni decided to go to Lin with 3:35 to play in the first.
The 23-year-old finished the half with six points, three rebounds, four assists, one steal and one turnover -- his only miscue of the night -- and the Knicks went into the locker room down two.
"He has been breaking down guys in practice for a while now,"
Tyson Chandler
said. "We were saying at halftime he just needs to play more minutes."
Lin got them in the second half, and continued to execute. Despite a few missed jump shots, he never stopped attacking.
He found
Chandler
for an alley-oop midway through the third that gave the Knicks a one-point lead. Later, Lin converted a layup while getting fouled with three seconds to go in the quarter. He hit the subsequent free throw to make it Nets 72, Knicks 70 heading into the fourth.
"He was having a lot of success," Nets point guard
Deron Williams
said.
Turns out, Lin was just warming up. Lin had 12 points and two assists in the fourth. His biggest bucket might have come with 2:03 to play, when he got by Williams and down the lane for another layup, giving the Knicks a 95-86 lead. The Garden exploded in chants of "MVP, MVP!"
On the Knicks' next possession, Lin crossed up Williams again and converted a layup, giving him 25 points and giving the Knicks an 11-point lead with 1:36 to play.
"He won the game for us," Anthony said.
Lin said he spent Friday night on
Landry Fields'
couch after the Knicks got home from Boston.
After Saturday night's performance?
"I might just move in with him," Lin said with a laugh.
And D'Antoni might just start him on Monday against Utah.
"Let me go home and digest this a little bit, but obviously we're going back to the well," D'Antoni said. "He can give us something that we can't do without."
You can follow Ian Begley on Twitter.
January, 20, 2012
1/20/12
3:18
PM ET
ESPN The Magazine's Chris Broussard has the latest on
Deron Williams
' wish list, which now includes the Knicks.
Broussard writes:
Deron Williams' first choice is to stay with the Nets and to build something special in Brooklyn, but if it doesn't work out with his current team, his short list of desirable destinations includes the Mavericks, the Knicks and the Lakers, according to sources close to the situation.
On the possibility of joining the Knicks, Broussard adds:
"Williams has grown to enjoy living in New York and he is excited about the off-the-court business opportunities the city provides, so if Howard doesn't join him with the Nets, he would love to remain in New York and play for the Knicks, sources said. While no trade talks have taken place between the clubs, the Knicks could theoretically offer either Carmelo Anthony or Amare Stoudemire, thus giving the Nets a superstar to lead them to Brooklyn."
For the Broussard's full story, click
here
.
November, 28, 2011
11/28/11
12:42
PM ET
Appearing on ESPN New York 1050's "The Herd with Colin Cowherd" on Monday, ESPN's Chris Broussard said the Knicks have a "great chance" to land Chris Paul, thanks to the new CBA.

"We all know that their wish list is Chris Paul and I think they're going to get Chris Paul," Broussard told Cowherd. "I think there's a great chance he ends up in New York and now you've got a Big 3 in the Big Apple. And if they don't get Chris Paul for some reason, Dwight Howard is a possibility, Deron Williams is a possibility. The Knicks should end up getting one of those three players; I think it will be Chris Paul."

Broussard points out that the Knicks are expected to have significant room under the salary cap next season. (As currently constituted, the Knicks have Amare Stoudemire, Carmelo Anthony, Renaldo Balkman and (presumably) rookie Iman Shumpert under contract for 2012-2013.)

Broussard also cites the fact that the CBA allows all teams (tax payers and non-tax payers) to execute sign and trades in the first two years as an advantage for the Knicks. This will allow the Knicks to acquire Paul via a trade during the season and sign him to a maximum contract extension without salary cap concerns. Paul can opt out of his contract after the 2012 season.

"The big market teams are helped in the first couple of years of this deal," Broussard says.

Broussard points out that tax-paying teams will be restricted heavily in the third year of the deal. Rules in place would also make it difficult for big-market teams to execute sign and trades. The luxury tax rate also increases in Year 3.

The players and owners still have to ratify the proposed CBA. They are expected to vote on it in the coming days.