New York Knicks:

Derrick Rose
October, 31, 2013
10/31/13
12:31
PM ET
NEW YORK --
Raymond Felton
may not be 100 percent healthy, but that doesn't mean he'll need any help guarding Bulls point guard
Derrick Rose
, he says.
[+] Enlarge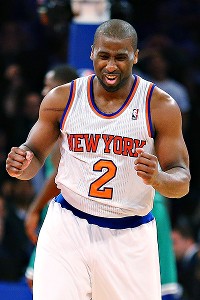 Al Bello/Getty ImagesFelton provided 18 points with three assists and three steals in the win over Milwaukee on Wednesday.
Felton tweaked his left hamstring injury in the third quarter of the Knicks' win over the Bucks on Wednesday. He left the game briefly but returned in the fourth quarter to help New York avoid what would have been an embarrassing loss.
Someone asked Felton after the game if he thought he'd need assistance guarding Rose on Thursday in light of his gimpy hamstring.
Felton seemed surprised by the question.
"Why do I need help? He puts his clothes on just like I put mine on. I'm looking forward to the game," the Knicks point guard said. "I'm not handicapped. I don't need no help."
Rose, the 2011 MVP, missed last season following ACL surgery. He'll be playing at home Thursday night for the first time since May 2012.
Felton's availability for the game was uncertain as of late Thursday morning. Coach Mike Woodson said he'd have to evaluate the point guard's hamstring prior to tipoff before determining whether he can play. Felton first hurt the hamstring on Oct. 17 in a preseason game against Washington.
"Hopefully it goes away," said Felton, who scored 18 points against Milwaukee. "It's one of those things where it can last two to three days, but it can last up to 6 weeks. Hopefully one day I wake up and it's just gone. Right now, it's just a nagging thing that I've got to just deal with."
TWILIGHT ZONE FOR NYK:
Better hope Chicago doesn't play zone Thursday.
The Knicks admitted they struggled with Milwaukee's zone, and that played a role in their 22 turnovers in Wednesday's 90-83 season-opening win over the Bucks at Madison Square Garden.
"Their zone complicated us a little bit because we can't use our system on offense and we don't feel comfortable in the offense," guard
Pablo Prigioni
said. "Bad decisions. We had turnovers."
The Knicks led the NBA by averaging just 11.6 turnovers per game last season, but they didn't resemble that team in the opener. They were sloppy with the ball, which was due to Milwaukee's defense.
Knicks forward
Kenyon Martin
said the Knicks were stagnant when the Bucks used their zone, and the team needed to move the ball better and set screens.
Carmelo Anthony
added that the Bucks speed the Knicks' offense up, and the turnovers have to be corrected.
The Bucks were particularly effective in the second half as they forced the Knicks into 14 turnovers and held New York to just 34 points.
Tyson Chandler
led the Knicks with five turnovers, while Prigioni had four. The starting five combined for 16 turnovers in a sloppy effort.
"They mixed it up between the different (defenses) man-to-man; sometimes they are in zone but they follow the cuts, they switch," Prigioni said. "It was complicated for us to read exactly the defense. We didn't have the patience to attack. That's why our offense was bad in the second half."
ROOKIE DEBUTS:
Tim Hardaway
Jr. was literally starstruck in his debut.
"I was surprised by how many stars were in the building. I had never seen that before. We were playing in front of that many stars," the Knicks' first-round draft pick said. "It was exciting to have that opportunity to be on the floor with the guys and get our first win under our belt."
Hardaway Jr. had a solid debut, scoring five points in roughly 15 minutes of action in the Knicks' win. Hardaway hit both of his shots, including a 3-pointer, and had a pair of assists.
"I wasn't trying to force anything. Play into the flow of the offense, make sure my defense was on point," Hardaway Jr. said. "I made a couple of errors here and there. Still got to watch film, got to learn."
The rookie played the third-most minutes among the Knicks' reserves, and more than veteran
Beno Udrih
, who had a rough night in his Knicks debut. Udrih shot just 1-of-4 and had two assists in 10:33. He finished with a team-worst minus-12 (in plus/minus) in that short span.
KENYON OK:
Martin (ankle) said he felt fine physically after the game. He played just 4:58 and scored three points and had three rebounds.
Martin and
Amar'e Stoudemire
will be splitting back-to-backs as they deal with their injuries and minutes restrictions. Martin got the opener while Stoudemire will play against Chicago.
April, 10, 2012
4/10/12
11:27
AM ET
Chicago Bulls point guard Derrick Rose spent Monday in a walking boot after injuring an ankle during Sunday afternoon's game against the New York Knicks and is uncertain for Tuesday night's rematch, a league source told ESPNChicago.com's Nick Friedell.

Rose will be re-evaluated by the Bulls' medical staff before Tuesday morning's shootaround at the Berto Center, the source said. The Chicago Tribune initially reported Rose's situation.

Rose scored 29 points and had eight turnovers in Sunday's loss to the Knicks, missing what would have been winning shots at the buzzer in regulation and overtime, as well as a pair of free throws with 18 seconds left and the Bulls leading by three.

The reigning MVP had missed the previous 12 games because of a groin injury.

"(He was) about what we expected," Bulls coach Tom Thibodeau said after Sunday's game. "Some good, some bad. Handling the ball was a problem. But our whole team ... we didn't take care of the ball so we put them in the open floor."

Rose said he felt fine after the game and was just trying to get his wind back on the floor.

"I felt good," he said. "When I was out there (I was) just getting my groove back. My wind was OK; just playing. It just felt good to be out there."

After missing just one game last season, Rose has missed 22 games because of toe, back and groin injuries this year.

Rose dealt with an ankle injury during last season's playoffs, but didn't miss any games because of it. He is averaging 23 points and 7.9 assists this season.
April, 9, 2012
4/09/12
1:07
PM ET
By
Ian Begley
| ESPNNewYork.com
How good was
Iman Shumpert's
defense on
Derrick Rose
in Sunday's win?
Just take a look at the numbers:
Shumpert was toe-to-toe with Rose for 10 of his 26 shot attempts.
He forced the reigning MVP into eight misses and seven turnovers on those plays. Rose's two makes were from beyond the arc.
"I was just trying to make him uncomfortable," Shumpert said on Sunday.
That's no easy feat, even though Rose was playing for the first time in 12 games.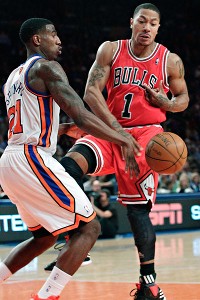 AP Photo/Mary AltafferOn Tuesday, Iman Shumpert will again try to make Derrick Rose "uncomfortable."
But now comes the hard part for Shumpert: the Knicks will ask him to go head-to-head with Rose again on Tuesday night.
If the Knicks rookie can come close to duplicating his performance on Sunday, the Knicks should be in good shape.
Sure, Rose ended up with 29 points, but he struggled to get there. And Shumpert deserves most of the credit.
He stopped Rose when it mattered most, forcing him into a difficult 22-foot jumper at the end of regulation (he missed). With 45 seconds to go in overtime, Shumpert funneled Rose toward
J.R. Smith
, who swiped the ball from the MVP.
The timely turnover lead to
Carmelo Anthony's
game-winning three-pointer. Finally, Shumpert bothered Rose on the inbounds of the Bulls' last possession before he was picked up by two help defenders. The possession ended in another Rose miss, and a monumental Knicks win.
"Shump did a helluva job defensively out there," Anthony said, "Working, trying to make it tough on (Rose). Denying him, putting pressure on the ball."
Can he apply that same pressure on Rose Tuesday night, in what's shaped up to be a crucial game for the Knicks (29-27)?
The Eastern Conference-leading Bulls will be hungry for a win after the Knicks stole one on Sunday. Rose, who has been sidelined until Sunday with a groin injury, will be less rusty and looking for revenge.
The three-time All-Star hinted at what Shumpert can expect on Tuesday when he said the Bulls need to play with a greater "sense of urgency" in the United Center.
You certainly don't have to worry about Shumpert being up for Tuesday's game. He grew up in Chicago, which is widely known as Rose's city. He finished high school two years after Rose.
So he admitted that it was "a little special" to get a win against Rose and the Bulls on Sunday.
Shumpert said it with a smile that made you think it was more than a little special, that he's more than a little motivated to go head-to-head with Rose again on Tuesday night.
"It's going to be tough," was all he would admit.
On Sunday, Shumpert's 6-8 wingspan seemed to bottle Rose up at times, and certainly made it difficult for him to distribute the ball. Shumpert fought through ball screens for Rose all afternoon but was quick to credit his teammates with helping when Rose blew past him.
"That made me all the more confident in lunging for a couple of steals," said Shumpert, who had four swipes on Sunday.
He also did a solid job running the point for the 'Bockers, finishing with 15 points, six assists, nine rebounds and just one turnover against Chicago.
As comforting as that is for
Mike Woodson's
crew, Shumpert knows his primary focus Tuesday will be on defense, trying to slow down one of the NBA's best scorers for another four quarters.
And he's more than ready for the challenge.
"These are games you dream about," Shumpert said. "It's my first year. I play for the New York Knicks. To be in this type of atmosphere, I've dreamed of it. So I'm looking to play big."
You can follow Ian Begley on Twitter.
February, 3, 2012
2/03/12
1:12
AM ET
By
Ian Begley
| ESPNNewYork.com
Which point guard hurt the Knicks more on Thursday night:
Derrick Rose
or
Toney Douglas
?
Rose scored 32 points and had a game-high 13 assists, going off for 15 points in the pivotal fourth quarter. So you certainly can make a strong argument for the 2010-11 MVP.
But Douglas hurt the Knicks nearly as much as Rose did, giving them next to nothing in 15 minutes on the floor.
He led a second unit that was outscored 25-6 by Chicago, turned the ball over three times, missed five of seven shots and was routinely torched by Rose.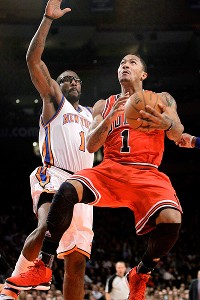 AP Photo/Kathy WillensDerrick Rose gave the Knicks a good look at what they sorely lack.
"He struggled a bit tonight,"
Mike D'Antoni
said after his team lost for the 10th time in 12 games.
It's not fair to put Thursday's loss all on Douglas.
Iman Shumpert
had his hands full with Rose and had four turnovers in an otherwise solid game (10 points, eight assists).
And of course, the Knicks (8-14) had a chance to win with 12 seconds to play but
Amare Stoudemire
missed an open 3.
Still, it's hard to ignore the discrepancy at point guard on the Garden floor Thursday night.
Between Rose and
C.J. Watson
, Bulls points guards had 44 points and 13 assists (all from Rose) and four turnovers. Knicks point guards combined for 16 points, 10 assists and seven turnovers.
"We've just got to do a better job of getting the ball down and not turning it over. Without a doubt," D'Antoni said.
The Knicks turned it over 11 times in the second quarter, leading to 13 Chicago points.
Their worst stretch came late in the second quarter. New York trailed by four with 3:30 to play before halftime. Four turnovers and three missed shots later, the Knicks were down 13 -- the Bulls' largest lead of the night.
"Other than that bad flurry, we did OK," D'Antoni said.
You can make an argument that that bad flurry buried the Knicks. And it's bad flurries like that one -- which could have been avoided if New York had a capable point guard on the floor -- that've been killing the Knicks all season.
New York entered play Thursday night averaging 18.9 assists per game (23rd in the NBA) and 17 turnovers (30th in the league).
It's clear that they haven't found a suitable replacement for
Chauncey Billups
at the point. Billups was axed via the amnesty clause to create cap space to acquire
Tyson Chandler
.
The Knicks were hoping to get by with Douglas at point guard and
Carmelo Anthony
serving as a point forward of sorts. So far, that hasn't worked out. Anthony had four turnovers on Thursday and Douglas had three in just 15 minutes.
The Knicks are hoping that 32-year-old veteran
Baron Davis
can cure all of their problems at the point. But he hasn't been healthy enough to take the floor.
"We're not going to put him out there until he's at least 100 percent," D'Antoni said.
Until then, the Knicks will be a team without a point guard.
You can follow Ian Begley on
Twitter
.
February, 2, 2012
2/02/12
10:37
PM ET
By
Jared Zwerling
| ESPNNewYork.com
Recap
|
Box score
|
Photos
WHAT IT MEANS:
While
Amare Stoudemire
(34 points) and
Carmelo Anthony
(26) showed they can be one of the NBA's best one-two punches,
Derrick Rose
proved why point guard is the most important position in the league.
Rose led the Bulls with 32 points and his game-high 13 assists. When he connected on the final point of the game, a free throw, Rose prevented the Knicks from getting their biggest win of the season. And the Bulls did it even without small forward
Luol Deng
and shooting guard
Richard Hamilton
, who were both out with injuries.
TURNING POINT:
After going down 55-44 at halftime, the Knicks stormed back in the third quarter with a 16-6 run and ended up only trailing 77-75. While Stoudemire showed why he was the league's best fourth-quarter player last season (7.1 points average) -- he finished with 12 points in the final period -- the Bulls' defense kept the Knicks just out of reach and their offense iced the game on free throws.
THE GOOD:
The last time Anthony and Stoudemire scored at least 20 points apiece was Jan. 11. They started the season hot together, scoring at least 20 points each in five games in the first two weeks of the sesaon, but Stoudemire, especially, cooled down since. It was a much different story tonight. ...
Landry Fields
stepped up once again, with 17 points.
THE BAD:
Offensive production from the bench, which has been a problem all season. The Knicks' 25.4 points average -- fourth-worst in the league -- will definitely dip tonight. They only put up six points (all from
Toney Douglas
).
WHAT'S NEXT:
The biggest turnaround team in the league right now, the Celtics (11-10). After losing six of seven games, they've gone on to win six of seven -- without, unbelievably, point guard
Rajon Rondo
, who has a right wrist injury.
You can follow Jared Zwerling on
Twitter.
December, 25, 2010
12/25/10
6:11
PM ET
The ESPN Stats and Information group, putting to use the resources of its video-review crew,
Basketball-Reference.com
, and the Elias Sports Bureau, took a deeper look at the numbers related to the Knicks Christmas Day win over the Bulls. Here are their best nuggets.
• The Knicks had four different players record double-doubles Saturday. They're the first team in the NBA this season with four different players recording double-doubles in the same game.
According Elias, this is the first time a team has had at least four players record double-doubles in the same game since the Washington Wizards had four players do it on Dec. 18th, 2009 of last season against the Warriors. Overall it happened only twice last season and four times the year before that.
• The Knicks utilized Mike D'Antoni's "seven seconds or less" style of offense style very effectively in this game . The Knicks shot 64 percent from the field and were 7-for-12 from 3-point range on possessions lasting seven seconds or less.
•
Amar'e Stoudemire
has now scored 20 or more points in 15 straight games. That is the longest such streak by a Knick since
Patrick Ewing
had a 17-game such streak in January and February, 1994. Stoudemire has 785 points through his first 30 games with the Knicks. From Elias: Only one player scored more points in his first 30 games with the Knicks than Stoudemire --
Dick Barnett
, a starter for the 1969-70 Knicks championship team, scored 885 points over his first 30 games with New York in the 1965-66 season.
•
Raymond Felton
had his sixth straight game with double-digit assists. It's the longest such streak of his career.
• The 12 points in the fourth quarter are the fewest the Knicks have allowed in the fourth quarter of a game since
D'Antoni
took over as head coach.
• The Knicks prevented
Derrick Rose
from having a difference-maker sort of game. The Knicks blocked four of his shots in the first quarter and blocked six of his shots for the game (21.5 percent of his shots overall). Rose entered the game only having 7.1 percent of his field goal attempts blocked. The extra blocks helped contribute to a bad shooting day from in-close for Rose. He was 5-for-18 from 10 feet or closer.
NBA
NHL
COLLEGE BASKETBALL
MLB
NBA
NHL
COLLEGE BASKETBALL
MLB
NBA
NHL
COLLEGE BASKETBALL
MLB
MLS
NBA
NHL
COLLEGE BASKETBALL
MLB