New York Knicks:

Dwight Howard
July, 2, 2014
Jul 2
12:01
AM ET
By
Ian Begley
| ESPNNewYork.com
The
Chicago Bulls
got
the first visit
with free agent
Carmelo Anthony
on Tuesday. But the
New York Knicks
expect to get the last.
The Knicks expect to meet with Anthony after he concludes visits with the
Dallas Mavericks
,
Houston Rockets
and
Los Angeles Lakers
this week, sources say.
The date and location of the Knicks meeting are unclear at this point.
Up next for Anthony is a meeting with the Rockets, which will take place on Wednesday morning.
Rockets stars
Dwight Howard
and
James Harden
are going to attend the Rockets' meeting with Anthony, sources told ESPN.com's Marc Stein.
Howard, according to sources, is eager to pitch Anthony on the Rockets. Sources say Howard was trying to track down Anthony's cell phone number to contact him directly to make a pitch over the phone. It is unclear if the two connected, but Howard is believed to be enamored with the idea of playing alongside Anthony.
"He really wants to sell him on Houston," a source with knowledge of Howard's thinking said. "He wants Carmelo there badly."
Both the Rockets and Bulls don't have the requisite cap space to sign Anthony to a maximum contract. Both teams would need to either shed significant salary to land Anthony or obtain him via sign-and-trade.
It is unclear at this point if Phil Jackson and the Knicks would agree to a sign-and-trade. Doing so would give them compensation for Anthony leaving but would also make Anthony's path out of New York an easier one. ESPN The Magazine's Chris Broussard reported late Tuesday that the Knicks would not engage in a sign-and-trade with Chicago involving Carlos Boozer.
The Knicks can offer Anthony a maximum contract of $129 million over five years. Other suitors, such as Houston, Dallas and Los Angeles, can offer Anthony a max contract worth $96 million over four years.
The Mavericks will have the requisite cap space to offer Anthony a max contract, but Mavs owner Mark Cuban has said that he doesn't plan to offer Anthony a max deal. The Bulls and Rockets, as discussed above, would need to clear significant salary in order to have enough room to give Anthony a maximum contract.
You can follow Ian Begley on Twitter.
June, 19, 2014
Jun 19
12:30
PM ET
By
Ian Begley
| ESPNNewYork.com
Count
Dwight Howard
among the NBA stars hoping
Carmelo Anthony
joins his team this summer.
"I've always been a Melo fan," Howard told USA Today. "One thing he said in an interview a long time ago, I think my first or second year in the league, I remember him saying that if he could play with one guy in the league he would play with Dwight Howard, so you never know. You never know what could happen. Right now, I don't know, but for Melo's sake I just hope he goes somewhere where he feels like he has a chance to win and be successful for the next four or five years of his career."
Dirk Nowitzki
said last week that he'd "love" to have Carmelo come to Dallas.
Anthony hasn't officially declared himself a free agent, but he's expected to do so on Monday when he officially opts out of his contract.
The
Chicago Bulls
,
Houston Rockets
and
Dallas Mavericks
are all teams Anthony would consider in free agency, sources told ESPN.com's Marc Stein. Free agency begins July 1.
Houston would have to move salary off its roster to create enough cap space to offer Anthony something close to a max contract. Anthony can make $22 million in the first year of a max contract starting next season.
So Houston would have to move big-salary players such as
Omer Asik
and
Jeremy Lin
to make room for Anthony.
Howard told USA Today that he hasn't spoken with Anthony about free agency. Doing so could be construed as tampering by the NBA.

"I know this is a time for him when he has to really just focus on what's going to be best for him. And I really believe that in this point in Melo's career, he just wants to win. He's done everything -- we both have that kind of same mentality to where all the individual accolades, we've got them. We've got a gold medal, he has been in tops in scoring for a while, but those are all individual things," Howard said. "I think at this point he just wants to win, so it would be great to have him here because I know what his focus would be. It's up to him, where he's at in his career. But I want people on my team who are all about winning. That's my focus.
"I don't know what [Anthony] is going to do, but he wants to win," Howard said. "So he's going to be looking for a place to go where he can win. He's made enough money. He's done everything. I think he just wants to win right now. That's his only goal."
Anthony has said he'd like to stay in New York but he also wants to be in a situation where he can contend year in and year out for an NBA title. He'll have to decide if Phil Jackson gives him the best chance to do so. If not, he may strongly consider Howard's pitch to join him in Houston.
One factor at play: the Rockets play in the ultra-competitive Western Conference, so you have to wonder if Anthony takes that into consideration while weighing his options. Some of Anthony's friends, for what it's worth, have downplayed the possibility of Anthony ending up in Houston because of his preference of playing/living in a big market.
Question: Do you think the Rockets give Anthony a better chance to win a title than Phil Jackson and the Knicks?
You can follow Ian Begley on Twitter.
November, 15, 2013
11/15/13
8:00
AM ET
By
Ian Begley
| ESPNNewYork.com
It would be silly to look for a silver lining in the Knicks' loss to the Rockets. The team is 3-5 and has lost four straight at home. Nothing about that is good.
But, if Knicks fans are searching for a glimmer of optimism after a rough night for the Knicks at the Garden, they should look no further than
Andrea Bargnani
.
[+] Enlarge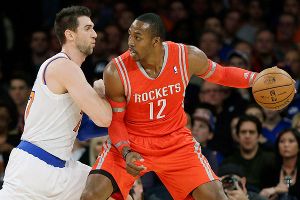 AP Photo/Frank Franklin IIAndrea Bargnani outplayed Dwight Howard on Thursday.
Seriously, raise your hand if you thought Bargnani would outplay
Dwight Howard
on Thursday? Didn't think so.
But that's exactly how it played out at the Garden.
Bargnani finished with 24 points on 9-for-12 shooting and went toe-to-toe with Howard on defense.
"I thought he played his butt off," Mike Woodson said. "I thought he was solid."
Solid isn't a word normally used to describe Bargnani's defense. But he wasn't afraid to mix it up with Howard on Thursday.
Bargnani and
Kenyon Martin
held Howard to one shot attempt in the first half. The Rockets center finished with seven points and 15 rebounds, a nondescript night at the office. Bargnani blocked his shot twice in the second half and drew a couple charges from the 265-pound center.
"He's very physical so I just tried to play the best defense I could. That's all you can do against Dwight," Bargnani said.
At one point in the second half, Bargnani fouled Howard fairly hard.
Howard took umbrage and started to jaw at Bargnani but Anthony came to his teammate's defense. Both Anthony and Howard where issued technical fouls for trash talking.
After the game, Anthony praised Bargnani for standing in against Howard.
"I thought he did a hell of a job tonight. Defensively, staying in front of him, taking a couple of charges, making it tough for him, keeping him off the offensive glass. I thought he did a great job," Anthony said.
All of this brings us to our question: did Bargnani's performance against Howard change your perception of him at all? Are you optimistic that the Knicks can tread water with
Tyson Chandler
out after watching Bargnani bang with Howard?
Up now:
Linsanity may be dead, but
Jeremy Lin
still owns Madison Square Garden. With
Thursday's win
, Lin improved to 2-0 at MSG since skipping town for Houston in the summer of 2012.
Anthony did all he could on Thursday, scoring a season-high 45 points. But it wasn't enough. Ohm Youngmisuk
has the details
.
Some may have been upset over the foul call that waived off what looked like a game-tying three from Anthony with five seconds left, but crew chief Scott Foster said he
got the call right.
Anthony didn't have much to say about that call, but
he did complain about how the refs officiated the rest of the game
.
What's next?
The Knicks will have Friday off to prepare for Saturday's game against the Hawks.
Question:
Did Bargnani's performance against Howard change your perception of him at all?
You can follow Ian Begley on Twitter.
November, 14, 2013
11/14/13
11:16
PM ET
By
Ian Begley
| ESPNNewYork.com
NEW YORK -- Linsanity might be dead and gone, but
Jeremy Lin
still owns Madison Square Garden.
Lin and the
Houston Rockets
weathered a big game from
Carmelo Anthony
to walk off the floor with a win on Thursday. Lin is 2-0 at the Garden since he left the
Knicks
for Houston in the summer of 2012.

Oh, Melo:
Anthony did all he could to lift the Knicks (3-5) to a win. He finished with a season-high 45 points and 10 rebounds and hit what appeared to be a game-tying 3 with five seconds left. The shot was waived off because officials ruled that
James Harden
fouled Anthony on the floor. Anthony hit both free throws to bring the Knicks within one with five seconds to go. Harden knocked down two free throws on the other end and
J.R. Smith
missed a prayer from inside half court at the final buzzer.
Linsanity lives:
Lin certainly had several big moments in his second game at the Garden since leaving town for Houston.
The ex-Knick had nine fourth-quarter points, including a dunk off a fast break with 10 minutes to play that quieted the crowd and a deep jumper over Anthony's outstretched arm to put Houston up seven with about nine minutes to go.
Lin, coming off a 34-point, 12-assist performance in an overtime loss in Philadelphia on Wednesday, finished with 21 points, 5 rebounds and 3 assists.
Houston's Harden also crushed the Knicks. He finished with 36 points and nine rebounds. He had 16 points from the free throw line.
Bargnani better than Superman:
Raise your hand if you thought
Andrea Bargnani
would outplay
Dwight Howard
on Thursday? Didn't think so.
But that's how it played out for the Knicks. Bargnani had his best game at Madison Square Garden to date, finishing with 24 points on 9-for-12 shooting and and four rebounds. Bargnani stood toe-to-toe with Howard, blocking his shot twice in the second half. He and
Kenyon Martin
held Howard to just one shot attempt in the first half. Howard finished with seven points and 15 rebounds. But Howard came through for Houston late in the game, hitting both of his free throws after gathering an offense rebound to put the Rockets up five with 1:07 to play.
Where's Amar'e?:
It was easy to overlook, but
Amar'e Stoudemire
played just five minutes against Houston. He was scoreless, missing all three of his field goals. Mike Woodson turned to Martin in Stoudemire's place. The veteran power forward played 10 minutes, finishing with three rebounds.
What's next:
The Knicks will likely take the day off Friday to prepare for Saturday's game against the
Atlanta Hawks
.
You can follow Ian Begley on Twitter.
August, 22, 2013
8/22/13
12:23
PM ET
By
Ian Begley
| ESPNNewYork.com
Ex-Knicks point guard
Jeremy Lin
recently
talked openly about his struggles last season
with the Rockets.
At points, Lin said he felt "emptiness, confusion and misery" in his first season in Houston.
One NBA scout thinks there may be brighter days ahead for Lin.
The veteran scout thinks Lin, who signed a three-year, $25 million deal with the Rockets after a breakout 2011-12 with the Knicks, could thrive this season, thanks to the addition of
Dwight Howard
.
"He did have a ton of success when it was all pick-and-rolls and he seemed to be very effective [with the Knicks]," the scout said. "In that way, I think teaming up with Howard should be in his wheelhouse.
"I think they could develop chemistry right away."
Both Howard and Lin have a history of success in the pick-and-roll.

During his rise to prominence with the Knicks, Lin had great success when passing to the roll man in pick-and-rolls.
When going exclusively to the roll man, Lin ranked fifth in points per play out of the 35 point guards who ran the play at least 100 times in '11-12, according to ESPN Stats & Information.
In that same season, Howard was the best pick-and-roll finisher in the NBA. He averaged 1.38 points per play as the roll man on pick-and-rolls, best in the league among players with at least 35 plays.
Houston's offense will run mainly through
James Harden
and Howard. But as the scout notes, "If the shot clock is running down, you run a pick-and-roll with Lin and Howard, and it should be successful."
Lin struggled with the Rockets last season, averaging 13.4 points and 6.1 assists a game, and battled injuries that forced him to miss two games in Houston's playoff loss to the
Oklahoma City Thunder
.
But late in the season, Lin seemed to improve his chemistry with Harden.
"I wasn't a fan of Lin at all, but they started to get their groove. Jeremy started to figure out how to play with James a bit," the scout said. "I think they'll definitely be competitive in Houston. I'm not ready to crown them champs or even Western Conference champs, but it increases their chances."
QUESTION:
As a Knicks fan, would it bother you if Lin had success in Houston? Or do you not care at all?
You can follow Ian Begley on Twitter.
January, 23, 2012
1/23/12
1:46
PM ET
According to ESPN New York's Stephen A. Smith, the Orlando Magic have inquired about acquiring Tyson Chandler and Amare Stoudemire in a trade for Dwight Howard.

Howard can opt to test free agency after the season. The Magic are mulling the option of trading him before the season ends.

Magic GM Otis Smith has reportedly given Howard's agent permission to speak with the Nets, Lakers and Mavericks about possible trades.

But Smith reported on ESPN New York 1050 on Sunday that the Magic have also talked with New York about a possible transaction involving Howard for Stoudemire and Chandler.

"I will preface my statement by telling you that [the Magic] have categorically denied this, but my sources tell me that they have inquired about Tyson Chandler and Amar'e Stoudemire going to Orlando for Dwight Howard," Smith said.

Trading for Stoudemire would be a risk right now. He has three-plus years remaining on a contract that is uninsured due to his extensive history of knee injuries.

Stoudemire is struggling through the first 16 games of the season, averaging 17.6 points per game and shooting 41 percent from the floor. Last year, he scored 25 points per game on 50 percent shooting.

There is a concern that Stoudemire can't coexist with Carmelo Anthony. Stoudemire's statistics indicate that he is getting fewer attempts near the rim with Anthony on board.

Also, Stoudemire this season is no longer the Knicks' primary screener on pick-and-rolls. This takes away his opportunities to score on the pick and roll.

Center Tyson Chandler now serves as the Knicks' primary screener. He has proved to be a difference maker on defense for the Knicks (6-10). New York signed Chandler to a four-year, $58 million contract in the offseason.

Any deal involving Howard would likely include Chandler as he and Howard would make for a difficult pairing in the starting five.
January, 16, 2012
1/16/12
6:36
PM ET
By
Christopher Hunt
| ESPNNewYork.com
NEW YORK -- There is sure to be a crowd of reporters around
Dwight Howard
and he is guaranteed a trade-related question whenever there is a recorder or a microphone around.
It's been reported that he prefers the Nets, Lakers or Dallas Mavericks. Call it a generational shift, but today's superstars are they trying their best to control destiny while the sports world watches on edge. The Knicks'
Carmelo Anthony
went through the same thing before he left Denver to star in the World's Most Famous Arena.
After Orlando hit 17 3-pointers to beat the Knicks 102-93 on Monday, Howard talked about some of the advice that Anthony passed along.
"Actually it was great to hear from him," Howard said. "He said, 'Do what's best for you. Whatever you decide, people are going to dislike you, but you know you have to live for you.' And it's good advice."
You can follow Christopher Hunt on Twitter.
January, 16, 2012
1/16/12
6:07
PM ET
By
Christopher Hunt
| ESPNNewYork.com
NEW YORK --
Dwight Howard
didn't dominate the paint. He didn't set up camp at the free throw line. In fact, when you look at the stat sheet, the Knicks accomplished their goal of keeping Howard in check Monday.
But he sure did affect the game.
While New York focused on Howard, Orlando made 17 3-pointers, the most surrendered by a Knicks team since 2008. Strong efforts by
Tyson Chandler
and
Jared Jeffries
held Howard to just eight points and 10 rebounds. But Orlando forced the Knicks to pick their poison, and they died by the three.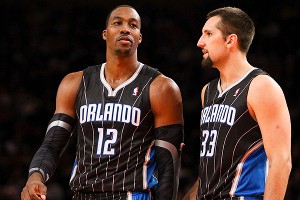 Debby Wong/US PresswireThe Knicks focused on Dwight Howard and left Ryan Anderson open. Anderson capitalized -- in a big way.
Howard's presence left room for former New Jersey Net
Ryan Anderson
to go off for a career-high 30 points with seven 3-pointers.
J.J. Reddick
hit three of his own from beyond the arc and tied a season high with 21 points.
Hedo Tukgolu
made four 3-point shots and scored 15.
"People forget that every single play, all the defense focuses on Dwight, regardless if he's scoring or not," Anderson said. "It's funny. Dwight doesn't always have to score a ridiculous amount of points for us to win, because it's just his presence there. He's getting double- and tripled-teamed at some points. He's doing a great job keeping composure, being patient and finding guys on the perimeter.
"We're moving the ball and that's why we got open shots tonight -- because of him."
It wasn't just that Orlando rained in a bunch of 3-pointers. It was also when. The Magic went ahead, 83-81, on a four-point play with 8:48 left when Anderson nailed a 3-pointer at the same time that
Bill Walker
was whistled for a foul underneath the basket on
Glen Davis
.
Minutes later, Turkgolu banked in a trey and Anderson followed with another -- both as a result of the Knicks sagging inside on Howard -- that gave Orlando a 90-85 advantage and the Magic never trailed again.
The Magic have now won four straight, even while rumors still swirl around Howard's future. Reports still maintain that he is most likely to end up with the future Brooklyn Nets. Howard and his team have showed no signs that the talk is a distraction.
"We don't even discuss anything that happens, trade talks or whatever," Howard said. "Our job is to continue to get better. So far we've been doing a good job of just coming in and getting our work in everyday and doing a good job on the court. … Our minds are on winning and that's the goal, winning a championship."
Up until the back-to-back 3-pointers by Turkgolu and Anderson, the Knicks played Orlando even. But then Turkgolu made another and Reddick followed with a jumper while the Knicks struggled to get pass the Magic's zone defense in the final minutes.
"We gave Dwight different looks, sometimes we doubled, sometimes we didn't," said
Carmelo Anthony
, who scored a game-high 33 points. "The guys that wasn't supposed to make threes, they didn't. Ryan Anderson, to make 7 out of 13 threes, that's a lot. He stepped up big for them. When you have guys like Ryan Anderson scoring 30 points, there's no way you're going to beat them."
You can follow Christopher Hunt on Twitter.
January, 10, 2012
1/10/12
1:49
PM ET
By
Jared Zwerling
| ESPNNewYork.com
NEW YORK -- As last season's top trade commodity,
Carmelo Anthony
knows how
Dwight Howard
, the league's most dominant down-low force, feels with his name being swirled around shipping rumors even before training camp opened in December.
Anthony said he is aware of only one thing about Howard this season -- that he's doing his thing so far, averaging 18.6 points and 14.6 rebounds while leading the Magic to a 6-3 record. As far as where Superman may end up before the March 15 trade deadline, Melo doesn't have a clue.
"Honestly, man, I haven't really been keeping up with the whole Dwight Howard situation," Melo said at Monday morning's shootaround at the Knicks' practice facility. "I've just seen he's been playing well, they've been playing well. That's all I've been keeping up with.
"As far as his situation, trust me I know mentally what he's going through. All I can say is, 'Keep playing the way you're playing and keep doing what you've got to do for your team and whatever happens, happens at the end of the day.'"
The first significant trade report had Howard going to the Nets to team up with
Deron Williams
in a packaged deal, featuring center
Brook Lopez
. Since then, the Lakers have been a strong candidate because they have a future All-Star big man in
Andrew Bynum
.
Most recently,
Amare Stoudemire's
name has come up, not only because he's an Orlando native. But such a trade is unlikely to happen for three main reasons: 1.) The Knicks have deemed STAT the face of their franchise's resurgence; 2.) His current contract is not insured because of his past eye and knee injuries; and 3.) The Magic would prefer to trade for a center who could replace Howard at that position. Of course, no one can
really
replace Howard.
If a trade doesn't happen, the Mavericks will be the major player in the offseason because they've cleared enough cap space to sign D-Howard or D-Will.
You can follow Jared Zwerling on
Twitter.
December, 2, 2011
12/02/11
9:00
AM ET
By
Ian Begley
| ESPNNewYork.com
Both
Chris Paul
and
Dwight Howard
appear to be ready to test the free-agent market.
If you're Knicks senior vice president
Glen Grunwald
, who do you go after?
Howard, the dominant center that your team is sorely lacking? Or Paul, the play-maker who'd thrive in your coach's up-tempo offense?
Jared Zwerling
and I give our takes
here
. Now, we'd like to hear your opinion.
So, who would you pursue? CP3 or D12? Let us know your thoughts
here
or in the comments section below.
November, 28, 2011
11/28/11
12:42
PM ET
Appearing on ESPN New York 1050's "The Herd with Colin Cowherd" on Monday, ESPN's Chris Broussard said the Knicks have a "great chance" to land Chris Paul, thanks to the new CBA.

"We all know that their wish list is Chris Paul and I think they're going to get Chris Paul," Broussard told Cowherd. "I think there's a great chance he ends up in New York and now you've got a Big 3 in the Big Apple. And if they don't get Chris Paul for some reason, Dwight Howard is a possibility, Deron Williams is a possibility. The Knicks should end up getting one of those three players; I think it will be Chris Paul."

Broussard points out that the Knicks are expected to have significant room under the salary cap next season. (As currently constituted, the Knicks have Amare Stoudemire, Carmelo Anthony, Renaldo Balkman and (presumably) rookie Iman Shumpert under contract for 2012-2013.)

Broussard also cites the fact that the CBA allows all teams (tax payers and non-tax payers) to execute sign and trades in the first two years as an advantage for the Knicks. This will allow the Knicks to acquire Paul via a trade during the season and sign him to a maximum contract extension without salary cap concerns. Paul can opt out of his contract after the 2012 season.

"The big market teams are helped in the first couple of years of this deal," Broussard says.

Broussard points out that tax-paying teams will be restricted heavily in the third year of the deal. Rules in place would also make it difficult for big-market teams to execute sign and trades. The luxury tax rate also increases in Year 3.

The players and owners still have to ratify the proposed CBA. They are expected to vote on it in the coming days.


March, 29, 2011
3/29/11
1:18
AM ET
By
Jared Zwerling
| ESPNNewYork.com
After the Knicks' 113-106 win over the Magic,
Mike D'Antoni
,
Carmelo Anthony
and
Chauncey Billups
all pointed to the same motivator that made the difference in the game: More energy.
It was a major component that was missing during the Knicks' six-game losing streak, especially in the fourth quarter. They lost the scoring margin in the final period in every game during that stretch, except for Saturday's loss to the Bobcats. While the Knicks were slightly outscored in the third and fourth quarters tonight, they stayed within striking distance and then mystified the Magic in overtime, holding them to just six points (the Knicks had 13).
That energy was stressed by Magic center
Dwight Howard
postgame, as he looked ahead to the playoffs. He said that even though the Eastern Conference is stronger than it was last year, any team that plays hard for 48 minutes can do damage in a series.
"Just look at college basketball right now," Howard said. "VCU has been playing hard. That's the reason why they're beating all these top teams. Now they're playing in the Final Four. It's the same thing here. The harder you work, you make up for those mistakes. Whoever works the hardest is going to win. I think that's what got us to the [2009] Finals. We worked harder than everybody else."
While Anthony scored 39 points, his most as a Knick,
Amare Stoudemire
scored about five points lower than his 25.6 season average. It was his fourth time in five games that he wasn't up to par (in three of them, he scored under 20 points). For the Knicks to be successful, Howard said that Stoudemire has to fight harder, revealing that it has something to do with STAT missing a key part of his performance palette.
"I just don't see him as aggressive as he used to be," Howard said. "I know it's a lot of pressure on him; they ask him to do a lot. I just encourage him to keep playing, fight through it. He's been playing hard every night and he has to continue to lead by example. If he plays hard, everybody else is going to play hard. It's a different situation what he had in Phoenix. In Phoenix,
Steve Nash
just picked-and-rolled and Amare just could roll down the lane and get an easy bucket. But now teams are keying in on him and making it a little tough, so he just has to be aggressive and just find another way to score."
On his league-leading 17th technical foul:
"I think it should've been a delay of game. Any time you roll the ball down the court, they usually call delay of game. But it's cool. I'm going to try and get it rescinded, but if not, I'm going to continue to play ... It was crucial. It was a very intense game, going back and forth. I'm emotional sometimes, especially in the heat of the moment. You don't know what can happen. My teammates understand that and we just have to move on."
You can follow Jared Zwerling on Twitter.
March, 24, 2011
3/24/11
1:08
PM ET
By
Jared Zwerling
| ESPNNewYork.com
Not only does
Dwight Howard
take forever to shoot a free throw -- if you recall, he was assessed a rare delay of game violation because he took longer than 10 seconds to shoot one on Christmas Day against the Celtics -- he's a very slow postgame dresser. It's ironic that his nickname is Superman because he doesn't play the
Clark Kent
role very well. For the amount of time it takes him to get ready, not only would pedestrians on the street notice his wardrobe change, but he wouldn't be able to save
Lois Lane
falling from a helicopter.
Finally, after listening to
Eminem
out loud on his cell phone speaker and without farting -- Magic coach
Stan Van Gundy
once had to institute a no-flatulence rule during shootarounds and press conferences because, as former teammate
Rashard Lewis
said, "Dwight really likes to cut the cheese" -- Howard was ready to address the media. I asked him some questions about the Knicks and playing at Madison Square Garden, but started with the most obvious talking point:
Amare Stoudemire's
worst game as a Knick, missing 15 of 20 shots to finish with a season-low 13 points.
On Stoudemire's struggles:
"He did struggle. I think he kind of rushed a little bit tonight to get his shot off. He wasn't as patient as normal, but that happens. Right now, I understand the team's under a lot of pressure and sometimes when you're under pressure, being a guy like Amare, he wants to do as much as he can to bring the team out. But I just encourage him to stay patient and stick with it."
On what made the difference in the second half:
"I think we started pounding the ball inside and playing inside-out. When they doubled, I tried to make the right pass out. I just tried to be very patient down there and make the right play. I think that's what we did in the second half. On the defensive end, I think we did a pretty good job of moving our feet, and not fouling and sending them to the line."
On the chemistry between Stoudemire and Carmelo Anthony:
"It's going to take a while for those guys to get used to playing with each other. You just gotta be patient. But they're a tough team. They're going to be very tough in the playoffs just once they learn how to really play together, but it takes a while. We're going through the same thing right now with a lot of new guys, so we all understand the position that they're in. Just like I said, they gotta stick with it."
On playing at the Garden:
"Oh, it's fun. It's a very fun place to play. It's the Garden. We wanted to come here and get a good win and just try to get better as a team."
On hearing from Spike Lee courtside:
"Oh yeah. He had on a
Coming to America
King Jaffe Joffer
hat on, or whatever you want to call it. But I love Spike. He's a die-hard Knicks fan. Just the energy he brings to the building is awesome."
As a funny side note, Howard and his Magic teammates won't be shaving until the end of the playoffs.
"We talked about it as a team and thought about the bald heads," Howard said, "but some of us, like myself, don't look right with a bald head. We thought about letting our hair grow out, but we got a lot of guys who are growing bald, so it's going to look funny with just patches in their head. So the beard is the only way to go. It'll be tough for me and the young guys to really get it going, but we're all in this together."
You can follow Jared Zwerling on Twitter.