New York Knicks:

Gorgui Dieng
June, 25, 2013
6/25/13
10:11
PM ET
Getty Images,USA TODAY Sports,Getty ImagesGorgui Dieng, Tony Mitchell and Jeff Withey could be picked with the Knicks' 24th pick.
Leading up to the draft, we're going to take a look at a few prospects who could be available for the Knicks at pick No. 24.
Today, we'll break down the big men.
WHY THE KNICKS MAY GO BIG:
The Knicks thought they'd fortified their center position last summer when they executed a sign-and-trade to land
Marcus Camby
. Camby, the thinking went, would be the perfect backup to
Tyson Chandler
.
Didn't quite work out that way.
Camby played just 24 games due to injury last year and was a non-factor in the playoffs. The Knicks' lack of size really hurt them in the playoffs -- they were out rebounded by 10.4 boards per game against Indiana. They were also outscored by 40 points in the paint in the series.
So New York will likely look to add a young big man either via free agency or the draft -- preferably one who can score.
If they choose to use the 24th pick on a big man Thursday night, here are a few options:
GORGUI DIENG:
Due in part to injury (ankle, knee), Dieng's stock has slipped a bit in the draft. Many analysts expect the Louisville center to be available when the Knicks pick on Thursday night.
At 6-11 with a 7-4 wingspan, Dieng would likely be able to contribute right away defensively. He has range on his jump shot and can face up but there are questions surrounding his offense and how it translates to the NBA.
Based on their lack of scoring on the front line, the Knicks may opt for a more polished offensive player.
TONY MITCHELL:
If it's scoring the Knicks are looking for, then Mitchell's the guy. The 21-year-old from North Texas is long (6-8), athletic and can guard multiple positions, which is a plus for the Knicks' pick and roll coverage.
One knock on Mitchell is the range on his jumper, but ESPN NBA Senior writer Chad Ford says the sophomore has all the tools to succeed in the NBA.
Many experts, Ford included, believe the Knicks will select Mitchell if he is available on Thursday.
JEFF WITHEY
: Similar to Dieng, the 7-0 Withey could provide the Knicks with an immediate presence on defense. The Kansas product is a strong paint and rim defender and his shot-blocking should translate easily to the next level.
Withey is mobile and can convert around the basket but there is a concern that he's limited to shots near the rim and lacks a post game. Those are issues the Knicks may consider if Withey is there at 24.
MIKE MUSCALA
: Muscala is one of the most skilled offensive big men in the draft. He has solid range on his shot and a polished low-post game. He rebounds the ball well and can block shots but there are question marks about his athleticism and whether it will hinder him on the defensive end.
You can follow Ian Begley on Twitter.
June, 18, 2013
6/18/13
5:06
PM ET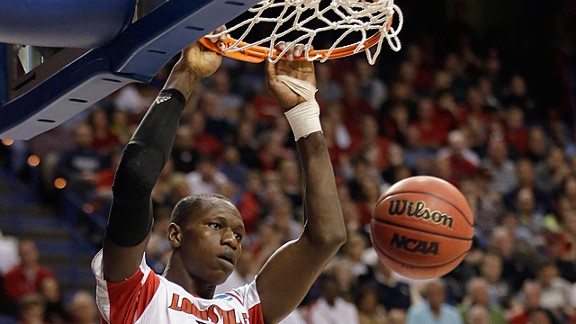 AP Photo/John BazemoreLouisville center Gorgui Dieng could still be available when the Knicks pick at 24.
GREENBURGH, N.Y. -- Louisville coach Rick Pitino, who's pretty connected in NBA circles, expects
Gorgui Dieng
to be drafted between 12th and 20th in the first round of next Thursday's NBA draft.
If Pitino's right, Dieng won't be available when the Knicks pick at 24.
But if he's wrong, the Knicks may jump at the opportunity to take the ex-Cardinals big man. And he'd be happy to land in New York.
"I think I can fit in here," Dieng said Tuesday after working out for the Knicks. He later added: "I don't really care [where I get drafted]. I'm just looking for longevity."
Longevity is hard to find in the NBA, but Dieng could be a good fit for the Knicks right now.
In a draft filled with quality center prospects --
Nerlens Noel
,
Cody Zeller
,
Alex Len
among others -- Dieng stands out for his 7-4 wingspan and uncanny ability to defend the paint.
He was the driving force behind Louisville's stout defense last season and one of the chief reasons the Cardinals ended up as the last team standing in college basketball.
So there's no question that the 6-11 Dieng can help the Knicks on the defensive end as a backup to
Tyson Chandler
.
But what about his offense?
As this terrific breakdown on
Taylor Armosino's Knicks blog
notes, Dieng has a solid mid-range jumper. But can he operate in the post? Dieng admitted Tuesday that he's more comfortable facing the basket.
"I just prefer to face up because that's what I've been taught. But I can go back to the basket too," Dieng says. "But at this level things are very different and ... you need to go straight to the bottom and start learning again."
Dieng's lack of offense combined with his age (he's 23) may hurt his stock. ESPN.com senior NBA writer Chad Ford reports that injury concerns (ankle, knee) have caused Dieng's stock to slip. In his latest mock draft, Ford has Dieng going 28th to the Spurs. That's outside of the 12-20 range that Pitino has told Dieng to expect.
But that also means Dieng would be available when the Knicks pick at 24.
Question:
Would you draft Dieng if he was available at No. 24? What if
Tony Mitchell
and Dieng were available at the same pick? Who would you select?
You can follow Ian Begley on Twitter.
June, 6, 2013
6/06/13
12:55
AM ET
By
Jared Zwerling
| ESPNNewYork.com
Louisville center
Gorgui Dieng
, who's projected to be a late first-round pick, will work out for the Knicks and Nets before the June 27 draft, his agent, Makhtar N'Diaye, confirmed with ESPNNewYork.com.
The Knicks are looking into drafting a big man to upgrade their diminished frontcourt, and Dieng could arguably be the best center available in the late first round. The Knicks pick at No. 24. As for the Nets, who have the 22nd selection, they're interested in a defensive-minded backup behind
Brook Lopez
.
The 6-foot-11, 230-pound Dieng anchored the No. 1-ranked defense in the country during his senior year at Louisville en route to the championship over Michigan. He's a tremendous shot-blocker (2.5 per game), and has great athleticism and lateral movement covering and showing on screens. His length and agility then allow him to quickly rotate down and protect the rim. Dieng is also a tenacious rebounder (9.4 boards per game).
Offensively, Dieng, who was a college teammate of
J.R. Smith
's younger brother, Chris, from 2010-12, excels in pick-and-rolls. He shows good timing while catching the ball on the go and finishing with strong dunks. His post-up game, however, needs some polishing, which is why he wasn't a focal point in the Cardinals' offense (9.8 points per game).
The Knicks and Nets will also work out center
Jeff Withey
(Kansas), who's 23 years old like Dieng and similarly skilled defensively. Withey averaged 3.9 blocks per game last season. Both Dieng and Withey's experience and success in the highest ranks of college basketball should make them appealing to the defensive-minded Mike Woodson, who favors seasoned players.
While Dieng and Withey haven't yet played in the NBA, they'll likely be higher on the Knicks' radar than younger and international big men Giannis Adetokunbo (Greece), Rudy Gobert (France) and Lucas Noguiera (Brazil). A.J. Matthews (Farmingdale State), who worked out for the Knicks on Wednesday, is more suited for the second round. The Knicks are reportedly looking to trade for a pick then.
Beyond Dieng and Withey,
Tony Mitchell
(North Texas) will likely be a Knicks' favorite entering the draft. ESPN.com draft expert Chad Ford,
in his latest first-round projection,
has the Knicks taking Mitchell at No. 24.
Ford writes:
"The Knicks have never shied away from taking a risk on a player. Mitchell has the upside of a top-10 pick, but he was in an awful situation in North Texas last season. With that in mind, his mediocre season might have been the best he could have done. He's an elite athlete and a terrific rebounder -- the Knicks could use both in its frontcourt."
The Knicks are also exploring drafting a point guard, especially now that Jason Kidd has retired. Some of the top candidates who could be available in the late first round are:
Erick Green
(Virginia Tech),
Pierre Jackson
(Baylor), Ricardo Ledo (Providence),
Nate Wolters
(South Dakoka State),
Isaiah Canaan
(Murray State), who worked out for the Knicks on Wednesday, and
Brandon Paul
(Illinois), who will be in New York on Thursday.
You can follow Jared Zwerling on Twitter.