New York Knicks:

Hakeem Olajuwon
August, 2, 2013
8/02/13
9:30
PM ET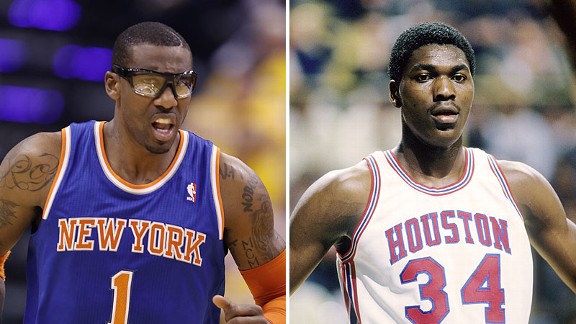 USA TODAY SportsThe Knicks would rather Amar'e Stoudemire not work out with Hakeem Olajuwon this summer, according to a source.
The Knicks have decided that it's best for
Amar'e Stoudemire
to rest his oft-injured knees rather than participate in
Hakeem Olajuwon
's camp for big men, a source with knowledge of the decision confirmed.
Stoudemire worked on his post moves at Olajuwon's camp for two weeks last August. He was scheduled to do so again this month but plans have changed due to concerns over the health of his knees. The source with knowledge of the decision says there is nothing currently wrong with Stoudemire's knees. The source described the decision as precautionary. Due to previous knee troubles, Stoudemire will play with a minutes limit this season. He is expected to be capped at 20 minutes per game.
"They just want him to be healthy for the season and to put him in position to have a successful season," the source said.
The New York Post first reported the news that Stoudemire would be skipping the camp. The source with knowledge of the talks stressed that nothing was set in stone at this point, but as of Friday afternoon, the plan was for Amar'e to skip the camp.
Stoudemire's co-agent, Travis King, told ESPNNewYork.com's Jared Zwerling that the plan is up in the air at this point. Stoudemire coached the Canadian team in the Maccabiah Games and is currently touring Israel.
"Not sure if he is still going," King said. "Waiting to meet with him once he returns from Israel."
Carmelo Anthony
was expected to participate in the Hakeem Camp as well, but the source said that he is unlikely to do so.
Olajuwon has trained a myriad of players at his compound in Houston. He reportedly charges $50,000 per week for the training sessions.
Stoudemire's work with Olajuwon appeared to pay off last season. During his brief time on the floor, Stoudemire was effective in the post, averaging 14.2 points on five rebounds.
He was limited to just 29 games due to arthroscopic surgeries on his left and right knees to clear out debris.
February, 1, 2013
2/01/13
4:07
PM ET
Some people scoffed over the summer when it was reported that
Hakeem Olajuwon
charged
Amar'e Stoudemire
$100,000 for two weeks of lessons on post play.
But it looks like a pretty wise investment.
Stoudemire has flashed strong moves with his back to the basket in the Knicks past seven games and he credits his work with Olajuwon for the success.
The Knicks' $100 million man spent with two weeks with Olajuwon in Houston over the summer working on his post moves.
"For those two weeks I was such a student of the game, I was like his wallet: When he moved, I moved," Stoudemire said on Thursday. "I was studying him and soaking up all the knowledge and getting an understanding of what it takes to be great. He did a great job of teaching me."
Stoudemire has scored in double figures in seven straight games, shooting 37 for 57 over that stretch, taking advantage of mismatches against the opponent's second unit. He went 7-for-7 and scored 14 points in 21 minutes against Orlando on Wednesday, scoring both in the pick and roll and in the post.
Mike Woodson appreciates what he sees from Stoudemire in the post. He was with Stoudemire for a brief period in Houston at Camp Hakeem.
"This summer there just was no time off," Woodson said. "That guy was running and working with Dream and doing all the necessary things to get ready for this season. We're starting to benefit from it. He's starting to look more comfortable down on the block and that's kind of nice to see."
KIDD QUESTIONABLE:
The Knicks are listing
Jason Kidd
as questionable for tonight's game against Milwaukee. Kidd missed Wednesday's game with a sore lower back. Mike Woodson said on Thursday that he expects him to play.
WADE RECOMMENDS NOVAK FOR 3-POINT CONTEST:
Dwyane Wade
, the Eastern Conference captain for the All Star Weekend skills competitions, told reporters in Indiana that he recommended
Steve Novak
to the league as a participant in the 3-point shootout. The NBA ultimately decides on the participants for the competition, but it will take into account the wishes of Wade and the NBA Players Association.
You can follow Ian Begley on Twitter.
September, 14, 2012
9/14/12
2:00
PM ET
By
Chris Broussard | ESPN.com
If all goes as planned, the
New York Knicks
will have a frontcourt full of "Dream Shakers."
Hakeem Olajuwon
, one of the greatest players in NBA history and the architect of the legendary "Dream Shake" post move, will spend several days next week training some of the Knicks at the team's practice facility in Greenburgh, N.Y.
Olajuwon worked out with
Amare Stoudemire
earlier this summer, training the Knicks forward for 2½ weeks in the gymnasium on Olajuwon's 400-acre ranch outside of Houston. Olajuwon, who was able to excel alongside All-Star teammates Ralph Sampson and
Clyde Drexler
, said there's no reason Stoudemire and
Carmelo Anthony
can't have similar success playing together.
"They both have to realize that the most important thing is not how great you are individually," Olajuwon said. "You're remembered for how many games you win. So to get to play with another great offensive player should help you. It should make your job easier. You have to work well together. You can't be competitors with one another."
Click here
for the full story.
August, 10, 2012
8/10/12
7:09
PM ET
By
Jared Zwerling
| ESPNNewYork.com
Nathaniel S. Butler/Getty ImagesHakeem Olajuwon is passing on his trade secrets.
Amare Stoudemire
entered the offseason wanting to work on his post game, and coach
Mike Woodson
agreed, explaining to his power forward that he wanted to use him more on the block next season.
From there, Woodson placed a phone call to one of the greatest centers in NBA history,
Hakeem Olajuwon
, with whom he played on the Rockets from 1988 to 1991. Olajuwon, who manages a big-man offseason camp at his home in Houston, booked Stoudemire in his training schedule, which includes only a few players each summer.
"Coach really is the one who made it happen," said
Travis King
, Stoudemire's longtime training adviser. "Mike Woodson himself said he wants the ball to go through Amare in the post more, taking advantage of Amare and
Tyson (Chandler)
, and even
Carmelo Anthony
.
"The Knicks' frontcourt has got to be one of the most experienced and best ones in the league. The games are decided inside most of the time."
For the past five days, STAT has been in Houston, staying at a hotel and working out for about 3½ hours per day at Olajuwon's indoor, full-sized basketball court, which is located on his 500-acre ranch. It's the same place where
Kobe Bryant
,
Dwight Howard
and
LeBron James
have trained individually from 2009 to 2011, respectively. It has been reported that Olajuwon charges $50,000 per week, but King wouldn't reveal the amount.
Stoudemire, 29, averaged 17.5 points and 7.9 rebounds and shot 48 percent from the field last season -- his lowest output since 2005-06, when he played just three games because of an injury. His scoring average dropped nearly eight points from 2010-11 to last season.
"A lot of people think that Amare is past his prime, but we really don't feel like he is," King said. "Amare is a six-time All-Star, but he's always been in pick-and-roll and pick-and-pop situations. But now he's really focused on his back-to-the-basket game. As you get older and your athleticism declines, it's good to add other things to your game to keep playing at an elite level. Look at Kobe, for example."
Along with Nuggets center
JaVale McGee
, Stoudemire has been learning "Dream Shake" moves and defensive skills. Woodson has even stopped by to observe.
"Amare is a real student of the game, and when he wants to get better, he does whatever it takes, whether it's been working on his free throws or his jump shot," King said. "Now, it's working on playing on the block and working on his defensive presence. Hakeem is one of the best shot-blockers to ever play the game and one of the best-scoring centers to ever play the game. He's been trying to take it all in to become a complete player."
King said that Stoudemire working with Olajuwon represents his desire to be constantly pushed in new ways.
"He's always been a fan of Hakeem; he just never had a chance to play against him," King said. "Some of the stuff that Hakeem does, like his footwork, is unconventional. Guys don't teach that stuff, but he can teach it because that's how he dominated the league for 18 years. It's not something where you can pick up a book or pick up a video, and then perfect it."
King said Stoudemire is also picking Olajuwon's business brain. That's because STAT is determined to follow in the footsteps of not only Olajuwon, but also
Michael Jordan
,
Magic Johnson
and
Shaquille O'Neal
, who have all earned big bucks off the court. "The Dream" earned his -- hundreds of millions, that is -- in the Houston real estate market.
Overall during the offseason, Stoudemire is not a creature of habit. With the help of King, Stoudemire arranges different training routines, and every month -- sometimes every week -- he's in another basketball facility.
"He just works out so hard, so we don't do the same thing," King said. "We switch things up for him to give him a different environment."
Already this summer, Stoudemire has trained in New York, Las Vegas, Bradenton, Fla., Paris, Spain and now he's in Houston, where Chandler may join him after the Olympics. Woodson has encouraged it. King said that he and Stoudemire were originally discussing going to the University of Kentucky during this time to train with
John Calipari
and
Kenny Payne
before the "Dream" opportunity came about.
After he finishes up with Olajuwon on Aug. 19, Stoudemire is flying to China, where he'll take part in a Nike tour. But he'll be still be working out. In fact, King said this week marks the third month in a row Stoudemire has not missed a single day of training. Stoudemire travels everywhere with three trainers -- his main one, a strength and conditioning specialist and physical therapist -- and makes sure to get in two-a-day workouts. King said Stoudemire's back is "doing great and has no issues."
"I think New York's going to be really pleased when he comes to training camp," he said. "He's always been in great shape, he's always taken care of his body, but he's really been on a strict diet and doing two-a-days. He's not taken any days off. He's really committed to being the best power forward in the game."
Stoudemire will be traveling back to New York in early September, where he'll start participating in pickup games and getting acclimated to his new teammates, before real training camp begins later in the month.
You can follow Jared Zwerling on Twitter.
June, 27, 2012
6/27/12
12:10
PM ET
By
Jared Zwerling
| ESPNNewYork.com
A source close to
Amare Stoudemire
told ESPNNewYork.com that the Knicks' power forward will work with NBA legend and post-up coach
Hakeem Olajuwon
later this offseason.
Olajuwon will fly to New York in August to train with Stoudemire. The source also said
Tyson Chandler
might join Stoudemire for the workouts, but that hasn't been confirmed.
Olajuwon, 49, has previously worked one-on-one with three of the best players in the game:
Kobe Bryant
(2009),
Dwight Howard
(2010) and
LeBron James
last summer. Each player showed immediate improvement on the block in the following season.
Stoudemire's future work with Olajuwon could signal
Mike Woodson's
coaching strategy to use him more in the low post and have Chandler become the team's main high pick-and-roller with
Jeremy Lin
and
Carmelo Anthony
. (Stoudemire has more of a foundation in the low post already.)
In this scenario, the Knicks could have more defined roles and less crowding on the court, which would lead to better ball movement and scoring opportunities. They also need to score more in the paint and have more bodies for offensive rebounds besides Chandler, as they finished this past season in the middle of the league in both categories.
Stoudemire has never been a consistent back-to-the-basket threat -- he has mostly scored off drives, midrange jumpshots and pick-and-rolls -- but if he can combine his intensity and aggressiveness with some new moves from Olajuwon, he could be a more complete threat.
Stoudemire is currently traveling overseas for a couple of weeks. Once he returns, he'll start a training program with a conditioning coach and physical therapist for his back. He suffered a bulging lower disk toward the end of this past season.
Stoudemire was not in Los Angeles this past week to meet with Woodson, Lin, Anthony and members of the coaching and training staff; he was in Chicago, hosting his Nike big man camp for top high school and college players.
You can follow Jared Zwerling on Twitter.