New York Knicks:

Jeff Van Gundy
June, 9, 2014
Jun 9
2:23
PM ET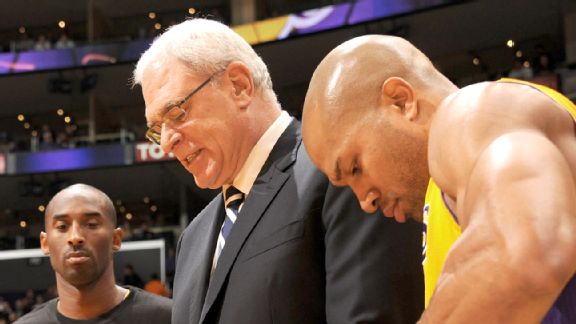 Andrew D. Bernstein/Getty ImagesNew Knicks president Phil Jackson may finally get his man this week.
This finally could be the week when Phil Jackson hires a head coach.
According to our man Marc Stein, the Knicks will
ramp up their chase
for
Derek Fisher
, with the expectation that he will become their next coach.
This time, Jackson had better get his man. Simply put, if Fisher says no to the Knicks and opts to continue playing, or just doesn't find coaching at the Garden appealing, Jackson will really be hurting to find a coaching candidate from his triangle tree whom he can sell to the players and the fan base.
Fisher
The idea of Fisher becoming the next Doc Rivers or Mark Jackson or Jason Kidd is certainly much more appealing than bringing in a Kurt Rambis, Rick Fox or Luke Walton.
Fox recently told NBC Sports Radio that he is a candidate for the Knicks coaching job.
Is it possible that if Fisher says no, Phil could take a look at Jeff Van Gundy or Jackson? The fans would certainly love that, but I still doubt it would happen.
This is Phil Jackson's first coaching hire, his first chance to put his biggest stamp yet on the organization and begin the process of executing his vision for turning around the Knicks. He is going to want someone from his circle -- which he made clear is "a big circle." The Zen Master is going to want to groom his own coaching star in the making, as Pat Riley has done with Erik Spoelstra down in Miami.
Steve Kerr and Fisher might be Jackson's two biggest stars-in-waiting from his coaching tree.

Jackson
In my mind, Fisher very well could be better than Kerr. He might not have had the playmaking ability or Hall-of-Fame vision Kidd had as a player (the vision certainly has helped Kidd as a coach), but Fisher has made a ton of big shots in the playoffs and knows how to perform under pressure. He knows what it takes to win, having won five championships with the Lakers, a couple of them as a starter.
He has been through playoff battles with Jackson and knows as well as anyone what Jackson wants and expects. He also has experienced all sorts of drama (he played with Shaq and Kobe) and can handle the gamut of personalities and manage stars (playing with
Kevin Durant
and
Russell Westbrook
).
Players around the league respect Fisher and teammates loved him -- another aspect that greatly benefited Kidd with his players during his rookie coaching season.
Carmelo Anthony
has faced Fisher enough to know and respect him, which should benefit Jackson next month when he is trying to convince Melo to stay.
But Jackson can't let this Fish slip away like Kerr. He needs to get this done, even if it may mean overpaying for him. Because after Fisher, the triangle options are considerably less appealing, no matter how big Jackson says his circle is.
May, 18, 2014
May 18
6:12
PM ET
By
Ian Begley
| ESPNNewYork.com
If Phil Jackson calls, Jeff Van Gundy says he'd be happy to talk hoops with the Zen Master.
Jackson is in the midst of "Round 2" of his coaching search after being turned down by Steve Kerr.
Sources told ESPN.com
last week that Jackson is looking for a young coach who he can mold and has a strong knowledge of the triangle offense. As of last week, the Knicks president hadn't shown any proclivity to look outside of his inner circle for a coach.
But Jackson can always change his mind.
If he does, Van Gundy, who is reticent about discussing current coaching openings, said on ESPN Radio's "The Ian O'Connor Show" Sunday that he'd be happy to "talk basketball" with the Zen Master.
"If Phil Jackson ever wanted to talk basketball with me, which, listen, who knows if that's true, but if he ever did, of course I would take the time, because I'm sure I could benefit from the conversation," Van Gundy told O'Connor.
Van Gundy and Jackson were rivals when Van Gundy coached the Knicks and Jackson led the Bulls. There was bad blood between the two, which is only natural given the intense Knicks-Bulls rivalry in the 1990s.
But Van Gundy was highly complimentary of the Knicks' hiring of Jackson last week when speaking on ESPN Radio's "The Herd with Colin Cowherd."
Van Gundy, though, is considered a long-shot candidate for the Knicks' job.
Instead, Jackson is expected to talk to former players such as
Derek Fisher
, Tyronn Lue and Luke Walton. Former player
Bill Cartwright
is also considered a candidate, as are former Phil assistants Jim Cleamons and Kurt Rambis.
Well-traveled head coach Mike Dunleavy Sr. and Iowa State coach Fred Hoiberg are on the Knicks' radar, as is Denver head coach Brian Shaw.
Hoiberg is the only name mentioned above that is not considered to have a close relationship with Jackson.
At this point, Van Gundy and Mark Jackson are not believed to be serious candidates. There is also no indication that Phil Jackson himself is considering coaching the Knicks.
Van Gundy said Sunday he understands why Jackson would want to hire someone he is close with and who is familiar with the triangle offense.
"I think it makes sense for him to talk to people that he philosophically shares a great deal of agreement on," Van Gundy told O'Connor. "But even if you haven't coached, certainly, in a triangle system, I don't think that will preclude him from looking at people, because while you may not have had expertise, or experience coaching in the triangle, most coaches believe in unselfishness, floor balance, and defensive rebounding.
"So I'm not sure that whoever he hires is going to have had to have worked for him. I think it would be a benefit if he had worked with him before, but I think a lot of people could coach in a manner in which he would find it as a positive."
You can follow Ian Begley on Twitter.
May, 15, 2014
May 15
4:04
PM ET
By
Ian Begley
| ESPNNewYork.com
Here's something to keep in mind if you're keeping an eye on the Knicks' coaching search: Jeff Van Gundy said on Thursday that he's never ruled out the possibility of taking the job.
In other words, if Phil Jackson calls, it sounds like Van Gundy will listen.
"I never said I wouldn't consider [the Knicks]," Van Gundy, an ESPN NBA analyst, said Thursday morning on ESPN Radio's "The Herd with Colin Cowherd."
"One thing I try to stay away from, Colin, is talking about things in public. Interest in jobs or other jobs, I don't think it does the teams any good. I don't think it does, frankly, coaches any good. I'm very content in whatever I do to sort of stay in the background. The Knicks, no matter who they hire, will always have a special place in my heart. They gave me the opportunity to come into pro basketball as an assistant. I stayed there 13 years. I love the
New York Knicks
, always will, regardless of who coaches."
Van Gundy coached the Knicks from 1995-96 to 2001-02 and had the third-most wins in franchise history before walking away from the job in December 2001. In a radio interview last June, Van Gundy expressed regret over
leaving the Knicks in the manner that he did
.
On Thursday, Van Gundy praised the organization for its hire of Phil Jackson.
"I think the Phil Jackson hire was a great hire. ... It's just one of those unique places that once you work there for as long as I did and you live there, you can't help but root for them to be super successful," Van Gundy said.
Jackson was hired as president in March but struck out on his first head-coaching target, Steve Kerr. That has led to speculation that Jackson could look outside of his "inner circle" for the Knicks' next head coach. Hence, Van Gundy.
[+] Enlarge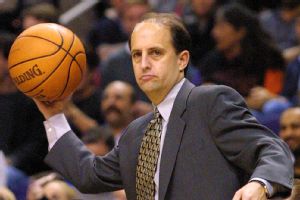 Mike Fiala/AFP/Getty ImagesJeff Van Gundy on Thursday clarified his stance on coaching the Knicks.
But sources told ESPN's Marc Stein and Ramona Shelburne that Jackson is not worried about selling New Yorkers on his eventual hire and that there have been no indications that Jackson will hire an established coach.
For the time being, that would eliminate Mark Jackson's name from the list of potential coaches. Van Gundy, Jackson's former broadcasting partner, praised Jackson for his success in Golden State. The Warriors fired Jackson last week for reported clashes with management.
"What he did there was he took a team that wasn't very good and made it very good in a powerful Western Conference and he took a team historically, who was very poor defensively, and made them elite," Van Gundy said. "And then he took a team in the playoffs this year that was very hurt and got them to overperform in the playoffs, losing a tough seventh game to what I consider the best team in the NBA right now in the Clippers. I just think we should be careful in negative labels over what he accomplished."
Van Gundy also discussed the possibility of Phil Jackson taking over as coach.
"Certainly, I think when you're the president of the organization, you have to evaluate and do what you think is best for the organization as long as it falls within the parameters of what he is comfortable with," Van Gundy said. "I would suspect that Phil Jackson the president would think very highly of Phil Jackson the coach and all that he's accomplished and think that this could be a really workable situation. Most definitely. I'm sure it's run across his mind. Whether he feels up for that challenge or not, or wants to do it, or wants to stay in the background, I couldn't speak to."
You can follow Ian Begley on Twitter.
February, 9, 2014
Feb 9
4:58
PM ET
By
Ian Begley
| ESPNNewYork.com
Jeff Van Gundy coached the Knicks for more than six seasons, so he knows all about the pressure of running a team in the Big Apple.
As a fan of New York sports and an NBA analyst for ESPN, Van Gundy's been following Mike Woodsons's situation in New York very closely.
He's been extremely supportive of Woodson amid all of the widespread media speculation over his job.
Van Gundy was asked on ESPN Radio's "The Ian O'Connor Show" if he had any advice for Woodson.
His message was simple: ignore the outside noise.
"Just do your job and don't feel the need to update the media on your feelings because it doesn't matter," Van Gundy said. "Just do your job. You know how to coach and you've done it very well there. I wouldn't apologize to anyone if I was him because I think he's handled himself very, very well in a difficult situation."
The Knicks are 20-31 and in tenth place in the Eastern Conference, two games behind Charlotte for the eighth seed. They've lost four of five, leading to another round of widespread speculation that Woodson's job is in jeopardy.
Van Gundy called the constant speculation over Woodson's job "very, very unfair."
If Woodson is let go, the Knicks would likely consider a big-name coach such as Van Gundy or John Calipari, among others, to bring in over the summer.
Van Gundy has said that he has no interest in taking over a team in the middle of the season.
You can follow Ian Begley on Twitter.
June, 28, 2013
6/28/13
9:12
PM ET
By
Ian Begley
| ESPNNewYork.com
It's been nearly 12 years, but Jeff Van Gundy still regrets the day he decided to walk away from the
New York Knicks
.
The topic came up while Van Gundy was defending Doc Rivers' breakup with the
Boston Celtics
in an interview with ESPN New York 98.7 FM. ESPN's Bill Simmons has been critical of the way Rivers handled his exit from the Celtics, but Van Gundy stood up for his former contemporary.
"I quit the Knicks so I know what quitting is," Van Gundy said in an interview with "The Michael Kay Show." "I did. I quit. And it's something I regret to this day. I live with it every day and I regret it. And I let my emotions come into it. And I was just emotionally spent. I made a bad decision and I quit.
"Doc Rivers didn't quit. He was allowed to pursue a better opportunity for himself. And to me, that's a significant, significant difference that everybody's glossing over."
Rivers left the Celtics earlier this week to coach the Clippers. In return, Los Angeles sent Boston a 2015 first-round pick. Some view the transaction as Rivers bailing on the Celtics as they approach a rebuild. But Van Gundy says there's a big difference between what Rivers did and what he did when leaving the Knicks in December 2001.
"Mine's worse. I live with that regret every day. Not because I view myself, quote-unquote as a quitter. I don't look at it that way. But I did leave that situation, I did quit that situation and I live with that regret," Van Gundy, now an ESPN analyst, said.
[+] Enlarge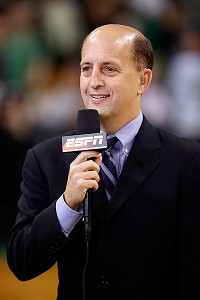 David Butler II/USA TODAY SportsFormer Knicks coach Jeff Van Gundy might prefer to have a clipboard in his hand.
When asked about his reasons for leaving the Knicks, Van Gundy mentioned several factors: The team had lost to the
Toronto Raptors
in the postseason the previous year;
Marcus Camby
had to deal with the kidnapping of his mother and two sisters during the series; Patrick Ewing was traded before the 2000-01 season; Larry Johnson retired before the 2001-02 season.
"I had a great job with the Knicks. Like I said, I let momentary frustration, not even momentary, things that had been building up, this frustration, when I should have taken more time to come to that conclusion or a conclusion," Van Gundy said.
Van Gundy credited Knicks owner James Dolan for providing him with every resource necessary to succeed.
"The frustrations were real but it was certainly on overreaction and, like I said, I'm the only one to blame for that because I had a great, great job and I left it voluntarily and I still regret it," he said.
Van Gundy said he still feels badly that he wasn't able to deliver a title during his tenure as Knicks coach.
"I will always regret that I wasn't able to help those guys (his players) get what they honestly deserved," he said.
He remembers the day he walked out on the team vividly.
"I did get a good hot dog out of it because I walked from the practice facility to the hot dog stand … but that was about all I got from that stupid decision," he said.

NETS HAVE BEST STARTING FIVE IN THE LEAGUE:
Van Gundy gave Nets owner Mikhail Prokhorov major credit for shelling out the money to bring
Paul Pierce
and
Kevin Garnett
to Brooklyn.
He says Prokhorov and the Nets have put together the best starting five in the NBA. Pierce, Garnett,
Brook Lopez
,
Deron Williams
and
Joe Johnson
will start for Brooklyn in 2013-14.
"I do think they're a championship-caliber team," Van Gundy said. "If they play well and remain healthy, which is always a challenge for an older team, I think they have the best starting unit talent in basketball."
June, 4, 2013
6/04/13
7:56
PM ET
By
Ian Begley
| ESPNNewYork.com
Some Knicks fans felt that the 2012-13 season was a disappointment.
Former Knicks coach and ESPN analyst Jeff Van Gundy disagrees.
"I never was on that bandwagon that their season was anything but a success," Van Gundy, who along with Mike Breen will call The Finals on ABC, said on a conference call Tuesday. "You know, it's steps in the NBA. You don't usually go from really bad to championships. There's intermediate steps, and I thought the Knicks took a big step this year and I thought the Pacers were very good."
The Knicks won 54 games in 2012-13. They also won an Atlantic Division title for the first time since 1994 and a playoff series this season for the first time since 2000.
But the Knicks, who finished second in the Eastern Conference, lost in six games to the Pacers, who were seeded third. Van Gundy thought the Knicks-Pacers series was decided after the first game, which the Knicks lost at Madison Square Garden.
"Game 1 swung the whole series," Van Gundy said. "Indiana took home court and were able to win three at home, and that's how quickly home court advantage can go if you don't play well. Six months of effort to get the extra home game, lose it in two and a half hours."
You can follow Ian Begley on Twitter.
April, 30, 2013
4/30/13
2:01
PM ET
By
Ian Begley
| ESPNNewYork.com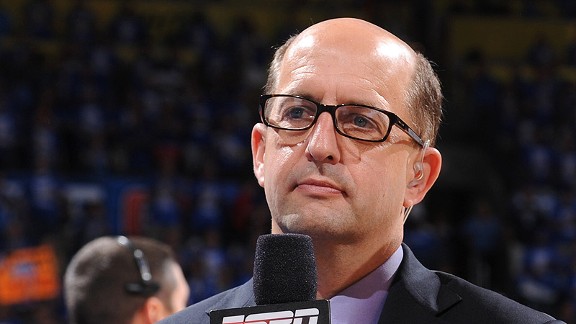 Garrett Ellwood/NBAE/Getty ImagesJeff Van Gundy says the Knicks can't lose their cool when times get tough on the court.
Former Knicks coach and current ESPN analyst Jeff Van Gundy says the Knicks need to keep their cool if they want to make a run to the NBA championship.
"I think poise under pressure is an incredibly importantly part of winning it all," Van Gundy said Monday in an interview on ESPN 98.7 FM's "The Michael Kay Show."
"I think, having been a apart of some teams that have gotten into some skirmishes, the ability to take what you think are unnecessary shots at you or not getting calls that go your way and ... to continue on and press on and not get distracted by those things, I think is an incredibly important part to winning it all."
The Knicks have lost their cool in several instances this season.
The most recent example is
J.R. Smith
's elbow to
Jason Terry
in Game 3 of the Knicks-Celtics series.
Smith was suspended for Game 4. The Celtics won the game in overtime and seemed to benefit from Smith's absence.
The Knicks' bench scored just seven points.
Carmelo Anthony
shot 10-for-35 and seemed to miss Smith, who draws attention from opposing defenders.
The Knicks have another chance to close out Boston in Game 5 on Wednesday.
"If your goal is to win it all, which the Knicks certainly have the right to think that they are in that conversation [to do], then I think they really have to keep their intensity high but also up their level of toleration for what they may perceive to be missed calls or overly aggressive play," said Van Gundy, who coached the Knicks in 1997 when a
Charlie Ward
-
P.J. Brown
fight led to suspensions and cost the Knicks a series win over Miami.
This year's Knicks have also lost their cool a few times in the regular season.
They melted down in the third quarter of a loss to Memphis early in the season; three Knicks received technicals in a pivotal run. Three Knicks were ejected in an ugly January loss to the Bulls. And, of course, there was was the Anthony/Garnett incident in January.
Three incidents over 82 games isn't significant, but other teams certainly took note.
"They've got to be able to stay in that moment and not put themselves in harm's way for unnecessary technical fouls or ejections," Van Gundy said.