New York Knicks:

Jose Calderon
October, 28, 2014
Oct 28
9:46
PM ET
By
Ian Begley
| ESPNNewYork.com
Jose Calderon
made it through Tuesday's practice without incident and is expected to play in the New York Knicks' season opener against the Chicago Bulls on Wednesday.
Calderon
"Jose looked really good today," Knicks coach Derek Fisher said Tuesday. "[Monday] he did just about everything we did, even though we held him out of parts of yesterday's practice towards the end. Today he was in for everything we did. Assuming that he responds well to everything that we did today, we expect him to be available."
Calderon missed the Knicks' final two preseason games with a sore calf. He is expected to start alongside shooting guard
Iman Shumpert
.
Fisher wouldn't say whether he wanted Calderon or Shumpert to match up against explosive Bulls guard
Derrick Rose
.
"We feel like Shump can be good in several different situations defensively. He can cover Rose, he can cover multiple players," Fisher said. "But it's not about stopping Derrick Rose; it's about stopping the
Chicago Bulls
and whether that's Shump or Jose or whoever we decide to put on one guy there's still four other players out there that we have to defend."
Fisher also wasn't willing to announce his starting five yet. He started
Jason Smith
at power forward and
Samuel Dalembert
at center alongside
Carmelo Anthony
in the Knicks' final preseason game and has hinted that's the way he'll go in the opener.
But Fisher also believes he may have to tweak his lineups based on opponent. After Wednesday's game, the Knicks travel to Cleveland to play the Cavs on Thursday.
"We may need to be open to maybe moving some things around based on our opponent right now. We didn't get a chance to consistently start the same group of five and look at what that would mean," Fisher said on Monday. "I think going into Wednesday night we need to just be open to putting five guys out there that help us to play against the Chicago Bulls and then we'll kind of go from there."
You can follow Ian Begley on Twitter.
October, 23, 2014
Oct 23
5:12
PM ET
GREENBURGH, N.Y. –-
Jose Calderon
sat out practice Thursday as the point guard continues to nurse a calf injury.
Calderon said he is unsure if he will play against the Raptors in Montreal on Friday.
"Don't know yet," Calderon said. "It's day to day. It's better ... We'll see tomorrow. We're getting more treatment. Like I said the other day it's nothing to worry about."
Calderon suffered a calf injury in the first quarter against Milwaukee on Monday. The team held him out against Washington on Wednesday as a precaution.
"I'm feeling good," Calderon said. "There's nothing to worry about. There's nothing I'm really concerned about, anything like that."
Forward
Andrea Bargnani
(hamstring), point guard
Pablo Prigioni
(personal reasons) and forward
Amar'e Stoudemire
(recovery day) did not practice as well.
Knicks signing:
The Knicks added Jordan Vandenberg, a 7-1 undrafted free agent center from NC State.
Vandenberg averaged 2.0 points and 4.0 rebounds over 9.9 minutes in two games for the Knicks summer league team.
October, 21, 2014
Oct 21
5:46
PM ET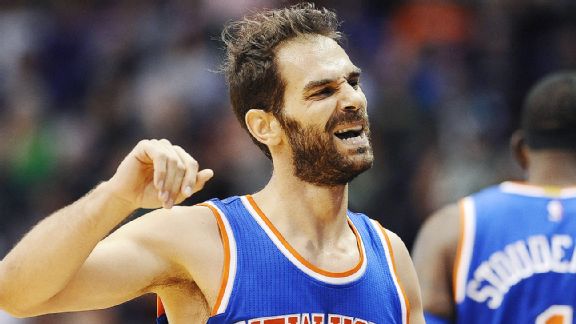 AP Photo/Jessica HillKnicks point guard Jose Calderon played just four minutes Monday before he left with a calf injury.
GREENBURGH, N.Y. –-
Jose Calderon
says his calf injury is nothing to worry about.
Calderon left in the first quarter of the Knicks' 120-107 loss to the Bucks after just four minutes.
The Knicks point guard did not practice on Tuesday but he and head coach Derek Fisher both said the injury is no cause for alarm.
"I think at that point I felt something in my calf and I didn't want to risk anything," said Calderon. "It looked like it was nothing important. So just going to be day by day. It feels OK today."
If his calf feels better, Calderon said he will play against the
Washington Wizards
in a preseason game on Wednesday at the Garden.
The Knicks need Calderon healthy for next Wednesday's season opener against the
Chicago Bulls
. Calderon will be a vital piece for the Knicks.
The pass-first point guard helps Fisher's triangle offense run smoother and his perimeter shooting will be a weapon for the team. He could very well be a glue-type player for the Knicks this season.
Calderon's personality and demeanor, by all accounts, will be a positive influence on the Knicks' locker room.
"He is one of the most beautiful leaders I've ever been around," said Toronto coach Dwane Casey, who coached Calderon in Toronto. "Very knowledgeable… he's a guy that you remember as a player, he was a big part of what we started here and kind of set the tone."
Calderon will be an extension on the floor for Fisher, a former point guard who played against Calderon often.
"It wasn't always fun playing against him because he could always shoot the ball so well and he never turned the ball over," Fisher said recently. "And he just always had a composure and a poise about himself that was always impressive as a competitor."
"He's a shot maker, he's a great decision maker, he's a quiet leader who has a brand of toughness that doesn't require a lot of words," Fisher added.
One knock on Calderon is the 6-3 guard's defense. Will the 33-year-old be able to stay in front of quicker and more athletic point guards?
"Defense is about five guys on the team," Fisher said. "I was personally persecuted in a sense in L.A. for many years that I couldn't play defense individually. And it' always about how five guys play defense.
"In the NBA there's really not the same level of one-on-one just cover your man type of defense," Fisher continued. "So I think Jose will be fine. He competes hard. So I'm not concerned about whether or not he can play defense, it's whether or not we can play defense."
Judging by Casey's praise, Calderon will have the Knicks in the right spots on the court.
"I always tease him about does he want to get into coaching," Casey said of Calderon, who owns a pig farm business in Spain. "Hopefully he is smart and doesn't do it and stays with his pig business over there in Spain."
"Jose is a leader, a vocal leader," Casey added. "He is kind of that spirit guy with a team. Any team that he's on is lucky to have him."
October, 5, 2014
Oct 5
12:00
PM ET
GREENBURGH, N.Y. -- Just over six months ago, Derek Fisher and
Jose Calderon
were squaring off as opposing point guards.
This week, Fisher will be starting the second week of training camp as Calderon's head coach, giving Calderon directions on what to do and how to run the triangle system.
[+] Enlarge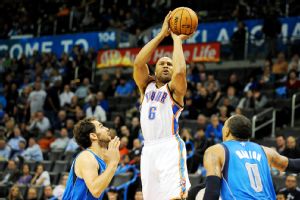 Mark D. Smith/USA TODAY SportsLast season, Derek Fisher and Jose Calderon were facing off as opposing point guards.
So far, the relationship between Fisher and Calderon has gotten off to a smooth start despite Fisher's rapid transition from player to coach.
"It hasn't at least felt awkward just yet," Fisher said. "We haven't had an awkward moment where we are kind of wondering what happened here. Six months ago, we were competing. And now we are on the same team."
The most important relationship Fisher will have as head coach will be the one he has with his star
Carmelo Anthony
. But his bond with Calderon will likely be vital to how the Knicks adapt to the triangle offense and what Fisher wants to accomplish.
Even though the triangle does not necessarily employ a traditional point guard, Fisher will likely need Calderon to be an extension of him on the floor as a "lead guard" in the system.
A coach's best friend can often be his point guard. When it comes to Fisher's transition to head coach, Calderon can help make Fisher's job easier.
Calderon can help set up the offense, make sure players are in the right spot and move the ball where it needs to be.
"As you know, the system is going to be trying to share the ball, try to reposition everybody," Calderon said last week. "I like that. I'm the point guard, pass-first point guard. I'm going to try to get everybody involved like I've been doing for a while now.
[+] Enlarge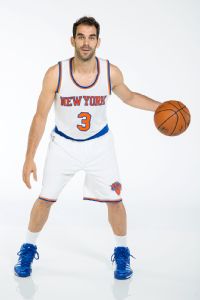 Nathaniel S. Butler/NBAE/Getty ImagesNow Calderon finds himself in a Knicks uniform and being coached by Fisher.
"I think the system fits me well. I can shoot the ball. I can make everybody comfortable out there, and I'm just going to try to help my teammates play better basketball if possible."
Phil Jackson and Fisher are trying to drill the culture of team ball, sharing the basketball and playing as a cohesive unit as much as they are trying to teach the nuances of the triangle.
An unselfish, pass-first point guard like Calderon seems to be an ideal conduit to spreading that belief to the rest of the team.
"He's a low-maintenance guy," Fisher said. "And those guys are all the rage in the NBA these days. So we're proud to have Jose's leadership, his personality, his composure, his poise under duress and stress.
"Jose does what he wants to do on the floor," Fisher continued. "He doesn't allow defenses or players to speed him up and force him to do things he's not comfortable with doing. To have a guy like that in control of the basketball in a lot of situations for us is going to be an invaluable asset."
Especially for a first-time head coach like Fisher. To this point, the new relationship dynamic is going well.
"Having played in this system for so many years and being a small guy, 6 feet, 6-1, I relate more to smaller guys," Fisher said. "I think I relate to what Jose can do and needs to do to help us win.
"So I think our relationship will be easy from the basketball perspective when we talk about how we can best help the team succeed. Outside of that, I don't see any issues at all. I see it being an easy relationship and one that would allow each of us to take on a proper leadership role."
October, 2, 2014
Oct 2
7:33
PM ET
By
Ian Begley
| ESPNNewYork.com
The
New York Knicks
have only had three days of practice together, but
Carmelo Anthony
already feels a connection with new point guard
Jose Calderon
.
"We got it," Anthony said when asked about developing chemistry with Calderon. "It's not hard. Jose is a vet. He knows what he's doing. He knows how to play. It's not hard to connect with somebody like that."
[+] Enlarge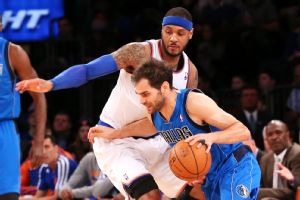 Anthony Gruppuso/USA TODAY Sports Carmelo Anthony says that working together with new teammate Jose Calderon won't be difficult.
Those words will be soothing to fans who were frustrated with
Raymond Felton
's play last season. Felton was dealt to Dallas along with
Tyson Chandler
for a package centered around Calderon and
Samuel Dalembert
.
Anthony and Calderon are expected to be a part of Derek Fisher's starting lineup. The Knicks hope that Calderon's steady hand and accurate shot can help spur the new triangle offense.
Anthony said on Thursday that he expects to be able to exploit defenses all over the floor in the new offense.
"It's going to be a lot different in a good way with me just picking spots on the basketball court and kind of nobody knowing where I'm going to be on the basketball court," Anthony said. "It's just a matter of me learning it a lot more and us as a team learning each other in this system."
FISH CONFIDENT IN JOSE'S D:
Calderon has been labeled as a poor defender by some. But Fisher on Thursday said he isn't concerned about Calderon being a weak link on defense.
"Defense is about five guys on the team. I was personally persecuted in a sense in L.A. for many years that I couldn't play defense individually and it's always about how five guys play defense," Fisher said. "In the NBA there's really not the same level of one on one just cover your man type of defense so I think Jose will be fine. He competes hard. So I'm not concerned about whether or not he can play defense. It's whether or not we can play defense."
FISH SATISFIED WITH CONDITIONING, TRIANGLE PROGRESS:
Fisher is encouraged by his players' conditioning early in camp. According to a league source, Phil Jackson wasn't happy with some of the players' conditioning when he took over as president.
"I'm more than satisfied with the level of conditioning and the base level to start with that all of our guys have," Fisher said. "I think the game has changed a lot over the years where guys know the potential for injury is much higher if you come into camp trying to get into shape."
Fisher also said it may take veterans a little longer to pick up the triangle than it will younger players.
"It's not that the system is complicated or difficult to learn but just like anything else it takes a bit longer to undo something and learn something," the coach said. ... Anthony said the Knicks had a "team-bonding session" at the team hotel on Wednesday night. ... Fisher is appreciative of the level of respect he's gotten from Anthony and the players so far. "I see it and I sense it. And it's allowed me to gain more confidence every day that I'm out here with him," he said. ... Fisher also said being at West Point has had a big impact on the team. "Even though we've only been here a few days it doesn't take long for this atmosphere to kind of permeate and become part of who you are," he said.
You can follow Ian Begley on Twitter.
August, 27, 2014
Aug 27
2:00
PM ET
With training camp less than two months away, we're examining the burning questions facing the
New York Knicks
.
Today's question: Do the Knicks have enough size to compete?
When Phil Jackson traded
Tyson Chandler
earlier this summer, the Zen Master was lauded for not only being able to ship Chandler and
Raymond Felton
out of town but also for bringing in
Jose Calderon
,
Samuel Dalembert
,
Shane Larkin
and two second-round picks, which helped land
Cleanthony Early
.

While Chandler was looking for a fresh start elsewhere, the Knicks parted with their best rebounder and interior defender. When healthy, he provided the Knicks with an active big man who was the last line of defense.
Now, the Knicks start the Derek Fisher era with uncertainty inside the paint. Yes,
Carmelo Anthony
can be a force on the boards. But does he have enough help inside?
Let's start with Dalembert, who could be the starter. When given steady minutes, he can rebound and certainly can block shots. The 6-foot-11 center has career averages of 7.8 points, 7.9 rebounds and 1.8 blocks per game over his 12-year career.
Dalembert is probably at his most effective within a 20- to 25-minute range. Over the past six years, he has averaged no more than 25.9 minutes per game during a season. Last season, Dalembert played 20.2 minutes a game and averaged 6.6 points, 6.8 rebounds and 1.2 blocks for the Mavericks.
At 33, Dalembert should be able to provide the Knicks with rebounding and blocked shots but not heavy minutes.
The wild card for the Knicks could be 7-footer
Jason Smith
. He provides the Knicks with a center capable of burying the midrange jumper, rebounding and blocking shots. Smith, 28, averaged 9.7 points, 5.8 rebounds and 0.9 blocks per game in 31 games last season before missing time with a knee injury.
Smith has had trouble staying healthy, playing more than 50 games in a season only once in the past three years. But he could be a good fit in the triangle if he avoids injury.
Speaking of health, the Knicks would benefit if
Amar'e Stoudemire
and
Andrea Bargnani
can stay on the court. Stoudemire showed flashes last season of the old Amar'e, averaging 11.9 points and 4.9 rebounds in 22.6 minutes a game. It remains to be seen how he will fit in the triangle, but his ability to hit shots from the outside helps. Fisher shouldn't use Stoudemire for a ton of minutes, obviously, due to his knees. But Stoudemire has said he feels better, and he is entering a contract year.
Bargnani, the 7-foot offensive-minded big man, might like playing in the triangle with his ability to shoot from the outside. He averaged 13.3 points, 5.3 rebounds and 1.2 blocks in 42 games, missing time with an elbow injury. Bargnani is also entering a contract year, so he should be motivated. Being reunited with Calderon also should help.
The Knicks acquired the 6-9
Travis Outlaw
and 6-7
Quincy Acy
, and backup center
Cole Aldrich
adds depth. Early is thin, but at 6-8 he adds some length.
In the East, Cleveland boasts
Kevin Love
,
LeBron James
,
Tristan Thompson
and
Anderson Varejao
. Chicago now has
Pau Gasol
to go with
Joakim Noah
and
Taj Gibson
.
The Raptors still have a rising
Jonas Valanciunas
and
Amir Johnson
. The Wizards re-signed
Marcin Gortat
and added
Kris Humphries
and
DeJuan Blair
to go with Nene. The Heat still have
Chris Bosh
, and the Hornets still have
Al Jefferson
.
The Knicks may not have the offensive firepower inside like some of these other East playoff contenders. They don't have one athletic big man who can log 30-plus minutes and be a surefire double-double guy. They will likely have to rely on Melo to be that force on the boards.
Fisher will have to go with size by committee. Where I see the biggest concern inside is defensively for the Knicks. There are some shot-blockers, but can they defend in the post? Will they be able to win the battle on the defensive boards?
Much of the answer rests with their health. If their bigs can remain active, the Knicks should have just enough size to be in contention for a playoff spot in the East.
Question:
Do the Knicks have enough size to compete and be a playoff team?
August, 20, 2014
Aug 20
2:32
PM ET
By
Ian Begley
| ESPNNewYork.com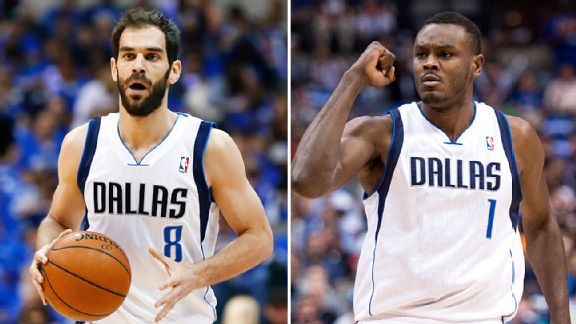 USA TODAY SportsWhich Knicks newcomer will be most vital to the team's success this season?
With training camp less than two months away, we're examining the burning questions facing the
New York Knicks
.
Today's question: Which newcomer is most vital to the Knicks' success this season?
Jose Calderon
: Calderon is widely recognized as the top shooting point guard in the NBA. He hit 45 percent of his 3s last season. In that respect, Calderon will be a big upgrade from the departed
Raymond Felton
, who knocked down just 31 percent from beyond the arc in 2013-14.
If the spacing and ball movement in the Knicks' new triangle offense are present, Calderon should have plenty of opportunities to knock down shots from the perimeter.
So offense shouldn't be an issue for the nine-year veteran.
Historically, however, Calderon has struggled defensively.

Last season, Calderon's "defensive real plus-minus" was a minus-3.56, which was 72nd among point guards. Defensive real plus-minus measures a player's defensive contributions based on points allowed per 100 defensive possessions.
For comparison's sake, Felton, who was widely criticized for his defensive issues last season, ranked 39th among point guards with a minus-1.24.
One thing worth watching here: Can
Shane Larkin
, who came over from Dallas with Calderon, help the Knicks defend point guards? He excited some people with his play in the Knicks' summer league season.
Samuel Dalembert
/
Jason Smith
: These two big men, along with
Cole Aldrich
, will be called upon to defend the rim and protect the paint for the Knicks this season. They are replacing
Tyson Chandler
, who was shipped to Dallas in the trade that sent Dalembert to the Knicks.
As we noted in our positional analysis on centers, neither Dalembert nor Smith made a huge impact on the defensive end last season based on on/off statistics.
The Mavs gave up 2.6 more points per 100 possessions with Dalembert on the floor; the Pelicans allowed 0.6 points more per 100 possessions with Smith on the court.
The Knicks will need Smith and Dalembert to protect the rim and rebound the ball effectively. Those were two things Chandler, when healthy, did well for the Knicks.
As noted in the positional analysis, Dalembert grabbed 42 percent of the contested rebounds available to him (30th among players who averaged at least five rebounds per game last season) and Smith pulled down 32.6 percent of the contested rebounds available to him (86th).
So it will be worth keeping an eye on these guys to see how they rebound and defend the paint throughout the season.
On offense, Smith, a PF/C, adds a dimension to the Knicks that Chandler did not possess: an outside shot.
Smith hit 47 percent of his attempts last season on shots more than 16 feet from the rim but inside the 3-point line. Seventy-four percent of his attempts last season came from between 10 and 22 feet.
Cleanthony Early
/
Travis Outlaw
: These two players may be counted on to spell
Carmelo Anthony
throughout the season.
If numbers from last season are any indication, getting Anthony more rest throughout the game may help him in the fourth quarter.
Last season, Melo's shooting percentage dipped significantly late in games. As noted in this story, Anthony shot 47.9 percent from the field in the first quarter, 49.3 percent in the second quarter and 45.2 percent in the third quarter. But in the fourth, Anthony shot just 38.0 percent from the field. In overtime, that number dipped to 30 percent.
He also played a career-high 38.7 minutes per game. If the Knicks and Anthony believe there was a correlation between all of the minutes played and his shooting percentage late in games, they'd be wise to reduce his minutes this season. That's where Early and Outlaw, acquired in a trade with the Kings, come in.
Question: Which newcomer do you think is most important to the Knicks' success this season?
You can follow Ian Begley on Twitter.
August, 15, 2014
Aug 15
8:00
AM ET
With training camp less than two months away, we're examining the burning questions facing the
New York Knicks
.
Today's question: Where will the Knicks finish in the East?
I think the they will make the playoffs. But it will not be easy. The Knicks have a first-time head coach in Derek Fisher. They will be learning a new system with Phil Jackson and Fisher installing the triangle. And we'll have to see if they have enough bigs inside.
But let's look at the rest of the East.

No. 1:
With
Kevin Love
expected to join
LeBron James
in Cleveland, the Cavs look likely to be the top seed in the East. With that being said, the Cavs may have some growing pains, as young players like
Kyrie Irving
and
Dion Waiters
still have to learn how to win. But LeBron and Love make that learning curve a bit easier.
No. 2:
With the addition of
Pau Gasol
, the Bulls are my pick to finish No. 2 in the East.
Derrick Rose
still has to prove that he can stay healthy. If Rose returns to his old form, the Bulls will be challenging the Cavs for that top seed and the Central Division crown.
No. 3:
Washington is my pick to win the Southeast Division. As somebody who grew up in the D.C. area, I have seen the Bullets/Wizards fail to meet high expectations in the past. The Southeast will be an improved league despite LeBron's departure as Charlotte and Atlanta are expected to keep progressing. But I think Washington has the potential to finish with the third-best record.
No. 4:
Toronto is the favorite to win the Atlantic Division. A young core is back, and the Raptors should learn from last year's painful Game 7 loss to the Nets in the first round. Will
Kyle Lowry
be as motivated as he was last season now that he has his new contract? Dwane Casey should keep the Raptors in the top four in the East.
No. 5:
The
Charlotte Hornets
have a good chance to finish fifth. Steve Clifford is an excellent coach and the Hornets acquired
Lance Stephenson
in free agency.
Al Jefferson
should only get better.
No. 6:
This is where the Knicks, Nets, Heat and Hawks come in. Atlanta made the playoffs last year and should be right there again. But I think the Knicks will be the sixth seed in the East despite what could be a slow start as they get acclimated to the triangle offense.
They have some questions at center, and I'd like to see
Samuel Dalembert
stay healthy the entire season. Also, defensively, can
Jose Calderon
hold his own at point guard?
J.R. Smith
and
Iman Shumpert
need to bounce back this season, and
Amar'e Stoudemire
and
Andrea Bargnani
have to stay healthy.
That said, expect
Carmelo Anthony
to get comfortable enough with the triangle to lead the Knicks to the playoffs and for Fisher to have the team more motivated than it was last season.
No. 7:
Brooklyn can be higher than the seventh seed, but it might take a quarter, maybe half, of the season for
Deron Williams
and
Brook Lopez
to return to form. So I think the Nets will finish seventh.
No. 8:
Even without
Paul George
, the Pacers will be in the mix for a playoff spot as well. But the Heat will make the playoffs with all their experience despite James' departure.
Obviously, we're making all these predictions in the middle of August. Much can change in the next few months. But the Knicks appear to be headed to the sixth seed in the East.
Let me know what you guys think below.
July, 28, 2014
Jul 28
10:54
AM ET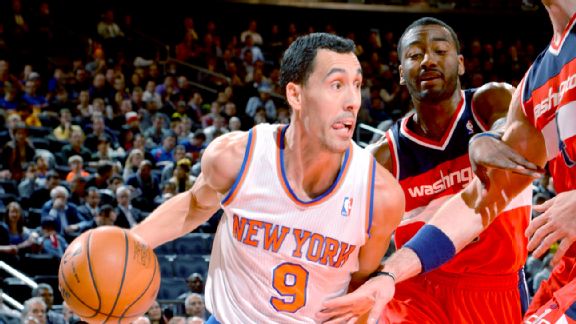 Jesse D. Garrabrant/NBAE/Getty ImagesPablo Prigioni, a savvy veteran who can provide outside shooting, is still under contract.
Now that free agency has died down, we're taking a look at where the Knicks currently stand position-by-position. Today, we look at point guard.
POINT GUARD
New additions:
PG
Jose Calderon
, PG
Shane Larkin
.
Returning/on roster:
PG
Pablo Prigioni
Gone:
PG
Raymond Felton
, PG/SG Shannon Brown, PG
Beno Udrih
.
The starter:
Calderon. Acquired in the Felton and
Tyson Chandler
trade to Dallas, the Knicks improved their shooting at the point guard position. It remains to be seen how Calderon does defensively for the Knicks. He could struggle to defend but the Knicks are expecting Calderon to improve the team's chemistry in addition to the shooting.
The wild card:
Larkin. Also acquired in the Dallas trade, Larkin was the 18th overall pick in the 2013 draft. He played in just 48 games, averaging 2.8 points in 10.2 minutes per game. But the Knicks have a young, albeit small at 5-11, point guard to develop. Perhaps Larkin could be a spark on some nights.
Outlook:
The Knicks did upgrade at point guard by bringing in Calderon after Felton struggled mightily last season. Calderon also could be a much better fit in the triangle than the underachieving Felton. Calderon averaged 11.4 points, 45.6% shooting overall and made 44.9% of his shots from behind the three-point arc last season. He also averaged 4.7 assists for the Mavs. Felton shot just 39.5% from the field and 31.8% from three-point land. Prigioni shot 46.4% from behind the arc last season. With the Knicks going to a triangle this season, Calderon and Prigioni may be counted on for their outside shooting. Phil Jackson's point guards in the past often were more spot-up shooters like
John Paxson
and
B.J. Armstrong
. The point guard that will make the biggest difference on the team is the one who is retired -– Derek Fisher. Even though he is coaching for the first time in his career, Fisher brings a wealth of championship experience, toughness and leadership. If Fisher can transfer that to the team from the sidelines, the Knicks' point guard play can only get better after last season.
Question:
How do you think the Knicks did at point guard this offseason?
June, 27, 2014
Jun 27
6:33
PM ET
By
Ian Begley
| ESPNNewYork.com
Count
Jose Calderon
among those in the Knicks organization who hope
Carmelo Anthony
re-signs this summer.
"He's a great player, one of the best, I'd love to play with him," Calderon said Friday, on a conference call with New York reporters. "I'd love to make everything easier for him and make the team successful and try to get as far as we can."
[+] Enlarge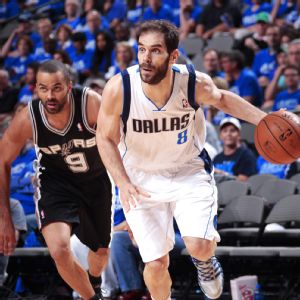 Danny Bollinger/NBAE/Getty ImagesJose Calderon will be a Knick next season; the question is, will Carmelo Anthony be?
Calderon was shipped to New York along with
Shane Larkin
,
Samuel Dalembert
,
Wayne Ellington
and two second-round picks (
Cleanthony Early
and
Thanasis Antetokounmpo
) in a trade earlier this week. The Knicks sent back
Tyson Chandler
and
Raymond Felton
, in a move president team president Phil Jackson said was made to improve the Knicks' chemistry.
One player Calderon hopes to develop chemistry with is Anthony.
"I think I can help him to get the pressure (off) of him and just give him the ball when he's ready for it," Calderson said. "That's what I've been doing. I did it in Toronto with (Chris) Bosh or (DeMar) DeRozan, last year in Dallas with Dirk (Nowitzki) and I just try to help him every time. And because of my 3-point ability I can give him even more space. So that can be a great space for him."
Anthony is a free agent and will start meeting with teams interested in signing him next week. The Knicks can offer Anthony the most money (approximately $33 million more than any other team). With Calderon, they can now sell Anthony on the idea of playing with a strong point guard as well.
The nine-year veteran is widely seen as a strong fit in a triangle offense because of his ability to knock down outside shota (he hit 45 percent of his 3's last season). Historically Calderon has struggled on defense, though, which could be an issue for the Knicks. New York had a tough time defending on the perimeter and struggled to guard the pick-and-roll last season en route to a 37-win campaign.
Another potential issue? Calderon has never run the triangle. But he's confident he can thrive in it.
"At the end of the day, the good thing about it is more than anything it's a team offense -- try to find the right guy, try to put the guys in the right situation and look for where the weak spots are," Calderon said. "It's been working with a lot of really, really good players. Like I said, I'll be able to open the floor, make the right decisions for my teammates."
Calderon also hopes to help
Andrea Bargnani
get back on track. Calderon played with Bargnani in Toronto.
"I think I could help him. I know the injuries the last couple of years, he wasn't able to show the potential he has," Calderon said of Bargnani, who was limited to 42 games and hit just 27 percent of his 3-point attempts last season. "Sometimes when you're No. 1 in the draft all the pressure is there, all the expectations are there. But he's great ... he's one of the guys that can open the floor: a 7-footer who can play four and spread the floor for everybody.
"It's about confidence too and I help with that. I played with him in Toronto for us, a lot of years. And he's a good friend and for sure I (will) try to help him and put him in the right situation for him to be successful. He's a guy who's really going to be important for sure."
Calderon is also close friends with Grizzlies center
Marc Gasol
, a potential free-agent target in 2015. Calderon said he'd have no problem helping recruit other players such as Gasol to New York -- if the situation presented itself.
"For sure, this is my team. I'm going to help to improve (it) as much as I can," he said. "Anybody that we can get here or would be interested (in coming) I'd be willing to talk to, to try to make them come to the Knicks, I think we are one of the best franchises ever. Everybody wants to play here. So perhaps ... hopefully we can get those guys in New York."
You can follow Ian Begley on Twitter.
June, 25, 2014
Jun 25
7:59
PM ET
We're still days away from July 1, and things are heating up with the Knicks and
Carmelo Anthony
.
Phil Jackson struck a big deal Wednesday to trade
Tyson Chandler
and
Raymond Felton
to Dallas in exchange for point guard
Jose Calderon
, center
Samuel Dalembert
, point guard prospect
Shane Larkin
, reserve shooter
Wayne Ellington
and the 34th and 51st picks in Thursday's draft, as reported by ESPN's Marc Stein.
I'll get to that trade in a bit. First, let's look at Chris Broussard's report that Carmelo will meet with the Rockets, Mavericks and Bulls once July 1 hits and free agency begins.
According to Broussard, Anthony will grant those three teams the chance to make their pitch to him, but
there is no true favorite
at the moment in Melo's mind. Other teams will probably get the same opportunity to talk to Melo, such as the
Los Angeles Lakers
, the home of Melo's close friend
Kobe Bryant
. Bryant told ESPN.com in a text message that he plans to meet with Anthony eventually.
As for Miami, sources told Broussard that there has been no talk from Anthony's camp about going to the Heat. Of course, there's plenty of time for that to change, and
the Big Three were reportedly meeting
on Wednesday to discuss their futures, so things are very much developing.
But let's get back to Melo. As a free agent, Melo has earned the right to talk to any team he wants. Houston will try to entice Melo with the notion of playing alongside a big man such as
Dwight Howard
and possibly a scorer such as
James Harden
, to take some of the burden and minutes off Melo's shoulders. Houston can also pitch no state income tax as well.
But Broussard also reported that if Houston can clear cap space to sign
LeBron James
, the Rockets might try to attempt a sign-and-trade with the Knicks to acquire Anthony,
which would likely include Harden
going to New York.
If you're going to lose Melo, Harden certainly wouldn't be a bad consolation prize to receive in return. Despite what you might think of his defense, Harden can fill it up offensively, averaging 25 points, about six assists and nearly five rebounds the past two seasons for Houston, and he's only 24 years old. Phil has to start collecting assets, and Harden is an asset.
As for Dallas, the Mavs just got two of Melo's former teammates. So Chandler and Felton could try to persuade Melo to join them. Mark Cuban is an owner who is willing to spend money and has won it all before. And
Dirk Nowitzki
can also try to convince Melo to share the load with him.
And then there's Chicago, considered by some to be the front-runner for Anthony. Tom Thibodeau is as good a coach as there is in the league. And Chicago can sell a talented big man in
Joakim Noah
.
Derrick Rose
will be attempting another comeback from a season-ending injury, but we know what he can do when healthy. And there's young talent in
Jimmy Butler
and
Taj Gibson
, if the Bulls can hold on to them and still create space to pay Melo.
Lastly, there's the Knicks. I'm not discounting a return to New York at all. The Knicks can pay Melo more than anybody, and $129.1 million over five seasons is quite an argument for staying. But Phil is also the draw. Wednesday's trade shows he's not sitting still. The Zen Master is orchestrating something, and we will have to wait and see what exactly that is.
Calderon might be a slight upgrade over Felton and a better shooter, but he comes with a price tag of $7 million and slightly more for the next three seasons. Maybe Calderon will be traded again later. Who knows. If he stays, he can shoot, distribute the ball and likely is a better fit than Felton in the triangle.
Larkin, drafted 18th overall in 2013, could develop into a young asset if the Knicks keep him. They could also trade him. Dalembert could provide rebounding and blocks, if the Knicks keep him. Ellington can shoot. And the two second-round picks are two more assets the Knicks didn't have at the beginning of the day. The 34th pick could yield a contributor in a draft considered to be deep.
Something tells us Phil is not done, not by a long shot. So just as Carmelo begins to map out his free-agency tour, Phil has put his master plan into motion.
Melo's decision will not be an easy one. And by the time Phil and Melo sit down and talk again in July, the Knicks could have a more solid plan to sell Anthony to combat the Bulls, Rockets, Mavs and other suitors.
July 1 isn't here yet, but the "Summer of Melo" is off and running.