New York Knicks:

Kemba Walker
February, 25, 2012
2/25/12
12:49
AM ET
By
Jared Zwerling
| ESPNNewYork.com
ORLANDO --
Jeremy Lin
and
Kemba Walker
shared the court together for the first time as NBA players Friday night for the NBA All-Star Rising Stars Challenge.
But they have something more in common than that: They first became household names in New York City; Walker as a blue-chip high school prospect coming out of Rice High School in 2008, and Lin, of course, as a member of the Knicks.
After the game, in which Walker's Team Shaq lost to Team Chuck, 146-133, the Bobcats' rookie point guard reflected on his time developing into a Big Apple phenom in the CHSAA to what Lin is doing now in the NBA.
"He's playing great basketball and New Yorkers love it when people are playing great for their city, or just playing hard," said Walker, who played in the same backcourt as Lin on Friday, scoring 10 points; Lin had two. "They definitely embrace him. I'm happy for him. He deserves it a lot. You can tell that he just works extremely hard at his game to get where he is today."
When Walker was asked about seeing all of the blue and orange around the Amway Center, in honor of Lin, he was blown away.
"So many jerseys [laughs]," Walker told ESPNNewYork.com. "No. 17. Lin. Linsanity shirts. It's crazy, but, man, it's a cool experience."
Walker also couldn't believe that even with all the Linsanity -- even with Lin getting
his own pregame press conference
with roughly 175 media members in attendance -- the global interest hasn't changed the Knicks point guard as a person.
"He's not even like [the Linsanity]," Walkers said. "He's just so humble and he doesn't care about. He's just playing basketball. Of course, I'm pretty sure he's happy when he's playing well, when he's getting all this attention, but he's a humble dude."
Lin and Walker's Rising Stars teammate,
Tristan Thompson
of the Cavaliers, also spoke highly of Lin. Thompson, like Walker, played high school ball in the Greater New York area (St. Benedict's Prep in Newark, N.J.), before transferring to Las Vegas' Findlay Prep. The rookie power forward, who was born in Toronto where a big Asian population resides, said more people of a similar ethnic background are playing basketball in the city because of Lin's success.
"He's giving guys hope," said Thompson, who scored 20 points. "When [the Knicks] played the Raptors on Feb. 14 [in Toronto], it was full. It's definitely great for basketball. He's really brought the Asian community back into basketball, because once
Yao Ming
left, I don't think there haven't been as many Asians playing.
"He's a great story, first and foremost. He's embraced New York and New York's embraced him. He's going to be playing in this league for a long time."
You can follow Jared Zwerling on Twitter.
February, 24, 2012
2/24/12
3:42
PM ET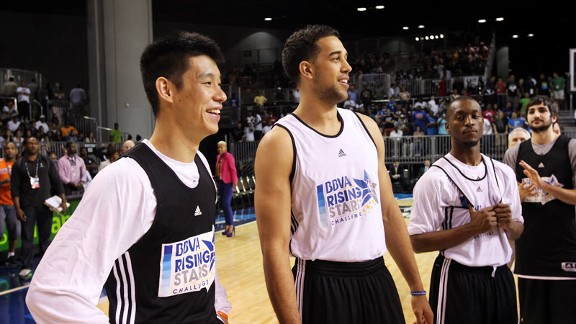 Joe Murphy/NBAE via Getty ImagesJeremy Lin, Landry Fields, Kemba Walker and Ricky Rubio at Friday's practice.
Jeremy Lin
and
Landry Fields
, the Knicks' starting backcourt, will be teammates in the Rising Stars Challenge at 9 p.m. in Orlando, Fla.
The event was formerly known as the Rookie Challenge and pitted the best second-year players against top rookies during All-Star weekend. The format is different this year: TNT analysts
Shaquille O'Neal
and
Charles Barkley
conducted a draft and built teams with a mixture of first- and second-year players.
Lin and Fields will play for Team Shaq. Nets rookie
MarShon Brooks
will play for Team Chuck.
Other players with ties to New York and New Jersey:
• Bobcats guard
Kemba Walker
of Team Shaq is a Bronx native who played for Rice High School in Harlem.
• Cavaliers guard
Kyrie Irving
of Team Chuck played for St. Patrick's High School in Elizabeth, N.J.
• Cavaliers forward
Tristan Thompson
of Team Shaq spent two years at Saint Benedict's Prep in Newark, N.J.
• Jazz forward
Derrick Favors
of Team Chuck was drafted by the Nets and traded to Utah in the
Deron Williams
blockbuster.
TEAM SHAQ
•
Norris Cole
, Heat
•
Landry Fields
,
Knicks
•
Blake Griffin
, Clippers
•
Brandon Knight
, Pistons
•
Jeremy Lin
,
Knicks
•
Greg Monroe
, Pistons
•
Markieff Morris
, Suns
•
Ricky Rubio
, Timberwolves
•
Tristan Thompson
, Cavaliers
•
Kemba Walker
, Bobcats
TEAM CHUCK
•
Kyrie Irving
, Cavaliers
•
DeMarcus Cousins
, Kings
•
Derrick Williams
, Timberwolves
•
Paul George
, Pacers
•
MarShon Brooks
,
Nets
•
John Wall
, Wizards
•
Evan Turner
, 76ers
•
Gordon Hayward
, Jazz
•
Kawhi Leonard
, Spurs
•
Derrick Favors
, Jazz
January, 4, 2012
1/04/12
5:02
PM ET
By
Ian Begley
| ESPNNewYork.com
Kemba Walker
grew up in the Sack-Wern housing projects in the South Bronx. Like plenty of other kids in the neighborhood, he shot around on the basket near his house, dreaming of one day playing in the NBA.
On Wednesday, he played on the Madison Square Garden floor as a first-round pick of the Charlotte Bobcats.
So how did he get there?
"He just persevered," says
Emmanuel "Book'" Richardson
.
Richardson would know.
He coached Walker for several years on the New York Gauchos, a Bronx-based AAU team where Walker first earned his reputation as a lightning-quick guard.
As a sophomore at Rice High School, Walker toiled as a reserve behind heralded point guard
Edgar Sosa
. It wasn't until the summer after his sophomore year while traveling, with the Gauchos, that college recruiters began to recognize Walker's talents.
From there, Walker took off, leading Rice to the prestigious CHSAA title and earning a scholarship to UConn in the process.
He also garnered an invite to the prestigious McDonald's All-American game, where threw down a memorable dunk over
Jrue Holiday
, crossing both arms in an "X" afterward to let everyone know he was from the Bronx. The play was plastered all over SportsCenter.
"After that I was like, 'Yeah, he's got a chance to make it,'" says
Kedow Walker
, Kemba's older brother.
Walker established himself as one of the top guards in the country over three years at UConn. He helped lead the Huskies to a Final Four as a freshman and to a national championship as a junior.
Last year, he authored one of the most memorable performances in Big East Tournament history, almost single-handedly lifting UConn to the conference title during an unforgettable week at Madison Square Garden.
"I'm pretty sure he owned the Garden back then," Kedow Walker says.
For small spurts on Wednesday, Walker owned it again.
He drew a charge from
Toney Douglas
late in the third quarter and fed
B.J. Mullens
for an open jumper. In the fourth, he knocked down a 12-foot runner to put the Bobcats up 12. On the next Charlotte possession, he knocked down a there pointer.
Two minutes later he drilled another 12-footer to give Charlotte a 16-point lead with seven minutes to go in a game they'd go on to win, 118-110.
Before he took the floor against the Knicks, Walker talked about what it was like to be back in Madison Square Garden.
"It's home. I am home. I always feel like home every time I am back. It's MSG. Whenever I get the chance to play here I get butterflies," he said.
From Richardson's perspective, Walker faces the same challenges with Charlotte that he did as a sophomore at Rice.
"He's still the same Kemba who's got to work hard, who's got to prove himself," says Richardson, now an assistant coach at Arizona. "He did it in high school, he did it in AAU and he did it in college. Now, the cycle starts again."
Walker, of course, is up for the challenge.
"This is the NBA," his brother says. "It's what he's always dreamed of doing."
You can follow Ian Begley on Twitter.