New York Knicks:

Kevin Love
June, 12, 2014
Jun 12
12:54
PM ET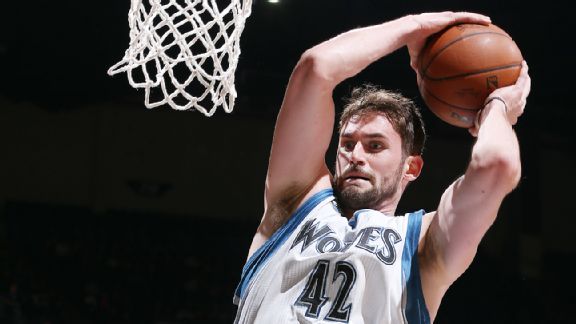 David Sherman/Getty ImagesPhil Jackson's presence at MSG has a certain Timberwolves superstar intrigued.
Kevin Love
says the Knicks are a more attractive place now that Phil Jackson is in charge.
In an interview on ESPN's "SportsNation," Love was asked about his thoughts on the Knicks.
"

I think anytime you have Phil Jackson involved with any organization, you're going to definitely look at it. And you know it's very intriguing. The Knicks are a place where I think anybody would like to go.

"

-- Kevin Love
"I think anytime you have Phil Jackson involved with any organization, you're going to definitely look at it," Love said. "And you know it's very intriguing. The Knicks are a place where I think anybody would like to go."
Love intends to become an unrestricted free agent after next season, and ESPN reported earlier that he has no interest in a contract extension with Minnesota.
That makes Love, who averaged 26.1 points and 12.5 rebounds last season, one of the most sought-after commodities on the trade market this offseason. Minnesota doesn't want to trade Love but certainly would not want to lose him for nothing next summer.
The problem for the Knicks is that they simply lack the assets to land Love if the Wolves opt to trade their star between this summer and the trade deadline for next season. The Wolves would likely want a high draft pick to go in any package, and the Knicks' next first-round pick is for 2018.
Another problem? Love wants to play for a contender.
"No matter what the outcome is, I just want to end up in a great place where I can win," Love said. "At the end of the day, I've played six years, haven't made the playoffs yet, that burns me and hurts my heart, so I really want to be playing."
But Love says Phil and his rings do make the Knicks more attractive these days.
"You mention
LeBron James
, he's the best player in the world another max contract guy, a guy that has won two and working on his third straight championship," Love said. "So, yeah, anytime Phil Jackson is involved in different talks in an organization, you have to give it a second look."
May, 28, 2014
May 28
12:48
PM ET
By
Ian Begley
| ESPNNewYork.com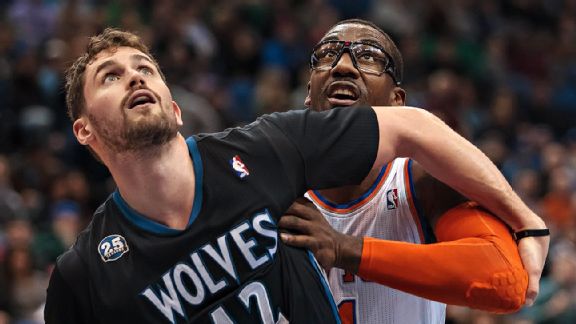 Brad Rempel/USA TODAY SportsKevin Love, according to Bradford Doolittle, is a better bet to build around than Melo.
The Knicks' top priority this summer, as we all know, is to re-sign
Carmelo Anthony
.
If they fail to do so, Phil Jackson & Co. will likely use the summer of 2015 to rebuild with a stockpile of cash to spend on free agents and a first-round draft pick.

One of their targets in 2015 could be Timberwolves forward
Kevin Love
.
So here's a hypothetical for you: How would a Knicks team built around Love compare with a team built around Melo?
One writer sees Love as the better building block.
ESPN NBA Insider Bradford Doolittle makes the case
here
that Love is a better fit for the
Chicago Bulls
than Anthony. In doing so, he surmises that Love is the better player to build around.
As Doolittle points out, this is a classic sports debate, and one that doesn't have much relevance in future projections for the Knicks.
For one, losing out on Anthony this summer will be seen as a setback for many reasons, so it's impossible to judge that development through the prism of "Love vs. Melo."
Also, the Knicks will have plenty of competition for Love in 2015 -- with or without Melo. So the question of "who's better" isn't likely to be pertinent to the Knicks.
Still, on a macro level, it's an interesting premise for Knicks fans to consider.
Here are some of the points Doolittle makes to support his argument:
Doolittle argues that Love is already a better player than Anthony based on the WARP statistic, which measures how much value a player adds when compared to a player who would replace him (generally a second-unit player). And he argues that Love, if healthy, will be a better long-term investment because he is a full four years younger than Anthony.
Writes Doolittle:
Over the past three seasons, Love has a 39.2 to 33.6 edge in WARP over Anthony even though he missed 64 games in 2012-13. Love's winning percentage -- the per-possession component of WARP -- was over .700 for the third time in four years. Anthony's .643 mark last season was the best he's ever done. Both are high volume players, but Love is a more efficient shooter, draws more fouls, hands out more assists and, even after accounting for position, he laps Anthony in terms of board work. Neither is a great defender, but at the bottom line, Love's Real Plus-Minus of plus-5.10 is elite, while Anthony's plus-2.73 is merely very good.
Question: Do you agree with Doolittle's analysis? Is Love a better building block than Melo?
You can follow Ian Begley on Twitter.
May, 18, 2014
May 18
6:41
PM ET
By
Ian Begley
| ESPNNewYork.com
The Knicks got some good news on Sunday:
Kevin Love
intends to test free agency,
sources told ESPN.com
.
The bad news? It looks like New York will have some stiff competition for Love's services.
Sources told ESPN.com's Marc Stein and Ramona Shelburne that Love has made it clear to the Timberwolves that he has no interest in signing a contract extension this summer to stay in Minnesota.
[+] Enlarge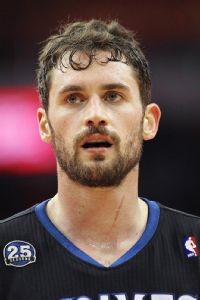 Andrew Richardson/USA TODAY SportsThe Knicks will have to beat out the competition for Kevin Love.
So he's expected to test free agency. If he makes it to free agency, the Knicks will likely be interested in his services.
But there are several attractive teams who'd like to try to trade for Love before he hits free agency.
The
Golden State Warriors
and
Chicago Bulls
are among the potential trade destinations that Love is interested in.
The
Phoenix Suns
also have "strong interest" in trading for Love.
Of course, any team willing to trade for Love would need assurances that the 25-year-old would be willing to re-sign with them in the summer of 2015.
The Knicks probably don't have the trade chips to acquire Love via a trade. The next first-round draft pick they can trade is their 2018 pick.
Here's another potential issue for New York's pursuit of Love:
The power forward's top priority is believed to be playing for a team that can contend immediately.
That could be problematic for the Knicks.
New York is coming off a 37-win season in which it failed to make the playoffs for the first time in four years. Who knows if the Knicks will be a contending team next season? If Love wants an opportunity to win a title immediately, though, he may find a better opportunity to do so in another market.
If Love makes it to free agency in 2015, the Knicks can put themselves in position to sign him.
Assuming the Knicks sign
Carmelo Anthony
to a max deal ($24,142,7891), they are expected to have five players under contract at a total salary of $39,492,533 entering the 2015 offseason. (Anthony has said he'd take a paycut to re-sign in New York or another market.)
That projected cap space would give the Knicks enough money to ink Love to a max deal.
One issue with Love to New York: It's worth wondering, at least, if the Knicks would be better off pursuing a top flight point guard like
Rajon Rondo
in 2015. Jackson's triangle offense, though, has thrived without a big-name point guard in the past.
Also, it's worth wondering how Anthony fits with Love. Both players thrive at power forward and have shot a high percentage from the left side of the floor. Would they get in each other's way? Or would the triangle sort all of that out?
Either way, based on what we learned on Sunday, it seems like we are many steps away from Love landing in New York.
You can follow Ian Begley on Twitter.
March, 30, 2014
Mar 30
6:00
AM ET
By
Ian Begley
| ESPNNewYork.com
Not that you needed any hints, but earlier this week Phil Jackson made it clear that the Knicks plan to be major players in free agency when he said the organization is "in a talent hunt."
Naturally, one of the players the Knicks will try to pursue is
Kevin Love
.
[+] Enlarge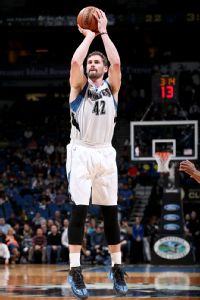 David Sherman/NBAE/Getty ImagesCould Kevin Love be head to New York in 2015?
Love will be a free agent in the 2015 offseason.
Zach Lowe
reported recently
that the Wolves -- at this point -- have no plans to trade Love before he hits free agency. The Timberwolves' stance could change, though, if they get the inclination that Love is ready to sign elsewhere.
Marc Stein also reported that the
Los Angeles Lakers
, long rumored as a prime destination for Love, would be willing
to deal their 2014 first-round pick
to obtain Love. The Lakers also could save cap space for the following offseason and make a run at Love in the summer of 2015.
The 25-year-old Love has ties to Los Angeles. He went to UCLA for one season before entering the NBA draft. His father, Stan, also played for the Lakers.
But, according to ESPNLosAngeles.com's Dave McMenamin, Los Angeles isn't the only big market that has a chance to land Love.
A source familiar with Love's thinking told McMenamin that Love is "enamored with the idea of
being 'big time in a big city
,' and that list of potential places he'd seek includes New York and Chicago, as well."
So how would Love fit into the Knicks' plans?
If they sign
Carmelo Anthony
to a max deal ($24,142,7891), the Knicks are expected to have five players under contract at a total salary of $39,492,533 entering the 2015 offseason.
So, in theory, they will have enough room to sign Love in the summer of 2015 if he makes it to free agency.
When thinking about Love-to-the-Knicks in 2015, it's worthwhile to consider the following issues:
1. Would the Knicks be better-suited going after a point guard? Or is a top-flight PG less necessary in Jackson's triangle offense?
2. Assuming Anthony re-signs with the Knicks, would he and Love be able to play off of one another? Both players have a comfort zone on the left side of the floor. Is this another issue that can be worked out via the Triangle offense?
These are issues the Knicks won't have to face for a while. Plenty can change between now and the summer of 2015. In the meantime, they can take comfort in the idea that Love is looking to play in a big market.
You can follow Ian Begley on Twitter.
February, 21, 2014
Feb 21
2:18
PM ET
By
Ian Begley
| ESPNNewYork.com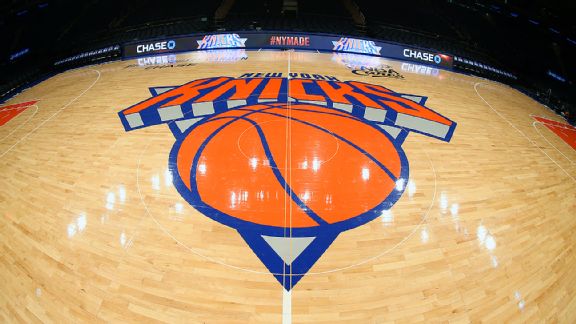 Nathaniel S. Butler/NBAE/Getty ImagesThe Knicks are on schedule to have plenty of cap space in 2015.
Here's one positive for the Knicks in the wake of their inactivity at the trade deadline: They're still on schedule to have plenty of cap space in 2015.
Remember, Steve Mills and the Knicks hope to be big players in free agency in the summer of 2015. The plan is to surround
Carmelo Anthony
with at least one additional max-level free agent.
Rajon Rondo
,
LaMarcus Aldridge
and
Kevin Love
are expected to headline the 2015 free-agent class.
Of course, the first step in that plan is to re-sign Anthony this summer.
Anthony's said that he would consider taking less money to attract other free agents to New York. The max he can sign for is five years, $129 million. Assuming he re-signs, how will that impact the Knicks' cap space going forward? And how much money will they have left over the spend on other free agents?
[+] Enlarge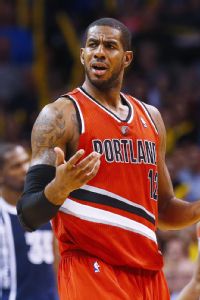 AP Photo/Sue OgrockiBlazers forward LaMarcus Aldridge is in the Knicks' sights for 2015.
With a big assist from ESPN cap guru Larry Coon, let's take a look at how re-signing Anthony would impact New York's cap situation. While Anthony has talked about taking less money to help the Knicks, for the purpose of this story, we're going to assume he signs a max deal.
2014 offseason:
If Carmelo signs a max contract, he will receive $22,458,401.
He's currently on the books for $23,333,403.
So, in 2014-15, the Knicks would actually save $875,002 on Anthony's salary. But that salary relief likely won't go toward a free agent. The Knicks are expected to be over the salary cap next summer, assuming
Andrea Bargnani
,
Amar'e Stoudemire
and
Tyson Chandler
are on the books.
So Anthony's $875,022 decrease in salary will only lessen owner James Dolan's luxury tax bill. It probably won't be spent on other players.
2015 offseason:
With Carmelo's salary that season ($24,142,7891), the Knicks are expected to have five players under contract at a total salary of $39,492,533.
This assumes that
J.R. Smith
picks up his $6,399,750 player option for 2015-16 and
Raymond Felton
picks up his $3,950,313 player option. It also assumes that the Knicks offer
Iman Shumpert
a qualifying offer of $3,695,169 (this could be higher if Shumpert meets the starter's criteria) and he accepts. Lastly, this assumes that the Knicks don't exercise the non-guaranteed option on
Pablo Prigioni
's contract.
This calculation also includes
Tim Hardaway Jr.
being on the books for $1,304,520 in 2015-16, the third year of his rookie contract.
The Knicks will also have a 2015 first-round draft pick. It's impossible to predict where this pick will fall. So for the purposes of this story, let's split the difference and assume the Knicks pick 15th.
In that case, they'd owe the rookie $1,600,200 in the 2015-16 season, based on the rookie scale.
[+] Enlarge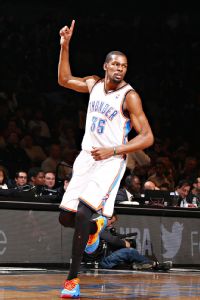 Nathaniel S. Butler/NBAE/Getty ImagesIf the Knicks sign a max player in 2015, they likely won't have the room to land Kevin Durant the following year.
Assuming the Knicks renounce their cap holds on all free agents, that would leave them with six players under contract.
With the 15th pick, the five other players under contract and six cap holds for the other roster spots ($525,093), that would bring the Knicks' total salary to $44,243,291. Their actual cap room depends on the cap that year. The 2014-15 cap is projected to be $62.9 million. For the purposes of this story, let's assume the cap that season is $65 million.
That would leave the Knicks with about $20.8 million in cap room, per Coon's calculations.
Where does that leave them with Rondo, Love, Aldridge, ect?
All three players will be eligible for the maximum contract afforded to players with 7-9 years of service. This year, the first year of a max contract for players in the 7-9 year service range was $16.44 million, per Coon's
excellent website on the CBA
. So let's ballpark the figure and put it at $18 million for 2015.
So if they sign one of these players for a contract starting at $18 million, they'll have about $3.3 million in cap room remaining. After that they'd have the "Room" mid-level exception which will be about $2.8 million. When that's gone, their only option will be minimum-salary contracts.
What about Kevin Durant?
If the Knicks added a big-name free agent in 2015, they probably wouldn't have enough room to sign Durant to a max contract in 2016.
Let's assume that they sign a player to a max contract in 2015 and use their Room mid-level exception to give out a two-year contract.
In 2016, that would leave them with $58.4 million in committed salary (including six cap holds for other roster spots), per Conn's calculations. If the salary cap is at $67 million (which is just a prediction), that would leave the Knicks with $12 million to spend. That's a healthy amount of money, but it wouldn't be enough to ink Durant to a max contract.
So to be in play for Durant in the summer of 2016, the Knicks would have to spend prudently in the summer of 2015.
You can follow Ian Begley on Twitter.
You can follow Larry Coon on Twitter.
November, 13, 2010
11/13/10
12:16
AM ET
By
Jared Zwerling
| ESPNNewYork.com
Recap
|
Box score
WHAT IT MEANS:
Opposing power forwards are starting to have a major
crush
on the Knicks. Two nights after
David Lee
went off for 28 points and 10 rebounds in the Warriors' win,
Kevin Love
erupted for 31 points and 31 rebounds, catapulting the Timberwolves to a 112-103 come-from-behind victory. Love's performance was the NBA's first 30-30 game since
Moses Malone
did it in 1982. "Love is a lot to handle,"
Mike D'Antoni
said. "You've got to give him credit. He did an unbelievable job." Minnesota's hometown crowd wasn't only feeling the Love;
Michael Beasley
was still hot following his 42-point outing Wednesday, hitting five baskets in the first quarter and finishing with a game-high 35 points. The Knicks have now lost four in a row and are three games under .500.
TURNING POINT:
Before the game,
Amare Stoudemire
,
Landry Fields
and
Bill Walker
stressed the importance of getting off to a good start, and the Knicks did just that. They built an early 19-8 first-quarter lead, getting balanced scoring from the starting five, and at the start of the third quarter, they were up 67-53. The main difference in the game up until that point was the Knicks' 3-point shooting from
Raymond Felton
,
Wilson Chandler
and
Danilo Gallinari
. But with 11:07 to go in the third, Stoudemire got called for his fourth foul and went to the bench (
Ronny Turiaf
sat out again, so he couldn't sub in). That's when Love got going down low and even
Darko Milicic
made a couple of shots in the paint. By the end of the third quarter, the Knicks saw their commanding lead cut to 87-80, and from then on, the Timberwolves kept clawing back into the game.
FOURTH-QUARTER FALLBACK:
The Knicks, again, relied too much on long-range shooting in the fourth quarter, and they didn't have an offensive rebounding presence (only 11 total) for second-chance opportunities. Not to mention, Stoudemire only had nine rebounds in the game and hardly got anything going on offense down the stretch (he finished with a subpar 14 points). He also got outplayed by Love on defense.
During the broadcast, MSG Network color analyst
Walt Frazier
mentioned that Stoudemire works on his jump shot for 30 minutes prior to every game. But he has to focus on his dribbling -- to cut down on his 4.2 turnovers per game -- and playmaking as well, especially because the Knicks need him to play more as a versatile big man than he did in Phoenix. In the Knicks' offense, his one-on-one weaknesses are being exposed. He hasn't shown a variety of moves or pump fakes when he drives to the basket; rather, he's being mostly an up-and-down player who prefers to use his strength, a la
LeBron James
, to power his way to the hoop. That caused him to get called for a couple of charges in the game.
In the fourth quarter, Stoudemire got caught shooting off-balanced shots (he was 6-of-15 from the field in the game) and caused the Knicks to have a dry spell. "We have to have a consistent effort in the second half," Fields said. On the other end of the floor, it was Love's around-the-basket game and Beasley's one-on-one prowess that put the Timberwolves on top.
BRIGHT SPOTS:
Before the game, Felton said the team's tendency has been to hold the ball too long in half-court sets and that it needs better movement and spacing off pick-and-rolls. For the first three quarters, the Knicks made improvements in those areas. Each player did a better job of catching the ball and attacking right away, which helped them find a rhythm with their passing and get open on the perimeter. And off the pick-and-roll, Felton was able to find room and knock down a couple of 3s.
While overall it was an embarrassing loss for the Knicks, Gallinari finally found his stroke (he hit four 3s and scored a season-high 25) and Fields had a career-high 16 points and nine rebounds. They both were effective in transition to start the game. If the Knicks had only made more of their fast-break layups, it could have been an even more lopsided game early on.
WHAT'S NEXT:
Quite simply, another potent power forward in
Luis Scola
, who's averaging a double-double (21.9 points and 11.1 rebounds). And get this -- he's already had a 36-point, 16-rebound game this season. Scola won't be the only Rocket the Knicks will have to stop Sunday at the Garden.
Kevin Martin
is eighth in the league in scoring at 23.6 points per game. Tonight's tale proved that even a previously 2-7 team cannot be taken lightly, and the Rockets are 2-6 on the season. It's probably a good thing
Yao Ming
is out for another week.
You can follow Jared Zwerling on
Twitter.