January, 15, 2015
Jan 15
10:00
AM ET
By
Mark Woods | Special to ESPNNewYork.com
LONDON –-
Amar'e Stoudemire
feels ready to begin what could be his final stretch as a New York Knick on Thursday in London against the
Milwaukee Bucks
.
With the status of the veteran forward, along with
Carmelo Anthony
, still technically a game-time decision, both went into morning shootaround on their European detour at The 02 Arena with an optimistic mood as the Knicks attempt to end a 15-game skid.
Since his knee feels improved, Stoudemire seems the more certain of the two players to get the green light to hit the floor in front of a sold-out 19,000-strong crowd. However, having averaged 26.4 minutes per game in his 28 appearances so far this season, STAT seems likely to be bound by some time restrictions as he feels his way back.
The biggest thing, he said, is making some contribution to lift the Knicks' mood. "It means a lot. The guys need our help. It's been a tough season so far for us, so the more men we have on the court the better."
A less than fully healthy Stoudemire is nothing new. Early in the season, there were notional limits on his playing time but with all help required, he has no regrets now about letting those slide.
"You're trying to win," he added. "You do whatever it takes to win. Sometimes your will takes over. I wish we'd have won more games but that happens all the time across the NBA: guys push through. It's a challenge. When you're competitive. You want to compete every night."

The personnel bump will force head coach Derek Fisher to render someone inactive for a game that will start at 3 p.m. ET, with
Lou Amundson
looking the most likely candidate to make way.
Fisher views the improving collective health as a positive. Yet with the Bucks 2-0 over New York this season –- even with Anthony available and scoring a game-high 26 points in a 117-113 loss in November -- the presence of two All-Stars offers no magic potion.
"Where we have to remind the guys who have been there without them the last couple of weeks is that you can't stop playing because they're back," Fisher said.
"You still have to trust yourself and trust your instincts and stop playing your game just to facilitate their game."
Milwaukee will bring back Turkish forward
Ersan Ilyasova
, who had 20 points in that November contest, after sitting out 10 games due to concussion.
January, 17, 2013
1/17/13
2:12
PM ET
By
Mark Woods | Special to ESPNNewYork.com
LONDON -- As expected, shooting guard
Iman Shumpert
will start alongside
Jason Kidd
in the
New York Knicks
' backcourt Thursday against the
Detroit Pistons
.
After talking with team doctors, coach Mike Woodson plans to limit Shumpert's involvement in London to around 15 minutes.
Before the ACL injury which ended his rookie season last spring, Shumpert was averaging 28.9 minutes per game.
EUROPEAN EXPANSION:
After going through the buildup to this game, Woodson is buying into commissioner David Stern's idea of having a franchise in Europe within 20 years.
"Anytime you get an opportunity to have an NBA game like you have tonight, that gives the English fans an opportunity to see basketball at a high level, that's important for the growth of basketball," Woodson said.
WALLACE STILL TRYING:
Rasheed Wallace
was on the court before the game at the 02 Arena, working out despite his sore left foot. The veteran remains insistent he will play again this season.
SELLOUT:
The Knicks-Pistons game -- the third regular-season contest in Europe -- is a sellout, league officials confirmed. The official attendance set to be around 18,000.
Former Knicks guard
John Starks
and ex-Pistons center Bill Laimbeer are among the former players set to be paraded to the crowd, along with
John Amaechi
, who was raised in England and was briefly under contract with the Knicks at the end of his NBA career.
January, 16, 2013
1/16/13
1:25
PM ET
By
Mark Woods | Special to ESPNNewYork.com
LONDON --
Iman Shumpert
survived a workout with 200 kids in London. The next step is to keep pace Thursday against the
Detroit Pistons
, maybe even from the start.
Barring any last-minute tweak, the
New York Knicks
guard is about to end a seven-month spell on the sideline that started when he suffered an ACL injury during last season's playoffs.
[+] Enlarge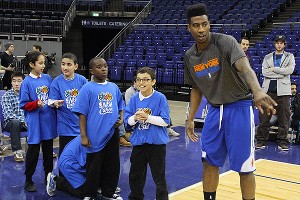 Nathaniel S. Butler/NBAE/Getty ImagesIman Shumpert took part in a basketball clinic for children in London on Wednesday.
Shumpert -- one of several players who took part in a special NBA schools clinic Wednesday -- said he feels ready to help shore up a Knicks defense that has been increasingly porous during a stretch of just six victories in their past 14 games.
"I'm excited about it," Shumpert said. "I don't care what atmosphere there is. There doesn't have to be anybody here. If nobody shows up, I'm going to have fun, just having my jersey on and being with the guys again."
Knicks coach Mike Woodson has yet to make up his mind on whether Shumpert will go directly into the starting lineup against Detroit. "It's a possibility," he said.
"It's been sort of frustrating," Shumpert said of his time spent on the bench. "But at the same time, it's been a big learning experience for me. I had to grow up a lot, watching from the sidelines. And it's only going to help me when I finally get out there."
As well as cheerleading, Shumpert has taken long looks at his teammates, observing both the good and the bad in their 24-13 start. Mostly, though, he likes what he has seen.
"No matter how bad we're playing, we always find ways to pull through and make runs," he said. "That's big for the character of this team. We've had a couple of losses as of late. But we'll be fine.
"There are always ups and downs throughout the season. We were a little down but we got our win coming in here to London. And we expect to get another win and try and pick back up from here."
MEN ABOUT TOWN:
There has been a lot of internal emphasis, several Knicks players said, on ensuring that the focus of their trip to the UK has been on defeating Detroit. Inevitably, though, the league -- as well the sponsors -- have arranged a flurry of promotional activities to promote the NBA and its stars.
There was an unexpected twist at an event sponsored by Nike when
Amar'e Stoudemire
found himself dunked on by a young basketballer from London. Other members of the New York party cited Buckingham Palace as their main target to see through the foggy, freezing London weather.
Several players are slated to attend Wednesday night's soccer match in London between Chelsea and Southampton. Team officials say the visit to Stamford Bridge was lined up by Knicks training and conditioning director Dave Hancock, formerly employed by Chelsea. But
Rasheed Wallace
is among those taking a pass. "I'll probably watch it on TV," he said.
SPIKE IN TOW:
Knicks and Pistons players weren't the only ones in demand at a busy media session here. Super-fan Spike Lee has come along for the ride and will get his usual courtside seat.
"I've been to London a ton of times, but it's the first time I've seen the Knicks here," he said.
But the trip wasn't guaranteed. "My wife gave me permission to come to the game," he said.
January, 13, 2013
1/13/13
10:30
PM ET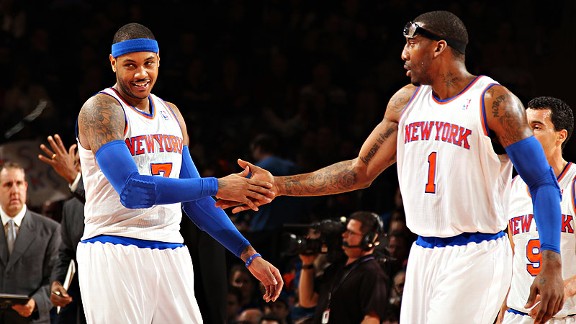 Nathaniel S. Butler/Getty ImagesDon't let Sunday's win fool you, the Knicks aren't the same team that started the season 18-5.
The Knicks must have a friend in the NBA scheduling department, because their upcoming London trip couldn't come at a better time.
Don't let Sunday's win over lowly New Orleans fool you, these Knicks are far from the team you watched get off to an 18-5 start.
They don't defend for long stretches, they get off to too many slow starts and they have several veterans sorely in need of a day off.
It's a good thing London's calling.
[+] Enlarge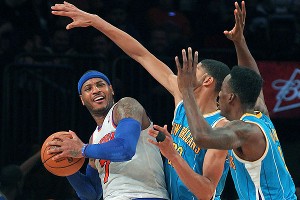 Brad Penner/USA TODAY SportsMelo and the Knicks will head to London to play the Pistons on Thursday.
"No better time than right now,"
Carmelo Anthony
said of the Knicks' trip to London this week to play the Pistons. "Give us three, four days [to] get some rest, get guys back. … Get the guys who've been playing major minutes to rest their bodies and heal. See what happens from there. This couldn't have come at a better time."
The Knicks will head to London to play the Pistons on Thursday, which means they will play just one game in the next seven days.
Any break in the schedule is beneficial when you're the oldest team in the league, especially when you've played 37 games in the season's first 72 days.
"This one game is great for us at this point," Mike Woodson said on Sunday, before his team beat the lowly Hornets to snap a three-game losing streak. "We can use some of these days [off]."
The Knicks will practice Monday in New York and then fly to London on Monday night. Woodson hopes to practice once in London before they play the Pistons, winners of seven of their past 10, on Thursday.
In between, the Knicks may have to participate in a couple of events scheduled by the NBA. But other than that, they will have a chance to rest. For a team with five players over 35, it will be a welcome respite.
"It's no secret we have the oldest team and we definitely need as much time off as we can [get] to recover,"
J.R. Smith
said.
Plenty of guys could use a day off, but you can make a strong argument that
Jason Kidd
will benefit the most from a few days off across the pond.
Woodson said on Saturday that it wasn't "healthy" for Kidd to play as much as he has recently. Kidd has played more than 30 minutes in 10 of the Knicks' past 14 games.
Woodson held Kidd (5 points, 8 assists) to just 23 minutes against New Orleans on Sunday.
"It's a tough [challenge] because we need Kidd on the floor," Woodson said.
The Knicks hope to get
Iman Shumpert
back on Thursday against Detroit.
Ray Felton (broken right pinky) is also getting closer to a return.
Rasheed Wallace
, who has missed nearly a month with a stress reaction in his left foot, may start running when the Knicks are in London.