New York Knicks:

NBA Draft
June, 25, 2014
6/25/14
7:55
PM ET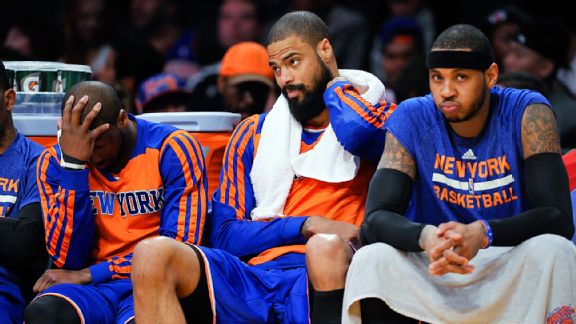 Robert Hanashiro/USA TODAY SportsWednesday's trade might give Melo confidence in the Knicks' ability to compete in the East.
The
New York Knicks
and
Dallas Mavericks
have completed a deal
to send
Raymond Felton
and
Tyson Chandler
to Dallas in exchange for
Jose Calderon
,
Samuel Dalembert
,
Shane Larkin
,
Wayne Ellington
and the 34th and 51st picks in the Thursday's draft.
Here is what the deal means for the Knicks:
Good for Melo?
One of the primary goals for
Carmelo Anthony
in free agency is to put himself in a position to win immediately. This trade, on its surface, appears to leave the Knicks in a position to be more competitive than they were before it. Therefore, it might give Melo confidence that the Knicks can at least compete in the East in 2014-15.
As Anthony said in a recent interview, "The average person is looking at it as, 'Next year you win the championship if you go here.' We're looking at the big picture here now."
How did the Knicks get better in this deal?
[+] Enlarge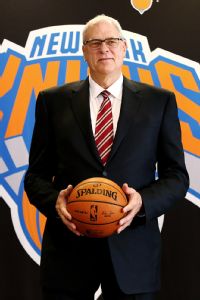 Nathaniel S. Butler/NBAE/Getty ImagesPhil Jackson made his presence felt in a big way with Thursday's deal with the Mavericks.
Felton struggled on both ends of the floor last season, so the Knicks have upgraded at point guard with Calderon.
Chandler also had a down season -- by his standards -- but the Knicks might be hard pressed to find someone Chandler's equal when it comes to rebounding and protecting the rim. Dalembert, based on recent seasons, would be a downgrade at the center position from Chandler.
But this trade might have also helped the Knicks in other ways this summer.
Depending on if they decide to waive Dalembert or not, the Knicks might also end up under the salary cap. If they do end up under the cap, they might be able to use a larger exception than the taxpayer exception (which starts at $3 million), which is currently at their disposal, in free agency this summer.
This might help them attract another significant rotation player to New York and, in turn, make Carmelo more apt to re-sign.
[Update: I have more accurate information on the potential Knicks' exception here. The Knicks actually would only get a better exception if they let Carmelo walk.]
It's worth noting, though, that Anthony and Chandler were close. Still, Anthony had to look at Chandler's situation and realize that he wasn't a part of the team's long-term future. So the notion of Chandler not being around next season shouldn't sway Anthony greatly -- in terms of his views on re-signing with the Knicks -- one way or another.
That said, could Chandler's presence in Dallas make the Mavs a more attractive destination for Anthony this summer? We'll have to wait and see on that.
Phil makes presence felt:
Chandler wasn't happy with how things went last season. Publicly and privately, he expressed his frustration with ex-coach Mike Woodson's defensive schemes and the idea that the Knicks were about to retool the roster.
So we wouldn't be surprised if Chandler went to management with his concerns and it, in turn, decided to deal him.
Jackson sending Chandler out a year before his contract ends is a sign that the Zen Master is willing to make major moves to overhaul the team as soon as possible. It's also a sign that he might be aggressive in making trades and chasing available free agents
this
summer despite the Knicks' limited resources.
Any attractive piece he adds this summer could help in courting Carmelo this summer and other free agents in future offseasons.
Cap implications:
If the Knicks keep all of the players in this trade, they will have saved $3 million in cap space for 2014-15 but forfeited $5.2 million in cap space in the summer of 2015, when they are expected to chase big-name free agents.
Calderon is under contract through 2016-17 at between $6.7 million and $7.7 million per season. Dalembert's contract for next season is a team option for $3.8 million. He has $1.8 million in guaranteed money. Ellington is under contract for $2.7 million for 2014-15. Larkin is on a rookie contract through 2017-18.
Felton was on the books through 2015-16, owed a total of $7.6 million. Chandler was under contract through the 2014-15 season for $14.6 million.
Depending on what they do with Dalembert, this deal could save the Knicks between $3 million and $5 million in salary after this transaction. If they decide to cut Dalembert, they could be under the projected salary cap of $63.2 and have a larger salary-cap exception to use in free agency.
It is unclear at this point what their plans are for Dalembert. Also, it's worth noting the Knicks can immediately trade in a separate deal the players they've received from Dallas. If they don't trade them immediately, they'd have to wait 60 days to do so, per collective bargaining agreement rules.
What about Calderon?
Calderon is a strong shooter but struggles on defense. His shooting can be a big asset in the triangle offense and is an upgrade from Felton, who shot 39 percent from the floor last season and just 31 percent from beyond the arc.
Calderon averaged 11.4 points and handed out 4.7 assists last season. He hit 45 percent of his 3s.
Also, as Bleacher Report's Howard Beck notes, Calderon is close with
Memphis Grizzlies
center
Marc Gasol
, who is a free agent in 2015, so Calderon could be counted upon to do some recruiting for the Knicks that summer.
And the picks?
The Knicks had been trying to deal for a first-round pick and also hoped to get a second-round pick between 30 and 40. The Knicks might target a big man like Florida's
Patric Young
, whom they worked out, with the 34th pick.
Question: Do you like this trade? Do you think it will help the Knicks keep Carmelo?

You can follow Ian Begley on Twitter.
June, 26, 2013
6/26/13
5:25
PM ET
Leading up to the draft, we're going to take a look at a few prospects who could be available for the Knicks at pick No. 24.
Today, we'll break down the wings.
WHY THE KNICKS MAY DRAFT A WING
: One of the main reasons the Knicks won 54 games, a division title and first-round series last season was
Carmelo Anthony
's success as a power forward.
If the Knicks want to continue to play Anthony at power forward, they may need to find a wing to fill the void via the draft or free agency. Drafting a wing who can knock down shots and defend would allow Anthony to continue to play at power forward. It would also give the team insurance if free agent
J.R. Smith
signs elsewhere because the draftee, in theory, would help replace the offense New York would lose if Smith walks.
[+] Enlarge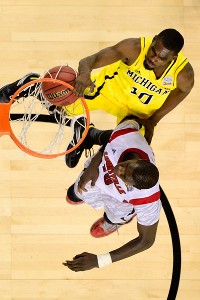 Bob Donnan/USA TODAY SportsTim Hardaway Jr. impressed during his workout with the Knicks.
With that in mind, here are a few wing players who could be available for the Knicks on Thursday:
Glen Rice Jr.
: There's some concern among evaluators about Rice Jr.'s makeup because he was kicked out of Georgia Tech. But he showed an NBA-ready game this past season in the D-League. He can defend and is versatile on offense -- two qualities that make him an attractive option for New York. Rice Jr. is also a strong rebounder. One knock? He needs to work on his jumper; apparently, his father forgot to pass that down to him.
Allen Crabbe
: No one questions Crabbe's offensive repertoire. The Cal standout has great range on his jumper and can knock down the midrange jumper as well. The 6-foot-6 Crabbe can rebound well for his size, but there are concerns he's a bit undersized for his position and needs work on the defensive end.
Reggie Bullock
: Bullock's stock has risen over the last few weeks, so he may not be available at No. 24. But if he is, the Knicks would be wise to draft him. The 6-foot-7 wing can score in transition and has great length. He's projected as a strong 3-point shooter, which is important in Mike Woodson's offense. Some say the UNC standout needs to add strength. But he appears to have the frame to do so.
Tim Hardaway Jr.
: The biggest concerns about Hardaway Jr. are his shot selection and consistency. But according to someone who was in the room, Hardaway Jr. had a strong workout for the Knicks earlier this month. So that may sway the decision makers on Thursday night. On a positive note, Hardaway Jr. can get his shot off the dribble, get to the basket and be a strong defender when he's committed.
Jamaal Franklin
: ESPN Senior NBA writer Chad Ford has Franklin ranked as the fifth-best shooting guard in the draft, so he may not be around when the Knicks pick. If he's available, the Knicks may pounce. According to Ford's latest mock draft, New York likes Franklin. And it's easy to see why: The former New Mexico star is an athletic, long-armed leaper who can get to the basket with ease. One drawback on Franklin is that he lacks consistency on his jump shot.
Tony Snell
: The 6-foot-7 junior from New Mexico will likely be available for the Knicks at No. 24. He's long, athletic and can score off the catch-and-shoot, so he fits what New York's looking for in a wing. But the downside for Snell is that his ball handling needs work, which is one reason why he'll probably still be around when the Knicks pick.
QUESTION:
If you are Glen Grunwald, would you draft a wing player on Thursday? If so, who would you go with?
You can follow Ian Begley on Twitter.
June, 26, 2013
6/26/13
12:58
PM ET
By
Jared Zwerling
| ESPNNewYork.com
In a perfect world, the Knicks would love for
Shane Larkin
to slip to them at the 24th pick in Thursday night's NBA draft. But the athletic point guard from the University of Miami likely will not last past the 20th pick.
In fact, Larkin's agent Happy Walters, who represents
Amar'e Stoudemire
and
Iman Shumpert
, elected not to have his client work out with the Knicks. That's how confident Walters is that Larkin will be gone before the Knicks make their only pick.
But the team needs to secure a backup point guard in the draft or free agency with Jason Kidd retiring and
Pablo Prigioni
still weighing his options to re-sign or return to Spain. That leaves the team, if they favor a point guard in the draft, with four likely candidates:
Lorenzo Brown
(N.C. State),
Isaiah Canaan
(Murray State),
Erick Green
(Virginia Tech) and
Nate Wolters
(South Dakota State).
[+] Enlarge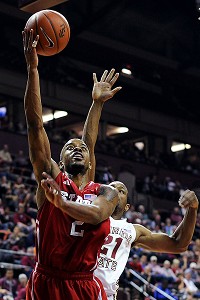 Melina Vastola/USA TODAY SportsDon't be surprised if the Knicks select Lorenzo Brown with their only pick in this year's NBA draft.
With key questions surrounding several of them (Canaan being undersized and a volume shooter in college; Green lacking athleticism and playing more of a midrange game; and Wolters showing weakness with speed and explosiveness), Brown is well-liked by the Knicks, according to two league sources.
"He's my sleeper pick for the Knicks," one source told ESPNNewYork.com.
After a strong workout with the Knicks earlier this month, the team was impressed with Brown's unique versatility at the point guard position, especially standing at 6-foot-5. Last season for the Wolfpack, he averaged 12.4 points, 7.2 assists, 4.3 rebounds and 2.0 steals per game. While his pick-and-roll game needs work, he's athletic and crafty enough with his dribble to get into the paint and score or make heads-up passes. That athleticism also allows him to push the ball well in transition -- which the Knicks want to do more next season -- and enables him to throw down offensive putback dunks.
Defensively, Brown has a high basketball IQ and he plays passing lanes well. When he steals the ball, he has the ability to be a one-man fast break, while having a solid read on the entire court. Being that the Knicks look for transition 3-pointers, Brown could be a helpful facilitator in that regard. However, his own 3-point shooting is weak at this point, but his playing style in college was more of a penetrator and passer -- two priorities for the Knicks who need to get younger, more explosive and improve their scoring inside.
If the Knicks focus on a big man instead, several insiders agree
Gorgui Dieng
(Louisville) should be their selection if he's available. He's noted for his ability to run the floor, defense, rebounding and finishing ability in pick-and-rolls.
Another big,
Tony Mitchell
(North Texas), has been projected to go to the Knicks as well, but his work ethic has been criticized. Last season, he tended to get lethargic on defense, watching too many shots. He also struggled with defensive positioning at times and got lost in dead-ball situations.
Overall, Thursday night will mark one of the most unpredictable drafts in some time, and the Knicks' pick at No. 24 is basically a crapshoot. So the Knicks could simply take the best available player, regardless of position.
You can follow Jared Zwerling on Twitter.
June, 24, 2013
6/24/13
5:00
PM ET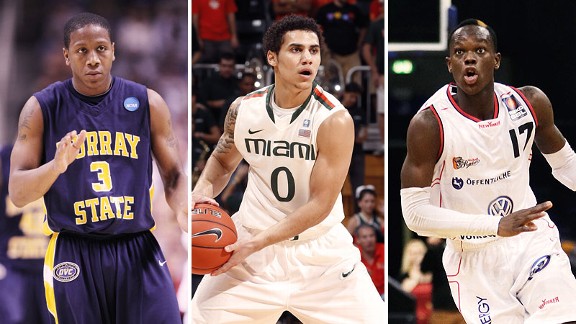 Getty ImagesIsaiah Canaan, Shane Larkin and Dennis Schroeder: Is one of them destined to be a Knick?
Leading up to the draft, we're going to take a look at the prospects who could be available for the Knicks at pick No. 24.
Today, we'll break down the point guards.
Jason Kidd is gone and there's no guarantee that
Pablo Prigioni
will be back, so the Knicks will need to add a point guard via the draft or free agency. It's believed that the Knicks will look for someone who can push the pace, to contrast the style most often utilized by
Raymond Felton
and the first unit. They'll also likely look for a floor leader who has a pass-first, shoot-second mentality.
With that in mind, let's take a look at the top candidates:
[+] Enlarge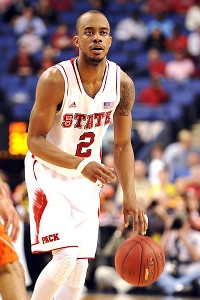 Lance King/Getty ImagesLorenzo Brown
Shane Larkin:
Larkin will probably be gone by the time the Knicks pick, but he'd be a great fit in New York if he's still on the board. Larkin is a strong shooter with solid range and can handle the ball well. The downside? The sophomore from Miami is undersized (5-foot-11) and hasn't impressed many scouts on the defensive end.
Isaiah Canaan:
According to someone who was in the room, Canaan had a strong workout with the Knicks earlier this month. The 6-foot senior from Murray State is a natural scorer with great range and an inclination to get to the basket. But he doesn't fit the profile of the pass-first, shoot-second player the Knicks are said to covet, so New York might shy away from him on Thursday.
Dennis Schroeder:
The 19-year-old Schroeder is another player who might not be available when the Knicks pick at 24. The German prospect is regarded by some as a top-3 point guard prospect in this draft. He's an explosive athlete who, according to accounts, can run the pick and roll well. But at 19, he might not be ready to contribute right away to a team with championship aspirations, such as the Knicks.
Nate Wolters:
The South Dakota State product has good size (6-5) and projects as a solid shooter who can get to the rim. He also thrives in the pick and roll, which would make him a solid fit for what the Knicks like to do. The problem for Wolters, though, is on defense. Scouts say he has relatively slow feet, which could make him a liability on the perimeter. The last thing the Knicks need is a guard who lets his opponent get into the lane.
Lorenzo Brown:
Brown's size (6-5) and strong first step are intriguing. He will probably be available by the time the Knicks pick at 24. But the Knicks might be wary because Brown's shot, according to some observers, isn't NBA-ready. The North Carolina State junior also lacks strength, which would factor in to his ability to contribute right away.
QUESTION: Should the Knicks draft a point guard with the 24th pick? If so, who should they take?
You can follow Ian Begley on Twitter.
June, 11, 2013
6/11/13
8:34
PM ET
GREENBURGH, N.Y. --
Tim Hardaway Jr.
was just a kid at the time, but he remembers plenty about the Knicks-Heat rivalry of the 1990s.
"I remember a lot of fights," he said.
Of course, Hardaway Jr. was rooting for the Heat back then. He's the son of former Miami point guard
Tim Hardaway
.
[+] Enlarge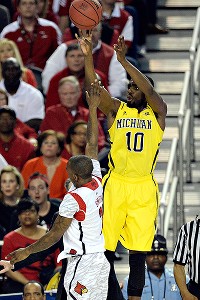 Richard Mackson/USA TODAY SportsTim Hardaway Jr. helped Michigan reach the national title game.
But the younger Hardaway would have no problem switching allegiances if the Knicks draft him later this month.
"I think it would be a great fit for me," the University of Michigan guard said Tuesday. "I watch the Knicks all the time. It's great just to see them get up and down the court, a lot of guys are free out there, a lot of shooters as well. That fits right into my game and what I can bring to the table."
Hardaway Jr. worked out on Tuesday for members of the Knicks staff in Westchester. He wasn't the only son of a former pro at the workout: Hardaway was joined by
Glen Rice Jr.
, son of former sharpshooter and one-time Knick Glen Rice, and
Phil Pressey
, the son of 11-year pro Paul Pressey.
Rice Jr. and Hardaway Jr. have known each other since they were growing up in Miami. And both have had to answer questions about their famous fathers for years.
"A lot of kids go their separate paths and play different sports. They don't want that harassment or that constructive criticism because they're not going to be their fathers," Hardaway Jr. said. "We took on that challenge ever since we were growing up and we're just trying to live up to the expectation."
But can either player help the Knicks?
Rice Jr., according to an ESPN.com analysis, is the fifth-ranked small forward in the draft. He's viewed as a tough versatile wing and a strong defender but needs to improve his jump shot. He could serve as a solid backup to
Carmelo Anthony
.
Hardaway Jr. is the ninth-ranked shooting guard in the draft, according to ESPN.com. He can get to the basket and create his own shot, but shot selection has been an issue.
He might not fit into what the Knicks are looking for in the draft -- a scoring big man or backup point guard.
Both Hardaway Jr. and Rice Jr. are projected as late first-round picks. Rice Jr., who played three years at Georgia Tech and was with the Rio Grande Vipers of the D-League last season, said he'd welcome the opportunity to play in New York.
"I think it would be an excellent spot for me to fit in just because they do shoot so many 3s and that's one of the strong points of my game," he said.
LESLIE WORKS OUT:
The Knicks also worked out North Carolina State G/F
C.J. Leslie
, New Mexico G/F
Tony Snell
and Baylor G
Pierre Jackson
.
MURRY, MITCHELL ON KNICKS SUMMER LEAGUE TEAM:
League sources tell ESPNNewYork's Jared Zwerling that Toure Murry and
Tony Mitchell
, two D-League standouts, will play for the Knicks' summer league team.
Mitchell, from Alabama, averaged 21.9 points and 6.4 rebounds for the Fort Wayne Mad Ants last season. Murry averaged 8.8 points and 2.5 assists for Rio Grande last year.
You can follow Ian Begley on Twitter.
June, 5, 2013
6/05/13
3:11
PM ET
By
Jared Zwerling
| ESPNNewYork.com
GREENBURGH, N.Y. -- Draft prospect
Isaiah Canaan
, a point guard from Murray State, arrived in New York for the first time on Tuesday night like an excited tourist.
"I flew in at nighttime and that was one of the best things I've seen," he said Wednesday at the Knicks' training facility. "I was amazed just flying in at nighttime."
Canaan is projected to be picked in the late first or early second round of the June 27 draft. He said he was "motivated" during his Knicks workout -- which he said went "real good" -- knowing the team is planning to add depth at his position after
Jason Kidd
's retirement.
[+] Enlarge
Randy Belice/NBAE via Getty ImagesIsaiah Canaan will enter the NBA after four years at Murray State.
"It's a great opportunity for me personally to showcase that I can come in and play," said Canaan, who noted that head coach Mike Woodson was involved in the workout. "You can learn from a guy like
Raymond Felton
and Carmelo [Anthony], so it's a great opportunity for me to come in and know that they need a guard."
The 6-0, 188-pound Canaan averaged 21.8 points per game as a senior. While his 3-point percentage dropped from .456 in 2011-12 to .370 this past season, he's still regarded as one of the best point guard prospects at shooting off screens and off the dribble. His biggest pitch is proving he can make plays for others on the next level. He only averaged 4.3 assists per game as a senior.
"In order for us to win at Murray State, I had to score the basketball, so that's what I was forced to do," he said. "But if I have players around me that they pay a lot of money to score the basketball, I don't have a problem [passing] as well. I'm all about winning."
Canaan is a shorter and less athletic version of Trail Blazers point guard
Damian Lillard
, the NBA's reigning Rookie of the Year, who also played mid-major college ball, at Weber State.
"He came from a small school like myself," Canaan said of Lillard. "He really gave an opportunity for guys like me."
Canaan said he's also "real close" to the Clippers'
Chris Paul
, and he tries to emulate the All-Star's game.
"We met at his camp last summer when I decided to come back to school. He's a great guy," Canaan said. "I had a chance to play against him and we exchanged numbers, and stayed in touch throughout the season. He really admired my game. He liked what I did.
"One day, I want to be able to do some of the things, if not better, than he did throughout his career."
Canaan might be undersized, but he's thinking big.
"I'm very confident. I'm a competitor," he said. "I'm not going to back down to nobody."
You can follow Jared Zwerling on Twitter.
June, 4, 2013
6/04/13
3:15
PM ET
In his latest mock draft, NBA senior writer Chad Ford has the Knicks taking forward
Tony Mitchell
with the 24th pick in the first round.
Here is Ford's analysis:
The Knicks have never shied away from taking a risk on a player. Mitchell has the upside of a top-10 pick, but he was in an awful situation in North Texas last season and might have responded as well as he could have. He's an elite athlete and a terrific rebounder -- the Knicks could use both in its frontcourt.
Here's our take:
Mitchell could certainly help the Knicks on the front line. He missed his first two seasons with academic issues, which may be a red flag for some, but he's an explosive leaper with a great motor. He's also a strong rebounder who can also guard multiple positions, which would help the Knicks defend the pick and roll. One thing Mitchell needs to improve, according to his profile on ESPN.com, is the range on his jump shot.
Click here for the complete mock draft.
You can follow Ian Begley on Twitter.
June, 1, 2013
6/01/13
1:46
AM ET
Not that they had any reason to, but Knicks fans shouldn't expect
Stephen Curry
to be in an orange and blue uniform anytime soon.
Here's what Curry told SportsOnEarth's Will Leitch when Leitch mentioned to Curry that he was a Knicks fan:
"No offense to New York, but I'm so, so happy I didn't fall to them in the draft."
Curry didn't mean it as a shot at the Knicks. In the context of
the story
(a nice profile of Curry), he said it to illustrate his affection for Golden State.
Leading up to the 2009 draft, Curry expressed a desire to play for the Knicks.
New York badly wanted to select him, according to reports at the time. But Golden State took Curry with the seventh pick, right before the Knicks drafted
Jordan Hill
at eight.
Hill ended up being a bust in New York. He was used in a three-team deal for
Tracy McGrady
in 2010 that put the Knicks more than $30 million below the salary cap in their chase for
LeBron James
. They whiffed on James and ended up with
Amar'e Stoudemire
.
Curry, meanwhile, has emerged as the face of the Warriors franchise. So it makes sense for Curry to have no regrets about being selected by Golden State. Some Knicks fans, on the other hand, probably still regret losing out on Curry in '09.
You can follow Ian Begley on Twitter.