New York Knicks:

NBA Lockout
November, 10, 2011
11/10/11
4:33
PM ET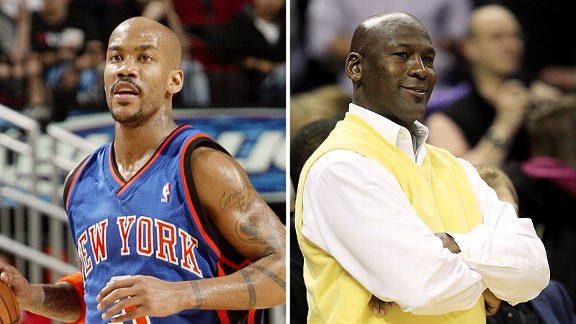 Getty ImagesStephon Marbury on Michael Jordan: "Dude forgot he played and demanded millions."
You can add former Knicks point guard
Stephon Marbury
to the list of
Michael Jordan
critics.
Jordan, owner of the Charlotte Bobcats, has been chastised by some NBA players and media pundits for his hard-line stance during the NBA lockout.
Marbury sounded off Wednesday in a series of tweets on his verified Twitter account:
• "Micheal Fake Jordan is a sell out. #Period. He forgot which hole he came out of. I said it 'Stephon X Marbury.'"
• "MJ went from MJ the black cat to a guy who forgot he was a player. Sell your team if you can't make a profit.. Your just a regular dude now!"
Jordan, who won six titles as a player with the Chicago Bulls, is reportedly a driving force behind a faction of owners who want the players' percentage of basketball-related income set no higher than 47 percent.
Marbury continued his critique of Jordan over a series of replies to his followers on Wednesday and Thursday:
• "He's just a man. I know he's some people's GOd but real is real. Dude forgot he played and demanded millions."
• "He never did nothing that I knew about to change the life off of the court other then hit cats over the head for a 100 150 dollar sneakers and still doing it."
• "
Jim Brown
said it best. Mikey mouse type cat. Wave and take your bread. He doesn't care about the hood or what's good in the hood."
• "when he rapped the BULLS for 36 million for one year no ones said nothing about that. We said he's Mike he should. Now look!"
Marbury also retweeted this: "He made an empire off of our people, and never gave back. No matter how many kids were getting killed over his bumass kicks."
Jordan's motives have also been questioned by current players, such as Warriors rookie
Klay Thompson
.
In a conversation with Indiana's
Paul George
on Twitter, Thompson tweeted, "man straight hypocrite bro.. He should've been the 1st one behind us."
Marbury, 34, currently plays in China. He last played in the NBA in 2009, suiting up in 24 games for the Boston Celtics.
He spent a mostly disastrous 4½-season tenure with the Knicks. New York's highest win total with Marbury was 39. They made the playoffs once -- in Marbury's first season -- and were swept by
Jason Kidd
and the Nets.
Among other embarrassing off-court incidents, Marbury briefly went AWOL from the team in
Isiah Thomas
' last season as coach, and made headlines with his testimony in a $10 million sex-harassment lawsuit against Thomas and Madison Square Garden.
Marbury, a Brooklyn native, averaged 19.3 points and 7.6 assists per game in 13 seasons with Minnesota, New Jersey, Phoenix, New York and Boston.
October, 11, 2011
10/11/11
7:46
AM ET
With the first two weeks of the NBA season cancelled due to the lockout, a couple of entertaining home matchups (Miami, Oklahoma City) have been wiped off the Knicks' schedule. David Stern said with near certainty that games would not be made up.

If no other games are cancelled (and that's a big IF), the Knicks would open the season at Denver on Nov. 16 -- an intriguing matchup given last February's blockbuster trade between the Knicks and Nuggets.

The NBA could, of course, choose to reconstruct its schedule upon resumption of the season.

Carmelo Anthony and Chauncey Billups would be playing in Denver for the first time since the trade. The Knicks would also face former first-round draft pick Danilo Gallinari and reserve center Timofey Mozgov. Gallinari is currently playing in Italy but is expected to return to the Nuggets if the lockout is settled. But Gallinari and Mozgov will likely be the only former Knicks left from the four that were originally traded.

Wilson Chandler will be playing in China and reportedly cannot return to the NBA during the Chinese Basketball Association season. Raymond Felton was dealt to Portland.

The game in Denver is the first of six straight on the road for the Knicks. Their first home game would be Nov. 28 against John Wall and the Wizards.

Here is a list of the Knicks games that have been cancelled due to the lockout:

Nov. 2: vs. Miami
Nov. 5: @Milwaukee
Nov. 6: @Detroit
Nov. 8: vs. Oklahoma City
Nov. 9: @ Atlanta
Nov. 12: vs. Indiana
Nov. 14: @ Utah



October, 11, 2011
10/11/11
7:17
AM ET
Hours before David Stern announced that the first two weeks of the NBA season were cancelled due to the ongoing labor dispute between players and owners, Carmelo Anthony tweeted a message to fans.

"I just wanna apologize to all the fans for this lockout. Trust me, I feel y'all pain. This s--- sucks," Anthony posted on his verified account.

With two weeks of the season down the drain and the players and owners far apart on a number of issues, do you accept Anthony's apology? Let us know what you think in the comments section below.