New York Knicks:

New York Giants
October, 9, 2014
10/09/14
10:09
PM ET
Derek Fisher sees some similarities between his
New York Knicks
and the New York Giants.
The Giants installed a new West Coast offense under a new offensive coordinator this season.
The Knicks are undergoing similar changes, installing a new offense under a new head coach.
"In some ways it's very similar to what we're trying to do. We have a lot of new players, a new coaching staff, a new offensive system, new ways of playing defense, so it will take us some time," Fisher said.
[+] Enlarge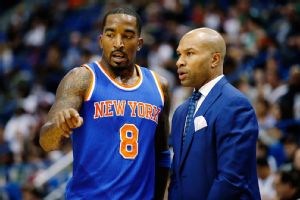 David Butler II/USA TODAY SportsJ.R. Smith, left, said it would take some time to learn the triangle offense. Derek Fisher agreed.
"In no way can we compare ourselves to Super Bowl champions, for sure, because they have that to hang their hat on -- that they can be patient, because they've shown it before. But we're also going to remain committed in that way. That's what's great about Tom Coughlin's leadership over the years. He could've given up on doing it the way he thought was best, but they've stuck with it and they have the results to show for it."
Just as the Giants struggled with their offense early on, Fisher's Knicks struggled while running the triangle offense on Wednesday in their first preseason game.
They shot just 40 percent from the floor and had as many turnovers as made shots (28) in a 20-point loss to the
Boston Celtics
.
After the loss,
J.R. Smith
said he thought it would take the Knicks "a few months" to figure out the triangle.
Fisher more or less agreed with that sentiment on Thursday.
"I think individually that curve varies. Some guys are quicker, some guys do take a little more time, but I do think collectively as a group we can expect it to take several weeks," Fisher said.
It took some time for the Giants to get the West Coast offense down. They started the season 0-2 but have won three straight since.
Fisher hopes the Knicks can follow a similar path.
"It may take us some time to look good doing it, but we still have to figure out how to win right from the start," he said. "We're not interested in starting the season and saying just because we're still getting to know this, it's OK. We want to be good right away."
Fish says Knicks "a ways away" from title:
In addition to acknowledging that it may take the Knicks some time to learn the triangle, Fisher also pointed out that the Knicks are not close to contending for a title.
It seems that he was acknowledging the obvious for a team that won just 37 games last season.
Fisher made the remark when he was asked how difficult it is to remain patient with the team.
"Regardless of where you are in life our in your career, patience is difficult. Sometimes your immediate feedback doesn't symbolize to you that you're being successful, it's even more difficult," Fisher said. "But you find when you eventually become a champion and look back at all the times adversity hit and all the times you could have given up on the process — that's why you see grown men cry when that old trophy comes out.
"We realize we're a ways away from that. That's not for us right now. But we also realize we're building habits to get to that and that requires patience."
Film session:
Fisher spent some time on Thursday watching film of Wednesday's loss with his players. He found some positives in the film session.
He saw his players "understanding the spots on the floor offensively, understanding the concepts defensively."
"Until you play a game you have no idea how fast the game is moving, what opponents are going to do. I thought we had some guys who were doing some good things. Collectively we must be better," Fisher said. "We anticipate that we will as times goes on."
Question: How long do you think it will take the Knicks to learn the triangle? Do you think the fan base will be patient with the team? Or expect immediate results?
You can follow Ian Begley on Twitter.
October, 27, 2012
10/27/12
6:28
PM ET
By
Jared Zwerling
| ESPNNewYork.com
The date was Feb. 5, 2012, the evening of Super Bowl XLVI in Indianapolis, when breakout star
Victor Cruz
scored a touchdown to help the
New York Giants
upset the
New England Patriots
.
Twelve days later, it was
J.R. Smith
's turn to capture the attention of the sports world. He took to Twitter, saying, "
New York Knicks
It Is!" After signing a one-year contract, without even a practice under his belt, he scored 15 points in his Knicks debut.
New Yorkers had two new players to cheer for -- a wide receiver and a shooting guard who had been friends for years.
[+] Enlarge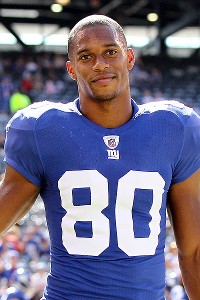 Jim McIsaac/Getty ImagesVictor Cruz broke the Giants' single-season record with 1,536 receiving yards in 2011.
"It was crazy that he was in New York and we're both playing for New York teams. It was a great feeling," Cruz said. "Once my offseason kicked in and he was in season, we kicked it a lot in his free time."
From 2002 to 2004, Cruz and Smith starred on the same legendary AAU hoops team, The Playaz Basketball Club. Cruz attended Paterson (N.J.) Catholic High School and Smith was at St. Benedict's Prep in Newark, but they teamed up on Playaz, competing in top tournaments against future NBA players such as
Kendrick Perkins
and
Sebastian Telfair
.
"We went everywhere: Minnesota, Hawaii, Vegas, California," Cruz said. "We got to go to a lot of different places, so it was cool."
And everywhere they went, Cruz and Smith were inseparable.
"He was my roommate on a lot of the road trips," Smith said. "We took long bus rides -- six, seven hours -- going to Virginia, D.C., and stuff like that. We sat in the back of the bus chilling and goofing around. He's a hell of a basketball player. A lot of people don't know that. He's a great dude."
Cruz, now 25, and Smith, 27, were also in the backcourt together -- and interestingly enough, Smith had the role of the wide receiver, capitalizing on alley-oop passes from Cruz, the team's point guard.
"My biggest memory was one game with J.R. and we were playing, I think, in Florida," Cruz said. "I had about a double-double. I was shooting 3s, I was throwing alley-oops to J.R. Everything was clicking. It was one of those games where everything just felt right and everything was going in. It was cool."
Cruz was a longtime member of Playaz because the team's founder, Jimmy Salmon, is his godfather. Smith joined the team after his junior year at Lakewood (N.J.) High School before transferring to St. Benedict's.
"We actually met at Rutgers University at a state championship game," Salmon said of Smith. "I was wearing one of our player's jackets and he was wearing a Lakewood jacket. We wound up talking at a food stand. I really didn't know who he was at the time, but here's a 6-5 kid who looked like a pro athlete. I told someone and he said, 'Man, that kid's the best athlete down in the shore area.'"
When it was time for Smith's first tryout with Playaz, it didn't take long for Cruz to realize the new guy was talented.
[+] Enlarge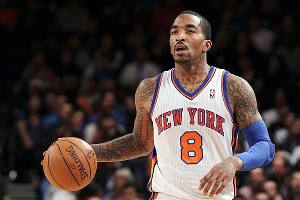 Jim McIsaac/Getty ImagesJ.R. Smith has averaged 12.5 points per game over eight NBA seasons.
"Instantly, I knew that he was one of the better players here, and we just started hanging out," Cruz said. "I was from Paterson, about an hour away from him, but we were both from Jersey. He was close enough to hang out from time to time and kick it."
"It was only natural for those two guys to become friends because they were both multisport athletes, and they both just had something special about them," Salmon said. "The two of them liked to out-athlete their opponent, and that came very natural to both of them."
Smith, who played basically every position at Lakewood -- safety, cornerback, linebacker, wide receiver and even quarterback -- was offered a scholarship by Clemson based solely on his game film. But as good as he was on the gridiron, Smith was set to make the jump from high school to the NBA.
"He was always dominating," Cruz said. "He was always taking over the game. I mean, there were periods where it was just 'give him the ball and move out the way' kind of thing. We always knew he had the talent, and it was just a matter of timing and what he wanted to do."
Cruz was being recruited by mid-major college hoops programs, including American and Creighton. According to Smith, Cruz could've received more love from the bigger schools, but they knew his main focus was football.
"He could score and he's athletic, strong, could get past anybody he wanted to," Smith said. "I think he was just such a football player, but basketball came so easy to him. He was so nonchalant about it. I mean, he could have definitely played college basketball."
Cruz said he started to favor football more during his sophomore year because of his lack of height and the belief that there were more opportunities to play the sport at the next level.
"Basketball was my first love," he said. "Once I got to high school, I thought it was basketball, basketball, basketball. But later on, the head football coach came up to me and said, 'You know, there's more scholarships in football than there are in basketball,' and I was like, 'Well, I am 6-foot tall.' That's kind of when things switched up."
Cruz went to UMass and signed with the Giants in 2010. Smith was drafted by the
New Orleans Hornets
in 2004 and then played for the
Denver Nuggets
. But even with the distance between them, their friendship never wavered.
"Without a doubt," Smith said. "That's my man."
"We would call each other all the time," Cruz said. "I still speak to him almost every other day."
These days, Smith and Cruz have a fun competition with their sneaker collection, mostly consisting of Jordan Brand kicks. Cruz, who has about 300 pairs, is trying to catch up to his buddy's bigger stash of about 500.
While Smith is hoping to get to a Giants game soon, Cruz already has a Knicks ticket -- opening night against the Nets at the brand-new Barclays Center.
"I'm definitely going to be there," he said. "It's going to be nuts."
February, 6, 2012
2/06/12
7:36
PM ET
Win or lose, Knicks fans at the Garden -- at least the fans who root for the Giants -- will have a reason to cheer.

Hakeem Nicks, Mario Manningham, Corey Webster, Bear Pascoe, Michael Boley, Mathias Kiwanuka, Aaron Ross and Mark Herzlich are at the Garden Monday night for the Knicks-Jazz game.

The Giants flew back from Indianapolis earlier Monday, hours after their 21-17 victory over the New England Patriots in Super Bowl XLVI.
January, 5, 2012
1/05/12
7:00
AM ET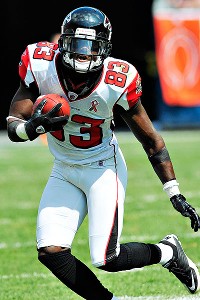 Mike DiNovo/US PresswireHarry Douglas had 39 catches for 498 yards this season.
There's at least one New Yorker rooting against the Giants on Sunday.
Knicks point guard
Toney Douglas
wants to see the Falcons win their wild-card matchup against Big Blue. But with good reason.
His brother,
Harry
, is a receiver for Atlanta.
Douglas said he will be at Met Life Stadium on Sunday -- a Knicks off-day -- wearing "red and black" while enjoying the game from a suite.
And he left little doubt over who he'd be rooting for.
"I'm not a Giants fan," Douglas said.
The winner will face either Green Bay or San Francisco in the second round of the NFL playoffs.
You can follow Ian Begley on Twitter.