New York Knicks:

New York Rangers
October, 18, 2013
Oct 18
1:12
AM ET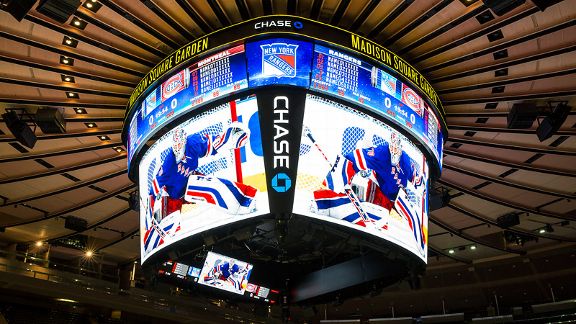 Rebecca Taylor/MSG PhotosMadison Square Garden's new multimedia display will feature 24 individual HD panels.
Madison Square Garden will unveil its new scoreboard on Oct. 25 as part of the third and final phase of its three-year, $1 billion renovation of the world's most famous arena, according to a release. The unit will have 24 individually produced high-definition LED displays.
The four main video displays can show separate items at once, including statistics, replays and other useful information for fans. The scoreboard will be one of just two of its kind that have displays tucked inside the bottom of the screen for fans in the lower levels.
The main displays are 15.7 feet tall by 28 feet wide, and the four auxiliary displays above them measure at six feet tall by 29 feet wide. The release says the scoreboard is the main attraction of Garden Vision, which is the arena's new LED video display system.
Garden Vision will also include three LED displays on the new bridges (see below), four displays on two separate levels of the seating bowls and seven displays with statistics for basketball games.
In addition to the new scoreboard, the third phase will include the new
bridges
, an area devoted to the Garden of Dreams Foundation, a new box office, a renovated Chase Square Seventh Avenue entrance, a broadcast location, a new EIGHTEEN/76 balcony on the 10th floor and a new Signature Suite Level on the ninth floor.
July, 25, 2013
Jul 25
11:10
PM ET
By
Ian Begley
| ESPNNewYork.com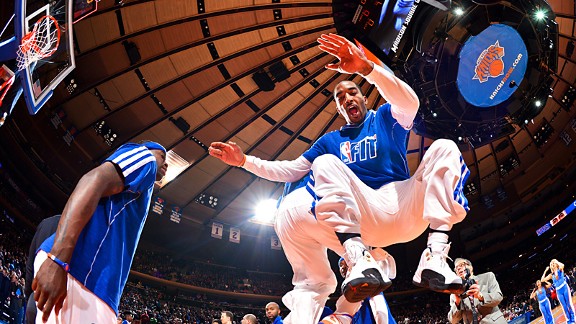 Jesse D. Garrabrant/NBAE/Getty ImagesCould the Knicks be forced to jump to a new arena in 10 years?
Will the Knicks be forced to call Long Island home in 10 years?
The City Council vote to limit Madison Square Garden's permit to 10 years surely has a segment of Knicks fans pondering such questions.
Before we start talking about nicknames for the Long Island Knicks, though, it's worth noting that there are several significant hurdles to clear before the Garden is forced to move from its current location atop Penn Station.
Below, we offer a breakdown of those steps and a look at the implications of a potential MSG move.
WHY DOES CITY COUNCIL WANT TO MOVE THE GARDEN?
Speaker Christine Quinn and the Council would like to work on a plan to renovate Penn Station. Madison Square Garden, which sits atop Penn Station, presents a major hurdle in any renovation plans for the transportation hub. So Quinn and the City Council have ruled that the Garden's permit to operate an arena above Penn Station is good for another ten years. During this time period, the city and economic developers will attempt to create a plan for a Penn Station renovation that "appropriately suits the needs of the hundreds of thousands of travelers who pass through it every day and can accommodate its expected growth in the future."
WHEN DO THE KNICKS AND MSG HAVE TO LEAVE?
There's no guarantee -- at this point -- that they will ever be forced to move from the current site. MSG's special permit that allows them to operate an arena that has more than 2,500 seats will expire in 10 years.
When it expires, the Garden can reapply for another permit. Traditionally, they would have to go through the city planning department and the city council to do so. Quinn has suggested that any change to the permit would require full public review and Uniform Land Use Review Procedure (ULUP).
It's worth noting that the current council members voted 49-1 to limit the Garden's permit, but there's no way to predict how future council members would vote. Ten years from now, there will be different members who may take a different stance on this land use issue.
CITY COUNCIL HAS VOTED. WHAT'S NEXT?
Herein lies the trickiest part of the whole equation. The city and economic developers must come up with a viable plan to rebuild Penn Station. As Quinn notes, "this will require the participation of all the major stakeholders -- the City, the State, the Federal Government, the MTA, Amtrak, the community boards, local businesses, the commuting public, and, obviously, Madison Square Garden itself." This is not easy. There are plenty of moving parts that need to be in lockstep to accomplish a Penn Station renovation. Also, it will cost the city a large sum of money to do so. Will the regime in charge of the city five to 10 years from now be amenable to spending a large sum to renovate Penn Station? Surely, many will note that the public money used for Penn can be used for other worthy endeavors. We'll have to wait and see how that plays out.
HAS MSG BEEN ASKED TO MOVE TO ACCOMMODATE PENN STATION BEFORE?
Yes. The restoration of Penn Station has been talked about for nearly 20 years. It's been a challenge for the various entities involved here to come together and form a plan. The Garden actually explored a move to the Farley Building across the street recently as part of a new vision for a revitalized Penn Station. But that vision fell apart due to lack of funding.
IF MSG HAD TO MOVE, WHERE WOULD IT GO?
That's anyone's guess. There is land available on the West Side of Manhattan between 30th and 33rd streets and 10th and 12th Avenues. Some of this land is used to store commuter trains and is an attractive site for a sports complex. The area -- known as the Rail Yards -- was the proposed site of the Jets' West Side stadium, which a few years back failed to gain full approval for construction. Another option, though a long-shot, would be to move the Knicks, Rangers and Liberty to Long Island. But the fact that MSG chairman and Knicks owner James Dolan just spent $1 billion to renovate the current Garden means he probably won't go down without a fight. The guess here is that he'll challenge any attempts to force him to move in court before he agrees to relocate.
You can follow Ian Begley on Twitter.
October, 11, 2012
10/11/12
7:57
PM ET
By
Jared Zwerling
| ESPNNewYork.com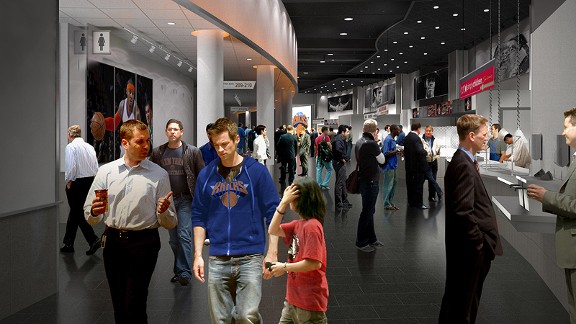 Courtesy of Madison Square GardenGarden Concourse
Last week, Madison Square Garden president and CEO Hank Ratner led a tour of Year 2 of the arena renovation process, a nearly $1 billion project that finishes in 2013. The newest additions include a revamped upper-bowl seating area and Garden Concourse (eighth floor), new Madison Suites and a Madison Club on the seventh floor, and a new "Garden 366" visual retrospective and "Defining Moments" exhibits.
[+] Enlarge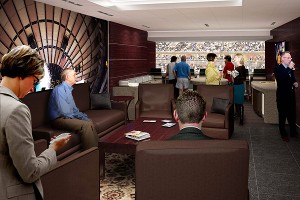 Courtesy of Madison Square GardenMadison Suite
Here's a breakdown:
1. Upper-bowl seating:
The seats on the seventh through ninth floors have not only moved three rows closer to the court, but also 17 degrees lower. In addition, the iconic "blue seats" are back on the ninth floor. They were changed to purple during the arena's last renovation from 1989 to 1991, but by fan request they have returned (they're more of a turquoise color). On the 10th floor, there are new concessions behind the seats.
2. Garden Concourse:
Because of the updated upper-bowl seating sight lines, the concourse has gotten wider and its ceiling taller. It's more modern, industrial-looking with its darker floors and exposed ceiling with the piping. The concourse includes more bathrooms, retail shops and the same signature food items as the sixth floor from top chefs Andrew Carmellini, Jeremy Marshall, Drew Nieporent and Jean-Georges Vongerichten.
[+] Enlarge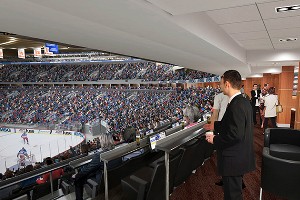 Courtesy of Madison Square GardenMadison Club
3. Madison Suites:
They've moved from the 10th floor to the seventh, making them 30 rows from the court and 23 rows from the ice. The 620-square-foot suites, which feature wood paneling and leather furniture, wrap around the entire arena. There are four left to purchase for the season, and some of them will be made available in mid-January.
4. Madison Club:
The members-only area is the size of 10 suites and can hold 172 people. The seats go for about $40,000 each and come with entry to all Knicks, Rangers, college basketball, boxing, tennis and every other sporting event held at the Garden.
5. Garden 366:
One visual moment in Garden history for every day (including the leap year) will wrap around the entire sixth floor, featuring the arena's hosting of sports, music, entertainment and political events.
[+] Enlarge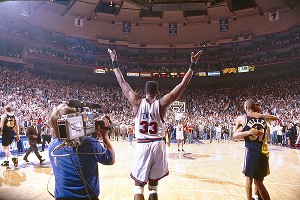 Madison Square Garden Patrick Ewing's heroics in the 1994 Eastern Conference Finals qualify as a "Defining Moment."
6. Defining Moments:
10 of the arena's greatest moments will be commemorated on the sixth floor through special exhibits that feature photos, memorabilia and additional artifacts. Ten more will be unveiled in the fall of 2013 on the eighth floor. All of them were chosen by fans.
Phase III next summer will include a rebuilt lobby and entryway, a new scoreboard and two unique, 225-foot-long seating bridges never built before in any arena, stretching from one side to the other.
You can follow Jared Zwerling on
Twitter.
NBA
NHL
COLLEGE BASKETBALL
COLLEGE FOOTBALL
NBA
NHL
COLLEGE BASKETBALL
NFL