New York Knicks:

Phoenix Suns
December, 26, 2012
12/26/12
11:51
PM ET
By
Jared Zwerling
| ESPNNewYork.com
WHAT IT MEANS:
J.R. Swish!
J.R. Smith
was the hero for the second time this season. On Dec. 5, he beat the Bobcats with a game-winning fallaway in the left baseline corner, and on Wednesday night he nailed one in about the same spot with time expiring to defeat the Suns, 99-97.
And both times,
Carmelo Anthony
wasn't on the court. Melo missed Wednesday's game with a hyperextended knee, and
Raymond Felton
sat out with a broken finger.


KNICKS' GAME BALL GOES TO ...
Jason Kidd
, who finished with a season-high 23 points to go along with eight assists and six rebounds in only 31 minutes. It was as simple as this: When Kidd was on the court, the Knicks played much better.
Kidd made his impact on the Knicks' first five plays of the second half, as they built their biggest lead of the game, 57-44. He had a 3-pointer, layup, another 3 and then assists to
Tyson Chandler
and
James White
.
Then, when Kidd was on the bench in the second part of the third quarter, the Suns went on a 22-8 run to end the period.
WHERE'S THE PERIMETER D?
The Knicks' defensive staple to start the season was their perimeter rotations. But it's been disappearing as of late. They allowed
Jared Dudley
to go off for a career-high 36 points on 11-for-17 shooting, including 5-for-8 from beyond the arc.
THE BENCH BOYS:
In the first half, Smith had 13 points. In the second quarter alone,
Chris Copeland
had 10 points on 4-for-5 shooting (2-for-2 from beyond the arc), helping the Knicks go on a 14-4 run. When it was over, while Copeland had 14 points, Smith had 27 points, six rebounds, five assists and five steals.
3-PRECISE:
After going through the first month-and-a-half of the season shooting 41.2 percent from downtown -- the second-best mark in the NBA -- the Knicks sunk to 32.4 percent in the past six games. But they picked it up in Phoenix, going 9-for-22 (40.9 percent), thanks to Kidd's 5-for-8 performance.
RUN, COACH, RUN!:
When the Knicks keep their turnovers at 12 or below, the coaches have to run in the following practice. They only committed 11 turnovers on Wednesday.
WHAT'S NEXT:
The Knicks travel to Sacramento on Friday night to take on the 9-18 Kings at 10 p.m. ET. This could be the last game
Amar'e Stoudemire
misses. Mike Woodson said before the Suns game the power forward should return on New Year's Day against the Trail Blazers, barring any setbacks.
You can follow Jared Zwerling on
Twitter.
December, 26, 2012
12/26/12
10:20
PM ET
By
Jared Zwerling
| ESPNNewYork.com
No
Carmelo Anthony
or
Raymond Felton
, but the Knicks controlled the first half against the Suns. In the first quarter, they won the rebounding margin and pushed the pace to score in transition (they had 12 fast-break points, compared to the Suns' three). Then in the second period, they got hot from 3-point range (6-for-10).


Here are five other main observations at the half:
1. Where's the D?
The Knicks were victimized on cross screens, especially guarding
Jared Dudley
.
Ronnie Brewer
and
Steve Novak
couldn't check the Suns' sharpshooter, who finished with 17 first-half points on only 10 attempts. The Knicks got a little tangled up while switching a lot on pick-and-rolls, and that led to some Suns' uncontested backdoor cuts and easy layups inside.
2. Tyson Chandler scoring with his ... shooting?
That's right. In a move that Chandler had never unleashed as a Knick, he started off the game with a turnaround jumper while posting up over Suns center
Marcin Gortat
. Later in the first quarter, Chandler hit a 15-foot jump shot on the baseline.
Chandler has been saying all season that all he needs his space, and he's going to shoot. Well, he got some open looks in the first half, as well as in the paint off pick-and-rolls, going for eight points and six rebounds overall. He also had a great hustle play on offense: When a Knicks' pass to Chandler was broken up, he went after the loose ball and finished with a layup.
3. Marcus Camby comes through.
Speaking of hustle, Camby (two points, six rebounds and one block) made some big plays in the first half. On one possession toward the end of the second quarter, he missed an inside layup and grabbed the offensive rebound, then he got blocked on a second attempt, but followed his own miss again and finally got fouled by
Jermaine O'Neal
.
4. Knicks' preseason punch delivers.
Before the regular season tipped off, two of the brightest spots on the team were backups
Pablo Prigioni
and
Chris Copeland
. They got it done in the second quarter. When the Knicks started the period with Prigioni,
J.R. Smith
(13 points), Copeland, Novak and Camby on the court, they struggled to produce points. But then Prigioni had a 3-pointer around the midway point. Then, he found Smith and Camby for dunks.
Right after Prigioni got it going, Copeland heated up from the floor. He had 10 points on 4-for-5 shooting (2-for-2 from beyond the arc), helping the Knicks go on a 14-4 run.
5. Felton's X-ray.
The Knicks' starting point guard told MSG Network reporter Tina Cervasio that he would be getting an X-ray at halftime to ensure there are no torn ligaments in his sprained right pinkie. Stay tuned for any updates.
You can follow Jared Zwerling on
Twitter.
December, 26, 2012
12/26/12
10:00
AM ET
The Knicks will try to stem their first mini-slide of the season on Wednesday against the
Phoenix Suns
.
They've lost three of five, and will look to avoid losing two straight for just the second time this season.


Tipoff is scheduled for 9 p.m. Here are a few things to keep an eye on:
FEAST ON PHOENIX?
The Suns are one of the worst defensive teams in the NBA.
They rank 26th in defensive efficiency, a measure of points allowed per 100 possessions. They are 29th in opponent field goal percentage (47.3) and have one of the more porous perimeter defenses in the league (more on that below).
So the Knicks' offense -- one of the best across the board in the NBA -- should be able to overpower Phoenix.
Carmelo Anthony
, who's scoring 31.8 points and pulling down five rebounds in his last five games, has career averages of 24 points on 47 percent shooting in 28 games against the Suns.
WHAT'S UP WITH RAY?
Point guard
Raymond Felton
's shooting struggles continued on Christmas Day.
Felton went 5-for-19 and finished with just 10 points against Los Angeles. He was outplayed by
Steve Nash
(16 points, 11 assists) and sprained his right pinkie in the third quarter.
Felton is playing with bone bruises in his left and right hands, and you have to wonder how badly his shot has been affected by the injuries. He is shooting just 36 percent in his last five games and has missed his last 15 3-point attempts.
STRUGGLING FROM THREE:
The Knicks have missed at least 17 3-pointers in each of their last six games.
Does it feel like they're starting to shoot too many? On Tuesday, they hit nine of 26 attempts (34.6 percent) in a loss to the Lakers. They'd made just 32 percent of their 3-point attempts in the five games prior to that.
In the previously mentioned six-game span, the Knicks have gone 2-4.
Based on the numbers, though, New York might be able to turn it around against the Suns. Phoenix has allowed opponents to shoot a league-high 40 percent from beyond the arc.
You can follow Ian Begley on Twitter.
January, 19, 2012
1/19/12
1:11
AM ET
After four straight losses, the Knicks are out of excuses.
That's the message
Amare Stoudemire
delivered after New York flat-lined on Wednesday night against a Suns team that came into town on a five-game losing streak.
"We feel like it's very important for us to really get going now. It's still early. But we can't keep making that 'early' excuse," Stoudemire said. "We need to start pushing for it right now and really trying to get over the hump."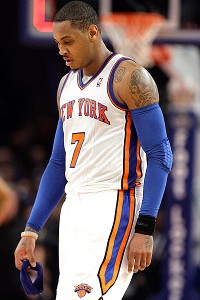 AP Photo/Frank Franklin IICarmelo Anthony shot just 5-for-22 from the field.
They could start by getting it together on offense. The Knicks mustered just 88 points against a Phoenix team that had allowed more than 100 in its last four games, including 118 on Tuesday to the Chicago Bulls, who were without an injured
Derrick Rose
.
The Knicks shot a woeful 37 percent against the Suns and missed 11 of their 15 3-point attempts.
"It is killing us,"
Mike D'Antoni
said of the team's inept offense. "The flow is not happening."
Carmelo Anthony
and Stoudemire were two of the biggest reasons why on Wednesday. They finished the night a combined 12-for-44 as the Knicks, losers of four in a row, wiped away any goodwill from their recent four-game winning streak.
"I know that we are 6-8 and I know that we are in a little bit of a crisis here," D'Antoni said. "But the good things are [the team] is playing hard, they are rebounding."
That's fine. But they certainly aren't shooting.
Anthony has hit just 28.5 percent of his shots (14-for-49) over the last two games.
He has played with right ankle and left wrist injuries in both games. After missing 18 of 27 shots against Orlando, he said that his shot felt "flat" because he couldn't support the ball with his left wrist.
D'Antoni acknowledged that the wrist was still affecting Anthony on Wednesday. The coach said his All-Star forward wore a brace at times to protect his wrist.
"He is having a hard time gripping the ball," D'Antoni said of Anthony, who was unavailable for comment due to a family issue, according to the team.
Before the loss to Phoenix, D'Antoni was asked about expectations for the Knicks.
At what point is it fair for fans to expect them to win? At what point do excuses about limited practice time, poor offensive flow and the lack of a point guard become unacceptable?
"It's got to be now. Those are nice little catchphrases when we lose and we don't have nothing else to say," the coach said. "They're excuses and we know we can't do that, and we don't do it inside the room."
"We're in the midst of trying to become a better team," he added. "And when everybody gets back hopefully that will help. But we need to be better now."
You can follow Ian Begley on Twitter.
January, 19, 2012
1/19/12
12:58
AM ET
By
Christopher Hunt
| ESPNNewYork.com
NEW YORK -- When
Michael Redd
walked out of the Phoenix Suns locker room Wednesday night, he encountered teammate
Shannon Brown
.
"We're going to do that again," Redd said. "We're going to keep doing that."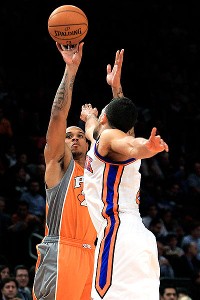 AP Photo/Frank Franklin IIShannon Brown went downtown to hit the game's biggest shot.
Redd spent time working on one-on-one drills during warmups with Brown, who said the idea was simply to get him into the flow of actually playing before he checked into the game for the first time. Whether the extra work helped, who knows? But if Brown can hit shots like the 3-pointer he sank with 35 seconds left, it's worth a shot.
Former Knick
Channing Fyre
found Brown standing all alone in the corner after the Knicks lost him. Brown fired the shot, which, oddly enough, hit front rim and bounced near the top of the backboard before falling through. After officials reviewed the play to make sure the ball did not hit the top of the backboard, which would have been out of bounds, Phoenix led 85-80.
Brown, who finished with 14 points, smirked after the ball dropped in, knowing it wasn't exactly the conventional way to put a team away in the closing seconds.
"Why would I be embarrassed that it went in?" Brown asked in a postgame interview. "It was a soft shot. You don't want to put it up there and it goes bang off the rim. You want to put up a soft shot so it has a chance to go in."
The 3-pointer gave the Suns some breathing room before Knicks rookie
Iman Shumpert
hit his second fourth-quarter 3-pointer with 25 seconds left to put New York behind two.
Steve Nash
hit all of his six free throws in the last 16 seconds to hold off the Knicks' last-minute surge.
Neither team shot well from the field, but a timely bucket -- even one that doesn't look like it should go in -- can make all the difference.
"Seeing the ball go in the basket any kind of way always helps," Brown said.
January, 19, 2012
1/19/12
12:31
AM ET
By
Christopher Hunt
| ESPNNewYork.com
NEW YORK -- Regardless of whether Knicks fans were salivating at the thought of watching
Steve Nash
run New York's offense, or whether
Mike D'Antoni
looked at Nash and envisioned "Seven Seconds or Less, The Sequel," Nash isn't thinking that far ahead.
"I'm still with the Suns and happily with the Suns," Nash said after carving up the Knicks for 26 points and 11 assists in the Suns' 91-88 win Wednesday night. "I've put everything I have into trying to turn this thing around and trying to see what we can do to get ourselves in back into contention. To be honest, with this condensed season, I've put all my focus into preparing to play every day."
The Knicks could go after the 37-year-old future Hall of Famer when he becomes a free agent this summer. It would be a perfect reunion for D'Antoni, who desperately needs someone to facilitate his pick-and-roll offense -- Nash was the maestro leading D'Antoni's up-tempo game from 2004-05 to 2007-08, when the Suns were good for at least 54 wins per season.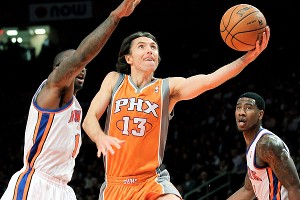 Anthony Gruppuso/US PresswireSteve Nash scored 26 points on 9-for-12 shooting, dished out 11 assists and iced the game from the foul line.
But Nash said he is focused on this season and the rumors will have to wait to be answered, especially with the Suns just 5-9 and having gained their first win in six games.
"It's tough," Nash said. "[We played] Chicago [Tuesday night], get in at three in the morning and play tonight. To recover takes more than a couple cold beers and a nap in the afternoon. I'm working hard everyday just to try to get right every night and feel fit, and that's the main focus. In the summer, we'll deal with free agency, but right now I'm with the Suns and I'm not looking forward."
Nash was everything the Knicks didn't have on offense: someone to control the tempo and the spacing; a guy who can find his own shot and a shot for someone else.
Baron Davis
and the herniated disk in his back are still weeks away from being healthy enough to take the floor. In the meantime, pressure builds on D'Antoni, who is known as an offensive mastermind, yet the Knicks are shooting about 42 percent from the field this season and were 37 percent from the floor Wednesday night.
Nash said it will take some time for all the new players on the Knicks roster to jell, considering Davis' injury and the fact that New York amnestied its only pure point guard,
Chauncey Billups
.
"He's in a tough position, you know," Nash said of D'Antoni. "They've constantly changed and brought in new people, and now he's got all these new pieces. He hasn't really had the point guard he wanted, and hopefully Baron will get healthy.
"They gave away their point guard to get
Tyson
[
Chandler
] and fill up their frontcourt and have another guy to guard the interior, and now they're waiting for Baron to get healthy. So that's tough. It's tough not to have that balanced, full roster, so I do feel for them."
D'Antoni's former floor general wasn't as quick as others to place blame on the Knicks' guards.
"I think that's part of it," Nash said. "Melo hasn't been here long, so they're trying to find a chemistry. Obviously, he's playing well but I don't think they've found their rhythm collectively. It's easy to say, 'Ah, they need a point guard.' But I think there's a lot of factors that are slowing them [from] finding that confidence and rhythm, but I'm sure they'll find it."
You can follow Christopher Hunt on Twitter.
January, 18, 2012
1/18/12
10:02
PM ET
By
Jared Zwerling
| ESPNNewYork.com
Recap
|
Box score
|
Photos
WHAT IT MEANS:
The Knicks have lost four in a row and simply can't shoot. Carmelo Anthony was 5-for-22 from the field, Amare Stoudemire was 7-for-22 and the Knicks shot 37 percent (32-for-86) as a team.
The Knicks still had a chance to win, but
Steve Nash
iced the game with six free throws in the final minute.
TURNING POINT:
The Knicks came out flat -- again -- on both sides of the ball. On offense, they didn't set a tempo -- something a home team must always focus on -- and looked confused at times on offense about who should get the ball where. On defense, they didn't fight through screens and switched when Nash went around screens. Nash scored 11 points in the first quarter alone.
The Knicks played so passively that the sold-out crowd was mostly quiet throughout the game. The loudest sounds from the Garden were mostly boos and "Fire D'Antoni!"
WHAT'S NEXT:
Another subpar team the Knicks should beat, the Bucks, who arrive at the Garden on Friday night. But the Knicks haven't been blowing away anyone these days.
Brandon Jennings
, the Bucks' leading scorer at 18.7 points per game, is the league's second-best fourth-quarter scorer (7.6 ppg) -- right behind Anthony (9.2).
You can follow Jared Zwerling on
Twitter.
January, 17, 2012
1/17/12
10:35
PM ET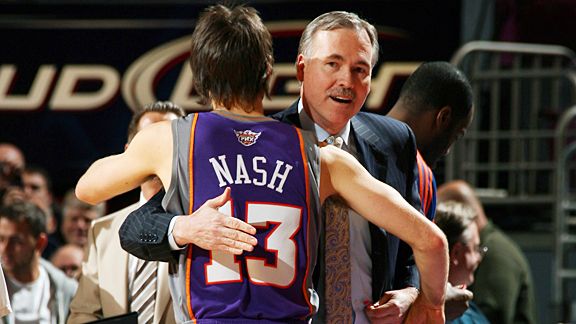 Nathaniel S. Butler/NBAE/Getty Images"Nash is one of the best," Mike D'Antoni said of the point guard he'll try to defeat on Wednesday.
Mike D'Antoni
sounds like a man who misses
Steve Nash
.
The Knicks coach threw verbal bouquets at the Phoenix Suns on Tuesday, a day before they visit Madison Square Garden.
"They have a nice, free-flowing offense. They're very good. Nash is one of the best," D'Antoni said of his ex-point guard.
The Suns' offense, of course, is D'Antoni's. It's the same offense the Knicks are currently running. Or trying to run.
"Maybe we'll learn how to run it," the coach said, taking a not-so-veiled shot his own team.
D'Antoni laughed after saying it, trying to make light of a problem that's plagued his team for most of the season.
"We need to be one of the top 10 teams offensively and we're still not there," he said.
Entering play Tuesday, the Knicks weren't even close.
They ranked 22nd in offensive efficiency, which measures points scored per 100 possessions. They're scoring just 93.9 points per game -- or nearly 13 fewer than last season.
D'Antoni has cited several reasons for the Knicks' struggles: poor ball movement, poor shooting and the lack of a veteran point guard. New York has also been hampered by diminished production from
Amare Stoudemire
.
Simply put, it's been a take-your-pick of offensive ineptitude. And it's starting to affect some players' confidence, according to
Carmelo Anthony
.
"I think everybody's got to dig deep down inside their own self, and look themselves in the mirror, ask themselves, 'Are they playing the way they should be playing?,'"
Carmelo Anthony
said. "At this point in time, as a group, as a whole, we're a very confident team. But individually, we need everybody to boost that up a little bit."
The Knicks' shooting percentage could also use a boost.
They are hitting just 41.7 percent of their shots -- the fifth-worst mark in the NBA. Even worse, they're making 30.9 percent of their 3-point attempts.
"We haven't shot the ball well this year," D'Antoni said. "I thought our rhythm was better [against Orlando on Monday but] it didn't allow us to shoot better. We just have to keep getting better. It's been horrible. ... It'll smooth out, hopefully."
Shooting woes aren't the only thing slowing the Knicks' offense. They're sorely missing a veteran point guard.
New York (6-7) ranks 25th in assists per game; only 13 percent of its possessions end in an assist.
Until
Baron Davis
returns to the court, they will lean on 21-year-old
Iman Shumpert
to run the point.
"Being a rookie, it's going to take a while for him to understand how to do it for 35 minutes," said D'Antoni, adding that the Knicks' "flow is not good."
Entering the season, it was widely assumed that Stoudemire and Anthony would carry the team on offense -- at least until Davis returned. Anthony has taken on that burden at times, but he and Stoudemire are shooting a combined 42 percent through 13 games.
That number is more alarming for Stoudemire, a career 53.4 percent shooter, than Anthony (45.8 percent for his career).
On Tuesday, Stoudemire chalked up his shooting woes to the five-month lockout and a lack of cohesion on offense.
"We're still trying to figure out our offensive schemes," Stoudemire said.
Like D'Antoni, Stoudemire came to New York from the high-scoring Suns. Phoenix isn't as potent this season.
Alvin Gentry
's club ranks 11th in offensive efficiency.
But they have something the Knicks covet, a veteran point guard. And Stoudemire knows it.
"You've got a guy by the name of Steve Nash whose orchestrating the [Suns'] offense," Stoudemire said. "Things seem to run a little smooth when he's got control of the ball. But we'll get there."
You can follow Ian Begley on Twitter.
June, 23, 2011
6/23/11
12:13
AM ET
By
Jared Zwerling
| ESPNNewYork.com


NEW YORK -- No matter which teams have inquired about Steve Nash's availability, the two-time MVP said he doesn't think the Phoenix Suns will trade him, period.

"They've told me plenty of times that they don't want to move me," said Nash, who hosted his fourth annual Showdown in Chinatown charity soccer game Wednesday, featuring NBA players and former soccer greats. "I'm not up to date on the rumors. I really don't read the papers. I usually hear from people on the streets, 'I hear you're coming to the Knicks.' I think it's all paper talk."

Suns president Lon Babby boxed out any trade talks as well. He called into a Phoenix radio station Wednesday to reaffirm that the organization has no plans to trade Nash.

"I have said it a zillion times. We are not trading Steve Nash," Babby told "Doug & Wolf" on Sports 620 KTAR.

If Nash was traded to New York -- where he would be reunited with head coach Mike D'Antoni and teammate Amare Stoudemire from their days in Phoenix -- he could instantly be on a title-contending team. But Nash isn't even dreaming up that scenario in his head. He's only focused on getting the Suns back to the playoffs after missing out this year.

"It's nice that they say, 'We want you here [in New York],' and that's all I take," Nash said. "Right now, I have a contract with the Suns. I'm ready to keep playing in Phoenix if we can continue to build a team and get back to where we were last year, fighting for a championship."

That wouldn't happen, of course, if there's a full-season lockout. Nash said he's been following the labor negotiations between the owners and players, which has seen more activity than progress.

"We all are staying abreast of the situation and trying to remain positive and optimistic that we can come to a conclusion," Nash said, "but it's not easy."