New York Knicks:

Playoffs
April, 22, 2013
4/22/13
5:17
PM ET
By
Jared Zwerling
| ESPNNewYork.com
GREENBURGH, N.Y. -- Knicks coach Mike Woodson and
Iman Shumpert
said point guard
Pablo Prigioni
, who has been nursing a sprained right ankle, "looked good" during Monday's practice.
How the Argentine feels on Tuesday will be key to his return. He is listed as probable, the Knicks said.
"If he can go tomorrow, we'll start him, absolutely," Woodson said.
Shumpert added, "It didn't look like he had too much pain."
The Knicks expect the action against the Celtics to intensify in Game 2, so Prigioni's defense on
Avery Bradley
will be crucial. Woodson called the Celtics "a tough, battle-tested team," and
Kenyon Martin
said they will "scratch, claw and fight in order to get the game."
On Saturday, Bradley wasn't contested enough, and several times he found wide-open lanes to score. He finished with 15 points on 7-for-14 shooting. Prigioni can give Bradley a taste of his own medicine by applying full-court pressure, trying to rattle Bradley while he sets up the offense.
"We want to pressure them early," Shumpert said. "That's something that Pablo loves to do, so having him back will be great. Make sure we run the shot clock down on them and force them to take tough shots, and when they take tough shots and we get rebounds, we've got to run."
Offensively, Prigioni has found a rhythm playing alongside the other starters, and he knows where they like the ball. He also sees the extra pass if he's playing off the ball, and he's a dangerous 3-point shooter when left open.
CHANDLER'S CONDITIONING IMPROVING:
Two days after playing only 20 minutes because of conditioning issues -- grabbing only five rebounds and not scoring --
Tyson Chandler
said he's "feeling better every day."
"The more I'm on the floor, the better I'm going to get, better-conditioned. My rhythm, my legs," said Chandler, who missed 16 of the Knicks' final 20 games of the regular season. "I feel like I'll be better in Game 2 than I was Game 1, and it will continue throughout the series."
Regarding Chandler's neck, where he recently had a bulging disk, the center said it still feels "a little sore," but overall it's a nonissue. His biggest thing is building his stamina.
"I'm trying to condition myself playing against the best of the best," he said. "It's just getting my timing back, getting my legs under me, and getting back into the flow of the game."
In the first quarter Saturday, Chandler set strong screens for
Carmelo Anthony
and
Raymond Felton
to free them for jump shots. But Chandler wasn't as active on the boards or contesting shots. He had no blocks.
With Boston coach Doc Rivers preparing to give
Kevin Garnett
more touches in Game 2, Chandler says he is ready.
"We just have to do a good job defending [Garnett] down in the paint, as well as making sure he doesn't get any open jump shots," Chandler said.
You can follow Jared Zwerling on
Twitter.
April, 19, 2013
4/19/13
5:46
PM ET
Here is the Knicks' first-round schedule:

(2) New York vs. (7) Boston

Game 1 (New York): Saturday at 3 p.m. on ABC

Game 2 (New York): Tuesday at 8 p.m. on TNT

Game 3 (Boston): Friday at 8 p.m. on ESPN

Game 4 (Boston): Sunday, April 28 at 1 p.m. on ABC

Game 5 * (New York): Wednesday, May 1 Boston at TBD

Game 6 * (Boston): Friday, May 3 at TBD

Game 7 * (New York): Sunday, May 5 at TBD

*If necessary
April, 18, 2013
4/18/13
11:16
AM ET
New York Knicks
starting point guard
Pablo Prigioni
is questionable for Game 1 of the team's first-round playoff series against the
Boston Celtics
due to an ankle sprain.
Prigioni sprained his right ankle at the end of the first quarter in Wednesday's regular-season finale against the
Atlanta Hawks
.
The Knicks said X-rays on Prigioni's ankle came back negative. Knicks coach Mike Woodson said after the game that he was unsure whether Prigioni would be available Saturday against the rival Celtics.
Prigioni went down with 51 seconds left in the first quarter. He appeared to roll his ankle on a jump-stop near the rim.
Prigioni, 36, has started the past 18 games, and Woodson had planned to start the Argentinian alongside
Raymond Felton
in New York's playoff series against Boston.
April, 17, 2013
4/17/13
3:00
PM ET
By
Jared Zwerling
| ESPNNewYork.com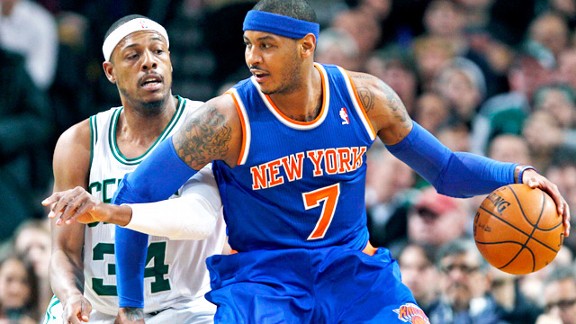 AP Photo/Charles KrupaAn armbar, of sorts, from Paul Pierce: OK, that might work against Melo.
Toward the end of the third quarter Sunday, Pacers forward
Sam Young
fouled
Carmelo Anthony
, bruising his left shoulder. Melo took his free throws and then sat out the fourth quarter to receive treatment.
Physical play from top defensive teams is not foreign to Melo. He knows it will happen in the playoffs, starting Saturday when the
Boston Celtics
come to town.
"I've just got to deal with it," he said. "We know it's going to be a physical series."
The Celtics are aware of how Anthony has raised his game, averaging 32.5 points during the Knicks' recent 14-1 stretch.
"He's playing unbelievable," nemesis
Kevin Garnett
said. "We've got our work cut out for us."
So how might the Celtics look to defend Anthony? Here are seven tactics -- with insights from two veteran NBA scouts -- and how the Knicks' star will need to counter them:
1. Ball denial.
The Celtics will do that as much as possible, especially farther away from the basket.
"They load up on the strong side," a scout said. "They bring a big man over to help and make him pass. They make him take the baseline and make tough 2-pointers before a 3-point shot or paint penetration."
Melo's move:
Stopping the ball is a no-no. With a second defender approaching, some keys will be passing out quickly, making fast moves before the extra pressure arrives, or slipping behind his man for the alley-oop feed. Anthony also must be prepared to pull up to his right. The Celtics know he likes to initiate his jump shot with a crossover from right to left, using his off hand as a helpful guide.
[+] Enlarge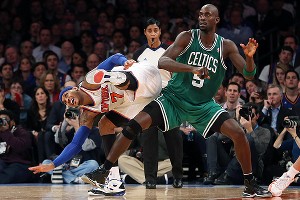 Bruce Bennett/Getty ImagesHip-check from Kevin Garnett: That's another tactic.
2. Extra work after the catch.
The Celtics will look to make Melo uncomfortable with the ball, making him work for everything while trying to keep him off the foul line.
"They'll make him change direction, make him work off screens," a scout said.
Melo's move:
Head-fakes in triple-threat formation or off one dribble might help him draw fouls. He'll also need to use his trademark one-dribble-into-a-spin-move layup finish. His size (6-foot-8, 235 pounds) enables him to bump off his man and get his shot off.
3. Blitz traps.
With Melo running more pick-and-rolls this season, the Celtics will look to run sudden half-court traps at him, sometimes featuring perimeter defensive specialist
Avery Bradley
to generate backcourt steals and transition points.
Melo's move:
More LeBron-esque skip passes. "He needs to look past the first pass and look to the second player who's open," a scout said. "That's what
LeBron James
does so well."
4. Mixing up schemes.
The Celtics have a unique man-to-man defensive approach to limit a star player's penetration. A scout called it "box and elbows," meaning "they pack it in and don't let players get points in the paint."
In addition, sometimes the Celtics switch to a box-and-one scheme on Melo to put more pressure on him -- or, toward the end of a game, they utilize a zone D or an extra defender to keep him off balance.
"When guys are tired, they [the Celtics] really amp up the pressure and try to get the ball out of their hands, especially in the fourth quarter," a scout said.
Melo's move:
Reading the defense is key, but health and conditioning are paramount. He'll be looked upon to perform at his best down the stretch.
5. Mixing up defenders.
The Celtics will rotate defenders to avoid foul trouble and throw Anthony off his rhythm. Garnett, who got into it with Melo at the Garden on Jan. 7, might even face him.
"They can't afford to put KG on him the whole time, but there may be moments when he is," a scout said. "[Jeff] Green, [Paul] Pierce and
Brandon Bass
will probably take turns. Melo is too much of a load to have one guy guard him."
Melo's move:
Make shots on each defender. "That'll soften the Celtics' defense," a scout said.
6. Boxing out.
The Celtics will look to hammer Melo when shots go up to prevent him from crashing the boards. "They have strong individual defenders and they don't take plays off," a scout said.
Melo's move:
Stay aggressive, use his strength to seal off his man and, most importantly, follow his misses.
7. Hard fouling and trash talking.
Top defensive teams like the Celtics are willing to commit the hard foul to send some intimidation. That especially goes for Garnett.
"Nothing is off-limits to him," a scout said. "He plays so hard and he's a competitor, and he says personal things that players don't appreciate. Some players take it personal and it has affected [Anthony] a little bit."
Melo's move:
Simply stay out of it with Garnett. Sometimes Melo's lack of focus has affected his teammates.
You can follow Jared Zwerling on
Twitter.
April, 13, 2011
4/13/11
10:50
PM ET
Here is the complete schedule for the first-round series between the sixth-seeded Knicks and third-seeded Celtics:

• Game 1: Sunday at Boston, 7 p.m. on TNT
• Game 2: Tuesday at Boston, 7 p.m. on TNT
• Game 3: Friday, April 22, at New York; 7 p.m. on ESPN
• Game 4: Sunday, April 24, at New York; 3:30 p.m. on ABC
• Game 5 (if necessary): Tuesday, April 26, at Boston; time and network TBD
• Game 6 (if necessary): Friday, April 29, at New York; time and network TBD
• Game 7 (if necessary): Sunday, May 1, at Boston; time and network TBD
April, 11, 2011
4/11/11
10:22
PM ET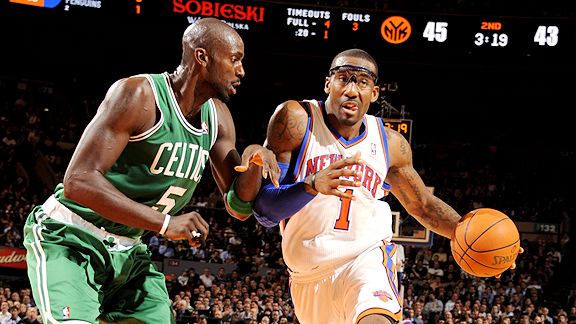 Lou Capozzola/NBAE/Getty ImagesKevin Garnett and Amare Stoudemire will see a lot of each other the next two weeks.
Suddenly, there is clarity.
The idle New York Knicks clinched the sixth seed in the Eastern Conference playoffs on Monday night, by virtue of Philadelphia's 95-85 loss to Orlando.
Less than an hour after the Philly loss, Boston fell 95-94 at Washington in overtime. That means Miami will be the No. 2 seed with the Celtics No. 3 -- setting up a Boston-New York series in the first round.
The Eastern Conference playoff matchups are set. Here they are:
• No. 1
Chicago
vs. No. 8
Indiana
• No. 2
Miami
vs. No. 7
Philadelphia
• No. 3
Boston
vs. No. 6
New York
• No. 4
Orlando
vs. No. 5
Atlanta
• • •
The Knicks and Celtics, who will meet in Wednesday night's regular-season finale, have squared off three times this season -- twice before the
Carmelo Anthony
trade, and once after. Boston has won all three games, by an average of 5.3 points:
Oct 29:
Celtics 105, Knicks 101
Dec 15:
Celtics 118, Knicks 116
•
O'Connor:
For unto you two a rivalry is reborn
•
Sheridan:
Knicks measure up -- until crunch time
•
Forsberg:
Paul Pierce plays villain in New York
March 21:
Celtics 96, Knicks 86
•
O'Connor:
Knicks need much more from Melo
•
Sheridan:
Knicks must find consistency at center
•
Forsberg:
Celtics toughen up in time
April 13:
8 p.m. in Boston
• • •
The Knicks and Celtics have a long history of postseason matchups, but this will be their first since 1990:
•
1990 first round
: Knicks defeat Celtics 3-2
•
1988 first round:
Celtics defeat Knicks 3-1
•
1984 Eastern Conference semifinals:
Celtics defeat Knicks 4-3
•
1974 Eastern Conference finals:
Celtics defeat Knicks 4-1
•
1973 Eastern Conference finals:
Knicks defeat Celtics 4-3
•
1972 Eastern Conference finals:
Knicks cefeat Celtics 4-1
•
1969 Eastern Division finals:
Celtics defeat Knicks 4-2
•
1967 Eastern Division semifinals:
Celtics defeat Knicks 3-1
•
1955 Eastern Division semifinals:
Celtics defeat Knicks 2-1
•
1953 Eastern Division finals:
Knicks defeat Celtics 3-1
•
1952 Eastern Division semifinals:
Knicks defeat Celtics 2-1
•
1951 Eastern Division semifinals:
Knicks defeat Celtics 2-0
• • •
Knicks-Celtics playoff series have gone seven games twice:
1984 Eastern Conference semifinals: Bernard King
had a series for the ages, averaging 29.1 points per game for the Knicks. The series came down to Game 7 in Boston on May 13; the Celtics won 121-104.
1973 Eastern Conference finals:
The Knicks won Game 7 in Boston, 94-78 on April 29. New York went to defeat the Lakers in the NBA Finals.