New York Knicks:

Practice report
May, 2, 2013
May 2
4:04
PM ET
By
Jared Zwerling
| ESPNNewYork.com
GREENBURGH, N.Y. -- During Thursday morning's practice,
Carmelo Anthony
received treatment for his left shoulder, which he hurt in the fourth quarter of Game 5 after getting tangled up with
Kevin Garnett
.
Mike Woodson said he doesn't believe the injury will affect Anthony in Game 6 on Friday night in Boston.
"He's fine," the coach said. "Melo's a tough kid, he'll be back."
No player has had to grind more for his shots in the series than Anthony, who's been facing multiple matchups, constant double-teams and the physical nature of the Celtics' defense.
Raymond Felton
said the team needs to make things easier for him.
"Melo is taking a beating," he said. "Those guys are really being physical with him, beating him up. It's just one of those things where we have to give him some help, plain and simple."
The Knicks know they need to generate better ball flow, and Woodson said he'll likely give
Pablo Prigioni
more playing time in Game 6. The Argentine only played 13 minutes in Game 5.
In addition, Anthony might play more point forward to create easier scoring opportunities.
"Basically they've shrunk our offense by just staying at home on shooters," Woodson said. "So we've got to get the ball moving two or three passes more before we let it go, and not quick shooting as much."
Overall, Woodson doesn't take issue with his team's defense. After watching video of Wednesday night's loss, he thought his players contested the Celtics' shots down the stretch.
"If you look at Paul [Pierce], he hit a couple of 3s with a man right in his face, which he's capable of doing," he said. "And then [Jeff] Green hit two 3s deep in the corner. So those are big buckets -- even the shot that Garnett hit on Tyson [Chandler] at the top when it was, I think, about a four- to six-point game. ... I think defensively we're doing what we're supposed to do. We've just got to figure out offensively."
NOVAKAINE SHOT?
Woodson said
Steve Novak
(back spasms) is doubtful for Game 6. The sharpshooter only played three minutes on Wednesday night. He was pulled out early in the second quarter and never returned to the game.
STAT UPDATE:
Amar'e Stoudemire
continued to participate in some team drills on Thursday, but he's still not scrimmaging. That will be the big test for his return, which will likely be in the second round if New York beats Boston.
"He's great," Felton said. "He's working hard to try to get himself back. If we can close this thing out in this first round, get on to the second round, hopefully we can have him back by then. ... Any time you've got a big-time scorer like that down in the post, it's always good to have him back on the court for sure."
You can follow Jared Zwerling on
Twitter.
February, 21, 2013
Feb 21
5:55
PM ET
By
James Herbert | Special to ESPNNewYork.com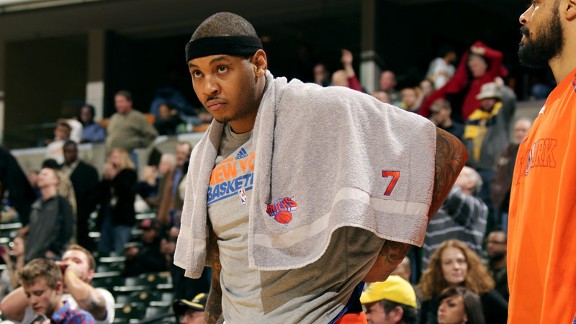 Ron Hoskins/NBAE/Getty ImagesCarmelo Anthony & Co. returned to work after Wednesday night's blowout.
Aside from
starting lineup talk
, the main takeaways from
New York Knicks
practice on Thursday in Toronto were their veteran big men inching closer to returning and the team moving on from the 125-91 disaster in Indiana. The Knicks play the
Toronto Raptors
on Friday at 7 p.m. Practice took place before
Ronnie Brewer
was traded to the
Oklahoma City Thunder
, so no one commented on the move.
'Intense' practice:
Amar'e Stoudemire
called the Knicks' post-blowout practice "very, very intense" and
Carmelo Anthony
was on the same page. "Guys were angry," Anthony said before catching himself. "Not angry, but kind of upset. As a team we feel like we let ourselves down. Being a part of a game like last night, as much as I want to say put it behind us -- and we're going to put it behind us -- it's still a game that we played. It's a game that we lost and we felt like it was kind of an embarrassment, so we just want to come out and put that game behind us."
Moving on:
The first thing Mike Woodson said about the Indiana game was "we can't go back and get it." He elaborated when asked if it could serve as a turning point: "When you go through the league, everybody's been smacked once or twice this year like that," Woodson said. "I mean the top teams. It happens. But again we haven't been at the tail end, we've been at the top end of blowing [teams] out. And that's no fun, to sit through something like that and watch our team have no answer at all. I don't care how you slice it, everything we did was wrong last night and Indiana looked like world-beaters. It could be a wake-up call, I would like to think so and hope so, so we'll see."
Injured bigs:
Woodson said he was pleased with practice, particularly because of the extra bodies doing work at the Raptors' practice facility at the Air Canada Centre. "[Marcus] Camby practiced today a little bit and Rasheed [Wallace] ran up and down a little bit in our conditioning," said Woodson. "Camby scrimmaged a little bit, so that was a plus." Woodson said he didn't know yet when Camby would return, but "just to see him out there scrimmaging is a step forward, so that's kind of nice."
Looking ahead:
Woodson said the Raptors proved they were a good team when they defeated the Knicks at Madison Square Garden before the All-Star break. While he said he wants his players to be motivated by staying on top of the Atlantic Division rather than payback, Anthony hasn't forgotten the Knicks' 92-88 loss. "They've been playing much better, especially since the trade went down with Rudy [Gay]," Anthony said. "We know in the back of our minds they beat us on our home court, so we want to come back and return that favor."
February, 12, 2013
Feb 12
5:12
PM ET
By
Jared Zwerling
| ESPNNewYork.com
Tyson Chandler
only went through a partial practice on Tuesday because he was dealing with a sore right ankle.
"He didn't hurt it, but it was a little sore," Mike Woodson said. "He went through our conditioning part at the top of practice and then he's a little sore, so we pulled him out. He's probably getting treatment."
[+] Enlarge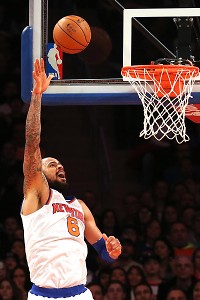 Anthony Gruppuso/USA TODAY SportsTyson Chandler
Woodson predicted Chandler will play on Wednesday night against the Raptors. The center hasn't missed a beat all season through different nicks, including the flu and a virus, as he's played in all 49 games. But it will be important for
Marcus Camby
and
Rasheed Wallace
to return healthy soon to fill in minutes and add defensive depth to the Knicks' frontcourt. Woodson said recently that Wallace should practice after the All-Star break, while Camby could take a little longer to recover.
At this point, though, Woodson remains satisfied with his team.
"For the most part, we've been pretty good this season in terms of our play," he said. "I'm happy where we sit today in terms of being at the top of our division, and we want to stay there. Tomorrow's an important game. We're playing here at home. The Toronto team has been playing extremely well based on the moves that they made, bringing
Rudy Gay
over. So we've got to come ready to play a 48-minute ball game."
Amar'e Stoudemire
and
J.R. Smith
reiterated Woodson's optimistic outlook and said the team doesn't need to make any moves before the Feb. 21 trade deadline.
"We're confident with the guys we have," STAT said. "Guys are still recovering from injury. Iman [Shumpert]'s done a phenomenal job recovering from his knee injury. He's playing well; he's doing everything we ask him to do, so we're pretty solid where are are."
On whether they had the right pieces in place, Smith said, "Without a doubt."
MORE MINUTES, NOT A PROBLEM FOR MELO:
In 12 of his past 18 games -- and the past three --
Carmelo Anthony
has played 40 or more minutes. His season average is just over 38, right along with the NBA's other top five scorers:
Kevin Durant
,
Kobe Bryant
,
LeBron James
and
James Harden
.
But even with the increased minutes -- which have been needed with the Knicks still trying to reclaim their early season offensive rhythm -- Melo is feeling fine.
"There's no need for me to be thinking about that," he said. "The more I think about it, the more it starts sinking in that negativity. I don't want to do that. I know I've been playing all year. I feel good though. My body feels good for the most part, and the good thing is I came (into the season) in shape, and that's helping me out right now."
You can follow Jared Zwerling on
Twitter.
January, 20, 2013
Jan 20
5:47
PM ET
By
Jared Zwerling
| ESPNNewYork.com
GREENBURGH, N.Y. -- During the Knicks' roughly two-hour practice on Sunday, Mike Woodson organized a film viewing and conditioning session, in which
Raymond Felton
took part.
Still, the point guard hasn't taken contact yet. In terms of his return date, Woodson said he didn't know, but Felton said last week he's targeting Jan. 26 against the Sixers.
As for
Rasheed Wallace
, the coach said, "He's still rehabbing. That's about it."
Jerry Stackhouse
didn't sound too optimistic about his former college teammate's return anytime soon. He told ESPNNewYork.com on Friday, "Hopefully he gets back. It's been tough for him dealing with that issue."
A BIG ASSIST:
Last week, Woodson said
Jason Kidd
's extended minutes were "not healthy." Now that
Iman Shumpert
is back and Felton's next, Kidd knows that's a big relief.
"As time goes on, [Shumpert] will start to eat some of those minutes up for me," he said. "Also, I think when Ray gets back, that definitely helps."
FIRST TIME ALL-STAR?
The All-Star reserves will be announced on Jan. 24, and
J.R. Smith
will be considered. The nine-year veteran is averaging career highs in points (16.7), rebounds (5.1) and assists (3), and he's recently stepped up big in a point guard role since Felton got injured on Dec. 25.
"It would mean a lot, of course," Smith said. "It would be the first time I would be selected, especially as a bench player. So it would mean a lot to me and my team."
After Sunday's practice, Smith worked with Woodson and Herb Williams on different L cuts from the block. The idea was to help him improve his off-ball movement and quickly shoot off the pass without hesitation. The Knicks could run more down-screen sets for Smith.
LOOK OUT!:
Smith's younger brother, Chris, is ahead of his recovery from left patella tendon surgery. Interestingly, not only did he have tendonitis in that knee at Louisville, but he also played with a joint mouse in the area. It wasn't until he joined the Knicks that it was discovered.
The younger Smith, who still gets paid by the Knicks, plans to resume playing in April and then join the 'Bockers' summer league team in Las Vegas. Several insiders around the NBA believe he's going to be a good point guard.
MLK DAY:
On Monday, the country will celebrate the lifelong pursuits of Martin Luther King, Jr., who helped millions of people in the fight for racial equality and social justice. Woodson described how the day is special for him.
"It means a lot -- not for just African-Americans, but for all people," he said. "His stature, los(ing) his life fighting for equality and peace -- things that we're still struggling with today in our society. It says a lot, that you risk your life for something like that. Yes, it's opened the doors for me to probably be able to do a lot of things that I do today, but it's opened the doors for all people of color, and that's important."
You can follow Jared Zwerling on
Twitter.
October, 15, 2012
10/15/12
3:34
PM ET
By
Jared Zwerling
| ESPNNewYork.com
GREENBURGH, N.Y. --
Amar'e Stoudemire
returned to 5-on-5 contact drills on Monday, after missing action since Wednesday when he banged with
Chris Copeland
during practice and suffered a bruised left knee.
In addition,
J.R. Smith
returned after resting a sore left ankle for a couple of days.
"I thought they looked okay," Mike Woodson said after practice, which was televised live on NBA TV. "A little rusty in terms of their wind, running up and down, but that'll come. The way we practice every day, we get a lot of running at the top, so that would definitely zap you before you get to the scrimmage part."
Stoudemire said he was excited to scrimmage again to further develop chemistry with his teammates, especially
Raymond Felton
,
Jason Kidd
and
Pablo Prigioni
. "It's going to be a phenomenal year," Stoudemire said. "I mean, those guys are very, very great at creating offense. Having those floor generals out there, with the lineup that we have and the guys we have coming off the bench, we've got a pretty solid team."
The power forward showed off a few "jewels," as he calls his new post-up moves, but Woodson will incorporate more of that in the next few days when the Knicks intensify their scrimmaging with referees on-hand. STAT said a down-low presence will further balance out the offense.
"It's going to be very important," he said. "I think we've got an opportunity where we can take advantage of our post play. We have such great perimeter players, great shooters on the wing, so if we can establish a back-to-the-basket game to get some easy baskets in the paint, that's another element to our offense."
THE SCOOP ON SHEED:
Rasheed Wallace
increased his conditioning on Monday, doing more running baseline to baseline. There's still no timetable on his return, and Woodson wasn't definite about him being ready by Nov. 1.
"Rasheed's doing fine," Woody said. "He's starting to pick it up a little bit more in terms of getting up and down the floor with his conditioning work. It's just a matter of time before we get him back."
SIDELINE NOTES:
Steve Novak
missed his first day of practice, but not because of injury. Woodson simply gave him the day off to rest, after the sharpshooter played additional minutes against the Wizards (32) and Celtics (38).
In addition,
Marcus Camby
(left calf strain) and
Ronnie Brewer
(left medial meniscus recovery) remained inactive. Woodson said he would consult with the Knicks' training staff after practice to find out where they both stood, but he did offer a good prognosis with Brewer, who's penciled in as the starting shooting guard for opening night.
"Ronnie's getting close, that's all I can tell you," the coach said.
You can follow Jared Zwerling on
Twitter.
NBA
NHL
COLLEGE BASKETBALL
NFL