New York Knicks:

Rajon Rondo
June, 21, 2014
Jun 21
1:19
PM ET
By
Ian Begley
| ESPNNewYork.com
It seems like a long shot, but don't rule out the
Boston Celtics
as a potential home for
Carmelo Anthony
.
So says Celtics point guard
Rajon Rondo
.
The Celtics aren't on the short list of Anthony suitors, though. For one, Anthony, who is expected to opt out of his contract Monday, has said he'd like to play with a team that can contend for a championship. The Celtics seem far from championship contention.
Boston also doesn't currently have enough cap space to offer Anthony a max contract. But Rondo hinted Friday that the Celtics may position themselves to make a play for Anthony.
"You never know what (Celtics president) Danny (Ainge) is capable of doing,"
Rondo said
on ESPN's "Numbers Never Lie." "I can't tell you much. We want to turn it around next year. Danny has a lot of wiggle room the past couple of years with what he's done in the draft. Hopefully [Anthony] won't go to Chicago.
"I think after we try to get Melo and an additional piece, who knows? The sky's the limit. I plan to try to win a championship every year. With Melo, I think it's very possible."
The Celtics would need to alter their roster to create enough cap space to sign Anthony outright. Ainge could also orchestrate a sign-and-trade including some of Boston's future first-round draft picks, but there aren't many players -- other than Rondo -- whom the Knicks could justify taking back in a sign-and-trade involving Anthony.
The Bulls are widely seen as the Knicks' biggest competition for Anthony. Chicago offers a strong roster, and one of the best head coaches in the NBA in Tom Thibodeau. Rondo acknowledged as much when he said Anthony could be the "missing piece" for the Bulls.
"I hate to say it, but he just might be," Rondo said. "[Chicago] has a great center in
Joakim Noah
who holds down the paint and one of the best pick-and-roll defenders in our league. And with
Derrick Rose
coming back, you have a Big Three in Chicago. Melo could be the missing piece, but if he does do a move like that, we'll have to figure something out in Boston."
Anthony can sign a maximum contract worth $129 million for five years with the Knicks. With another team, the maximum Anthony can sign for is $96 million for four years.
February, 21, 2014
Feb 21
2:18
PM ET
By
Ian Begley
| ESPNNewYork.com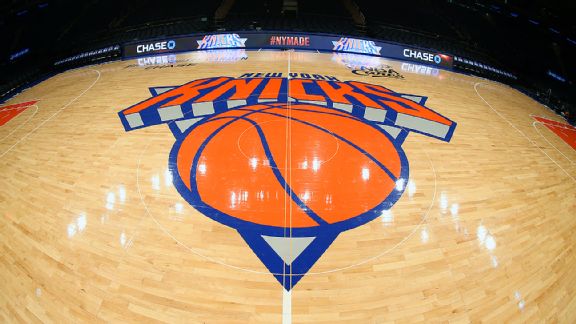 Nathaniel S. Butler/NBAE/Getty ImagesThe Knicks are on schedule to have plenty of cap space in 2015.
Here's one positive for the Knicks in the wake of their inactivity at the trade deadline: They're still on schedule to have plenty of cap space in 2015.
Remember, Steve Mills and the Knicks hope to be big players in free agency in the summer of 2015. The plan is to surround
Carmelo Anthony
with at least one additional max-level free agent.
Rajon Rondo
,
LaMarcus Aldridge
and
Kevin Love
are expected to headline the 2015 free-agent class.
Of course, the first step in that plan is to re-sign Anthony this summer.
Anthony's said that he would consider taking less money to attract other free agents to New York. The max he can sign for is five years, $129 million. Assuming he re-signs, how will that impact the Knicks' cap space going forward? And how much money will they have left over the spend on other free agents?
[+] Enlarge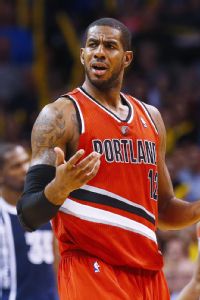 AP Photo/Sue OgrockiBlazers forward LaMarcus Aldridge is in the Knicks' sights for 2015.
With a big assist from ESPN cap guru Larry Coon, let's take a look at how re-signing Anthony would impact New York's cap situation. While Anthony has talked about taking less money to help the Knicks, for the purpose of this story, we're going to assume he signs a max deal.
2014 offseason:
If Carmelo signs a max contract, he will receive $22,458,401.
He's currently on the books for $23,333,403.
So, in 2014-15, the Knicks would actually save $875,002 on Anthony's salary. But that salary relief likely won't go toward a free agent. The Knicks are expected to be over the salary cap next summer, assuming
Andrea Bargnani
,
Amar'e Stoudemire
and
Tyson Chandler
are on the books.
So Anthony's $875,022 decrease in salary will only lessen owner James Dolan's luxury tax bill. It probably won't be spent on other players.
2015 offseason:
With Carmelo's salary that season ($24,142,7891), the Knicks are expected to have five players under contract at a total salary of $39,492,533.
This assumes that
J.R. Smith
picks up his $6,399,750 player option for 2015-16 and
Raymond Felton
picks up his $3,950,313 player option. It also assumes that the Knicks offer
Iman Shumpert
a qualifying offer of $3,695,169 (this could be higher if Shumpert meets the starter's criteria) and he accepts. Lastly, this assumes that the Knicks don't exercise the non-guaranteed option on
Pablo Prigioni
's contract.
This calculation also includes
Tim Hardaway Jr.
being on the books for $1,304,520 in 2015-16, the third year of his rookie contract.
The Knicks will also have a 2015 first-round draft pick. It's impossible to predict where this pick will fall. So for the purposes of this story, let's split the difference and assume the Knicks pick 15th.
In that case, they'd owe the rookie $1,600,200 in the 2015-16 season, based on the rookie scale.
[+] Enlarge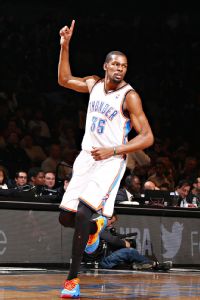 Nathaniel S. Butler/NBAE/Getty ImagesIf the Knicks sign a max player in 2015, they likely won't have the room to land Kevin Durant the following year.
Assuming the Knicks renounce their cap holds on all free agents, that would leave them with six players under contract.
With the 15th pick, the five other players under contract and six cap holds for the other roster spots ($525,093), that would bring the Knicks' total salary to $44,243,291. Their actual cap room depends on the cap that year. The 2014-15 cap is projected to be $62.9 million. For the purposes of this story, let's assume the cap that season is $65 million.
That would leave the Knicks with about $20.8 million in cap room, per Coon's calculations.
Where does that leave them with Rondo, Love, Aldridge, ect?
All three players will be eligible for the maximum contract afforded to players with 7-9 years of service. This year, the first year of a max contract for players in the 7-9 year service range was $16.44 million, per Coon's
excellent website on the CBA
. So let's ballpark the figure and put it at $18 million for 2015.
So if they sign one of these players for a contract starting at $18 million, they'll have about $3.3 million in cap room remaining. After that they'd have the "Room" mid-level exception which will be about $2.8 million. When that's gone, their only option will be minimum-salary contracts.
What about Kevin Durant?
If the Knicks added a big-name free agent in 2015, they probably wouldn't have enough room to sign Durant to a max contract in 2016.
Let's assume that they sign a player to a max contract in 2015 and use their Room mid-level exception to give out a two-year contract.
In 2016, that would leave them with $58.4 million in committed salary (including six cap holds for other roster spots), per Conn's calculations. If the salary cap is at $67 million (which is just a prediction), that would leave the Knicks with $12 million to spend. That's a healthy amount of money, but it wouldn't be enough to ink Durant to a max contract.
So to be in play for Durant in the summer of 2016, the Knicks would have to spend prudently in the summer of 2015.
You can follow Ian Begley on Twitter.
You can follow Larry Coon on Twitter.
February, 18, 2014
Feb 18
1:03
PM ET
By
Ian Begley
| ESPNNewYork.com
In their quest to upgrade the point guard position by Thursday's trade deadline, the Knicks have tried to engage the Celtics in trade discussions to acquire
Rajon Rondo
, ESPN.com's Marc Stein reported late Tuesday morning. Though, as Stein noted, the Knicks are well aware that they lack the assets to pry Rondo from the Celtics.
What it would take:
Danny Ainge and the Celtics would probably want unprotected first-round draft picks or a rising star on a cheap contract in exchange for Rondo. They'd also probably want to dump one of their long-term deals (
Gerald Wallace
?
Brandon Bass
?) in a Rondo deal.
[+] Enlarge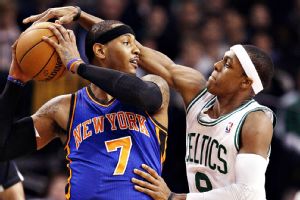 Elsa/Getty ImagesIt might be a reach, but the Knicks still want Rajon Rondo, according to Marc Stein.
The Knicks can certainly take on salary in a Rondo deal. But they can't offer the Celtics first-round picks in any draft in the near future. The next first-round pick they can deal is in 2018.
The Knicks also don't have the young, transcendent star-on-the-rise that the Celts would covet in exchange for their point guard.
They can offer
Iman Shumpert
, who has shown the ability to be a strong two-way player but has lacked consistency. They also can offer
Tim Hardaway Jr.
, the rookie shooting guard who has played well above expectations. Beyond that, they don't have a player with untapped potential on a cheap contract.
So it seems the only way this would work would be if the Knicks engaged a third team.
What about Melo?
Again, this is HIGHLY unlikely to happen before Thursday's trade deadline. But if it did, it's fair to assume that it would almost ensure that
Carmelo Anthony
stays in New York beyond this summer. Late last week, Anthony said his "first priority" is to re-sign with the Knicks after he tests free agency in the offseason.
He also has said he wants to attract other stars to his next team -- whether it's the Knicks or another outfit -- to join him in pursuit of a championship.
A point guard of Rondo's ilk certainly would make Anthony's decision to stay in New York more palatable. A report earlier this season stated that Anthony hoped to recruit Rondo to New York.
If Rondo does come to New York, he'd likely sign a long-term contract with the Knicks. Acquiring Rondo via a trade would give the Knicks Rondo's Bird Rights. If they have those, the Knicks can exceed the salary cap to sign him to an extension or as a free agent. If they waited to lure Rondo as a free agent, they'd have to make sure they had enough cap space to sign him.
For what it's worth, signing Rondo and Anthony to max deals would make it tricky to add another max-money star to the roster. But that's a problem the Knicks certainly would welcome.
Hungry for a PG:
What has become crystal clear over the past few days is how badly the Knicks want to upgrade at point guard.
They have continued
to try to pry Kyle Lowry from Toronto
. The Raptors want either Hardaway Jr. or a first-round pick in any deal for Lowry, who will be a free agent this summer. So that's a sticking point.
The Knicks also have
expressed interest in Atlanta's
Jeff Teague
. They don't appear to have the assets to land Teague on their own. League sources say a three-team deal between the Hawks, Knicks and Raptors has been discussed on a preliminary basis.
Acquiring Teague and his four-year, $32 million contract would eat into the Knicks' cap space for 2015. If they traded for Lowry and re-signed him as a free agent this summer, that also would eat into their 2015 cap space.
Question:
Do you think the Knicks should go all-in to trade for a point guard before Thursday's deadline? Or should they wait to acquire one via free agency?
You can follow Ian Begley on Twitter.
December, 26, 2013
12/26/13
5:32
PM ET
By
Ian Begley
| ESPNNewYork.com
As Brian Windhorst reported in this
astute look
at the Knicks' future plans, New York's management is targeting
Rajon Rondo
. But they don't want to wait until Rondo's potential free-agency. Their hope is that he demands that the Celtics trade him to New York.
ESPN Insider Tom Haberstroh calls that idea a pipe dream in his latest piece.
Writes Habestroh:
Let's take a look at the Knicks' trade assets that might interest Celtics president Danny Ainge in exchange for Rondo's services.

Let's see ...
... still looking ...

OK, this is harder than I thought. Maybe Tim Hardaway Jr., a solid rookie who comes off the bench for a 9-19 team? Iman Shumpert, whose career is going backward after ACL surgery 20 months ago? The Knicks could make their draft picks available, but that cupboard is increasingly bare. They've already sent their 2014 and 2016 picks away to Denver and Toronto, respectively.

...

Even if the Celtics wanted to move Rondo, why would they choose New York, which might be the least attractive trade partner in the league?
Click here
for the full story (Insider).
You can follow Ian Begley on Twitter.
January, 27, 2013
1/27/13
8:26
PM ET
By
Ian Begley
| ESPNNewYork.com
As soon as
Iman Shumpert
heard about
Rajon Rondo
's ACL tear, he reached for his left knee and rubbed it.
Shumpert, who recently returned from a torn left ACL, feels Rondo's pain.
"I just feel bad for him. I just feel real bad for him," the Knicks' second-year guard said. "I don't know. I just grab mine every time I hear about it. When (Hawks guard)
Lou (Williams)
tore his, ah, I know the feeling."
Rondo's ACL tear, announced by the Celtics on Sunday, changes the complexion of the race in the Atlantic Division. But the Knicks didn't want to talk about the implications of the injury on the division race on Sunday.
They just expressed sympathy and concern for Rondo.
"I don't know what's going on with our players but we've had more ACL injuries in the last year and a half than I can ever remember," Mike Woodson said in reference to Chicago's
Derrick Rose
, Shumpert and Atlanta's Lou Williams. "I don't wish that injury on anybody. If anybody can bounce back, Rondo will."
Shumpert, who missed eight months after tearing his right ACL in Game 1 of the Knicks' first-round series against Miami, didn't have any specific advice for Rondo, who is on the brink of a grueling rehab.
"It's tough. There ain't really no way around it," said Shumpert, who returned to the floor on Jan. 17. "You've just got to work every day. But he's going to do that though -- it's Rondo."
January, 7, 2013
1/07/13
4:57
PM ET
By
Ian Begley
| ESPNNewYork.com
The Knicks will face a Celtics team on Monday that's missing its best player.
Rajon Rondo
has been suspended one game for making contact with a game official and failure to cooperate with a league investigation, the league announced Monday afternoon.
The incident involving the official occurred in the third quarter of the Celtics' 89-81 victory over the
Atlanta Hawks
on Saturday at Philips Arena.
Rondo leads the league with an average of 11.3 assists per game and is sixth in steals.
With
Raymond Felton
sidelined with a fractured right pinky,
Jason Kidd
and
Pablo Prigioni
would have been forced to guard Rondo on Monday night, so the Knicks have caught a huge break against a Celtics team that has struggled for much of the season.
March, 4, 2012
3/04/12
7:04
PM ET
By
Ian Begley
| ESPNNewYork.com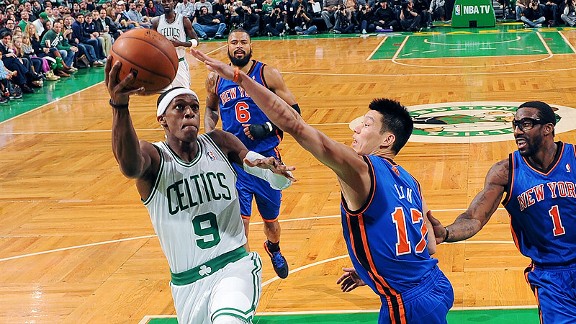 Brian Babineau/NBAE/Getty Images
You don't have to be a Harvard grad to figure out that
Rajon Rondo
outplayed
Jeremy Lin
on Sunday.
The math is pretty simple.
Rondo had 18 points, 17 rebounds and 20 assists.
Lin finished with 14 points, four rebounds and five assists. He also had six turnovers.
Advantage: Rondo.
"There aren't many guards, maybe [there are] no guards, who can put up something like that," Lin said of Rondo's line.
He's right.
No one's had at least 17 points, 17 rebounds and 17 assists since
Magic Johnson
did it in 1989. He had 24 points, 17 assists and 17 rebounds.
No player has had a better line across the board than Rondo's since
Wilt Chamberlain
had 22 points, 25 rebounds and 21 assists in 1968.
"He's one of the best in the league," Lin said.
Rondo was also best when it mattered most on Sunday: He had five points, five rebounds and two assists in overtime.
He found
Ray Allen
for an open 3-pointer and a layup in transition. The two baskets gave Boston a 110-105 lead.
Lin, on the other hand, went 1-for-7 with two assists and a steal in the extra frame.
"The thing about Jeremy, he's gonna make some mistakes, and he's got a learning curve,"
Mike D'Antoni
said. "There's no way you can throw him in here … and expect it to be perfect."
Lin struggled in the first half. He was held to just two points and two assists because of foul trouble.
"That's going to hurt your rhythm and momentum," Lin said.
Sunday was the 13th start of Lin's young career. It was his first trip to Boston since Feb. 3 -- the night before Linsanity started.
A reporter asked Lin to compare his last game in Boston -- when he had two points, two fouls and a turnover in seven minutes -- to Sunday afternoon.
"I was a little more comfortable but still not where I want to get to," he said.
It wasn't all bad for Lin against Boston.
He bounced back from a rough first half to score six straight points late in the fourth, helping the Knicks claw back. Lin's layup and 3-pointer on consecutive possessions cut the Celtics' lead to 96-95.
"He's going to be good," D'Antoni said. "It's just a matter of going through some learning experiences."
Consider Sunday one of those learning experiences. And consider Rondo an unforgiving teacher.
March, 3, 2012
3/03/12
11:44
AM ET


Bob Cousy, point guard emeritus of the Boston Celtics, agrees that his old team has its share of problems. He just doesn't count Rajon Rondo among them.

Cousy believes Celtics GM Danny Ainge would be making a big mistake if he trades Rondo by the March 15 deadline.

"I'm out of the loop, but boy, unless he's a serial killer on the side I wouldn't let this kid go," Cousy said by phone. "I don't know where you'd find a better point guard."

The 83-year-old Hall of Famer conceded that Rondo, a three-time All-Star, is a poor perimeter shooter who struggles from the foul line, but said, "He overcomes that because he's such a strong penetrator and a good finisher. He sees the floor well, he's a force on both backboards, and he's an excellent defender for that position. I think he touches all the bases."

ESPN The Magazine's Chris Broussard cited sources saying Boston is aggressively trying to move the 26-year-old Rondo and his high-maintenance ways, a report Ainge and coach Doc Rivers denied. The Celtics did consider dealing Rondo in past trade talks with Golden State (for Stephen Curry) and New Orleans (for Chris Paul).

Cousy doesn't view the playmaker as Boston's most pressing concern, not with the advanced age of the team's Big Three -- Kevin Garnett, Paul Pierce and Ray Allen -- threatening to keep the Celtics from legitimate title contention.

"They're in the middle," Cousy said, "and the worst place to finish in this league is in the middle. ... I don't see how trading Rondo would help. Good young point guards are very hard to find."
December, 23, 2011
12/23/11
12:32
PM ET
By
Ian Begley
| ESPNNewYork.com
Fans waited patiently [or not so patiently] through a 149-day lockout for this: the opening tip of the 2011-2012 NBA season.
The Knicks will get things started with a home game against the Celtics on Sunday. Boston swept New York in the first round of the playoffs last season, but
Doc Rivers
brings a different cast of characters into the Garden on Christmas Day. No
Jeff Green
, no
Glen Davis
, and the "Big Three" are a precious year older.
The Knicks, of course, have issues of their own: an unsettled situation at point guard, and the challenge of adding new pieces like
Tyson Chandler
and
Mike Bibby
in a shortened training camp, just to name a couple.
With that in mind, here's a look at what to watch for on Sunday:
MEN IN THE MIDDLE:
With the Celtics lacking a game-changing talent at center (
Jermaine O'Neal
and
Greg Stiemsma
are their current options at the '5'), it will be interesting to see what kind of impact Chandler has in the middle. Chandler was brought in specifically to lift the Knicks out of their defensive doldrums -- on average, they allowed opponents to score more than 45 points in the paint last year and were out rebounded by 3.5 boards per game. We get to see how Chandler changes the defense for the first time on Sunday.
POINT, COUNTERPOINT:
One of the biggest question marks for the Knicks coming into the season is this: Who will settle in as the starting point guard?
Toney Douglas
is penciled in as the starter, but much of the uncertainty over Douglas' ability to handle the role stems from what he did in the 2011 playoffs. Simply put, Boston's
Rajon Rondo
ate him for lunch.
In the three games Douglas started in place of the injured
Chauncey Billups
, the Knicks were outscored by 41 points with Douglas on the floor. Rondo averaged 22 points and 13 assists in those three games.
Can Douglas -- who is generally known as a talented perimeter defender -- do anything to slow Rondo on Sunday?
Mike D'Antoni
and assistant
Mike Woodson
need to come up with a creative way to stymie the Celtics' lead guard.
CAN AMARE AND CARMELO COEXIST?
There were times last season where
Amare Stoudemire
and
Carmelo Anthony
didn't exactly look comfortable on the floor with one another. Sure, they both finished in the top six in the league in scoring, but Stoudemire's average dipped nearly three points per game after Anthony arrived. Both players have downplayed any questions about their chemistry during the preseason. The normally affable Anthony stated that he flat-out didn't want to entertain questions about the subject earlier in training camp.
Of course, Anthony and Stoudemire can put the topic to rest by developing a cohesion in D'Antoni's half-court sets. We'll see if they start off on the right foot on Sunday afternoon. Also, if
Paul Pierce
doesn't play, it will be interesting to see if the Knicks can take advantage on both ends.
ROOKIE WATCH:
Rookies
Iman Shumpert
and
Josh Harrellson
have impressed their teammates and the coaching staff with aggressive play during the preseason. Will that continue when the curtain comes up for the regular season? Shumpert, and to a lesser degree, Harrellson, are expected to play pivotal roles on the second unit.
You can follow Ian Begley on Twitter.