New York Knicks:

Ray Felton
November, 23, 2013
11/23/13
4:39
PM ET
By
Ian Begley
| ESPNNewYork.com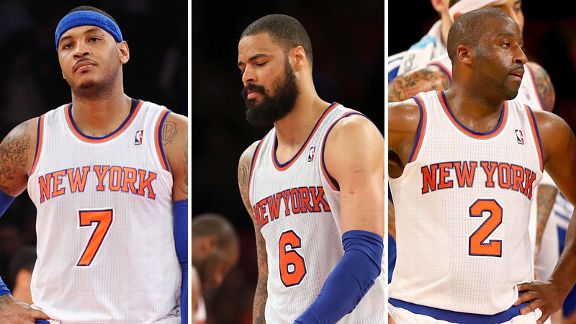 Getty ImagesCarmelo Anthony's time on the court -- and Tyson Chandler and Raymond Felton's time off it -- has contributed to the Knicks' struggles on offense this season.
The Knicks had the third-best offense in the NBA last season. This season? Not quite.
New York enters play Saturday ranked 24th in points per possession.
So what's behind the steep drop-off? Here's a brief look at three factors that seem to be hurting the team:
1. Too much isolation:
Entering play Wednesday, the Knicks led the NBA in percentage of isolation plays (13.2) but ranked 23rd in points per play in isolation (0.75), per Synergy Sports.
Those numbers may have changed slightly following the Knicks' overtime loss to Indy, but the question remains: Are the Knicks running too much isolation?
Carmelo Anthony
and
J.R. Smith
thrive in isolation. Both players had success in such settings last season. But without the threat of the
Raymond Felton
/
Tyson Chandler
pick-and-roll, the isolation offense seems to be less effective.
Just take a look at these numbers on Anthony, per ESPN Stats & Information:
Prior to the Pacers game, Anthony was averaging 25.7 points, fourth most in the NBA. But among the 149 players who had logged at least 100 plays prior to Wednesday, Anthony ranked tied for 79th in points per play -- pretty dismal. The three players who were ahead of Anthony in scoring average prior to Wednesday's games (
Kevin Durant
,
Kevin Love
and
LeBron James
) ranked in the top 20 in points per play.
2. Where's the pick-and-roll?
Last season, the Knicks used the Felton-Chandler pick-and-roll to create opportunities at the rim for Chandler or open looks on the perimeter. They ranked third in the NBA in points per play on pick-and-roll opportunities, per ESPN Stats & Info.
With Chandler and Felton out due to injury -- and Felton at less than 100 percent when he was playing -- the Knicks' pick-and-roll has fallen off the map.
Entering play Wednesday, the Knicks ranked 25th in points per play on the pick-and-roll (0.79), per ESPN Stats & Info.
They were 27th in points per game on pick-and-roll plays (23) and 26th in field goal percentage on pick-and-roll plays (36.8).
Their pick-and-roll defense has also been an issue.
Entering play Wednesday, they had allowed the fewest points per game on pick-and-roll plays (21.9) in the NBA. But you have to wonder why teams don't use the pick-and-roll more often against New York.
Woodson's club allowed 0.86 points per play on pick-and-roll plays prior to Wednesday's loss to Indy. That's the 18th-highest per-play rate in the league. (These numbers include passes off pick-and-rolls that lead to a shot attempt, free throw or turnover.)
3. What happened to the 3-for-all?
The Knicks set an NBA record by attempting 2,371 3-pointers and making 891 last season.
This season, they are shooting 25.7 per game and are on pace to shoot 2,110. That's a steep decline. They are making 8.3 per game and are on pace to make 678, another huge decline.
Personnel has a lot to do with it. Three-point shooters
Steve Novak
, Jason Kidd and
Chris Copeland
are no longer on the roster. But the Knicks don't seem to be getting the same clean looks as they were last season.
According to Elias, they entered play Friday shooting 19.6 percent on corner 3s, the worst mark in the NBA. That would also be the worst mark over the past 15 seasons. It's a sign that the ball movement isn't as good as it was last season. It also tells you the Knicks have been less effective at exploiting double-teams.
You can follow Ian Begley on Twitter.
August, 15, 2012
8/15/12
1:03
PM ET
By
Ian Begley
| ESPNNewYork.com
One of the biggest questions for the Knicks heading into this season surrounds point guard
Raymond Felton
.
Which Felton will show up in October? A slimmed-down facsimile of the player we saw in 2010? Or the point guard who reportedly struggled with his weight throughout an underwhelming 2011-12 season?
There's no way to answer that question in mid-August, of course.
[+] Enlarge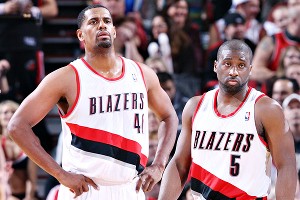 Sam Forencich/NBAE/Getty ImagesKurt Thomas and Raymond Felton, teammates in Portland last season, have returned to the Knicks.
But veteran
Kurt Thomas
spoke recently with Felton and believes the point guard is motivated entering his second stint with the Knicks.
"He's definitely motivated, he's definitely excited, he definitely wants to come back to New York," Thomas, who was dealt from Portland to New York along with Felton in a sign-and-trade, told ESPNNewYork by phone on Tuesday. "He's looking forward to this season."
And so is Thomas.
The 17-year veteran, like Felton, is back for his second stint with the Knicks.
He was "completely surprised" when he first heard he was headed back to New York.
"I didn't have any idea something like this would happen," he said. "But I'm definitely excited and really looking forward to the opportunity."
At the time of the trade, many assumed that Thomas would not get significant playing time in New York this year.
Thomas, however, hopes and expects to contribute.
"I play to my strengths," Thomas, 39, said. "I don't try to play outside of what I can do on the floor. I'm a guy who's known for playing defense, rebounding the ball (and) a guy who can shoot the ball."
Thomas averaged 3.5 points and 3 rebounds last season in 15 minutes per night. In 2010-11, he scored 4.1 points and pulled down 5.7 rebounds in 23 minutes per game for Chicago.
Thomas will be the oldest player on the Knicks' roster, but not by much. New York also acquired veterans
Marcus Camby
(38) and
Jason Kidd
(39) this summer.
Thomas called the offseason moves a "step in the right direction."
He believes that the new veterans can have a positive effect on the Knicks' locker room.
"You help your teammates get through tough situations, so I think that's definitely a positive," he said.
Thomas, of course, is no stranger to the Knicks' locker room.
He played in New York from 1998-2005, filling a key role on the 1999 team that made a surprise run to the NBA Finals.
"During that time, the city was definitely rocking it was definitely exciting," said Thomas, who is 19th on the Knicks' all-time scoring list, eighth in rebounds and fourth in blocked shots. "The fans of New York are incredible, they really support the Knicks. ... It was a great opportunity and hopefully we can create it again."
In order to get anywhere near the Finals this year, the Knicks will need Felton to be bounce back from his sub-par 2011-12 season, when he averaged 11.5 points and 6.5 assists, and shot 41 percent from the field for Portland.
Thomas believes that Felton, a seven-year veteran, can regain the form he showed in New York in 2010 (17 ppg, 9 apg).
"Ray has been doing this in the league for at least 7 years now and I think he's a capable guard," Thomas said. "He showed that in his first stint there in New York and I'm pretty sure he's going to do even better the second time around."
Felton, whom the Knicks obtained instead of matching Houston's three-year, $25.1 million offer sheet to
Jeremy Lin
, would probably agree with Thomas' assessment. He told MSG Network in July that he looks forward to "shutting up" his critics from last season.
"Not making no excuses, it was a lockout," he told
the network
. "I'm the first one to say: I wasn't in shape. I'm the first one to say that. I don't make no excuses, I don't blame nobody else.
"That's all I'm hearing from everybody. 'Oh, he wasn't in shape last year.' I've played in the league seven years, about to be eight, I came in out of shape one year and that's all anybody wants to talk about. ... If that's all everybody wants to talk about, I look forward to this year to shutting up everybody's mouth."
THOMAS ON 2012-13 EXPECTATIONS: Thomas wasn't around the Knicks last season, so he wanted to reserve comment on the team until he gets a chance to work out with everyone during training camp.
But he believes the Knicks have what it takes to take a step forward from last season, which ended when the Knicks lost in the first round of the playoffs to the Heat, 4-1. And he knows expectations are high.
"Playing in New York, they don't expect anything less than a championship," he said. "You definitely try to build from the year before. Making it to the playoffs, that was big. Getting the first (playoff) win in ten years, that was big. But now it's about trying to get to that second round and keep going."
Thomas also talked about the Knicks' trip to the '99 Finals, which he said was one of his best memories as a Knick.
"It was an incredible run, it ewas an incredible ride. There was definitely a great excitement in New York and I would love to see that happen again," he said.
You can follow follow Ian Begley on Twitter.
NBA
NHL
COLLEGE BASKETBALL
MLB
MLS