New York Knicks:

Renaldo Balkman
March, 11, 2013
3/11/13
8:31
PM ET
By
Jared Zwerling
| ESPNNewYork.com
[+] Enlarge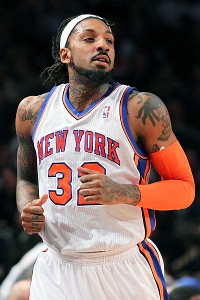 Anthony Gruppuso/USA TODAY SportsRenaldo Balkman
Bye, bye, Balkman.
Three days after ex-Knicks forward
Renaldo Balkman
lost his cool overseas in a game,
choking a teammate
who was apparently trying to restrain him from attacking a referee, he has received a lifetime ban from the Philippine Basketball Association.
Balkman, a former first-round pick (20th overall) by the
New York Knicks
in the 2006 NBA draft, had been playing for the Petron Blaze Boosters in the PBA. He apologized for the incident on his Twitter account, but was still handed the harsh punishment, which included a $6,100 fine.
PBA commissioner Chito Salud said that he took into consideration Balkman's past playing history, which included a head-butting incident during a FIBA-Americas game between his Puerto Rico team and Venezuela.
"I do encourage passion for the game, but I also want to firmly instill a culture of accountability among our players," Salud said in a statement on Monday. "If one does something that violates the rules and the norms of sportsmanship, and decent behavior, he will be made accountable."
You can follow Jared Zwerling on
Twitter.
December, 14, 2011
12/14/11
1:06
PM ET
By
Jared Zwerling
| ESPNNewYork.com
NEW YORK --
Carmelo Anthony
was participating in practice after sitting out a day with a hyperextended knee, suffered Monday when he became entangled with a teammate.
Melo said he will "absolutely" suit up for the Knicks' first preseason game Saturday in New Jersey against the Nets.
"I feel much better," Anthony said Wednesday. "I think yesterday the treatment that I got, the workout that I did, just resting a little bit, really helped out. I feel good."
Anthony said the injury was initially scary because it involved his left knee, which was surgically repaired in the offseason.
Mike D'Antoni
, who said his top scorer is "ready to go," understands the additional precautions necessary with a shortened season ahead.
"That's the biggest thing -- just dealing with injuries and make sure that you don't compensate the situation by trying to go too far too fast during the preseason," he said. "You try not to play them too many minutes during the regular season."
"I think guys have to be careful with injuries," center
Tyson Chandler
said. "There are so many games back-to-back. The rest times are limited. A lot of the rest time is travel time. I think you have to beware of how you protect yourself."
Chandler knows about delayed recoveries. Starting in the 2006-07 season, he dealt with soreness in his left big toe. The pain escalated and became a lingering turf-toe condition. After playing just 45 and 51 games in 2008-09 and 2009-10, he was healthy during the Mavericks' title run last season, missing just eight regular-season games.
In other injury-related news,
Bill Walker
sat out his second straight day with a strained left groin, and
Renaldo Balkman
was sidelined with a sore right knee.
Regarding Walker, D'Antoni said, "I think it's serious because he missed two practices. Does that mean he's out for another two days? I don't know that. I think he's day to day. Hopefully he responds to the treatment and gets back in there as soon as he can."
You can follow Jared Zwerling on
Twitter.
November, 28, 2011
11/28/11
10:00
AM ET
The amnesty clause would have been Knicks owner
James Dolan
's dream come true a couple years ago.
Just think: he could have taken one of
Isiah Thomas
' big-name acquisitions and wiped him off the books.
Eddy Curry
?
Jared Jeffries
?
Jerome James
?
One of those guys would've been no-brainers to be waived in, say, 2008. Unfortunately for Dolan, there was no amnesty available back then.
But what about the Knicks current roster?
Who will the team choose to ax with its amnesty clause -- which allows teams to waive a player and subtract his salary from the cap total -- if it's used at all this season?
Let's take a look at who could get the hook
if
the clause makes it into the ratified collective bargaining agreement:
Renaldo Balkman
: As ESPN's Chad Ford and Marc Stein
point out
, Balkman is the most likely candidate to be clipped if the Knicks use the clause this season.
Balkman played just 11 minutes in 32 games with the Knicks last season after coming over in the
Carmelo Anthony
trade. Heck, he played only 60 minutes in total last year. He is due to make $1.675 million this season and $1.675 in 2012-2013. While Balkman is an effective rebounder, he struggles in the half-court offense and is unlikely to develop into more than an end-of-bench piece for the Knicks. Look for him to be dropped if the amnesty clause comes to fruition.
Ronny Turiaf
: Turiaf plays with plenty of energy. But, too often, he's an offensive liability. He's also undersized at center and injury-prone. Couple that with the fact that he's on the books for $4.3 million next season via a player option, and Turiaf looks like a legitimate amnesty candidate.
But his contract will come off the books at the end of the year, so it seems that Balkman -- and his two-year deal -- is a more attractive amnesty option. Plus, the Knicks are desperate for size under the basket. And while Turiaf isn't the answer to that problem, he can at least be a part of the solution.
Bill Walker
: Walker is set to make a little over $900,000 this year, the last on his current contract. He's a lights-out long-range shooter (he's hit 40% of his 3-point attempts in two years as a Knick) and can finish around the basket. And while Walker struggles defensively, he's probably the least likely among the three candidates mentioned here to be clipped. After all, the Knicks can use perimeter shooters. And Walker's contract is off the books at the end of the season.
Save it for later:
One thing to remember when thinking about the amnesty clause: According to
reports
, teams will be permitted to use the amnesty clause one time over the entire life of the CBA (a 10-year deal with opt-outs after year six). So the Knicks may want to hang onto their amnesty option for a future date.
Question: Who would you use the amnesty clause on? Would you wait to use it at a later date?
Let us know in the comments section below.
* -
Side note on the amnesty clause: The 2005 CBA also contained an amnesty clause that allowed teams to waive a player. The player's salary counted against the cap but did not count toward the luxury tax.

The clause was dubbed "The Allan Houston Rule" because it was widely assumed that the Knicks would use it to waive the chronically-injured and well-compensated shooting guard. But they instead cut Jerome Williams.
May, 25, 2011
5/25/11
6:54
PM ET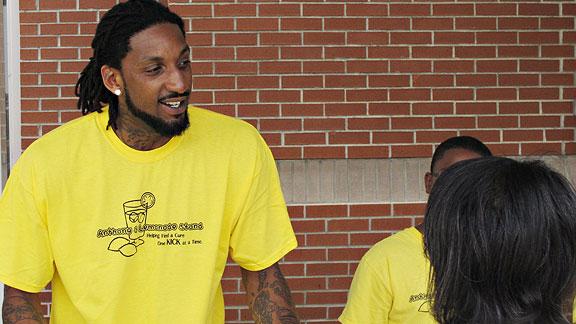 AP Photo/Jeffrey CollinsKnicks forward Renaldo Balkman helps customers at Anthony's Lemonade Stand.
COLUMBIA, S.C. -- New York Knicks forward
Renaldo Balkman
helped turn lemons into lemonade Wednesday as part of a seventh-grader's efforts to help those afflicted with cancer.
Balkman took orders behind the table at Anthony's Lemonade Stand, 13-year-old
Anthony Frederick
's fundraiser for cancer research. The teenager's mother, Dru Frederick, was diagnosed with breast cancer five years ago. His father, Tony, is currently undergoing chemotherapy for leukemia.
Balkman, a former South Carolina Gamecock, heard about the family through one of his old classmates and wanted to help. The 6-foot-8 Balkman handed out cold cups of lemonade, posed for pictures and shook hands with those stopping by at Dent Middle School.
"I figured I could come down and help them raise money," Balkman said.
Frederick's father is a colonel stationed at nearby Fort Jackson and Army personnel were also on hand, as were some members of the South Carolina women's basketball team.
The Frederick family and volunteers were also registering potential bone marrow donors.
Tony Frederick
is awaiting a matching bone marrow donor.
Anthony Frederick has raised more than $17,000 through his lemonade sales, T-shirt and toy sales the past five years.
Dru Frederick
said when she first learned of her disease, she was as open as possible with her then-8-year-old son and explained the facts without embellishment. Anthony was bit scared at first, but soon began to come up with ways to help his mom.
Frederick went door-to-door selling lemonade and his beloved toy trucks. He and his younger sister Harmonie sold their school pictures to family members.
With Dru Frederick's cancer in check, Anthony did not want to abandon his fight. He said there were other families in similar situations needing help. "I thought I could bring more people into it," the teenager said.
So he began the group, "Kids Inspired by Cancer Kampaign" (KICK) with friends to continue fundraising. The group had set up a table of modestly priced toys, like a plush Alf doll and a Monopoly game.
T-shirts were being sold by Gamecocks women's basketball players
Ashley Bruner, Imani Sellers
and
Ebony Wilson
.
Balkman said he returns to Columbia every once in a while to catch up with old teammates like
Carlos Powell
and
Brandon Wallace
. This time, he was glad to spend some time supporting Anthony's Lemonade Stand.
"Selling his toys, what kind of kid does that?" Balkman said in wonder. "That means a lot."
Balkman left the Gamecocks after his junior season and was a surprise first-round selection by the Knicks in 2006. He was traded to Denver before the 2008-09 season, then returned to New York this past February in the deal that brought
Carmelo Anthony
and
Chauncey Billups
to Madison Square Garden.
Balkman was part of South Carolina's back-to-back NIT championship teams in 2005 and 2006 and became a crowd favorite for his high-energy play. He appeared in only eight games combined for New York and Denver last season and is ready to fully resume his NBA career.
"I feel like a gorilla behind a cage," Balkman said. "When you let me out, I'm just going to do what I've got to do to get back out in the wild."