New York Knicks:

Roger Mason Jr.
October, 28, 2011
10/28/11
7:08
PM ET
By
Jared Zwerling
| ESPNNewYork.com
NEW YORK -- On the way out of a midtown New York City hotel where Friday's NBA labor talks were taking place, Knicks guard and union VP
Roger Mason Jr.
said he's putting off his charity game until potentially a later date.
"We're trying to get a deal done," Mason Jr. said.
He had originally planned to host a showcase on Saturday at his alma mater's gym, University of Virginia's John Paul Jones Arena, where former ACC stars, who are now in the NBA, would have faced an NBA-select team featuring
Kevin Durant
,
Rudy Gay
and
John Wall
. Proceeds from the event would have gone to a charity Mason Jr. is involved with, the Rock and Roll Hall of Fame Foundation.
On Friday afternoon, around 5 p.m. in the hotel lobby, Mason Jr. stood next to NBPA VP
Maurice Evans
as the union's executive director,
Billy Hunter
, and president,
Derek Fisher
, addressed the media. It was an unusually early dismissal from the two previous days of negotiations, with the first one ending at 3:30 a.m. on Thursday and the second ending at 9:30 p.m. yesterday.
Hunter and Fisher said system and economic issues were both discussed on Friday, and the reason for the break was that the owners put out a "take it or leave it" on a 50/50 BRI split, but the players stood strong on 52 percent.
"We've already made a lot of concessions," said Fisher, who mentioned the union dropped from 53 percent. "We're not sure when we'll meet again, but we're going to try and close it out."
After Hunter said there's a high probability that more games will be canceled, league commissioner
David Stern
confirmed during his press conference with his right-hand man,
Adam Silver
, that November's entire schedule would be nixed.
"We need about a 30-day window to get games underway," Stern said. "The cancellations aren't punitive, but calendar-generated. It's not practical, possible or prudent to have a full season now under any circumstances."
Stern said that both sides made "major progress" on several system issues, such as length of guaranteed contracts and exceptions for
Larry Bird
rights, but he reiterated what Hunter said: it came down to the revenue split. After the league once again pushed for 50/50, Hunter closed his notebook and walked out of the room.
"We need to be in a profit situation," Stern said. "We believe 50/50 will be the most profitable for us."
No further meetings are scheduled.
You can follow Jared Zwerling on
Twitter.
October, 10, 2011
10/10/11
12:00
PM ET
By
Jared Zwerling
| ESPNNewYork.com
The extended NBA offseason has witnessed superstar showcases in Philadelphia, Winston-Salem and most recently Miami on Saturday, headlined by frequent participants
Carmelo Anthony
,
LeBron James
and
Chris Paul
.
Could New York City steal the thunder on the East Coast? On Saturday, Anthony tweeted "BTW working on an #Epic exhibition/charity game in NYC......Showtime!!!!!! #NP "I'm Comin Home."
According to the New York Post,
Melo believes he, James, Paul and
Dwyane Wade
and other friends will join forces in the Big Apple, especially because he doesn't see the lockout being resolved today. If that's the case, the first two weeks of the regular season will be canceled.
"I don't think anything is going to happen between now and Monday," Anthony said on Saturday in Miami. "So we've just got to be prepared for that, be prepared for the lockout for the first two weeks and see where all this is going.
"It's sad all the way across. It's [sad] for us as players. It's sad for the owners. It's sad for the fans of the NBA." ... "If they want to lock us out [longer tan two weeks], we're sticking together."
Sticking together by keeping the sold-out All-Star tour going.
Even
Roger Mason Jr.
is planning to capitalize on the trend. If the lockout continues, he'll be organizing a charity game on Oct. 29 at his alma mater's gym, University of Virginia's John Paul Jones Arena, where former ACC stars, who are now in the NBA, will face an NBA-select team featuring
Kevin Durant
,
Rudy Gay
and
John Wall
. Proceeds from the event will go to a charity Mason Jr. is involved with, the Rock and Roll Hall of Fame Foundation.
You can follow Jared Zwerling on
Twitter.
July, 5, 2011
7/05/11
3:42
PM ET
By
Jared Zwerling
| ESPNNewYork.com
This morning, I caught up with NBA players' union vice president
Roger Mason Jr.
to get his take on the lockout, the final week of negotiations and what we should expect moving forward. Here's my conversation with the Knicks shooting guard.
Zwerling: Now that you've had the holiday weekend to digest that the lockout's in effect, what are your feelings right now?

Mason Jr.: This is what we all kind of thought it would come to, just given the fact that we're so far apart. It's no fun looking online and seeing the restrictions, and not being able to speak to a lot of the guys that you've been friends with in management. That kind of stinks because the summer's when you're bouncing ideas off about the team and talking basketball. So for the basketball lover, it stinks.
JZ: There seemed to be some optimism with about a week to go before the CBA expired. What changed and what were the last few days of meetings like?
RM: It was amicable, but I think both sides realized that right now what the owners are looking for and what the players are willing to do is just too far apart. While everyone in the room was cordial and hoping that we can work something out, it kind of is what it is from making a deal standpoint, and we'll see what happens over the next few weeks. We're going to continue to try to get together and see if we can find a common ground.
JZ: Was there any kind of rush from either side to get a deal done?
RM: Yeah, everybody had a sense of urgency I think. The players wanted to get a deal done, but I know from the players' standpoint, we weren't going to just do a deal that was going to be bad for not only guys now, but for future players coming into the league. I don't think anybody wanted to do a deal that would compromise the ability that we've all had to make a living and play with guaranteed contracts without a hard cap.
JZ: What was the biggest positive coming out of the final meetings?
RM: They know where we stand and we know where the NBA stands, and I think the biggest thing now is rolling our sleeves up and trying to work through it. It's always positive to know that both sides want to make a deal. I don't think anybody wants this to last throughout the whole year, so I guess that's the biggest positive you can take from it.
JZ: Were agreeing on a salary cap number and how to split the BRI (Basketball Related Income) still the two main issues on the table?
RM: At the end of the day, it always comes down to money. There are system issues that we're dealing with as far as the hard cap, which they're calling a flex cap; we're calling it a hard cap. And then there are issues with money. It comes down to that. The owners want a guaranteed profit every year and I don't really know any business that you can go into and guarantee yourself a profit year in and year out, but that's what the owners want. It doesn't seem that fair or realistic. They want a system that controls their spending, where you have teams that have done a good job controlling their spending. Look at the San Antonio Spurs. Over the years, they've shown that good management and good use of free agent dollars can result in championships without spending a whole lot of money.
JZ: Do you think the NBA's report that 22 teams were in the red accurate?
RM: We're not out here questioning their books, so do we think that 22 teams lost money because of the system? No, we don't feel like the system is the reason that 22 teams lost money.
JZ: When will negotiations reconvene?


RM: I think we're regrouping in a little bit and then we're going to schedule some meetings in the not-distant future, so we can try to get this thing resolved. The game is in too good of a place right now and the fan base is too critical for us to mess around. I think everybody understands that. Nobody wants to be in the situation that we're in now, but it's going to take some work, that's for sure.
JZ: What are you hearing from the players as far as what they may do now?
RM: It varies. Our league has changed and you've got dynamic characters and people who do other things and have other businesses. Some guys are going to go over to Europe and others are going to wait it out. I think there's a wide variety of what guys will do. The common theme between all the players is that we're going to stay together and we're going to make sure that we leave this game in a healthy spot.
JZ: How about for you personally?
RM: I'll continue to work out and prepare myself as though we're going to have a season October 1st. I'm continuing my other career with the music. My music is taking off for me. But I'm proceeding like we're going to have a season and I guess that's the optimism in me.
JZ: Do you think something will get resolved before the season starts?
RM: It's hard to tell because you don't know what from the owners have in mind as far as their bottom line with the deal. I know that there are certain things that us as players that we're not going to be able to let off. Hopefully we'll be able to continue to work through these issues and come to a resolution.
JZ: What do you have to say to fans who are worried about the league's future this season?
RM: We appreciate their support because a lot of fans have been supportive of the players, and a lot of times it's easy to say that the players are being greedy and these things are happening. I would just say continue to support the idea of having a season. I don't want to put the blame on anyone, but we have a responsibility to try to get something done. I just want the fans to know that every guy in the NBA wants to be able to go out there on the hardwood and play for each respective city and fan base. We're trying to get something done.
You can follow Jared Zwerling on
Twitter.
June, 12, 2011
6/12/11
4:13
PM ET
By
Jared Zwerling
| ESPNNewYork.com
As I reported on Thursday,
NBA players' union vice president
Roger Mason Jr.
told me that the owners and players are still far apart on a new collective bargaining agreement. "I'm hopeful," Mason Jr. said, "but right now the gap is pretty wide as far as the league and the latest proposal that they gave us, and what we're willing to do as players."
Talks resume in Miami this week, the site of Game 6 and a potential Game 7 on Tuesday night of the NBA Finals. Mason Jr. is part of a seven-member players' committee, headed up by NBPA executive director
Billy Hunter
, which also includes president and Lakers point guard
Derek Fisher
, Hornets point guard
Chris Paul
, Spurs power forward
Matt Bonner
, Bucks point guard
Keyon Dooling
, Wizards swingman
Maurice Evans
and Lakers center
Theo Ratliff
.
Mason Jr. shed some interesting light into the meetings.
"There are usually 10 to 14 NBA owners in the room and [league commissioner]
David Stern
, [deputy commissioner and chief operating officer]
Adam Silver
, [president of league operations]
Joel Litvin
-- the top five NBA officials. Just like the players have a board, the owners have a board of about 14 to 15 owners who represent the league's ownership. You sit around a big conference room table and we negotiate. I might grab the mic and speak on how a lot of the guys in the league feel about a certain issue, and they may speak out about how they feel about another issue. There's a dialogue going back and forth. There are lawyers from the NBA and lawyers from the PA that are there who have ideas that they throw out. The owners get to speak to us the players and vice versa."
During the process, Mason Jr. consults with his Knicks teammates, from
Amare Stoudemire
to the rookies, to get a pulse about how they feel about perspectives being discussed in the meetings. He says that he takes his role very seriously to make sure that the league is in good hands starting next season and after he retires.
"My fellow peers voted me in as vice president for a reason," Mason Jr. says, "so I want to make sure the legacy that we leave in the league is not only good in the short term for now, but in the long term for guys that paved the way for me to be able to make the salary that I've been able to make."
Mason Jr. has been monitoring the NFL lockout very closely, especially because his friend, Baltimore Ravens defensive back
Domonique Foxworth
, is on his league's players' board. Mason Jr. says the federal appeals court ruling to uphold the NFL lockout or not, a decision to come in the next week or so, will be a telling sign for what could happen with the NBA lockout. He's worried that if a lockout does occur, it could replicate the NFL situation and extend well into the offseason at the very least.
"[The ruling] will have a lot of implications for us," Mason Jr. says, "because if they're successful at blocking the lockout then I think that's going to give us much more leverage to negotiate a deal. The one thing that we do know is if we don't get a deal done by the deadline, it's going to make it even more difficult to get a deal done. We don't want to go through what the NFL's going through right now. Once a lockout is implemented, it's even more difficult to get a deal done from that point.
We can't afford to sit back and be passive with this situation at all. We understand what's at stake. Our fans and this game is too precious to fool around with. I think that the owners realize that and I know the players realize that too."
Mason Jr. reflects on the 1998-99 NBA lockout, which forced the season to be shortened to 50 games per team. He was a high school senior at the time, hooping for Our Lady of Good Counsel in Olney, Md. While he didn't understand all of the intricacies that made the NBA run at the time, he remembers feeling very disappointed that a deal couldn't be worked out sooner. Not only does he feel the same way now being involved with the negotiations, but he's now fully aware of the league's business side -- and he doesn't want history to repeat itself.
"Sometimes there are circumstances where you just can't make decisions that are going to harm the future for our league," Mason Jr. says, "and overall I wouldn't feel good about leaving the league five, six, seven years from now and youngsters coming in with this type of agreement. I would feel horrible if I left the game that way myself."
You can follow Jared Zwerling on Twitter.
April, 11, 2011
4/11/11
3:25
PM ET
By
Jared Zwerling
| ESPNNewYork.com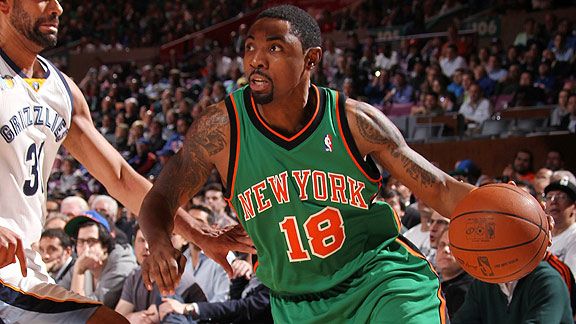 Nathaniel S. Butler/NBAE/Getty ImagesRoger Mason came to New York after two seasons with the San Antonio Spurs.
Growing up, music for
Roger Mason Jr.
was a stress reliever and mediation tool. Any time he found himself in an uneasy situation on the basketball court, he would ultimately turn to the keys to zone out and get his mind right.
That's exactly how Mason Jr., a classically trained pianist since his youth, remained positive during the first five months of the season when he played very intermittently -- even at one point not hearing his name called in 20 straight games from mid-January to the beginning of March. He also channeled his spiritual energy to stay strong.
"People always kept asking me throughout the year, 'What did you do not to play? And while you're not playing, how are you dealing with it? You're a guy who started for the Spurs, and you're coming to a team that's not on paper as achieving as that team, and you're not playing,'" Mason said.
"And I said, 'Honestly, it's my faith and it's music and it's being able to listen to [music duo]
Mary Mary
and being uplifted. Because otherwise, it'll be tough for me to come in every day knowing that I feel like I should be on the court, and I'm not.'
"They always talked about me being such a pro, but it's more so my spirituality. The three weeks that I was playing [in March], I was pumping Mary Mary hard."
Turns out, Mason Jr. is plugged into music more than you think. Two years ago, he founded a music label called
Weight Records
and recently he -- according to a conversation he had with commissioner
David Stern
-- became the first NBA player to sign a joint venture deal with a major label, Universal Music Group. Now, he's about to join the board of the Rock and Roll Hall of Fame Foundation.
I spoke with Mason Jr. to find out more about his love for Mary Mary, his musical exploration through the years and his groundbreaking partnership with Universal. He revealed that it's actually very challenging nowadays for an NBA player to cross over into the entertainment field. Read on.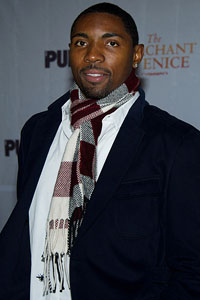 AP Photo/Charles SykesRoger Mason, shown here at the opening-night performance of "The Merchant of Venice" on Broadway, has interests that extend far beyond the basketball court.
Tell me more about your connection to Mary Mary.
I'm a spiritual guy. I love Mary Mary. She's gotta song called "Get Up." The whole premise of the song is you got 24 hours in a day and you got to make the most of it, whether you're going up to that at-bat. I listen to it before the games because I'm like, "Man, there's nothing guaranteed." And that song is just really inspiring -- it really is.
Have you been able to meet her yet?
I haven't. I want to. My mom is on a cruise right now with Mary Mary,
Yolanda Adams
and a few artists.
Who are some of your other favorite musicians, then and now?
Man, I loved
Michael Jackson
growing up. Absolutely loved him. My mom was a big
Prince
guy, so I listened to Prince growing up. Those old-school guys. Now I listen to pretty much everybody. I like
John Legend
, just from his classical background. I love
Alicia Keys
. Those artists are inspiring.
How did you first get introduced to music?
When I was young, both my parents always heard me in the house singing and enjoying music, so they put me in piano lessons when I was like eight. And so I took lessons for like probably seven, eight years, and became a classically trained pianist. And then it's kind of taken wings since I've been in the league. I dabbled in music maybe five, six years ago and then seriously two years ago I started a [music] label called Weight Records and now I'm one of the first -- I talked to David Stern about it, and I think I am the first NBA player to get a joint venture deal with a major [music] label. We signed with Universal Music Group.
What's the business plan now?
We have an artist that we share, Universal and my company. We have a single coming out [called "Outer Space"]. So basically Universal has to agree and I have to agree, so it's a genuine joint venture, which is cool. The single will probably come out around the summer time. Mr. Stern was pretty excited that I'm the first NBA player to get a serious music deal with a major label.
What's your role? Will you also be performing?
No, I'm the CEO. We have a team in place, and I pretty much just oversee everything.
Who is the artist?
Her name is
CeCe Segarra
. She performed the national anthem for the Knicks game on Christmas Day; she did the Spurs game last year. She's done so many shows, she's done a lot of stuff -- stuff with All-Star Weekend in L.A. She did the national anthem for the D-League All-Star Game. The NBA's been plugging her in. I think it's kind of cool.
How did you discover her?
My partner, [
Omari Ware
], met her. My partner does it full-time. I'm more involved during the summer; the season is tough. But during the summer, I'm pretty hands-on. I'm in the studio. Since I have a background in music, doing all those things is fun.
Will you produce any tracks?
I do that more so for fun. It's just something that I enjoy, but who knows?
Back to your earlier days. Were you parents all about music?
Yeah, both of my parents loved music; they always played it around the house. At first, the learning part of it, as far as notes and all those things, I didn't really enjoy, but I'm glad I did it because I have a strong background in it now. And I can still play. I'm not obviously as good as I used to be, but I still can play by ear.
Besides piano, did you dabble in different instruments?
Nah, I was more piano. My brother played the drums and my sister played the clarinet. My other sister was a guitarist. So we just always used to play church, play band.
When you went to Virginia, did you continue playing piano?
When I went to Virginia, it was interesting because my first year at Midnight Madness, they found out I played the piano and I did a duet with
Bruce Hornsby
. That was really cool. I also did openings for our games. It was just a little fun stuff.
Any of that on YouTube?
This was back in 2001. YouTube wasn't big [
laughs
].
Have you gotten any of your teammates fixed on classical music?
You know what? We had so much turnaround with different guys. Some of the other guys kind of knew, but most of them know that I'm quietly involved. My whole thing was my first two years doing the music, I didn't want anybody to know I was involved because what happens is, as an athlete, there's been so many times that athletes have tried to dabble in music and it's just not respected. People look at it like it's just not real, so my thing was, "OK, we're going to start this company, but I'm not going to be involved at all. I'm going to let my partner be the face, and that's what we did."
You'd be surprised -- people in the game will try to overcharge you because they know you're in the NBA or they'll look at your project as it's not official. So when I took my meetings with all the labels -- because we got offered by Universal, Sony, Jive, everybody -- they didn't even know I played ball. So I went in, we had our presentation, we had all of our stuff together and they didn't know that I was an athlete. My lawyer told them a few months ago that I happened to play for the Knicks.
Did their perception change at all?
Well, the deal was done, so at that point I felt comfortable saying, "OK, I have some stuff I can bring to the table as well, not just my company, but me being an NBA player. I have ways of getting to a different demographic too." So now it made sense to tell them, and that's why I'm doing it. But before, the last two years I've just been completely quiet.
Typically for NBA players, is breaking into the entertainment business a hard hurdle to overcome?
Extremely. It's almost impossible. A lot of times, just because of guys trying to rap in the past, it's just not looked as legitimate. It's almost one of those things like, "OK, you're an athlete, stick to being an athlete." But with me, I grew up an athlete, sure, but I grew up a musician also. I grew up loving other things. It's a tough world to get into, and that's why I try to do it quietly.
After basketball, do you see yourself in front of music fans?
Me personally, no. I want to do more the business side. I'm also doing stuff with my foundation, [the Roger Mason Jr. Foundation] with music and sports and school. I'm about to be on the board of the Rock and Roll Hall of Fame Foundation with
Bono
, which is pretty cool. We're going to do our first event after the season. The business side is what I have more of an interest in, but my background is in it, so it's a love. It's not like it's work; it's like something that I genuinely enjoy.
You can follow Jared Zwerling on Twitter.