New York Knicks:

Ronnie Brewer
October, 31, 2012
10/31/12
9:35
PM ET
GREENBURGH, N.Y. --
Tyson Chandler
took contact for the first time in seven days on Wednesday and said afterward that he's ready to take the court for the Knicks.
Both Chandler and Mike Woodson expect the center to start for New York opening night, whenever that is.
The Knicks' Thursday night opener against Brooklyn was postponed Wednesday in the aftermath of Hurricane Sandy.
The Knicks are now expected to open their season Friday at home against the
Miami Heat
. Chandler, who suffered a bone bruise in his left knee last Wednesday against the Nets, expects to be in the starting lineup.
"I think I'm going to be fine," Chandler said. "Played with contact today. (I'm) not as explosive as I normally am out there ... but (I'm) good enough to give my team something and I feel good enough to protect myself."
Woodson was relieved to have his big man healthy on the eve of the regular season.
"He's a major piece of what we do, playing the center spot and plugging up some of the holes for us from a defensive standpoint," the coach said. "You like to start with him when you start the season."
Chandler's backup,
Marcus Camby
, practiced in full on Wednesday for the first time since suffering a calf injury in the first week of the preseason. The Knicks originally thought Camby would be out 7-10 days, but it has been 25 days since he suffered the ailment.
The 38-year-old veteran was optimistic about playing in the opener, if they had played the Nets. Woodson, however, wasn't so sure.
"He's got to go home and sleep on this practice and see how he feels when he gets up in the morning," Woodson said, before the NBA announced that Thursday's game was postponed. "And then we'll make a decision."
Now that the Knicks have an extra day to practice before Friday's opener, you'd think the likelihood that Camby suits up only increases.
BREWER MAKING PROGRESS:
Ronnie Brewer
has made consistent strides in his conditioning since his preseason debut 10 days ago.
But he's still not in optimum shape. Woodson's OK with that, though. The coach said that he's comfortable with Brewer working on his conditioning during the season because the Knicks are deep in the back court and at small forward. Therefore, they don't have to play Brewer for major minutes early on.
The former Bull, who is coming back from knee surgery, is expected to start at shooting guard in the Knicks' opener.
You can follow Ian Begley on Twitter.
September, 15, 2012
9/15/12
11:35
AM ET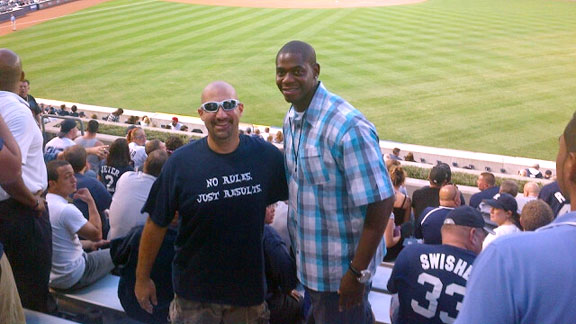 Ian Begley for ESPNNewYork.comRonnie Brewer joined Bald Vinny and the Bleacher Creatures at Yankee Stadium.
The Knicks, as you know, made several headline-grabbing moves in the offseason.
They let
Jeremy Lin
go to Houston and brought
Ray Felton
back. They added
Jason Kidd
and
Marcus Camby
to the mix and re-signed Mike Woodson.
There's one acquisition, though, that may have been overlooked amid all those moves: the
Ronnie Brewer
signing.
When it's all said and done, Brewer could turn out to be one of the most important additions to the Knicks' lineup because of what he brings on defense.
With Brewer,
Tyson Chandler
, Camby and a healthy
Iman Shumpert
on the roster, defense is expected to be a calling card of sorts for Woodson's Knicks.
So, just how good can this team be on the defensive end?
"I think the sky's the limit," Brewer said on Friday night.
After struggling to get stops for much of the Mike D'Antoni era, New York made a significant improvement on defense last year.
With Chandler in the middle, the Knicks finished fifth in the league defensive efficiency (a measure of points allowed per 100 possessions), up from 21st in 2010-11. Chandler was named Defensive Player of the Year and Shumpert established himself as one of the top young perimeter defenders in the league.
Brewer believes that the addition of himself and Camby, among others, can make the Knicks even more stingy this year.
"I think with those ingredients, we're going to a very dangerous," he said.
With Shumpert (ACL) out until at least December, Brewer is expected to start at shooting guard and, the Knicks hope, provide the kind of perimeter defense that a healthy Shumpert would have.
Felton is an aggressive defender, Camby is one of the top rebounders in the league and Kidd, even at an advanced age, is considered a strong wing defender.
At issue, of course, is what
Amare Stoudemire
and
Carmelo Anthony
bring on defense.
Both stars are seen as weak links on the defensive end.
Brewer, though, believes that defense can be infectious. And Stoudemire and Anthony -- along with the rest of the roster -- can easily catch the bug.
"With Coach Woodson being a defensive-mentality coach (and) when you see guys like Tyson, myself and Shump giving that extra effort, to me it's contagious," Brewer said.
"It's human nature for a player to jump on the floor if they see their teammates doing it. ... If you see somebody going hard to the boards and giving it their all, you feel like it's your duty. You've got to do that."
On Anthony and Stoudemire, Brewer added: "I think Amare and Carmelo have it in them. They're athletic, they're basketball IQ is high. It's just the realization that we've all got to come together and be on the same page defensively. If we do that, we're going to be real good team."
RONNIE HANGS WITH BLEACHER CREATURES:
Brewer spent Friday night hanging out in the Bronx, watching the Yankees-Rays game. He spent time on the field before the game and was in the right-field bleachers to take part in the role call with Vinny "Bald Vinny" Milano and the Bleacher Creatures.
Brewer yelled out to
Nick Swisher
,
Curtis Granderson
,
A-Rod
and the rest of the position players in the top of the first and hung out with fans, taking dozens of pictures and shaking hands.
"It was awesome," said Brewer, whose expected to return from a medial meniscus tear in time for opening night. "I didn't know anything about it (before Friday)."
On the roll call, he added: "I think that pushed those guys more than anybody really knows."
FOUNDATION PLANS:
Brewer has plans for his foundation in New York. His charity, The Ronnie Brewer Foundation, seeks to aid in the educational and athletic development of children in the community.
It's based in Arkansas, where Brewer's from, but the 27-year-old said he plans to work with Boys & Girls clubs in New York to help Big Apple families and youth in need.
"Whatever city I'm in, I feel likes it's your duty to be in the community and do your part," Brewer said. "I try to do as much as I can in the community back home as well as the community I'm in."
You can follow Ian Begley on Twitter.
September, 11, 2012
9/11/12
7:30
PM ET
Ronnie Brewer
is confident that he will be back in time for the Knicks' season opener Nov. 1.
Brewer, 27, underwent arthroscopic surgery on his left knee last Friday to repair a medial meniscus tear.
He said on Tuesday that he was unsure of the origin of the ailment. Brewer experienced swelling in his knee after recent workouts. He underwent an MRI to determine the nature of the injury.
He initially thought everything was fine. He assumed the doctors were joking with him when they said he'd torn his meniscus.
"It was tough," he said.
Just four days after surgery, though, Brewer insists that his knee is in good shape.
"If you were to ask me if I had surgery a couple days ago, I would have told you no. My knee's feeling great. The swelling's going down and rehab is going really well," Brewer told ESPN New York while working at a Wall Street fundraiser in remembrance of 9/11. "Every day I'm continuing to work, slowly but surely trying to get back on the court."
Brewer was walking around without a limp on Tuesday, hanging out with teammates
J.R. Smith
,
Chris Smith
and
Iman Shumpert
at the BGC Partners offices near Wall Street.
Carmelo Anthony
,
Larry Johnson
,
Allan Houston
, Glen Grunwald and Mike Woodson and his assistant coaches were on hand as well.
Brewer and his teammates took over the trade desk at BGC, working the phones and taking trade calls during the fundraiser. All of the global revenues from BGC and Cantor Fitzgerald, which lost scores of workers in the 9/11 attacks, will be donated to charities.
Brewer, an Arkansas native, was moved to be on Wall Street on the 11th anniversary of the attacks.
"New Yorkers, no matter what borough they're from or what ethnicity they are, came together to become stronger and become one," said Brewer, who signed with the Knicks this summer as a free agent. "I couldn't even imagine what it was it like in the city (on Sept. 11). I have another level of respect for what people went through.
"Eleven years ago to now, the city came a long way and people are still standing strong."
Brewer reiterated that he plans to be back on the floor for the Knicks' regular-season opener on Nov. 1 in Brooklyn against the Nets.
The former first-round pick expects to be out for a maximum of six weeks. That would leave him roughly two weeks to prepare and get in shape before the season opener.
"I'm going to spend those two weeks working as hard as I possibly can to get ready for the season," Brewer said. "I'm looking forward to being out there."
Friday's surgery was the first of Brewer's career. He and team doctors decided that it was best for him to have surgery and be completely healthy for the opener, barring any setbacks.
"I wanted to come back at 110 percent," he said. "I feel like we have a great team and we have great potential and I want to be healthy for the long run that we're going to have."
Brewer is expected to start at shooting guard for Mike Woodson's crew.
The 6-7 wing gives New York a strong defensive presence on the perimeter, something the team was missing with Shumpert (ACL) sidelined until at least December.
If Brewer does not return in time for the season-opener, J.R. Smith will likely start at shooting guard. Chris Smith and
James White
, among others, are expected to battle for a reserve guard/forward spot during training camp.
You can follow Ian Begley on Twitter.
August, 3, 2012
8/03/12
7:00
AM ET
Here are a few quick highlights from
Ronnie Brewer
's
interview Thursday on "The Stephen A. Smith" show on ESPN New York 98.7 FM
:
SMALL LINEUP:
Mike Woodson
recently talked lineup combinations with Brewer. Brewer said that one combination the coach mentioned had
J.R. Smith
at shooting guard, himself at small forward and
Carmelo Anthony
at power forward. In this lineup, Brewer said, either
Tyson Chandler
or
Amare Stoudemire
would play center.
Anthony, you'll remember, was efficient and effective at power forward late last season when Stoudemire was out with a back injury.
So this lineup has the potential to put up points. As Brewer points out, it could be solid in transition.
With either Chandler or Stoudemire at center, it's a fairly quick five-man unit and four out of its five players can handle the ball, which would be useful in transition after a defensive stop.
MOVING WITHOUT THE BALL:
In addition to playing the role of perimeter stopper for the Knicks, Brewer believes he can carve out a valuable role on offense in Woodson's squad.
He hopes to use the attention paid to Anthony and Stoudemire to his advantage, finding seams in the defense to exploit for easy baskets.
"They're (Anthony and Stoudemire) going to get a lot of attention when they iso, a lot of double teams. So you have to be able to play without the basketball and kind of be a glue guy and a good role (player) with this team," Brewer said.
ON PLAYING WITH CARMELO:
Brewer also believes he can help Anthony, who has a widley-held reputation as a ball-stopper. He told Smith and
Ryan Ruocco
that one key to playing with Anthony is to avoid standing around and watching like you're at the 'theater.'
"You have to be able to move without the basketball, get in the open spots and make the game easier for him," Brewer said. "Instead of him having to take tough shots, you penetrate, you get him the ball and start to get him easy shots where he doesn't have to work so hard."
It all sounded great on the radio if you're a Knicks fan.
It'll be interesting to see how it plays out on the court, starting Nov. 1.
Click
here
for the full interview.
You can follow follow Ian Begley on Twitter.
August, 1, 2012
8/01/12
7:00
PM ET
By
Jared Zwerling
| ESPNNewYork.com
Here's Part 2 of
Ronnie Brewer's
conversation with ESPNNewYork.com, where he talks about his potential role in the orange and blue, his training routine in Arkansas and his interests off the court:
Q: With the uncertainty in Chicago, based on your team option and Derrick Rose's long-term injury, were the Knicks more compelling because there was an opportunity to start at shooting guard for a contending team?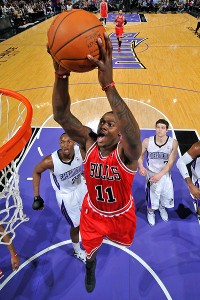 Rocky Widner/NBAE/Getty ImagesRonnie Brewer
Brewer:
I think when I looked at the Knicks, there wasn't necessarily a position where I was like, "Hey, this is where I can start." I felt like I could have a significant role on this team. I think I can play a lot with the things I do. I think I complemented a lot of players on the team and the system complemented me. Chicago went their own direction. I had a great experience there. I was able to play for a phenomenal coach in a phenomenal city. The fans were great, but I just felt they were going in a different direction that I didn't want to go in. I think it was mutual that we parted ways.
Q: You worked well off screens in Chicago, knocking down the midrange jumpshot. Do you envision doing that in New York, as well as extending your range beyond the arc with Carmelo Anthony, Amare Stoudemire and Raymond Felton mostly penetrating?
Brewer:
In the offseason, I'm always working to get better, so for sure I want to extend my range so I can be a better 3-point shooter, especially in the corners. I feel like I can be a guy who comes off pick-and-rolls and makes the decision to either kick it to a perimeter player or be able to drop it down to Tyson (Chandler) or Amare, or get to the basket with my athleticism and finish at the rim. I feel like coming off down screens and catching and shooting, I can play off that as well.
I'm always continuing to add things to my game to make me a better player, because Carmelo is going to get a lot of attention. To me, he's one of the best iso players in the game, and he's going to get double-teamed and triple-teamed a lot of times. He's an unselfish player when he makes the right play and makes the extra pass.
Q: I know you're in Arkansas right now training. What's your routine like?
Brewer:
I work out at the University of Arkansas. They welcome me with open arms. I come and work with the strength coach,
David Deets
, Monday through Friday. Then I come back and do agility work with him and I do court work with some guys who I went to school with and played at Arkansas. I've been keeping in shape and extending my game.
The pickup games on campus are pretty good. The current (Arkansas) team usually participates in every pickup game.
Joe Johnson
has been down and sometimes
Jannero Pargo
comes down to play. Also,
Brandon Dean
,
Teddy Gipson
,
Courtney Fortson
, who just signed back with the Rockets, and
Sonny Weems
comes back and plays. They're usually really good runs.
Q: What do you enjoy doing off the court? Any fun hobbies?
Brewer:
Since I've been back in Arkansas, I've been doing a lot with my foundation, trying to give back to the community. We're actually about to have a back-to-school giveaway this Friday for surprise backpacks and stuff like that. And I was raising money for the Boys & Girls Clubs, trying to build a gymnasium down here.
If I'm not doing that stuff with my charity and not playing basketball, I try to relax a little bit and try to fish with me and my family and go see movies. Nothing too exciting, but when I'm back home, I'm usually just hanging out with my friends because it's not that big of a town. I basically know everybody and a lot of my friends still live here, so I hang out with them a lot.
Q: I've got to ask you about fishing. Where do you go and what do you catch?
Brewer:
It depends. Sometimes we go fish for catfish. A lot of times, just trout and crappie. Every summer, I take two fishing trips where I take my parents and some of my friends and we go to Bull Shoals or White River (in Arkansas) and we fish for rainbow trout. We usually do lakes and ponds, not so much rivers. The rivers are so far away from where I actually stay.
For Part 1, where Brewer talks about joining the Knicks and more about how he'll help the team, click here.
You can follow Jared Zwerling on Twitter.
August, 1, 2012
8/01/12
10:08
AM ET
By
Jared Zwerling
| ESPNNewYork.com
After earning $4.7 million last season with the Bulls,
Ronnie Brewer
turned down mini-mid-level, multiyear offers to sign a one-year contract, reportedly worth $1.14 million, with the Knicks. But he says it was the best fit for him.
Below is Brewer's conversation with ESPNNewYork.com, where he provides insights into joining the Knicks and how he'll help, his potential role in the orange and blue, how he's been training in Arkansas and what his interests are off the court.
Here's Part 1 on Brewer joining the Knicks and how he'll help: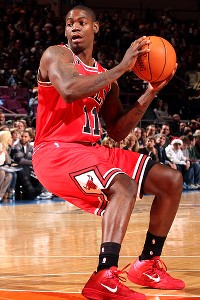 Ray Amati/NBAE/Getty ImagesRonnie Brewer averaged 6.9 points in 24.8 minutes per game last season for Chicago.
Q: How does it feel to be a Knick?
Brewer:
It feels great, being wanted by a prestigious organization. It meant a lot to me, it meant a lot to my family, to be able to play at Madison Square Garden, the mecca of basketball. I was really excited about the opportunity. I feel like we have a really good team, solid veterans and a great coaching staff.
Q: Do you have any favorite places in the city?
Brewer:
Honestly, man, every time I've come to New York, I've been like a true tourist, just going to the sights. When I was with the Bulls, we were there on Christmas [in 2010]; that was pretty hectic. Sometimes, you come in on a back-to-back or what-not. I'm actually looking forward to trying some of the restaurants that New York has to offer. I think my mom -- and my family -- is more excited about the shopping up there. I'm more focused on coming up there and having an immediate impact with the Knicks. Everything else that comes along with it, the city, I'd welcome it with open arms.
Q: So what number are you going to wear?
Brewer:
I think I'm going to try to get No. 11. I wore that in Chicago. I would've worn 10 -- that's the number my dad [
Ron Brewer
] wore that I wore growing up and I wore it in Arkansas -- but it was retired [
Bob Love
]. And in Utah, when I got there as a rookie, somebody was wearing 10, [
Gordan Giricek
], so I had nine. And in New York, 10 is retired, too [
Walt Frazier
]. I'm going to stick with 11. In Utah, I would've gotten 11, but when I was there, one of my close friends,
Dee Brown
, wore 11. He had it in his whole entire life. I didn't want to be the guy that took away a number that he had in his whole entire life.
Q: Are we going to see you throw it down like the original Dee Brown, with the right arm across the eyes?
Brewer:
[
laughs
] Nah, but I'm definitely going to try to get a lot dunks this year. If I'm open enough, I can throw that in the mix [
laughs
].
Q: When and how did the Knicks first creep into your free-agency picture?
Brewer:
When Chicago didn't pick up my [team] option [of $4.37 million in early July], it was kind of like a speed-dating thing. I looked at a lot of different teams. I heard their pitching approach and at the end of the day, to me, even though there were teams that offered me more money and more years, I just felt like the best fit for me as a player and what I do with my talents, and the style of play, New York was the perfect fit for me. With the star power -- with Carmelo, Amare, Tyson and Coach Woodson -- I think I fit in perfectly.
We have solid pass-first, shoot-second point guards, looking to set up their teammates. If we can get easy stops and get the lead early in transition, and play up-tempo, you've got to have kind of a glue guy who can play alongside Carmelo and Amare. They're going to have a lot of isolations, and they're going to need to have guys who can move without the basketball, get to the open spots and knock down shots or get to the basket and make plays. So to me, that was the best fit for me.
Q: You mentioned Mike Woodson, and you obviously played for another defensive-minded coach in Tom Thibodeau last season. Was the coaching another factor in your decision to come to New York, representing almost a seamless transition for you?
Brewer:
To me, it makes the transition so much easier. Learning so much from Coach Thibs in my two years in Chicago, his philosophies and his mentalities allowed me to be a better defender and a better professional. Then, going to the Knicks, I'm looking forward to guarding players on the perimeter, because Tyson's really stepped up and did his part of bringing defense back to a good team. With Coach Woodson being such a defensive-minded coach, to me, it makes the game a lot easier. I'm looking forward to playing for him and learning different techniques to help my game out.
Q: When Iman Shumpert returns, you guys will have another solid layer of perimeter defense. Have you already thought about playing alongside Shump?
Brewer:
For sure. And if you think about it, there are so many lineups you can throw up with the guys on our team. If you want to play big, you can have a big group of guards in. If you want to play small ball, you can put Iman at the four and Amare at the five, or Tyson at the five and Shump in and me in to have a perimeter defense, and to have athleticism on the wings. So there are a lot of things that I think Coach Woodson can really throw at a lot of different teams and be successful doing it.
Stay tuned for Part 2, where Brewer talks about his potential role in the orange and blue, how he's been training in Arkansas and what his interests are off the court.
You can follow Jared Zwerling on Twitter.
July, 27, 2012
7/27/12
12:03
AM ET
During an interview Thursday,
Ronnie Brewer
said all the right things about what he hopes to bring to the Knicks.
Brewer talked about playing with a commitment to defense, knocking down open shots and locking down opponents on the perimeter.
"I'm just here to try to do whatever the team needs," he said.
If Brewer can deliver, he'll be well worth the $1.07 million the Knicks have invested in him.
And the swingman is optimistic that things will work out in New York.
"We've got a lot of great players returning to the team and coach Woodson's going to have a full season under his belt so I'm very excited to be a part of this team," Brewer said Thursday during an interview on WFAN.
Many believe Brewer will start at shooting guard ahead of
J.R. Smith
, who is more suited for a bench role. But Brewer was noncommittal when asked about his role on Thursday.
He said he'll do whatever Woodson needs him to do.
Brewer prides himself on being a 'hustle player' and a lockdown perimeter defender -- two aspects of the game that the Knicks need while
Iman Shumpert
works his way back from a knee injury.
"A lot of people want to play defense but some people just don't have the ability to do it," the 6-7 veteran said. "... I take pride in defense and, in my opinion, I think defense wins championships."
The Bulls declined to pick up Brewer's $4.37 million option earlier this month, allowing him to test free agency. The sixth-year guard said several teams expressed interest and offered more money than the Knicks, but he chose New York in part because he felt he could be successful under Woodson.
"It didn't come down to money," said Brewer, who believes the Knicks have enough talent to compete against the Heat. "It's where you want to go and where you feel comfortable."
You can follow Ian Begley on Twitter.
July, 26, 2012
7/26/12
4:20
PM ET
The Knicks announced Wednesday that they've signed swingman
Ronnie Brewer
.
Terms of the deal weren't made available, per team policy, but it is believed to be a one-year deal for the veteran's minimum of around $1.07 million.
Brewer, 6-7, holds career averages of 9.0 points, on 50.1 percent shooting over six seasons with Utah, Memphis and Chicago.
He has started 267 out of 418 games in his career and he might add to that total with the Knicks.
New York might pencil Brewer in as its starting shooting guard, which would allow
J.R. Smith
to come off the bench.
The Bulls declined Brewer's 2012-13 option for $4.37, allowing him to test the free agent market.
The Brewer signing is the latest in a flurry of moves made by Knicks GM
Glen Grunwald
this summer.
New York has acquired
Jason Kidd, Marcus Camby
and
Raymond Felton
. It has re-signed Smith and
Steve Novak
and declined to bring back
Jeremy Lin
, who signed a three-year, $25.1 million contract with the Rockets.
They have 14 roster spots and are expected to use their final spot to add a veteran power forward.
You can follow Ian Begley on Twitter.
July, 24, 2012
7/24/12
7:10
PM ET
By
Jared Zwerling
| ESPNNewYork.com
BREWER:
Say all you want about the Knicks letting
Jeremy Lin
go, but they've been smart about their money this offseason. They've landed financial steal after financial steal.
Jason Kidd
(about $3 million per year),
Marcus Camby
(about $4 million per year)
Raymond Felton
(about $3 million per year) and now
Ronnie Brewer
(about $1.4 million for one year). In fact, during Brewer's career in the NBA, his salary went up each season from 2006 to 2012, the last in which he made $4.7 million with the Bulls.
A big part of the reason the Knicks were able to acquire Brewer inexpensively is that he was inconsistent in Chicago last season. According to ESPN Chicago's Bulls beat writer
Nick Friedell
, "no player on the Bulls roster had higher highs and lower lows than Brewer. After
Rip Hamilton
got hurt early in the year, Brewer responded by playing the best basketball of his brief Bulls' tenure. He spent all last summer during the lockout working on his jumper and that extra work paid off as he shot the ball with plenty of confidence in Hamilton's absence.
"After a while, that confidence wore off and Brewer, who had been playing 35 to 40 minutes in some contests, suddenly struggled to find 15 to 20 minutes in some games and was replaced in the starting lineup by
Kyle Korver
even before Hamilton returned. Brewer's decline came to a breaking point in Game 3 of the first round of the playoffs against the Sixers, when he was benched for the entire game by
Tom Thibodeau
."
The Knicks are obviously hoping Brewer finds that positive streak he had last season. After letting
Landry Fields
walk, which was the right move considering the Raptors' high offer sheet, the Knicks needed a shooting guard/swingman who could guard the game's best players at his position -- especially with
Iman Shumpert
out until likely January. That player is Brewer, who helped the Bulls become the No. 1 defensive team last season.
Offensively, Brewer is not a 3-point threat, but his jumper is solid off down screens and he follows shots well, along with his own, for offensive rebounds and putbacks. His athleticism also allows him to flourish in transition. This summer, he's been training in his home state of Arkansas, mostly working on his outside shot. If he can improve his long-range consistency, also while working with
Allan Houston
during the season, Brewer will help the Knicks space the floor even more, enhancing their offensive efficiency.
With Brewer in New York, expect
J.R. Smith
to continue his role as sixth man. Then, once Shumpert returns, the Knicks will be much better equipped to deal with teams with lethal backcourts (the Heat, Nets, Celtics, Spurs, Lakers and Thunder).
PRIGIONI:
If you watched the Team USA vs. Argentina game on Sunday,
Pablo Prigioni
proved that he's a very efficient point guard who doesn't make many mistakes. But he makes the right pass. A lot of that is due to his veteran experience (he's 35) and many years playing international basketball.
In the NBA, Prigioni won't do much scoring. While many of his highlights on YouTube show him driving by international competition, he had more of a difficult time getting into the paint against Team USA's strong and athletic point guards,
Chris Paul
,
Deron Williams
and
Russell Westbrook
. But Prigioni runs the pick-and-roll well and he has clever ball-handling that keeps defenders at bay. That should generate solid spacing for the Knicks, creating open shots and lanes to the basket.
Prigioni's agent,
George Bass
, said that the Argentinian point guard had been on Knicks GM
Glen Grunwald's
radar for about five years. That's because Prigioni is viewed as a pass-first point guard like Kidd, and he also excels defensively. Bass said the Knicks felt like he was young enough with no major injuries to help the team, which will come in handy because he may be called upon to play backup minutes. In addition to Shumpert being out,
Mike Woodson
likes to interchange positions and he could use Kidd and Felton together at times in the backcourt.
One underrated aspect of Prigioni's game is his ability to adjust to physical play, which he's been exposed to during his many years playing in Argentina and Europe. That will be useful during the NBA playoffs, as Prigioni will be able step right in and not get rattled by the extra pressure. He's good insurance to have around, especially with Kidd turning 40 next year.
You can follow Jared Zwerling on Twitter.
July, 12, 2012
7/12/12
5:37
PM ET
By
Jared Zwerling
| ESPNNewYork.com
A source very close to
Ronnie Brewer
said the Knicks have expressed "some interest" in the six-year swingman. His team last season, the Bulls, didn't pick up his team option of $4.37 million, thereby making him an unrestricted free agent.
Addressing reporters in Las Vegas,
Mike Woodson
didn't specify which players the Knicks were still looking to sign -- they have a couple of roster spots remaining -- but he said he and
Glen Grunwald
are looking at a couple of players.
It's likely that with
Iman Shumpert
out until January -- Woodson did say he believes Shump is ahead of schedule -- the team could be in the market for a combo/shooting guard to play off the bench, especially someone who's athletic and can get to the cup. As of now,
James White
is the only one.
While Brewer made mid-level money last season with the Bulls, his market value has dropped. According to
Nick Friedell
of ESPN Chicago, "his biggest issue was that once he started playing starter's minutes in the beginning of the year, he couldn't keep up the same level of play throughout the season. Bulls coach
Tom Thibodeau
got frustrated by the fact that Brewer's shot had gone missing and the veteran guard's game never fully recovered."
Brewer may not be attracted to the Knicks' financial availability of likely only a veteran's minimum contract. But the team could add more money including
Dan Gadzuric
in a sign-and-trade with the Bulls.
Brewer would not only bring slashing, but also defense (1.4 career steals per game) and shooting. According to Friedell, "he spent all last summer during the lockout working on his jumper and that extra work paid off as he shot the ball with plenty of confidence in
Richard Hamilton's
absence."
The Knicks still haven't ruled out bringing back
Landry Fields
, but they realize how expensive he'll be at $20 million over three years. That's the amount on the Raptors' offer sheet, which the Knicks have two more days to match.
You can follow Jared Zwerling on Twitter.