New York Knicks:

Ronny Turiaf
October, 17, 2011
10/17/11
10:00
PM ET
By
Ian Begley
| ESPNNewYork.com
Asvel says New York Knicks center
Ronny Turiaf
will play for the French club during the NBA lockout, but Turiaf's agent said a few issues have to be settled before the veteran big man can take the floor.
Agent
Mark Bartelstein
stressed that Turiaf would like the opportunity to play for Avsel and suit up with fellow Frenchman
Tony Parker
, but "a number of things have to be worked out" regarding insurance on Turiaf's contract with the Knicks.
Turiaf told Asvel's website on Monday that he plans to arrive in France on Thursday and start practicing with the club this weekend.
But Bartlestein said on Monday night that his client needs to insure his $4.36 million contract with the Knicks before any deal can be finalized.
"If we can work everything out, then he'd love to play with Tony," Bartelstein said in a phone interview.
Click
here
for the full news story.
March, 20, 2011
3/20/11
10:13
PM ET
By
Jared Zwerling
| ESPNNewYork.com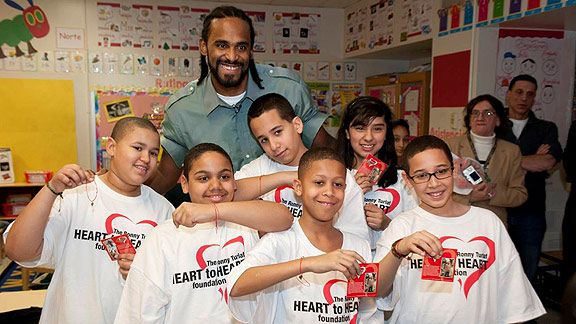 Adam Pantozzi/MSG PhotosRonny Turiaf met with Bronx students in a Heart to Heart Foundation event on March 3.
When you see just how much energy
Ronny Turiaf
puts into every game, whether he's blocking shots or on the bench cheerleading for his teammates, it makes you realize he has a heart of gold. Perhaps his open-heart surgery in 2005, which corrected an enlarged aortic root, gave him an extra gear.
It's been that relentless determination that has led Turiaf to become a community ambassador for preventive cardiovascular efforts. Since establishing his Heart to Heart Foundation during the 2008-09 season as a member of the Golden State Warriors, in an effort to raise awareness about heart issues, he has provided medical care for children who do not have health insurance and cannot afford the care they need. In February 2010, Turiaf won the NBA Cares Community Assist Award for his long-standing philanthropic and charitable work.
Turiaf's last Heart to Heart Foundation event, in partnership with MSG's Garden of Dreams Foundation, was held on March 3 at a middle school in the Bronx. Turiaf, alongside local cardiologoists
Dr. Martin Goldman
and
Dr. Lori Croft
, addressed students about heart awareness and provided them with an echocardiogram (heart scan) and other health screenings. Afterwards, Knicks' Alumni Relations and Fan Development Advisor
John Starks
hosted a basketball clinic.
Last week, I caught up with Turiaf at the Knicks practice facility in Greenburgh, New York, to learn more about his foundation, steps he and the NBA take to prevent further heart problems, and what he has in store for the future after basketball.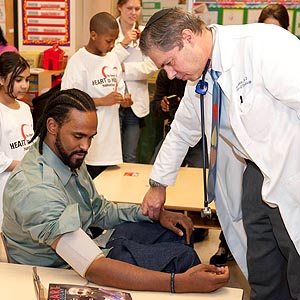 Adam Pantozzi/MSG PhotosDuring the event, Turiaf spoke to students about heart awareness, provided them with an echocardiogram and other health screenings ...
Tell me more about how the idea came about to start Heart to Heart.
I've always wanted to do it ever since 2005, when I underwent my open-heart surgery. It was something that I wanted to do, but it's not something that can be done by a snap of a finger. You have to be surrounded by the right people, you have to be in the right state of mind because it's not easy to deal with an unfortunate event or an unfortunate situation all the time. You have to be both financially able to and surrounded by the right people to be able to keep doing it at a high level and do a good job out of it. It took me going to the Golden State Warriors and being surrounded by an awesome, awesome team of people who really bought into what I was doing and that helped me well beyond the line of duty with the team. We ended up just starting to do stuff in California and I woke up one day and my college teammate's brother,
David Gurganious
, had a heart incident in high school. So after that day, that's when everything just -- I guess he gave me the right mindset, or the right idea, about how I could help people as far as providing 10 defibrillators to 10 different local high schools in California. That's something that's not mandatory in high school or in local colleges and stuff like that. It was something of an eye-opening for me, so that's what really, really got my mind going and gave me a mindset to how I can help people.
You mentioned financial stability, and that was something you struggled with before your rookie season in 2005-06. What are the costs like for patients to get tested for heart disease?
First and foremost, to do an echocardiogram, one thing that I did also with the American Society of Echocardiography, is $500. It's not given for some families, so it's my job and my duty to find the associations and the people necessary to make it affordable for them. That's why I did the defibrillator program, that's why I did the local heart screening in California, that's why I did the local heart screening here in the Bronx. There's a lot of, I guess, formal stuff that has to be done. You've got to respect regulation, you've got to respect patient privacy. There are a lot of formalities that have to be done in order to make one of those events happen. But I was fortunate to have people who really bought into what I was doing and understood the magnitude and the importance of the topic because we can save lives. The cost of a heart surgery in itself I would not be able to tell you because for myself I know that it was $220,000. I did not pay for it. The Los Angeles Lakers were grateful enough to pay for me because I didn't have any insurance and all that stuff back then. But it's a number that's really out there. It really depends on who the surgeon is, it depends on the hospital, whatever. I don't want to speculate on things that I do not know.
How are you looking to expand your foundation and bring more attention to heart awareness?
I'm going to my [former college Gonzaga] in June in Spokane, Washington, to do a couple of really good things. I'm partnering with Hoopfest, a 3-on-3 tournament that has hundreds of thousands of people play. It's like Hoop it Up. I'm going to do a court unveiling, we're going to do a charity dinner at my school to try to raise money for my foundation and the American Heart Association. We have two different events as far as echocardiograms, but they're not set in stone. We're still trying to figure out how many students we're going to have. It's gong to be a weekend of festivities, but also I'm just trying to help people and hopefully save lives.
Looking back to 2005 when a routine checkup discovered your ailment, did you get scared at all?
No, because what basically happened between the process of getting diagnosed with an enlarged aortic root to the surgery was 10 days. They found my problem on [July 16, 2005] during summer league play [with the Lakers], and I kept going to do tests and I kept going to see different surgeons. But I still didn't feel anything was wrong with me. Then when we had a sit-down with the doctors with [Lakers GM]
Mitch Kupchak
, myself and [Lakers assistant GM]
Ron Lester
, the doctors told me, "Ronny, you are lucky to be here today; you could've died at any point. We have two choices for you: Choice A, either you stop playing basketball and can't do any contact sports, and you have to take medicine for the rest of your life, or you have the surgery done." So I looked at them and I was like, "Well, I don't want to waste seven years of my life -- I left my house [in Martinique] when I was 15 [to attend National Institute of Physical Education for elite-level athletic training] and at the time I was 22 -- and I'm not going to throw [my career] down the toilet just like that." So I said I wanted to have the surgery. [On July 26, Turiaf was operated on at Stanford Medical Center, and he was able to make his NBA debut that season with the Lakers on February 8, 2006.]
The year your problem was discovered was an irregular (no pun intended) one for the NBA. Eddy Curry, Malik Allen and Fred Hoiberg were all reported to have heart irregularities. Unfortunately one player, Jason Collier, died of an abnormally enlarged heart. After all that happened, did you see more precautions being made by the NBA?
Yes, every since that happened, now every NBA player has to undergo a heart screening at the beginning of the season. I'm very happy to hear about it. You have to go do a stress test, you have to do all these things, but what's 50 minutes when your life can be saved. That's how I look at it.
How do you take care of your heart?
Nothing with my workout, but I just have to eat a low-sodium diet because if I don't, it's going to raise my blood pressure. It's kind of tough, so I try to eat the least salt possible in my food, so I have to find substitutes and stuff for sauces and stuff like that.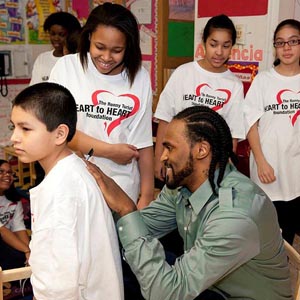 Adam Pantozzi/MSG Photos... and signed a few T-shirts, too.
What's your favorite food?
My favorite food is chicken with rice and cheese on top of my rice.
Do you cook?
No sir.
You're such a vibrant player and I was just curious, were you always like that before 2005? Or did what occur that year give you a greater sense of enthusiasm in life and basketball?
No. I've always been somebody who's definitely tried to build good relationships. That's why I went to Gonzaga University because of the relationship that I had with the coaching staff. That's why I enjoyed playing with the Los Angeles Lakers and the Golden State Warriors because I had great relationships with my teammates. And I enjoy playing for my teammates here. I've always been a guy who definitely enjoyed playing basketball. I was taught at a young age by my parents that you have to appreciate what you have and not look for what you don't have, so I've always been super excited and it's just me. I guess anybody who's from the Caribbean kind of has that joyful, just I'm-happy-to-be-alive type of atmosphere. Sometimes it can be seen as too demonstrative or whatever, but I'm sorry -- I just can't help it. I just love my life every single day of it. I have my moments where I feel down, where I don't feel it, I don't have the energy, and usually people know right away that something is wrong with me. I don't know; I've never really given it too much thought. I'm just happy to be me and happy to have my family behind me. I know I can count on them. I would have never imagined in a 1,000 years that I'd be in the NBA. For me to able to be here, be surrounded by superstars and be friendly with superstars, going to the NBA Finals and, ultimately, having that relationship with the community is great.
After basketball, do you see yourself getting into medicine?
I see myself as definitely someone who's philanthropic, someone who's doing stuff for the community and taking my foundation to a whole other level, for sure. But I also see myself as being an assistant coach in college --
Maybe in Spokane?
[
With a big smile
] That would be the perfect-case scenario, maybe. I definitely see myself staying in the game, involved in some manner. My ultimate dream would be to be an NBA owner or being involved in the front office. I've always been attracted by it. I've done studies in regards to sports management and applied communication. I've studied a little bit of business in college and I'm working on trying to get my masters in sports management. I'm trying to go to NYU [New York University] in either sports management or film studies. But I really want to stay in the front office or the business side of basketball. That's something that's always attracted me. You're either going to hear about me or you're never going to hear about me again, and I'll be in the Carribean just sleeping.
Kicking back on the beach with a Piña Colada?
No alcohol, but some kind of a guava juice, pineapple, stuff like that for sure.
By the way, what does the tattoo on your left neck mean?
Family. They're still with me wherever I go. It's written in Japanese Kanji.
Speaking of your family, did any of them ever have a history of heart problems?
No. This is how dangerous heart problems are: About 300,000 people die every year of heart problems. That's about 34 people every hour.
You can follow Jared Zwerling on
Twitter.
March, 14, 2011
3/14/11
4:04
PM ET
By
Jared Zwerling
| ESPNNewYork.com
During CBS Sports' annual Selection Sunday show yesterday, the 24-9 Gonzaga Bulldogs were awarded the 11th seed in the Southeast Regional. They will face the sixth-seeded St. John's Red Storm in the first round of the NCAA Tournament this Thursday on CBS at 9:45 p.m. ET.
I spoke with
Ronny Turiaf
, who played in Spokane from 2001 to 2005 averaging 13.6 points and 6.8 rebounds, to get the scoop on this year's Bulldog squad.
On the team:
"Well, first and foremost, I want to say that I'm proud of those guys. The way they battled through adversity throughout the season, where everybody just shot them down, called them dead and called them a whole bunch of names, saying the preseason schedule was too tough. Yes it was, but we still managed to beat opponents and still managed to weather the storm and follow through with it and finish on a high note by beating Saint Mary's at Saint Mary's [89-85 in overtime on February 24] for a share of the conference title [with an 11-3 record], and beating again a Saint Mary's team in the West Coast Conference tournament final [75-63 on March 7]. It's not an easy thing to do to beat a team twice in such a short period of time, so I'm very happy. I can't wait to see if they can make some damage in the tournament."
On Gonzaga making their 13th straight NCAA Tournament appearance:
"We are in company of a lot of high-ranked programs. They can talk as bad as they want about the West Coast Conference or whatever, but we still have to go and get those games when the other team is shooting for us every single game."
On NBA legend John Stockton's son, David, playing well as a freshman:
"It's awesome. It's priceless. He brought a spark to this team with his feistiness, with his ability to see the floor, to steal balls, to definitely rebound for his size and be able to spread the floor by scoring threes. He's definitely been a spark for us in the second half of the season -- and that's why you see him making plays down the stretch. I guess he has an advantage when you have an All-Star top-50 player's abilities and genes."
Turiaf's teammate,
Toney Douglas,
who played college ball at Florida State from 2006 to 2009 averaging 16.7 points, was surprised to hear about his Seminoles' 10th seed in the Southwest Regional.
"Oh, for real? I guess it's pretty good," said Douglas, whose former team will face the seventh-seeded Texas A&M Aggies this Friday on TBS at 4:10 p.m. ET. "I haven't really, really looked at college teams like that because I've been so busy. Hopefully they'll win."
Douglas, who was busy starting in
Chauncey Billups'
six-game absence, said this about his favorite tournament memory: "Just playing in it. Our first game [in the first round against Wisconsin in 2009, which they lost 61-59], I'll always remember that moment. It was a great moment."
You can follow Jared Zwerling on Twitter.
November, 26, 2010
11/26/10
4:35
PM ET
By
Meredith Marakovits
| ESPNNewYork.com
Ronny Turiaf, who was limited in the fourth quarter Wednesday against the Charlotte Bobcats, did not fully participate in practice. When the session was opened to the media he was not in the scrimmage but was shooting at a side basket instead. He also had a knee brace on his left knee which was sprained earlier in the season.

Head coach Mike D'Antoni said Turiaf wears the brace from time to time and that he will play Saturday against the Atlanta Hawks. D'Antoni said that they are using extra precaution due to the earlier injury which is still causing some discomfort. He added that no tests have been scheduled. It is "strictly precautionary."
November, 22, 2010
11/22/10
1:56
PM ET
By
Meredith Marakovits
| ESPNNewYork.com
Amare Stoudemire turned his left ankle driving to the bucket against the Clippers. He took it easy at practice and had it wrapped with ice after practice. He said that it's not a big deal and he is not concerned moving forward. Stoudemire will play tomorrow against the Bobcats.

Ronny Turiaf was limited. He was on the bike when they opened things up and had some general soreness in his left knee. He will be good-to-go tomorrow. Turiaf had missed 4 games earlier in the season with a sprained left knee.