New York Knicks:

Shane Larkin
November, 1, 2014
11/01/14
6:30
PM ET
GREENBURGH, N.Y. --
Shane Larkin
says he understands the Knicks' decision not to pick up his third-year option.
Now it's on him to show the Knicks that he belongs in their future.
"I mean that's a business deal," Larkin said of the Knicks' decision. "Obviously they want to build a championship team here and they need as much money as they can next summer to be able to bring in the big free agents that they're looking at."
Even though it's very early in the season, the Knicks have had a need for Larkin to play big minutes. And so far, Larkin has flashed glimpses of being a contributor. Forced into the starting lineup unexpectedly when
Jose Calderon
suffered a setback right before the season opener against the Bulls, Larkin has been the Knicks' starting point guard. And he's expected to start a third straight game on Sunday against Charlotte.
[+] Enlarge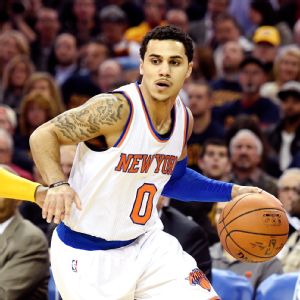 Jason Miller/Getty ImagesWith Jose Calderon out of action, Knicks guard Shane Larkin is excited for more playing time.
In his first two starts, Larkin averaged 7.5 points, 4.0 assists and 3.0 steals in 27 minutes per game. He was very active in the Knicks' win over Cleveland on Thursday when he hit 4 of 6 shots, scoring nine points along with posting five assists and five steals.
Larkin displayed some of the potential that made him the 18th overall selection in the 2013 draft. The point guard's rookie season got off to a disastrous start when he suffered a broken ankle that summer.
"Shane has been really good for us," Knicks coach
Derek Fisher
said. "To think about a young guy that didn't have a preseason or a training camp last year, misses a lot of games [due to injury], gets traded over the summer, new team, new coach, new way of playing basketball ... [and] 10 minutes before opening night, almost in some ways, finds out that he's the starting point guard for the
New York Knicks
. That's a lot.
"And he has handled himself extremely well," Fisher continued. "He has been good for our team, not just controlling the basketball and making solid decisions but defensively being scrappy and aggressive out there. We are fortunate to have him and we are looking forward to him getting better as time goes on."
Calderon is expected to be out up to three weeks with a calf injury. The Spanish point guard said he felt something wrong in his calf in warmups prior to the opener against the Bulls and was held out.
"Everything was good and ready to go," said Calderon, who along with
Andrea Bargnani
(hamstring) did not practice. "But I don't know, just did a move in warmup, like a step back or something and I just felt it again."
Calderon said his injury in warmups was similar to his previous calf injury suffered earlier in training camp. The Knicks are going to proceed with caution with Calderon so the injury doesn't linger throughout the season.
That means more playing time for Larkin, who is eager to prove what he can do with the unexpected opportunity. In his first two games as a Knick, Larkin has seen time against
Derrick Rose
and
Kyrie Irving
. On Sunday he will see plenty of
Kemba Walker
before
John Wall
visits on Tuesday.
"As a second-year guy coming off an up-and-down rookie season with an injury being able to be thrown into that type of fire and just go out there and play, it's a great experience for me," Larkin said. "It's just going to make me better."
As for his contract situation, Larkin says the Knicks' decision not to pick up his third-year option doesn't mean he's not wanted.
"It's not like they told me like, 'We don't see you as part of our future, we don't want you, da-da-da-da,'" Larkin said. "If that was the case, I'd be sitting on the bench.
"So obviously, they want to see what I have," he added. "That's what I'm doing. Going out there playing as hard as I can with the opportunity presented to me and we'll see what happens."
August, 20, 2014
8/20/14
2:32
PM ET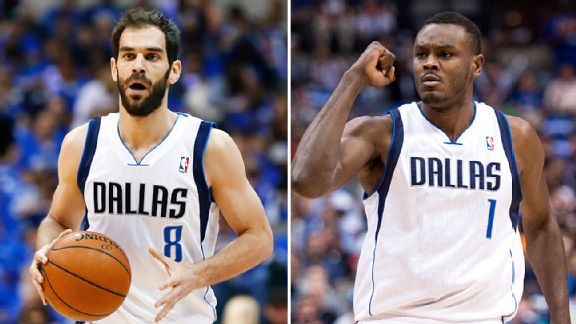 USA TODAY SportsWhich Knicks newcomer will be most vital to the team's success this season?
With training camp less than two months away, we're examining the burning questions facing the
New York Knicks
.
Today's question: Which newcomer is most vital to the Knicks' success this season?
Jose Calderon
: Calderon is widely recognized as the top shooting point guard in the NBA. He hit 45 percent of his 3s last season. In that respect, Calderon will be a big upgrade from the departed
Raymond Felton
, who knocked down just 31 percent from beyond the arc in 2013-14.
If the spacing and ball movement in the Knicks' new triangle offense are present, Calderon should have plenty of opportunities to knock down shots from the perimeter.
So offense shouldn't be an issue for the nine-year veteran.
Historically, however, Calderon has struggled defensively.

Last season, Calderon's "defensive real plus-minus" was a minus-3.56, which was 72nd among point guards. Defensive real plus-minus measures a player's defensive contributions based on points allowed per 100 defensive possessions.
For comparison's sake, Felton, who was widely criticized for his defensive issues last season, ranked 39th among point guards with a minus-1.24.
One thing worth watching here: Can
Shane Larkin
, who came over from Dallas with Calderon, help the Knicks defend point guards? He excited some people with his play in the Knicks' summer league season.
Samuel Dalembert
/
Jason Smith
: These two big men, along with
Cole Aldrich
, will be called upon to defend the rim and protect the paint for the Knicks this season. They are replacing
Tyson Chandler
, who was shipped to Dallas in the trade that sent Dalembert to the Knicks.
As we noted in our positional analysis on centers, neither Dalembert nor Smith made a huge impact on the defensive end last season based on on/off statistics.
The Mavs gave up 2.6 more points per 100 possessions with Dalembert on the floor; the Pelicans allowed 0.6 points more per 100 possessions with Smith on the court.
The Knicks will need Smith and Dalembert to protect the rim and rebound the ball effectively. Those were two things Chandler, when healthy, did well for the Knicks.
As noted in the positional analysis, Dalembert grabbed 42 percent of the contested rebounds available to him (30th among players who averaged at least five rebounds per game last season) and Smith pulled down 32.6 percent of the contested rebounds available to him (86th).
So it will be worth keeping an eye on these guys to see how they rebound and defend the paint throughout the season.
On offense, Smith, a PF/C, adds a dimension to the Knicks that Chandler did not possess: an outside shot.
Smith hit 47 percent of his attempts last season on shots more than 16 feet from the rim but inside the 3-point line. Seventy-four percent of his attempts last season came from between 10 and 22 feet.
Cleanthony Early
/
Travis Outlaw
: These two players may be counted on to spell
Carmelo Anthony
throughout the season.
If numbers from last season are any indication, getting Anthony more rest throughout the game may help him in the fourth quarter.
Last season, Melo's shooting percentage dipped significantly late in games. As noted in this story, Anthony shot 47.9 percent from the field in the first quarter, 49.3 percent in the second quarter and 45.2 percent in the third quarter. But in the fourth, Anthony shot just 38.0 percent from the field. In overtime, that number dipped to 30 percent.
He also played a career-high 38.7 minutes per game. If the Knicks and Anthony believe there was a correlation between all of the minutes played and his shooting percentage late in games, they'd be wise to reduce his minutes this season. That's where Early and Outlaw, acquired in a trade with the Kings, come in.
Question: Which newcomer do you think is most important to the Knicks' success this season?
You can follow Ian Begley on Twitter.
July, 28, 2014
7/28/14
10:54
AM ET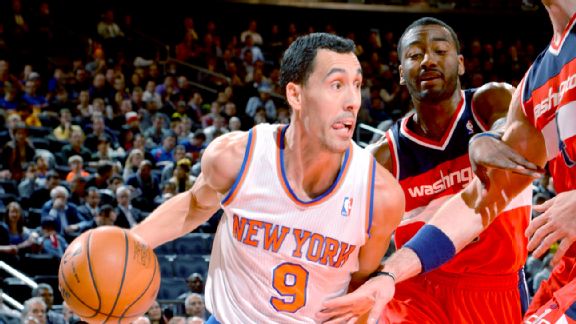 Jesse D. Garrabrant/NBAE/Getty ImagesPablo Prigioni, a savvy veteran who can provide outside shooting, is still under contract.
Now that free agency has died down, we're taking a look at where the Knicks currently stand position-by-position. Today, we look at point guard.
POINT GUARD
New additions:
PG
Jose Calderon
, PG
Shane Larkin
.
Returning/on roster:
PG
Pablo Prigioni
Gone:
PG
Raymond Felton
, PG/SG Shannon Brown, PG
Beno Udrih
.
The starter:
Calderon. Acquired in the Felton and
Tyson Chandler
trade to Dallas, the Knicks improved their shooting at the point guard position. It remains to be seen how Calderon does defensively for the Knicks. He could struggle to defend but the Knicks are expecting Calderon to improve the team's chemistry in addition to the shooting.
The wild card:
Larkin. Also acquired in the Dallas trade, Larkin was the 18th overall pick in the 2013 draft. He played in just 48 games, averaging 2.8 points in 10.2 minutes per game. But the Knicks have a young, albeit small at 5-11, point guard to develop. Perhaps Larkin could be a spark on some nights.
Outlook:
The Knicks did upgrade at point guard by bringing in Calderon after Felton struggled mightily last season. Calderon also could be a much better fit in the triangle than the underachieving Felton. Calderon averaged 11.4 points, 45.6% shooting overall and made 44.9% of his shots from behind the three-point arc last season. He also averaged 4.7 assists for the Mavs. Felton shot just 39.5% from the field and 31.8% from three-point land. Prigioni shot 46.4% from behind the arc last season. With the Knicks going to a triangle this season, Calderon and Prigioni may be counted on for their outside shooting. Phil Jackson's point guards in the past often were more spot-up shooters like
John Paxson
and
B.J. Armstrong
. The point guard that will make the biggest difference on the team is the one who is retired -– Derek Fisher. Even though he is coaching for the first time in his career, Fisher brings a wealth of championship experience, toughness and leadership. If Fisher can transfer that to the team from the sidelines, the Knicks' point guard play can only get better after last season.
Question:
How do you think the Knicks did at point guard this offseason?
July, 20, 2014
7/20/14
4:22
PM ET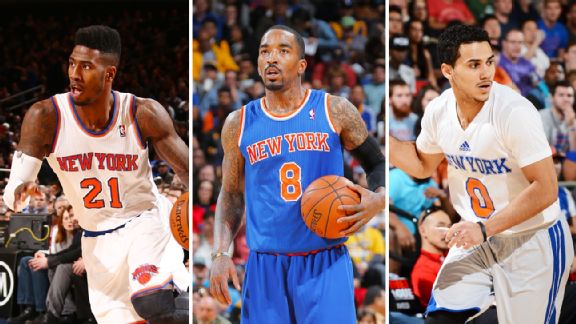 Getty ImagesThe Knicks are willing to trade Iman Shumpert, J.R. Smith and Shane Larkin. But who should go?
Working to clear the logjam in the backcourt, the Knicks are discussing their potential trade options with guards
J.R. Smith
,
Iman Shumpert
and
Shane Larkin
, a league source said Sunday.
"They're working on trying to make a move in the backcourt," the NBA source familiar with the Knicks' thinking said Sunday.
The idea that the Knicks are trying to make a trade to balance the roster isn't earth-shattering. President Phil Jackson and GM Steve Mills have mentioned the Knicks have a surplus in the backcourt, with Mills saying last week the Knicks are "heavy" at shooting guard.
The issue for the Knicks, of course, is deciding whom to send out in a trade and figuring out what they can get in return in such a transaction.

Tim Hardaway Jr.
has been deemed virtually untouchable, per a source.
Smith, the 2012-13 Sixth Man Award winner, has a player option in his contract for $6.4 million for the 2015-16 season and is coming off what he called the worst season of his NBA career. As such, it is unclear how much interest he could draw on the open market.
Shumpert is viewed as a strong defender but couldn't find his comfort zone on offense last season. He was made available in several trade proposals throughout the season. His value at this point in the trade market is also unclear.
Larkin was recently acquired from the Mavericks in the trade that also netted
Jose Calderon
and
Samuel Dalembert
.
The Knicks tried to include Shumpert in deals earlier in the offseason in an effort to unload the contracts of
Andrea Bargnani
($11.5 million) and
Amar'e Stoudemire
($23.4 million). No deal materialized for either player. It is unclear if such packages are still being discussed or if the guards are being offered individually at this point.
The Knicks have four shooting guards on the roster. They also haven't ruled out re-signing free-agent PG/SG
Toure' Murry
. He has drawn interest from the
Utah Jazz
and
Miami Heat
, according to a report Sunday from the Salt Lake Tribune.
Question: If you were Phil Jackson or Steve Mills, would you trade one of the Knicks' guards? If so, who and why?
You can follow Ian Begley on Twitter.
June, 27, 2014
6/27/14
7:27
PM ET
At this time last season,
Shane Larkin
was coming off a strong run to finish his college career and looking forward to making his mark in the NBA with the
Dallas Mavericks
.
"Going into the draft last year, I had a lot of steam coming off the ACC tournament. I was playing really well. I was really confident in myself," the former University of Miami standout said on Friday.
But Larkin was derailed by an ankle injury in the Mavs' final practice before the start of the NBA Summer League. The first-round pick would miss nearly five months due to the injury, losing out on valuable time rookies need to get acclimated to the NBA game.
[+] Enlarge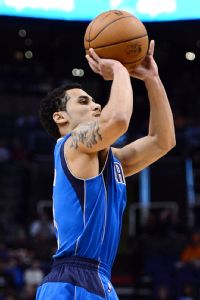 Jennifer Stewart/USA TODAY SportsLike Derek Fisher, Shane Larkin isn't a big guard, but he's hoping to make his mark in Phil Jackson's triangle offense.
"It kind of just put me behind the eight ball where my first game in the NBA, I was just kind of thrown in there," Larkin said on Friday.
The 5-foot-11 guard averaged 2.8 points and handed out 1.5 assists in 10 minutes per game in a disappointing first season with the Mavericks.
Now, he's looking forward to making a new name for himself with the Knicks.
"New York is going to offer me a new opportunity to go in there and create a different first impression. Go in there and play the same game I did in college, and I'm grateful for this opportunity," Larkin said on a conference call with New York reporters Friday.
Larkin was acquired in the
Tyson Chandler
-
Raymond Felton
trade on Wednesday.
There were rumors the Knicks would try to move Larkin in a trade to acquire a first-round pick in Thursday's draft. But a deal never materialized. So Larkin is now focused on making his mark in Phil Jackson's triangle offense.
"I think I can bring a lot to the triangle offense," Larkin said. "I know Derek Fisher is the coach. He wasn't particularly the tallest guard and what he did with the triangle offense, he succeeded and he had a great career. I'm looking forward to going in there and learning. ... I'm a high character guy, a team guy first. Just really want to win, will do whatever it takes to win."
Larkin is among nine guards on the Knicks roster. Jackson hinted on Thursday that more trades may be coming soon, and the expectation is that one or more of the guards will be dealt. But Larkin hopes to make his mark in New York as a backup to
Jose Calderon
.
"I'm just looking forward to speaking to coaches, seeing what they want from me," he said.
Larkin is the son of MLB Hall of Fame shortstop Barry Larkin. The same Barry Larkin who famously declined a trade from the Reds to the Mets back in 2000. The Mets were trying to acquire Larkin for a playoff push, but did not want to offer him a contract extension.
"I was actually talking to him about that the other day," Shane said Friday. "I remember being at the press conference when he was struck in a bind, not knowing if he was going to be in Cincinnati or New York. I've always liked New York. I was just joking with him the other day that one of us finally has the opportunity to play in New York, knowing that it's such a great sports city. I'm glad I'm the one that actually gets to play there."
Dalembert hopes to improve Knicks' 'D':
Samuel Dalembert
hopes to do the dirty work for the Knicks on defense this coming season. New York received Dalembert from Dallas in the Chandler-Felton deal earlier this week.
Dalembert averaged 6.6 points -- on a career-best 56.8 percent shooting -- 6.8 rebounds and 1.2 blocks over 20.2 minutes in 80 games (68 starts) with Dallas last season. He hopes to help the Knicks improve on an interior D that ranked 23rd in defensive efficiency last year.
"I've always been a defensive guy, always able to [play] defense. That shouldn't be a problem, coming here and fulfilling that role," Dalembert said.
Of
Carmelo Anthony
, Dalembert said: "He can take care of the offense, I'll take care of the defense."
You can follow Ian Begley on Twitter.
June, 25, 2014
6/25/14
7:59
PM ET
We're still days away from July 1, and things are heating up with the Knicks and
Carmelo Anthony
.
Phil Jackson struck a big deal Wednesday to trade
Tyson Chandler
and
Raymond Felton
to Dallas in exchange for point guard
Jose Calderon
, center
Samuel Dalembert
, point guard prospect
Shane Larkin
, reserve shooter
Wayne Ellington
and the 34th and 51st picks in Thursday's draft, as reported by ESPN's Marc Stein.
I'll get to that trade in a bit. First, let's look at Chris Broussard's report that Carmelo will meet with the Rockets, Mavericks and Bulls once July 1 hits and free agency begins.
According to Broussard, Anthony will grant those three teams the chance to make their pitch to him, but
there is no true favorite
at the moment in Melo's mind. Other teams will probably get the same opportunity to talk to Melo, such as the
Los Angeles Lakers
, the home of Melo's close friend
Kobe Bryant
. Bryant told ESPN.com in a text message that he plans to meet with Anthony eventually.
As for Miami, sources told Broussard that there has been no talk from Anthony's camp about going to the Heat. Of course, there's plenty of time for that to change, and
the Big Three were reportedly meeting
on Wednesday to discuss their futures, so things are very much developing.
But let's get back to Melo. As a free agent, Melo has earned the right to talk to any team he wants. Houston will try to entice Melo with the notion of playing alongside a big man such as
Dwight Howard
and possibly a scorer such as
James Harden
, to take some of the burden and minutes off Melo's shoulders. Houston can also pitch no state income tax as well.
But Broussard also reported that if Houston can clear cap space to sign
LeBron James
, the Rockets might try to attempt a sign-and-trade with the Knicks to acquire Anthony,
which would likely include Harden
going to New York.
If you're going to lose Melo, Harden certainly wouldn't be a bad consolation prize to receive in return. Despite what you might think of his defense, Harden can fill it up offensively, averaging 25 points, about six assists and nearly five rebounds the past two seasons for Houston, and he's only 24 years old. Phil has to start collecting assets, and Harden is an asset.
As for Dallas, the Mavs just got two of Melo's former teammates. So Chandler and Felton could try to persuade Melo to join them. Mark Cuban is an owner who is willing to spend money and has won it all before. And
Dirk Nowitzki
can also try to convince Melo to share the load with him.
And then there's Chicago, considered by some to be the front-runner for Anthony. Tom Thibodeau is as good a coach as there is in the league. And Chicago can sell a talented big man in
Joakim Noah
.
Derrick Rose
will be attempting another comeback from a season-ending injury, but we know what he can do when healthy. And there's young talent in
Jimmy Butler
and
Taj Gibson
, if the Bulls can hold on to them and still create space to pay Melo.
Lastly, there's the Knicks. I'm not discounting a return to New York at all. The Knicks can pay Melo more than anybody, and $129.1 million over five seasons is quite an argument for staying. But Phil is also the draw. Wednesday's trade shows he's not sitting still. The Zen Master is orchestrating something, and we will have to wait and see what exactly that is.
Calderon might be a slight upgrade over Felton and a better shooter, but he comes with a price tag of $7 million and slightly more for the next three seasons. Maybe Calderon will be traded again later. Who knows. If he stays, he can shoot, distribute the ball and likely is a better fit than Felton in the triangle.
Larkin, drafted 18th overall in 2013, could develop into a young asset if the Knicks keep him. They could also trade him. Dalembert could provide rebounding and blocks, if the Knicks keep him. Ellington can shoot. And the two second-round picks are two more assets the Knicks didn't have at the beginning of the day. The 34th pick could yield a contributor in a draft considered to be deep.
Something tells us Phil is not done, not by a long shot. So just as Carmelo begins to map out his free-agency tour, Phil has put his master plan into motion.
Melo's decision will not be an easy one. And by the time Phil and Melo sit down and talk again in July, the Knicks could have a more solid plan to sell Anthony to combat the Bulls, Rockets, Mavs and other suitors.
July 1 isn't here yet, but the "Summer of Melo" is off and running.
June, 24, 2013
6/24/13
5:00
PM ET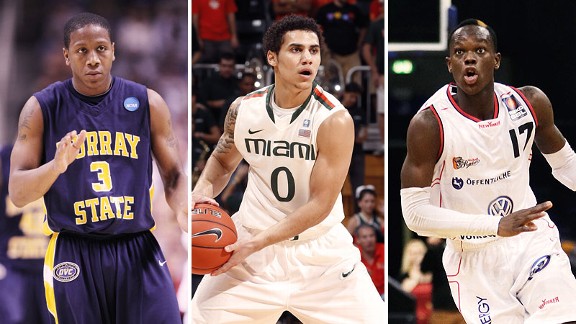 Getty ImagesIsaiah Canaan, Shane Larkin and Dennis Schroeder: Is one of them destined to be a Knick?
Leading up to the draft, we're going to take a look at the prospects who could be available for the Knicks at pick No. 24.
Today, we'll break down the point guards.
Jason Kidd is gone and there's no guarantee that
Pablo Prigioni
will be back, so the Knicks will need to add a point guard via the draft or free agency. It's believed that the Knicks will look for someone who can push the pace, to contrast the style most often utilized by
Raymond Felton
and the first unit. They'll also likely look for a floor leader who has a pass-first, shoot-second mentality.
With that in mind, let's take a look at the top candidates:
[+] Enlarge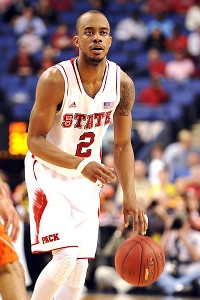 Lance King/Getty ImagesLorenzo Brown
Shane Larkin:
Larkin will probably be gone by the time the Knicks pick, but he'd be a great fit in New York if he's still on the board. Larkin is a strong shooter with solid range and can handle the ball well. The downside? The sophomore from Miami is undersized (5-foot-11) and hasn't impressed many scouts on the defensive end.
Isaiah Canaan:
According to someone who was in the room, Canaan had a strong workout with the Knicks earlier this month. The 6-foot senior from Murray State is a natural scorer with great range and an inclination to get to the basket. But he doesn't fit the profile of the pass-first, shoot-second player the Knicks are said to covet, so New York might shy away from him on Thursday.
Dennis Schroeder:
The 19-year-old Schroeder is another player who might not be available when the Knicks pick at 24. The German prospect is regarded by some as a top-3 point guard prospect in this draft. He's an explosive athlete who, according to accounts, can run the pick and roll well. But at 19, he might not be ready to contribute right away to a team with championship aspirations, such as the Knicks.
Nate Wolters:
The South Dakota State product has good size (6-5) and projects as a solid shooter who can get to the rim. He also thrives in the pick and roll, which would make him a solid fit for what the Knicks like to do. The problem for Wolters, though, is on defense. Scouts say he has relatively slow feet, which could make him a liability on the perimeter. The last thing the Knicks need is a guard who lets his opponent get into the lane.
Lorenzo Brown:
Brown's size (6-5) and strong first step are intriguing. He will probably be available by the time the Knicks pick at 24. But the Knicks might be wary because Brown's shot, according to some observers, isn't NBA-ready. The North Carolina State junior also lacks strength, which would factor in to his ability to contribute right away.
QUESTION: Should the Knicks draft a point guard with the 24th pick? If so, who should they take?
You can follow Ian Begley on Twitter.