New York Knicks:

Shannon Brown
July, 23, 2014
Jul 23
4:56
PM ET
The Knicks have waived veteran guard
Shannon Brown
.
Brown's tenure with the Knicks was short-lived.
He signed the first of two ten-day contracts with the Knicks on Feb. 27 and then signed for the remainder of the season in late March. He appeared in 19 games for New York, averaging 2.1 points per game in 7.8 minutes.
The veteran also played on the Knicks' summer league team.
With Brown off of the roster, the Knicks are down to eight guards (including free agent
Toure' Murry
).
Phil Jackson and Steve Mills both said earlier this month that the roster needs better balance, mentioning the abundance of guards on the roster.
Sources say that the Knicks discussed internally their options regarding potential trades of
Iman Shumpert
,
J.R. Smith
or
Shane Larkin
to clear space in the back court. The team had been considering this as recently as last week.
You can follow Ian Begley on Twitter.
March, 12, 2014
Mar 12
6:00
AM ET
So Phil Jackson could be the new New York Knicks czar by the end of the week.
ESPN's Chris Broussard
reported on Tuesday
that Jackson is expected to finalize a deal which would give Jackson "control of the club's front office by the end of this week."
[+] Enlarge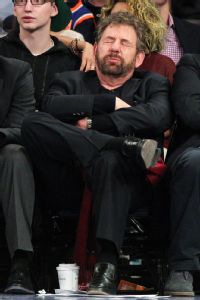 Brad Penner/USA TODAY SportsDo you give Knicks owner James Dolan an "A" for effort?
It sounds as though the Knicks are on the verge of landing the biggest catch in the NBA. But what if things fall apart between the Knicks and Jackson? The longer this dance goes, the more chances there are of something going wrong.
Which leads me to this question: If Jackson doesn't come to New York, do the Knicks end up looking like suckers?
No, I think the Knicks still come out looking good even if they don't end up with Jackson.
The mere fact that they have gotten to the point where Jackson is closing in on a deal feels like a coup. Consider that at the start of last week, the Knicks had lost seven straight and soon found themselves surrounded by headlines concerning a fan protest and
Joakim Noah
trying to recruit Melo to Chicago.
So even if the Knicks don't land the Lord of the Rings, they can tell their angry fan base that they put the full-court press on Jackson and tried to improve their product with the all-time winningest head coach. They could eventually end up giving the keys to the team to a guy such as Jeff Van Gundy or John Calipari down the road if things don't work out with Jackson.
So it could feel like a can't-lose situation for owner Jim Dolan -- even if the Knicks don't end up with Jackson, at least they can say they went after him hard and nearly got the Zen Master.
Question of the day:
If the Knicks don't end up with Jackson, do you place blame on the Knicks and Dolan for not getting him, or do you give them credit for trying?
Up now:
Phil
could be a Knick
by week's end.
George Karl thinks
Carmelo Anthony
isn't
Phil's type of player
.
Larry Brown
is miffed
that Jackson actually talked to the Knicks initially about Mike Woodson's job.
Shannon Brown
tells us why
Phil can work in New York
.
What's next:
The Knicks play the Celtics in Boston at 7:30 p.m. Monday.
March, 11, 2014
Mar 11
8:15
PM ET
Shannon Brown
knows what Phil Jackson can do for the Knicks.
The Knicks guard spent two-plus seasons playing for Jackson as a Laker and sees how the former Lakers and Bulls coach can intellectually challenge players.
"I think if he did come this way, he's got a lot of knowledge about the game of basketball and players, how to win," said Brown, who played for the Lakers from 2009-11. "I think that's one of the things that he'll bring. He's got something like 11 championships, so you can't beat that."
[+] Enlarge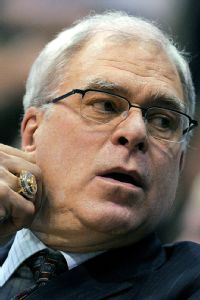 AP Photo/Chris CarlsonPhil Jackson is expected to accept the Knicks' offer, per a source.
Brown can see the Zen Master doing his thing in New York, giving players books to read while providing a wealth of wisdom that can only come with 11 world championships.
"If it ain't broke, don't fix it," Brown said. "He was definitely still giving books away, giving guys his knowledge and his memories of things that happened and where we can apply them to the basketball court."
Brown received a book from Jackson. It was "Dreams from My Father" by Barack Obama.
"It was actually a good book," Brown said. "The president was saying how he grew up, where he came from, things he had seen until he got to be the president of the United States. That one definitely helped me out a lot. Me being from Chicago and the president being from the same place."
"I think every book that he's given out he's read," Brown added. "So he might ask you a question about it or something. Definitely, he isn't just giving you a random book like, here, read Dr. Seuss. It's got some type of meaning behind it."
Brown thinks Jackson can make the transition from the bench to the front office and still have an impact.
"He wouldn't really want too much of an outside input," Brown said. "He's one of those guys that likes to study by himself. He doesn't need too many voices in his head, disrupting his thoughts. I definitely think he could help the franchise a lot."
"He had a formula man," Brown added of Jackson's style. "And it worked from the East Coast to the West Coast."
January, 19, 2012
1/19/12
12:58
AM ET
By
Christopher Hunt
| ESPNNewYork.com
NEW YORK -- When
Michael Redd
walked out of the Phoenix Suns locker room Wednesday night, he encountered teammate
Shannon Brown
.
"We're going to do that again," Redd said. "We're going to keep doing that."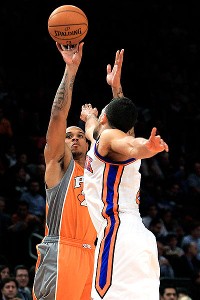 AP Photo/Frank Franklin IIShannon Brown went downtown to hit the game's biggest shot.
Redd spent time working on one-on-one drills during warmups with Brown, who said the idea was simply to get him into the flow of actually playing before he checked into the game for the first time. Whether the extra work helped, who knows? But if Brown can hit shots like the 3-pointer he sank with 35 seconds left, it's worth a shot.
Former Knick
Channing Fyre
found Brown standing all alone in the corner after the Knicks lost him. Brown fired the shot, which, oddly enough, hit front rim and bounced near the top of the backboard before falling through. After officials reviewed the play to make sure the ball did not hit the top of the backboard, which would have been out of bounds, Phoenix led 85-80.
Brown, who finished with 14 points, smirked after the ball dropped in, knowing it wasn't exactly the conventional way to put a team away in the closing seconds.
"Why would I be embarrassed that it went in?" Brown asked in a postgame interview. "It was a soft shot. You don't want to put it up there and it goes bang off the rim. You want to put up a soft shot so it has a chance to go in."
The 3-pointer gave the Suns some breathing room before Knicks rookie
Iman Shumpert
hit his second fourth-quarter 3-pointer with 25 seconds left to put New York behind two.
Steve Nash
hit all of his six free throws in the last 16 seconds to hold off the Knicks' last-minute surge.
Neither team shot well from the field, but a timely bucket -- even one that doesn't look like it should go in -- can make all the difference.
"Seeing the ball go in the basket any kind of way always helps," Brown said.