New York Knicks:

Spike Lee
August, 22, 2013
8/22/13
8:00
PM ET
By
Jared Zwerling
| ESPNNewYork.com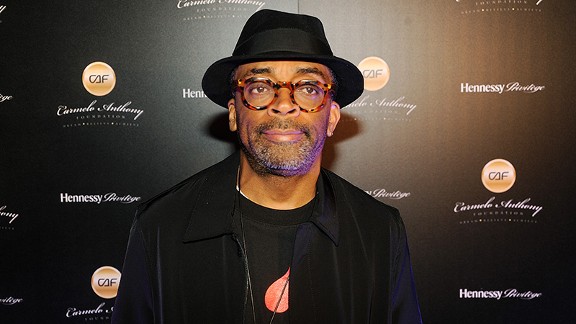 KirillWasHereSpike Lee had something to say about Paul Pierce's recent "run this city" comments.
NEW YORK --
Paul Pierce
's comments have the whole city talking.
In case you missed it, Pierce, one of the Nets' newest star imports, recently told ESPN New York 98.7 FM, "I think it's time for the Nets to start running this city."
On Wednesday, die-hard Knicks fan Spike Lee fired back.
"Other teams are making a lot of noise with their big, major announcements with every move, like the Nets," Lee told ESPNNewYork.com during an event honoring
Carmelo Anthony
for his contributions to the New York City community. "The Knicks have been very quiet assembling their team, which I love. I love the fact that people are picking the Knicks fifth or lower in the East. It's great; let people think that. Paul Pierce is talking crazy."
Lee also knows there will be some unpleasantries when Pierce steps on the court with his new Nets teammate,
Kevin Garnett
.
During a spring game in 2011 at Madison Square Garden, Garnett, then on the Celtics, had some words for Lee that he'll always remember. In fact, Lee said they were worse than what longtime nemesis
Reggie Miller
once said to him during a game while they were trash-talking from the film director's courtside seat.
"Garnett needs to calm the [expletive] down," Lee told ESPNNewYork.com in October 2011. "There's no reason he should be cursing at me the way he did the last game. So you can put that in the article. It was disrespectful and I would never do nothing like that to him."
Lee said he and Garnett still don't talk to this day.
"Him? We don't speak," he said. "We're cordial when we see each other, but I'm not calling him up. I don't have his number to call him up, and he ain't calling me up either."
These days, Lee is producing an upcoming thriller movie. He also wrapped up his next flick, "Oldboy," starring Josh Brolin and Samuel L. Jackson. The topic of "old" came up with the Knicks, but Lee said the team is "younger now." He even thinks
Metta World Peace
has fresh legs.
"I love that move. He's not done; he's got a lot left," Lee said. "I love him on
LeBron [James]
at the end of the game. I love him on Paul Pierce or
Joe Johnson
at the end of the game. He can play five positions."
Lee said with the Eastern Conference upgrading -- "the beast of the East," he said -- he doesn't believe the Heat will three-peat because "it's hard to do" and they'll miss
Mike Miller
, who was released via the amnesty clause. Lee said the team to beat now is the Pacers, especially given
Danny Granger
's return and
Roy Hibbert
's performance in the 2013 playoffs, which reminded Lee of Knicks legend Patrick Ewing.
"We had no answer for Hibbert," Lee said. "That can't happen again. He cannot dominate. I don't know what needs to be done, who needs to be talked to, but that can't happen again -- can't happen. He's not Patrick Ewing. I know he went to Georgetown, but he's not Patrick. He was playing like it, though. He was playing like Patrick, [Hakeem] Olajuwon, Moses [Malone] combined. He was killing us."
Lee is hoping the Knicks can earn a berth in the Eastern Conference finals.
"We've got to get there -- got to," he said.
Lee made sure to also get that point across to Anthony, who was being honored by Hennessy for his philanthropic efforts in New York City.
"Everybody has your back, and you've got to get to the promised land, baby," he said to Melo, while speaking to those in attendance. "You've got to get there."
You can follow Jared Zwerling on Twitter.
June, 16, 2013
6/16/13
12:23
AM ET
By
Jared Zwerling
| ESPNNewYork.com
Deron Williams
and his Nets teammates were not very truthful with the media last season regarding their rivalry with the Knicks.
It was a bigger deal than they made it out to be -- and D-Will knows looking ahead to next season, it will only grow.
"When the reporters are asking us, 'Is it a big deal?', I think we all kind of shrug it off," he said during a Nike House of Hoops event in Brooklyn. "But you can tell, the energy from those four games this season were probably more intense than any other four games we played in.
[+] Enlarge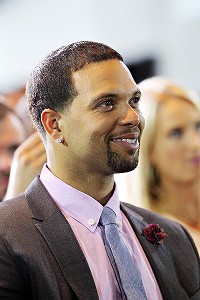 Brad Penner/USA TODAY SportsDeron Williams is excited to play for Jason Kidd, who was his favorite player growing up.
"Even when we won or when the Knicks won, the way they celebrated wasn't how you would celebrate after a normal win. It definitely means much more. It's not really a rivalry yet, but I think it's forming, and as we get better and as the Knicks get better, I think it'll be a rivalry for years to come."
Jason Kidd crossing the river will only contribute to the growth of the rivalry. Williams said he's "definitely happy" with his new head coach.
"I'm from Dallas and Jason Kidd got drafted to the
Dallas Mavericks
. He was my favorite player growing up," he said. "I had a chance to play against my favorite player, play with him on the Olympic team and win a gold medal, and now I get a chance to be coached by him.
"So it's going to be a great experience for me to get to learn from him and to develop under him. I think it's going to be great for our team as well. We can kind of grow together. I think all of us are a little upset with how the loss to the Bulls went, and we look forward to getting back out on the court already."
Spike Lee, who was also on hand for the event, was complimentary of Kidd's move. But he stopped there. Lee's allegiance is still, and will always be, with the Knicks. And he made sure he got that across to the hundreds of fans who showed up.
"I have all the love in the world for the Nets and new coach Jason Kidd, but I'm a Knicks fan," he said. "That's it."
Lee even predicted that the Knicks and Nets would face off next season in the Eastern Conference finals.
"That would be nice," Williams said. "I like it."
Brooklyn style:
Since being in Brooklyn, Williams has been impressed by how visible the game is in the area.
"Once I got to Brooklyn and became a member of the Nets, you can just see the love of the game in this community, and you can see it growing since we moved over here," he said. "Just driving around, it seems like every block has a park and there are people outside playing, especially when the weather gets nice."
Not only was the weather nice on Saturday -- around 80 degrees -- but Williams also gave the attendees a good feeling with his outlook for 2013-14.
"I'm motivated anyways, just because of how last season went," he said. "It was a frustrating season for me because I had to deal with a lot of injuries, and it took me awhile to get right and get healthy. So I'm just looking forward to this season."
You can follow Jared Zwerling on Twitter.
September, 7, 2012
9/07/12
11:00
AM ET
By
Jared Zwerling
| ESPNNewYork.com
On Friday night,
Reggie Miller
, who became a Knicks villain inside Madison Square Garden, will be inducted into the Basketball Hall of Fame. And when that happens, it won't be surprising to see Spike Lee's name on Miller's player plaque in Springfield.
That's because Lee provided plenty of motivation for "Miller Time" because he talked a lot of smack to the Pacers shooting guard from his courtside seat -- sometimes even standing up to make his words heard. Lee was so vocal with Miller (they weren't friends by any means) that in May of 1994, right before the Eastern Conference finals between the Knicks and Pacers, he placed a phone call to the occasional "Knick Killer" to present him with a friendly wager.
Lee said that if the Knicks won the series, Miller would have to visit Mike Tyson in jail at the Indiana Youth Center (now the Plainfield Correctional Facility), where he was serving time on a rape charge. But if the Knicks lost, Lee would cast Miller's wife at the time, Marita Stavrou, in one of his upcoming films.
Miller shared his side of the story
in an NBA TV special called "Looking Back at Reggie," which airs tonight (at 5:30 p.m. ET) before the enshrinement ceremony. Miller also reflected on the time he scored 25 points in the fourth quarter (39 total) in Game 5 to put the Pacers up 3-2 in the series. It was the night when Miller did his infamous choking move (directed at Lee) to signal the Knicks would lose the game. But the blue and orange came back to win the next two contests en route to the Finals against the Rockets.
During their legendary rivalry from 1993 to 2000, the Knicks and Pacers each won three playoff series. The Knicks first beat the Pacers in 1993 in the first round, and then the following year in the conference finals. Then in 1999, the Knicks upset the Pacers as the eighth seed to reach the Finals -- their last appearance in franchise history. The Pacers' victorious years were 1995, '98 and 2000.
You can follow Jared Zwerling on
Twitter.
February, 15, 2012
2/15/12
10:07
AM ET
By
Ian Begley
| ESPNNewYork.com
Renowned director and New York Knicks fan
Spike Lee
believes in
Jeremy Lin
.
He wants to make sure
Floyd Mayweather
does, too.
After Lin's latest heroics on Tuesday night, Lee had a message for Mayweather, the boxer who believes Lin has become a national sensation
because of his race
, rather than what he's done on the basketball court.
"Floyd Mayweather I Hope You Watched Jeremy Hit The Gamewinning 3 Pointer With .005 Seconds Left.Our Guy Can BALL PLAIN AND SIMPLE.RECOGNIZE," Lee tweeted after Lin hit a game-winning 3-pointer with 0.5 seconds to play against the Raptors on Tuesday.
Lin is the first American-born player of Taiwanese or Chinese descent to play in the NBA. Lin's parents emigrated from Taiwan in the 1970s. A grandmother remained in mainland China.
"Jeremy Lin is a good player but all the hype is because he's Asian. Black players do what he does every night and don't get the same praise," Mayweather wrote on his Twitter account on Monday afternoon.
Lee fired back with a tweet of his own: "Floyd Mayweather Sounds Like Rush Limbaugh When He Talks About Jeremy Lin Saying He's Only Getting Attention Because He's Asian.WAKE UP YO."
Lin is the first player in league history to have at least 20 points and seven assists in each of his five career starts. The Harvard grad has scored 136 points in his first five career starts, the most by any player since the NBA and ABA merged in 1976. In his last six games -- all Knicks wins -- the 23-year-old is averaging 26.8 points and 8.5 assists.
You can follow Ian Begley on Twitter.
November, 8, 2011
11/08/11
11:05
AM ET
By
Jared Zwerling
| ESPNNewYork.com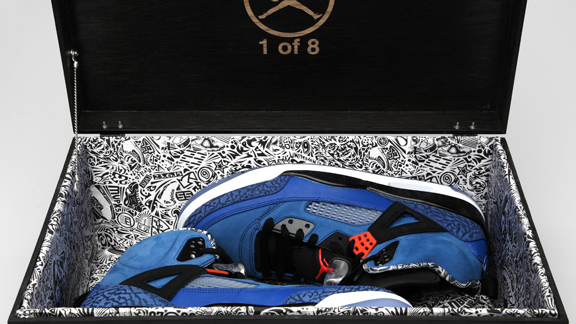 Courtesy of Jordan Brand
Spike Lee's latest sneakers, the Jordan Brand Spiz'ike, were unveiled on Saturday at NYC's Footaction.
It's as almost if
Spike Lee
has been a player for the Knicks all these years -- except he doesn't have the stats to back it up. But what he does have is basically a bench seat, custom-made jerseys, fans who come to the games to see him and ... his own signature sneaker.
On Saturday at Footaction, across the street from the Garden, Jordan Brand released the second version of the Spiz'ike, a compilation of previous Air Jordans in the Knicks blue and orange colorways. If you recall, the legendary
Mars Blackmon
, a character from Lee's movie "She's Gotta Have It," became a spokesman for Nike in many of his directed commercials with
Michael Jordan
in the 1990s. Years later, the first Jordan Spiz'ike hit stores in 2006.
The latest $175 Spiz'ike incorporates elements of each Air Jordan advertised in those very commercials, including the:
Air Jordan III -- The midsole and outsole, and the elephant print redesigned to spell out "Spike"
Air Jordan IV -- The "Wings" strap on the sides of the shoes that hold lace loops
Air Jordan V -- The shoe's silhouette and the netting on the side
Air Jordan VI -- The tongue and lace locks
Air Jordan IX -- The back tab
Speaking of sneakers and New York City, Nuggets forward
Chris Andersen
, Bulls swingman
Kyle Korver
and Sixers guard
Louis Williams
were in town last week at Cedar Lake in the Chelsea district to promote
Converse's two new sneakers:
the Defcon (worn by Korver and Williams) and the Pro Leather 2K11 (Andersen). Another endorser, Mavericks guard
J.J. Barea
, was not present.
Andersen has actually been wearing his pair
during his incline training
at the Red Rocks Amphitheatre in Morrison, Colo. He said the shoes have made a world of difference in his career.
"You're careless whenever you're at a young age and you're growing up because you can get away with what shoes you wear at that age," Andersen said. "Once you get older and you start putting that wear and tear on your body, your ankles and your feet, it does matter what shoes you wear. I've been training with these Pro Leather 2K11s down in Texas with my former high school basketball,
Rob Stewart
. I've also been running the incline in Colorado at Red Rocks. The way my style is, running up and down the court, jumping in the air and landing, puts a lot of wear and tear on my shoes. But I've had no problems with them. I love them."
Keeping to the theme of the lockout, Converse, which is a subsidiary of Nike, joined the lockout-related campaign trail. Their message at NYC's launch event was "Free Your Game," with the following words: "You can't lockout what's always been free. Courts are always open." Over the summer, Nike spread its slogan "Basketball Never Stops" through different charity and exhibition game across the country.
The Defcon, offered in 12 different colorways, is now available at Foot Locker for $90. The 2K11, offered in white/black/red and black/white, will be released on Nov. 15 for $100.
You can follow Jared Zwerling on
Twitter.

Filmmaker and Knicks fan
Spike Lee
joins "
The Stephen A. Smith Show
" to talk about his beloved team going to the playoffs.


March, 21, 2011
3/21/11
1:54
AM ET
By
Jared Zwerling
| ESPNNewYork.com
Tonight the Celtics return to MSG, but the headline matchup won't be between two of the league's best power forwards:
Kevin Garnett
and
Amare Stoudemire
.
It will be between Kevin Garnett and
Spike Lee
.
In the teams' first meeting on December 15 at the Garden, a Knicks' 118-116 loss after Stoudemire's 3-pointer came just after the final buzzer, the film director and die-hard Knicks fan claimed that Garnett cursed him out worse than
Reggie Miller
did when he used to play.
When we spoke in February,
Lee told me that KG needed to "calm the f--- down" and that when the Celtics returned on March 21, "I'm going to get him that time."
"I don't like the Celtics, but I respect
Doc [Rivers]
," Lee said. "Doc's a good friend. You know I love
Ray Allen
[Lee casted him in
He Got Game
]. I hate the Celtics, but look, they've got good guys on that team. I've got friends on that team. But Garnett needs to calm the f--- down. There's no reason he should be cursing at me the way he did the last game. So you can put that in the article. It was disrespectful and I would never do nothing like that to him."
Stay tuned at 7:30 p.m.
You can follow Jared Zwerling on Twitter.
February, 7, 2011
2/07/11
10:19
AM ET
By
Jared Zwerling
| ESPNNewYork.com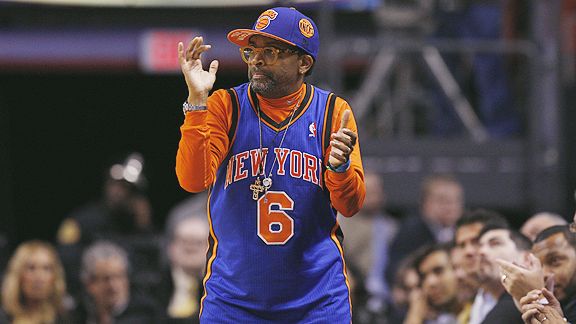 AP Photo/J Pat Carter
Spike Lee calls Landry Fields "Muddy Fields" because the rookie "doesn't mind getting dirty."
The Lakers may have actor
Jack Nicholson
sitting courtside, but the Knicks have filmmaker
Spike Lee
, who has set the bar high for a celebrity sports fan:
• He doesn't simply attend nearly every home game; he shows up wearing a game-worn Knicks jersey.
• He doesn't simply stay seated and clap after a made basket; he routinely stands up and talks to the opposing team's players. In fact, his legendary interaction with
Reggie Miller
was partly the focus of one of ESPN's "30 for 30" documentaries, "Winning Time: Reggie Miller vs. The New York Knicks."
• And how many celebrity sports fans show up in the paper for reportedly helping their
team bid for a superstar player
(New York Post)?
Speaking of which: With just more than two weeks to go before the trade deadline, the Knicks appear to be turning up the thermostat to acquire
Carmelo Anthony
. The Knicks
hired former Nuggets executive
Mark Warkentien
as director of pro player personnel and league sources have told ESPN that the Knicks, Nuggets and Timberwolves are
discussing a trade
that would send Melo to New York.
So what does Spike have to say about all this? He shared with me his thoughts on the Knicks' campaign and any changes they need to make, as well as his admiration for
Landry Fields
and
Walt Frazier
. Lee also reveals the one player who trash-talked to him worse than Reggie. Read on:
What are your thoughts on the season so far?
I'm very happy with the season. With the feeling at the Garden, you would think that the Knicks are undefeated this year. New York's energized about the Knicks. I have faith in
Donnie Walsh
that he's going to do the right thing for the team and the organization. We'll see what's going to happen before the February 24th trade deadline.
Is there anything you think the Knicks need?

Unlike a lot of people, I don't think we need a backup point guard because I like
Toney [Douglas]
. Look, it's all about Carmelo -- and right now, it's a staring match between Donnie Walsh and the Nuggets, and we're going to see who blinks first. I haven't spoken to Donnie, but I think he feels he's not going give up the whole team for Carmelo. So we'll see; it's going to be interesting.
I've got to ask you about Landry Fields. You rock his No. 6 jersey at nearly every home game.
Yeah, that's my man. Even [Lakers small forward]
Ron Artest
has mad love for Landry, and he has love for the Knicks. He'd still like to play for the Knicks. [Artest] still can't believe that the Knicks drafted
Frédéric Weis
instead of him [in the 1999 draft]. Ron is New York, Queensbridge. He's always going to represent New York.
People are asking me, "Do you have a nickname for Landry?" I've got one: Muddy [laughs]. There's Muddy Waters; now we've got Muddy Fields because he doesn't mind getting dirty, doing the little things. Muddy Fields. I asked Landry, "You like that?" He said, "Yeah, whatever you want to do Spike; whatever you say, I'm good with you."
Well, you're like the godfather and No. 1 voice of all Knicks fans.
Nah, that's Walt Swishin' and Dishin' and Coastin' Frazier. At the Mavericks game, I told Clyde, "You've got to start pumping that. Muddy Fields." [laughs].
What's the most eclectic suit you've seen him in?
He has a plethora of them [laughs]. That's my man, though. Growing up in Brooklyn, New York, he was one of my heroes and still is.
Before Landry, what players' jerseys did you wear and why?
Nate Robinson, [John] Starks
. I like to get the game-worn jerseys. I loved
Patrick [Ewing]
, but his jersey would have been down to my ankles. Also, for me to wear his jersey, he doesn't have to be the best player on the team. Like with Nate, I identified with his hustle and I was almost as tall as him [laughs]. Nate had heart. I still feel that we gave him away, though.
A bit of Nate is in Landry, whom Mike D'Antoni calls the team's "glue guy." What's interesting is that Fields is averaging 10.2 points on only 1.7 free throw attempts per game, but he's neither a consistent slasher nor shooter at this point. He's scoring with his intangible playmaking, which is unique for a rookie. That really speaks to his potential.
Yeah, here's the thing about Landry -- I guarantee this. What
Michael Jordan
did every summer was work on a facet of his game. Michael could not shoot the way he did in his later years. Then, I remember one [playoff] series after he got beat up by the Bad Boys [the Pistons]. He said, "I've got to get stronger." Some guys come in the league and that's who they are and they're not going to get better. Guaranteed, every summer, Landry's going to be working on another facet of his game. He's going to be working on his outside shot during the summer. So that's my man. Muddy [laughs].
What's your most memorable conversation with a player during a game?
This is really surprising, and this is all true. The only time that it's ever really gotten nasty was with Reggie Miller. But we were friends before that and we've been friends since then. When I go to the games, it's to have fun. I'm respectful. If I say a player missed a shot, that's not talking about your mother, your family; it's all good nature. The players enjoy talking to me and I enjoy talking to them.
But this last time against Boston -- you know that game where they disallowed Stoudemire's 3? --
Kevin Garnett
lost it. He was cursing me out for no reason. Maybe because Stoudemire gave him 39 points, but take that vulgarity to Stoudemire. I'm not holding you and I did not even say s--- to Garnett the whole game. That really surprised me. He lost it. He was cursing at me the whole game. He needs to calm the f--- down.
Well, you know what? It came back to bite him in the butt because STAT is starting for the East in the All-Star Game and KG is not.
Next time they come -- [Spike checks the Knicks' schedule] -- is on March 21st. So look, I don't like the Celtics, but I respect
Doc [Rivers]
. Doc's a good friend. You know I love
Ray Allen
. I hate the Celtics, but look, they've got good guys on that team. I've got friends on that team. Nate's on the team. But Garnett needs to calm the f--- down. There's no reason he should be cursing at me the way he did the last game. So you can put that in the article. It was disrespectful and I would never do nothing like that to him.
That's crazy. Garnett has definitely had his share of temper tantrums -- no question about that.
I'm not even playing and I didn't say nothing to him the whole game anyway. So if you're mad, start cursing out STAT, Stoudemire. But you're not going to do that s--- because Stoudemire's not going to take it. So he cursed at me and I'm 5-6½, 150. What he was saying was worse than Reggie Miller. It was uncalled for.
We'll all be ready for that next game.
I'm going to get him that time.
The interview will conclude with Part 2, where Spike and I discuss his involvement with MSG Networks' celebration of Black History Month, the African-American athletes who inspired him and issues that still concern him in the black community. Stay tuned.
You can follow Jared Zwerling on
Twitter.