New York Knicks:

Stephon Marbury
September, 20, 2012
9/20/12
7:41
PM ET
Stephon Marbury
touched on several Knicks topics in a brief interview with ESPNNewYork.com on Wednesday.
Here are the highlights:
He doesn't think
Amare Stoudemire
and
Carmelo Anthony
can play together.
"Amare needs a point guard like
Steve Nash
(to thrive). He's a pick-and-roll guy, a pick-and-pop guy. He can't play in the half court where everything's slowed down."
He questioned the Knicks' motivation to acquire Anthony.
"I don't know if (Knicks owner James) Dolan brought him in to win games or to make money," Marbury said. "I think it was to make money."
He thinks the Knicks, whom he still roots for, have a shot to advance in the playoffs.
"I think they have a good team," Marbury said. "They could make the second round."
Click
here
to read the full story.
May, 14, 2012
5/14/12
10:30
AM ET
Ex Knicks and Coney Island native
Stephon Marbury
was honored with a statue in China for his accomplishments in the CBA.
Yes, you read that right.
The former Knick attended a ceremony to unveil a statue of himself in Beijing on Sunday.
Here's the
visual proof
, courtesy of Marbury's Twitter feed.
And, making the situation even more bizarre,
Dennis Rodman
spoke at the ceremony,
according to reports
.
Marbury led the Beijing Ducks to a CBA title this season. It's good to see him in a situation where he can be successful after a rocky NBA career.
The former Knick, of course, shouldn't expect to be honored with a statue outside of Madison Square Garden anytime soon.
April, 3, 2012
4/03/12
2:05
PM ET
By
Greg Newman
| ESPNNewYork.com
So
Jeremy Lin
went
under the knife
. What does this do to Linsanity?
From
Jeremy Lin has surgery on knee
:
"I recall a knicks fan from yesterday saying he'd be back in two weeks. My question to you is, where did you get your medical license?"
- ChicagoSportsFTW8510
Ed.'s note -- Everyone heals differently, but clearly the Knicks are being cautious with Lin.
"Assuming Lin's age and the type of injury, he can heal in 3 weeks instead of 6. Strong rehabilitation can exercise can heal up the knee quickly. Let's hope the Knicks can hold on to their spot, or at the least move up in the rankings until Lin is better."
- SJYankee1
Ed.'s note -- That's making a lot of assumptions. He could heal in three weeks or it could take more than six. We just don't know.
From
Amare gets treatment, traveling with team
:
"we should pick up marbury, lol"
- knickerbockers1994
Ed.'s note -- Stephon Marbury? VETOED!!!!!
From
Opening Tip: Will Knicks make the playoffs?
:
"I see the Knicks going at least 11-3. I wish you people would look forward and stop dreaming of the past. Woodsanity 9-2 , BD 3-1 as a starter. STAY IN THE MOMENT PLEASE!"
- ANT2172
Ed.'s note -- The past is the best indication of the future, grasshopper.
"seriously in my opinion Knicks shouldnt be worried about facing the Bulls ... The only team that will give the Knicks problems are the Heat & Celtics..... The Bulls are overrated .... if you have offensive fire power & can Rebound you can beat the Bulls same for the Heat & Celtics but the Heat & Celtics have more offensive fire power than the Bulls ... but IMO if you outrebound Boston you win 100% of the time"
- sam07ny
Ed.'s note -- The Knicks have to worry about all three teams, as they only have one win over Boston and haven't beaten the others.
From
If Knicks call, James would be interested
:
From
Twitter
:
@IanBegley
How much will his injury affect his contract negotiations for next year?
- JaneL
Begley's reply -- I doubt it will have a big impact. I think the #Knicks will re-sign him, assuming he makes a full recovery.
What would you do with Lin? Comment and let us know.
March, 13, 2012
3/13/12
1:47
PM ET
Former NBA star
Stephon Marbury
has denied hitting a fan after a testy playoff loss in a Chinese Basketball Association game.
The 35-year-old Marbury and his Beijing Ducks teammates were trapped in their team van after their 102-100 road loss Sunday to the Shanxi Brave Dragons, Marbury's original team when he joined the league in 2010. A newspaper photograph showed fans pounding on the windows of the van.
Marbury was quoted Tuesday by the official China Daily as saying he and the fans had been separated by guards. However, he disputed reports that he had hit a fan.
"I didn't do that," Marbury said. "How could I do that over the security guards?"
Marbury scored 25 points in the game that was interrupted for 10 minutes as Shanxi fans threw water bottles onto the court to protest what they deemed to be a bad call.
Shanxi's win tied the best-of-five series at two games each, with the final game in Beijing on Wednesday. The winner goes to the CBA finals.
Marbury, a New York City native, was the highest-profile NBA player to join China's professional basketball league and has said he enjoys playing there. He scored 52 and 53 points in Beijing's two wins in the series.
Click
here
for the full news story.
November, 10, 2011
11/10/11
4:33
PM ET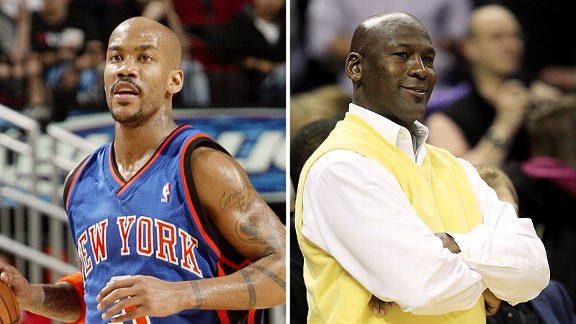 Getty ImagesStephon Marbury on Michael Jordan: "Dude forgot he played and demanded millions."
You can add former Knicks point guard
Stephon Marbury
to the list of
Michael Jordan
critics.
Jordan, owner of the Charlotte Bobcats, has been chastised by some NBA players and media pundits for his hard-line stance during the NBA lockout.
Marbury sounded off Wednesday in a series of tweets on his verified Twitter account:
• "Micheal Fake Jordan is a sell out. #Period. He forgot which hole he came out of. I said it 'Stephon X Marbury.'"
• "MJ went from MJ the black cat to a guy who forgot he was a player. Sell your team if you can't make a profit.. Your just a regular dude now!"
Jordan, who won six titles as a player with the Chicago Bulls, is reportedly a driving force behind a faction of owners who want the players' percentage of basketball-related income set no higher than 47 percent.
Marbury continued his critique of Jordan over a series of replies to his followers on Wednesday and Thursday:
• "He's just a man. I know he's some people's GOd but real is real. Dude forgot he played and demanded millions."
• "He never did nothing that I knew about to change the life off of the court other then hit cats over the head for a 100 150 dollar sneakers and still doing it."
• "
Jim Brown
said it best. Mikey mouse type cat. Wave and take your bread. He doesn't care about the hood or what's good in the hood."
• "when he rapped the BULLS for 36 million for one year no ones said nothing about that. We said he's Mike he should. Now look!"
Marbury also retweeted this: "He made an empire off of our people, and never gave back. No matter how many kids were getting killed over his bumass kicks."
Jordan's motives have also been questioned by current players, such as Warriors rookie
Klay Thompson
.
In a conversation with Indiana's
Paul George
on Twitter, Thompson tweeted, "man straight hypocrite bro.. He should've been the 1st one behind us."
Marbury, 34, currently plays in China. He last played in the NBA in 2009, suiting up in 24 games for the Boston Celtics.
He spent a mostly disastrous 4½-season tenure with the Knicks. New York's highest win total with Marbury was 39. They made the playoffs once -- in Marbury's first season -- and were swept by
Jason Kidd
and the Nets.
Among other embarrassing off-court incidents, Marbury briefly went AWOL from the team in
Isiah Thomas
' last season as coach, and made headlines with his testimony in a $10 million sex-harassment lawsuit against Thomas and Madison Square Garden.
Marbury, a Brooklyn native, averaged 19.3 points and 7.6 assists per game in 13 seasons with Minnesota, New Jersey, Phoenix, New York and Boston.
August, 25, 2011
8/25/11
9:44
PM ET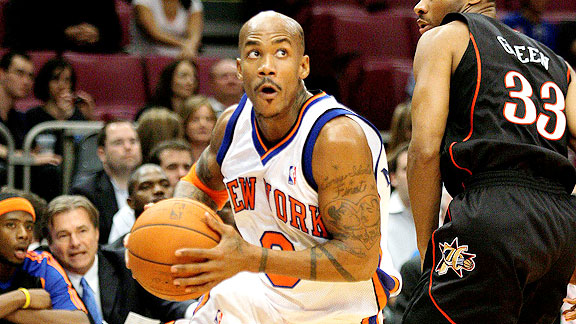 AP/Kathy Willens
After signing with the a new team in the Chinese Basketball Association, Stephon Marbury said the Knicks did him a favor by releasing him.
Shortly after
announcing on Twitter
that he'd signed with a new team in the Chinese Basketball Association, former Knicks point guard and prodigal New York son
Stephon Marbury
paid his former employer a
back-handed compliment
.
The Coney Island-bred Marbury tweeted on his verified account, "I thought the KnIcks and Datoni (sic) did me dirty but the really got me clean. GOD works out all things."
Head coach
Mike D'Antoni
would probably agree with Marbury's assertion that all things worked out.
Two seasons removed from Marbury's forgettable four-and-a-half year tenure in New York, the Knicks have emerged out of a salary cap mess back to respectability. That is thanks in large part to the efforts of
Donnie Walsh
, the ex-president, who negotiated a buyout with Marbury in the middle of the 2008-2009 season.
The buyout, as you recall, ended a mostly disastrous marriage between the Knicks and Marbury.
The Knicks highest win total with Marbury at the helm was 39. They made the playoffs once -- in Marbury's first season -- and were swept by
Jason Kidd
and the Nets.
Marbury also went AWOL from the team in
Isiah Thomas
' last season as coach. He then quickly fell out of favor with D'Antoni.
The former Lincoln HS star tweeted on Thursday that he signed a contract with the Beijing Ducks of the Chinese Basketball Association. The team has not yet announced the signing, though two league sources indicated that it is a done deal. According to the team's web site, one-time Knick
Randolph Morris
is on the roster.
The Ducks will be Marbury's third team in his three seasons in the CBA. According to a CBA source, Marbury was being courted by Foshan Dralions, his former team, but chose to sign with Beijing for less money to be in a bigger market. His contract is believed to be worth $100,000 per month.
Marbury last played in the NBA in 2009, suiting up in 24 games for the Boston Celtics.