New York Knicks:

Wat Misaka
February, 9, 2012
2/09/12
12:13
PM ET
By
Jared Zwerling
| ESPNNewYork.com
Japanese-American
Wat Misaka
, not only the first non-white player to play in the NBA but the Knicks' first-ever draft pick in 1947, wrote a congratulatory letter to
Jeremy Lin
when he made it to the league in 2010.
Misaka, 88, wanted to wish Lin good luck. He told him "Ganbare," which means "hang in there" in Japanese. Misaka's words must have paid off because, after being passed over in the 2010 NBA draft, cut by two teams in the same preseason and sent to the D-League, Lin has finally made a name for himself.
And Misaka has been paying close attention to the Taiwanese-American point guard's sudden rise. Misaka watched on TV on Monday night as the Knicks dominate his local team, the Jazz (Misaka lives 35 miles outside of Ogden, Utah, where he was born). In that game, Lin went for a career-high 28 points and eight assists.
"He's been an eye-opener," Misaka said from his home on Thursday. "He tore us apart on Monday. As a minority, it's been great to see what he can do. I hope he can keep it up."
Misaka has been most impressed with Lin's pick-and-roll game, getting into the lane and finding shooters. Lin piqued Misaka's interest so much that he wrote an e-mail to the Knicks, complimenting him on his recent play and wishing him success in the future. Lin did receive it and plans to call Misaka soon.
You can follow Jared Zwerling on
Twitter.
January, 16, 2012
1/16/12
2:52
PM ET
By
Jared Zwerling
| ESPNNewYork.com
Basketball legend
Wataru "Wat" Misaka
turned 88 last month, and he still wakes up every weekday at 5:30 a.m. to work as an electrical engineer in Utah, 35 miles outside of Ogden, where he was born.
"Clean living and green tea," he gives as the reasons for his longevity.
It turns out Misaka, who considers himself an "old, stick-in-the-mud country boy," has only spent about three of those 88 years outside of his native Utah. In the mid-1940s, he took two years off from playing at the University of Utah to serve in the U.S. Army.
The remaining time, Misaka was in New York as a member of the Knicks. But he wasn't just another name on the roster.
Misaka is Japanese-American, and when he was drafted in 1947 -- after helping lead the Utes to the 1944 NCAA and 1947 NIT championships -- he became not only the first Asian to enter the NBA (then called the Basketball Association of America), but the first non-white player in the league. He came before
Earl Lloyd
,
Chuck Cooper
and
Sweetwater Clifton
broke the color barrier for black players.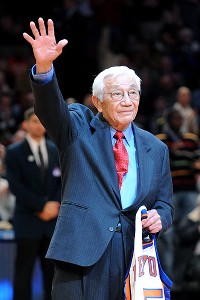 Kevin P. Coughlin/Icon SMIWataru Misaka was the first non-white player in the NBA.

The first year of the draft was 1947, and Misaka didn't even realize there was one before he heard he was going to New York, where he had played during the '44 and '47 NCAA tournaments.
"The first time I had ever heard about the draft was when my coach [
Vadal Peterson
] called me and said, 'You've been drafted by the Knicks and they'll be coming out here to talk to you about signing sometime later on in the summer,'" Misaka said. "So that was a big surprise. I hadn't even thought about anything like that."
In fact, the idea of playing pro basketball wasn't on Misaka's mind. He said many of the first-generation Asian immigrants were lower-class farmers and stressed to their children that education was the way to improve yourself. Not sports. Above all else, the most important thing was to get a college education.
Misaka's family didn't have the financial wherewithal to send him to school -- his father had died and they were struggling to make ends meet -- so he attended and hooped at nearby Weber State initially to cut costs before transferring to Utah.
"The education was primary," Misaka said. "Sports was a very long second place as far as people like me were concerned. I wasn't even thinking about going on for basketball or sports of any kind. It just happened there was a chance for me to do that, so I did it. But I still worked as an engineer part-time to pay for my tuition and going to school. Playing sports on top of that was a bonus."
Before Misaka traveled to New York as a pro baller, he met with Peterson and
Ned Irish
, the Knicks' founding father and the franchise's president from 1946 to 1974, at a hotel in Salt Lake City to sign the contract. There were no agents or legal representatives to assist with the matter back then. The deal was for $4,000 and it had a no-cut clause, which stated that he would get his full pay even if he got released during the season.
Misaka, who had an engineering degree, said the first-year salary was equivalent to the pay of an entry-level engineer at the time.
"It was pretty exciting," Misaka said. "I had been to New York twice, so I was quite familiar with The Belvedere hotel. That's where we stayed both times we were there. That was right next door to the Garden, so we used to go to have lunch at those little restaurants as a team. I kind of got to know the people around there, so I was kind of familiar with the big city."
While the 5-foot-7 Misaka played in only three games for the Knicks before being released in 1948, he said his time in New York was fulfilling. Even in the popular big-man, hook-shot game back then, headlined by
George Mikan
, he felt the support from the Garden crowd.
"I think the New York fans really enjoyed watching me play because I was a little guy," Misaka said. "New Yorkers like to root for the little guy, the underdog -- just seeing a little guy running around, making things a little harder for the big guys. I think they kind of enjoyed that. My style was kind of a novelty, unheralded I guess. I certainly enjoyed playing in front of the fans."
Misaka, who earned the nickname "Kilowatt" from a couple of local sports writers, also valued his short stay in New York off the court. He developed a friendship with teammate
Carl Braun
, who led the Knicks in scoring during his first seven seasons in the NBA.
"He was my roommate and he was a rookie at the same time," Misaka said. "We were up at pre-training time up at Bear Mountain. That's where the Knicks had their training camp. He was my roommate up there. He lived out in Long Island, so in the pre-league practices and exhibitions and before practices, he would come in from Long Island to practice. They were a couple weekends where we didn't have any practice scheduled and he invited me out to his place on the island and I spent a couple of days there. I met his folks and all. Those were the primary things I remember about New York -- my experiences with Carl."
Misaka has been back only once to the Garden since his playing days. That was on Dec. 21, 2009, when Misaka, who was the focus of a new documentary, "Transcending: The Wat Misaka Story," was honored during a timeout of a Knicks game. The team presented him with an honorary No. 15 jersey and then gave him a private tour of the arena, showing him a plaque of the 1947-48 team with his name on it. That was the same year
President Obama
invited him to the White House to honor him for being the first player of color in the NBA.
In recent years, the Knicks have gotten tickets for Misaka and his wife, Katie, when they come to Utah to face the Jazz. (Due to the shortened season, the Knicks are not traveling to Salt Lake City this year). Beyond that, Misaka still catches an NBA game here and there, but he won't have too much to offer as far as a player comparison.
"I was so short," he said. "All of the small guys nowadays are 6-2 or 6-3. They play a different game."
You also won't see him popping in any old game tapes.
"I haven't watched any of the games," he said. "On top of the play being kind of slower and erratic and not so smooth, like they are now, the filming technology has changed quite a bit. I don't get much fun in watching them."
Misaka is not sure when he'll return to the Garden, but he was glad to see the Knicks give Taiwanese-American guard
Jeremy Lin
a shot, even though he's played limited minutes.
The Misaka documentary helped shed light on Asian success in sports, and since then he was named to Weber State's and Utah's Sports Halls of Fame. He senses that people of similar ethnic backgrounds are making a greater effort to learn about and appreciate sports figures like Lin and himself.
"After [World War II], the Japanese communities were more interested in getting integrated into the American society," Misaka said. "I'm going back to the immigrants. I'm the second generation, and by the time the fourth generation has come along, they've seemed like they're picking up more interest in their own ethnic histories and so on, and getting more interested in people like me and their history."
While Misaka scored only seven points in three games for the Knicks, his ability as a small-town country kid to capture the attention of the big city is a story that will be told for years to come.
You can follow Jared Zwerling on
Twitter.
December, 27, 2011
12/27/11
6:21
PM ET
By
Jared Zwerling
| ESPNNewYork.com
While former Knick
Wat Misaka
was glancing through the NBA box scores Tuesday morning, he noticed that
Jeremy Lin's
name was not included with the Warriors in their 99-91 win over the Bulls. What he didn't realize was Golden State waived Lin earlier in the month and New York claimed him this morning.
Sixty-four years since the Knicks made Misaka not only their franchise's first draft pick, but the first Asian-American in the NBA (then called the Basketball Association of America), Lin is now coming to New York.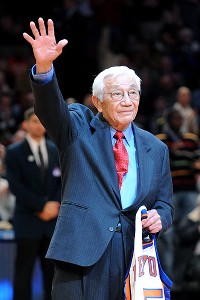 Kevin P. Coughlin/Icon SMIWat Misaka was not only the Knicks' first draft pick, but the first Asian-American in the NBA.
"I wish him luck," Misaka said Tuesday from his home in Salt Lake City, Utah. "I don't know exactly what kind of player he is, except for what I've read about him. I sure hope that he can stick. New York could be a great place for him, although Oakland would've been great too with all of the Chinese people that are in California. I think it was one of the reasons why they drafted him. He should have a big following [in New York] if he gets a chance to play."
Ironically, the Knicks play the Warriors on Wednesday night on the road, and Lin should get some immediate playing time. Since
Baron Davis
and
Iman Shumpert
are out with prolonged injuries, and
Mike Bibby
is still recovering from his lower back spasms, the Knicks were in the market for a short-term point guard. In a surprise move, the Knicks went with a young, untested player whose career average is 2.6 points in 29 games. Lin provides some skills and insurance at the one, but Misaka had a hunch the Knicks also signed him because of his ethnic background, a strong tie-in with New York City's large Asian population.
"It makes a difference," he said. "That's certainly one of the reasons why people draft players. It's not strictly about their talents, but their ability to draw fans."
Misaka said he hasn't met Lin yet, but he once tried to get in contact with him. When Lin was signed by the Warriors in 2010, after going undrafted and playing well in the Las Vegas summer league, Misaka wrote him a congratulatory letter to wish him good luck.
"He didn't know me, but I thought that he might have heard about me and maybe would get a little encouragement from words from me," Misaka said. "I'm wishing that he gets some playing time and gets some fans out there excited about a local boy kind of making good."
Misaka never heard back from Lin, but he would like to add one more word of encouragement: "Ganbare."
"It's Japanese for 'hang in there,'" Misaka said of Lin, whose contract is non-guaranteed, so the Knicks can waive him at any time prior to Feb. 10. "I'd like to just tell him, 'Hang in there, something good might happen.'"
For someone who just turned 88, and still works every day as an electrical engineer, that's saying something.
Stay tuned for more from Wat later this week, as he reminisces about his basketball upbringing, his Knicks and New York City experiences and what he's up to these days.
You can follow Jared Zwerling on
Twitter.