New York Knicks:

Willis Reed
June, 20, 2013
6/20/13
8:17
PM ET
By
Jared Zwerling
| ESPNNewYork.com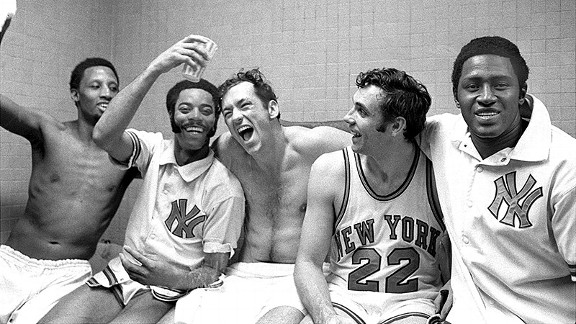 Dan Farrell/Getty ImagesWalt Frazier, second from left, had no idea if Willis Reed, right, would play in Game 7 of the 1970 NBA Finals until Reed limped onto the court.
For Walt "Clyde" Frazier, the most pressing pregame issue on his mind -- both when he was playing with the Knicks and now as an MSG analyst -- is what he's going to wear.
But on May 8, 1970, Frazier was more concerned with something else: Would his teammate,
Willis Reed
, who was suffering from a severe thigh injury, play in Game 7 of the NBA Finals against the Lakers?
[+] Enlarge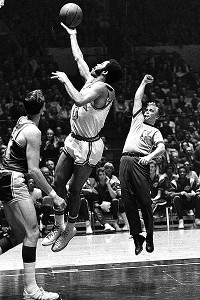 Getty ImagesReed's heroics helped inspire Frazier, who led the way to victory with 36 points and 19 assists against the Lakers.
Speaking with ESPNNewYork.com on Thursday, Frazier shared his behind-the-scenes memories of Game 7 that year and offered his thoughts on the Knicks' offseason.
You were the best player for the Knicks in 1970. How should LeBron James approach Game 7?
"You don't want to put all the pressure on yourself by saying, 'I've got to go out and hit an X number of points, an X number of rebounds.' Just go out and play the game and let it evolve, and just take over certain situations when you have to. One of the keys for me when I left the locker room, Red Holzman told me, 'Hey, Clyde, hit the open man, keep the ball moving.' But as the game progressed, I was the open man. Every time I came over a screen, I was open, and I would go on to score 36 points and have 19 assists."
Shooting 12-for-12 from the line, even with all of the pressure, distractions and noise that come with a Game 7, was also impressive.
"The other thing is, the home court, the Garden crowd actually propelled us in that game. I just became mesmerized staring at Willis on the court. When I saw that, it gave me so much confidence. I said, 'Man, we got these guys.' And then Willis made his first shot and the rest was there. The crowd never shut up and we would go on to win that game, so I'm looking for that type of support tonight from the Heat fans."
Did you prepare any differently for that Game 7?
"When I found that I tried to sequester myself, I don't play good. So I did the same thing. I went out, I stayed out until like 12 o'clock, went home and just rested up. Another thing is, we did not have a shootaround, so we had all day to sit around and just relax before the game. I remember the day of the game. I was trying to find out will Willis Reed play or not, and I couldn't find out any information. So I never knew if he would play or not until I got over to the game. People thought it was premeditated that we knew Willis was coming, but we knew nothing, man. We were just as surprised as everybody else when he walked onto the floor."
So you had no idea Willis was going to play?
"There was no Twitter or none of that stuff going on, so there was no information. I used to actually stay at the New Yorker Hotel, which is on 34th and 8th, which is right across from the Garden. So when I went out for lunch, everybody was like, 'Hey, Clyde, how's Willis?' Everybody wanted to know how he was doing. I was reading the paper to try to find out, but there wasn't a lot of information."
Did you have any close friends on the Lakers? If so, how did you handle that interaction throughout all seven games?
"My college teammate was on the Lakers. I was a year ahead of him, a guy named Dick Garrett. I was actually guarding him and he was guarding me. So during the playoffs, when I was in L.A., I would hang out with him and he would do the same in New York. But for Game 7, there's no fraternizing. We didn't go out, we didn't talk -- it was all business up to that point."
What was your celebration like after the win?
"I know I went out in the town [after winning], man. I drank so much champagne, mimosas. Everywhere I went, people were buying me champagne. It was quite a night. It's a memory I'll never forget."
Switching gears, what are the Knicks' biggest needs looking ahead?
"We need a rebounder, man, a tenacious guy. They need some quickness in the backcourt now that [Jason] Kidd has retired. We need another shooter, another scorer. Hopefully they can re-sign J.R. [Smith], but if we don't re-sign him, that's 18 points we're going to have trouble trying to replace. So this is going to be a crucial offseason for the Knicks, and hopefully management can come up with the right solutions to get some quality players that can help the team."
Starting on June 23, Frazier will be hosting MSG Network's "Sunday Night Knicks," a look back at the top 20 games of the season as voted on by fans.
You can follow Jared Zwerling on Twitter.
August, 8, 2011
8/08/11
7:05
PM ET
By
Jared Zwerling
| ESPNNewYork.com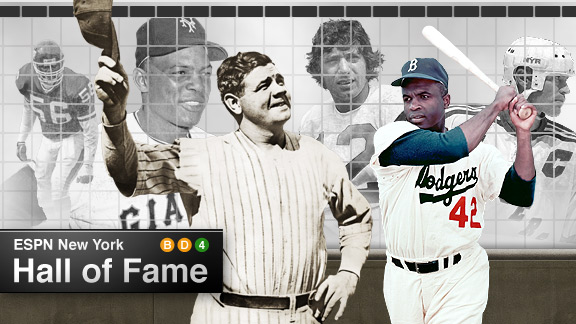 ESPN.com illustration
Vote: Pick the ESPN New York Hall of Fame class »
In honor of ESPN New York's inaugural
Hall of Fame ballot
, here are my top five Knicks: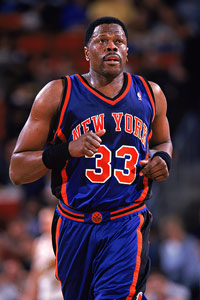 Otto Greule Jr./Allsport
Patrick Ewing appears on this list, but he isn't a finalist for the ESPN New York Hall of Fame in 2011.
•
O'Connor: Where's Ewing?
•
The Ewing debate

•
Meet the finalists

1. Walt Frazier:
If you meet Frazier he'll tell you, "Unequivocally, I'm the greatest Knick ever." And he's right. With the Hall of Famer running the point in New York, the Knicks won championships in 1970 and '73. Seven of his 10 years in New York resulted in All-Star Game appearances, including MVP honors in 1975.
2. Patrick Ewing:
During his 15-year career in New York, Ewing did it all: He was an 11-time All-Star and 1992 Olympic gold medalist, and is the franchise leader in points, rebounds, blocks and steals. The greatest center in Knicks history also led the team to Game 7 of the 1994 NBA Finals.
3. Willis Reed:
Reed defined the key Knicks attribute -- tenacity -- especially when he played in Game 7 of the 1970 Finals with a severe thigh injury. While he may have been overshadowed by the great centers of his era (Abdul-Jabbar, Russell and Chamberlain), he was a dominating force down low for the two-time champion Knicks.
4. Dave DeBusschere:
DeBusschere is the greatest trade piece in Knicks history. With Frazier and Reed -- and later, Earl Monroe -- the Knicks had plenty of offense, but DeBusschere brought All-Defensive abilities to the 1970 and '73 title teams. During the roughly six seasons he spent in New York, he played in five straight All-Star Games.
5. Bernard King:
In a tight squeeze for fifth place, King wins out over Monroe. Though Monroe was a champion, fans at Madison Square Garden have never seen a home-team scorer like King. He led the NBA in points per game in 1984-85 (32.9) and he was a two-time All-Star and All-NBA selection.