New York Knicks:

Boston Celtics
May, 4, 2013
5/04/13
9:07
PM ET
By
Jared Zwerling
| ESPNNewYork.com
GREENBURGH, N.Y. -- The
Boston Celtics
had just gone on a 20-0 run in the fourth quarter of Game 6 when the
New York Knicks
'
Iman Shumpert
made a game-changing play to stop the scoring.
Shumpert saw
Paul Pierce
about to make a difficult cross-court pass, and he jumped into the passing lane, stole the ball and finished a fast-break layup.
Those kinds of plays owned the Celtics, fueling the Knicks to a 3-0 series lead and the eventual takedown. In fact, both teams basically shot the same from the field (41 percent), but it was the Knicks' perimeter defense that made the biggest difference. While the Knicks had 62 steals and 79 fast-break points, the Celtics only had 34 steals and 48 fast-break points.
[+] Enlarge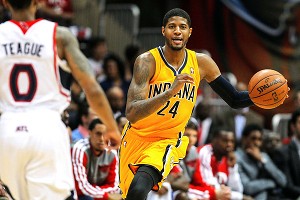 Daniel Shirey/USA TODAY SportsPaul George
Considering the
Indiana Pacers
are better than the Celtics defensively, the Knicks will have to break open the potentially close, low-scoring games with transition points off of backcourt steals and defensive rebounds from their guards. The Knicks are undersized and will need help.
"We know we're going to be in for a battle,"
Tyson Chandler
said. "We've got to be prepared physically to match their play, keep them off the glass, limit them to one shot and then run."
Carmelo Anthony
agreed, saying, "[The Pacers] want to try to play in the high 70s, mid-80s. ... We want to push our tempo down the court and force the pace on them."
Before the Celtics series, Mike Woodson was asked if he would alter his starting five to match up better size-wise with Pierce and
Jeff Green
. But Woodson was confident that the tough-minded Shumpert and
Raymond Felton
would handle their bigger and versatile assignments.
Along with
Pablo Prigioni
, the three guard starters demonstrated attitude and aggressiveness on defense. Their mentality resembled how opponents defend Melo: Don't make anything easy. Not only did the Knicks' guards crowd the Celtics' perimeter space, but they also utilized their quick hands and heads-up timing to force turnovers.
"[The Pacers] are great defensively," Chandler said. "This series, we've got to continue to move the ball and take advantage of our mismatches."
Looking ahead to the Pacers, which feature a younger and more skilled perimeter in
George Hill
,
Lance Stephenson
and
Paul George
, the Knicks have a defensive blueprint for success.
"Absolutely," Chandler said. "I think we couldn't have had a better first-round matchup to prepare us for the rest of the playoffs."
Because the Knicks will be lacking big men against the Pacers, they'll need their perimeter defense to continue its dominance, disrupting the ball from going inside and providing strong help defense. One effective tactic the Knicks used against the Celtics, especially in Game 6, was sudden half-court blitzes to rattle Boston's play calling and passing. The Knicks also rotated well out of traps, so there weren't many breakdowns.
Woodson could use that element of surprise against the Pacers.
"We'll have different schemes going into tomorrow night's game," he said. "We've just got to ... continue to defend like we defended in the Boston series because that's what got us through that series."
You can follow Jared Zwerling on
Twitter.
May, 4, 2013
5/04/13
1:50
AM ET
By
Jared Zwerling
and
Ian Begley
| ESPNNewYork.com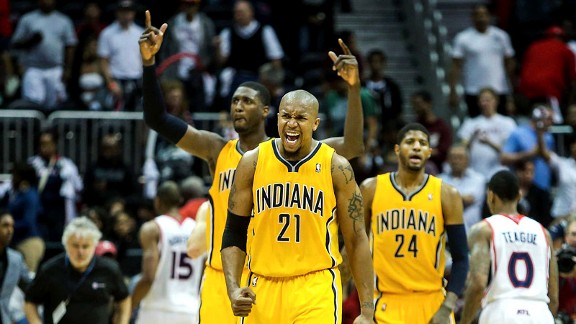 Daniel Shirey/USA TODAY SportsThe Pacers finished off the Hawks in six. They'll be at MSG for Game 1 on Sunday.
BOSTON -- From one top defensive team to another.
The second-seeded
New York Knicks
will meet the third-seeded
Indiana Pacers
(the third) in Game 1 of the Eastern Conference semifinals
on Sunday afternoon at 3:30 ET
, after both won their first-round series 4-2.
"We'll go back and break down the Pacers tonight and have a game plan in place when the players come in tomorrow for practice," Mike Woodson said after the Knicks' Game 6 victory over the
Boston Celtics
. "And then we'll be off and running on Sunday to start the second round."
While the Celtics and Pacers both excel at making stops, where the Pacers differentiate themselves is with their deeper frontcourt, point-guard depth and increased length and athleticism defensively, especially on the perimeter. In addition,
Paul George
has emerged as one of the best swingmen in the NBA.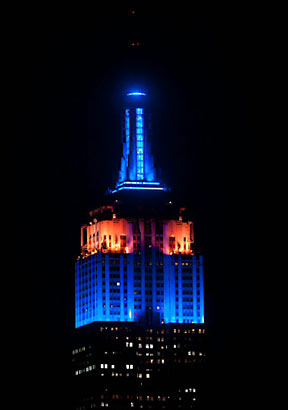 Courtesy of the Empire State buildingNew York was all about the Knicks on Friday night.
"We split with them during the regular season. They're a well-coached team. They're a very talented team," Woodson said. "We worked our butts off this year to host the first two rounds on our home court in front of our wonderful fans, so I'm just going to take it one game at a time and tell our guys we've got to take it one game at a time and see what happens."
At times,
Tyson Chandler
and
Kenyon Martin
will need to play side by side to contend with the Pacers' size. Even
Marcus Camby
could get minutes. The question is, Could
Amar'e Stoudemire
provide a boost inside? Woodson has made no guarantees when the power forward will return.
"I don't think he's at that stage yet of playing in a game," the coach said before Game 6.
Chandler's conditioning:
After his nine-point, 12-rebound effort in Game 6 against Boston, Chandler uttered five words that Knicks fans from Manhattan to Middletown have been waiting to hear.
"I felt 100 percent tonight," the big man said after the Knicks' Game 6 win.
Chandler had struggled with his conditioning earlier in the series. He was scoreless in Game 1 and had a total of 10 rebounds in 42 minutes in the first two games. Chandler's conditioning was off because he missed 16 of the Knicks' final 20 regular-season games with a small bulging disk in his neck.
"Absolutely the best I've felt in the playoffs," Chandler said. "Tonight was the first time I came in the game feeling 100 percent and being able to go through my regular routine."
Melo fellow:
Carmelo Anthony
picked the right time to snap out of his shooting funk. Melo had missed a career-high 19 straight 3-pointers -- including his first five attempts on Friday -- before he hit one with 1:43 to play in Game 6.
It might have been one of the biggest makes of his career. The 3-pointer gave the Knicks a nine-point edge and put an end to the Celtics' comeback attempt. (Boston rallied from 26 down to cut the lead to four with 3:32 to play.) After the game, a reporter informed Anthony that he had missed 19 straight.
"Nineteen? Damn!" he said with a smile.
Empire state of mind:
The Empire State Building was lit up in orange and blue on Friday night to commemorate the Knicks' win.
You can follow Ian Begley and Jared Zwerling on Twitter.
May, 4, 2013
5/04/13
1:23
AM ET
By
Jared Zwerling
| ESPNNewYork.com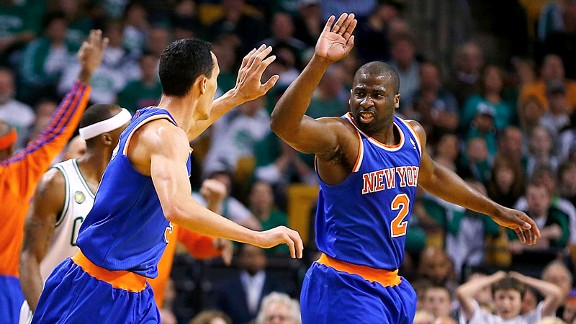 Jim Rogash/Getty ImagesPablo Prigioni and Raymond Felton combined for 25 points and 10 assists on Friday night.
BOSTON --
Carmelo Anthony
shouldn't have had to take seven extra shots in the final six minutes of the
New York Knicks
' first-round series clincher on Friday night.
The Knicks were up 69-47 at the start of the fourth quarter with Anthony playing one of his most trusting-my-teammates games as a Knick. After two losses of taking the heavy burden in isolation, Melo spent three quarters facilitating more pick-and-rolls, setting screens for the Knicks' guards and lending his hand defensively.
With Anthony helping his guys, the Knicks showed they can be one of the most dangerous offensively balanced teams in the playoffs. In the end, after escaping a 26-4 run by the
Boston Celtics
, the Knicks had nearly six players in double-figure scoring.
Tyson Chandler
had nine points.
"I told my teammates from the beginning of the game, 'I'm pretty sure that the Celtics really thought I was going to come out guns blazing,'" Anthony said, "so I kind of let
Ray [Felton]
and
Pablo [Prigioni]
and
[Iman] Shumpert
and those guys kind of get going, me helping them get going, and then try to see where I fit in throughout the course of the game. It was a great way to approach the game, and my teammates picked me up."
Melo's mindset represented the adjustments made during the past two practices. The focus was better team basketball.
"We can't play 'just give the ball to Melo and play iso' all the time, and everybody is just watching," Prigioni said after Game 6. "We talked about moving the ball, to cut, to occupy good space, and I think we did much better in this game."
Celtics coach Doc Rivers noticed it, too, saying afterward, "They talked about ball movement; I thought they came out and did that."
Entering Friday night, Anthony had six assists in the entire series. In the first quarter alone, he had two (five for the game), dishing to Felton for a jump shot and Prigioni for a 3-pointer. The Argentine, in fact, had three 3-pointers in the opening period.
The point guard also set the tone with his pick-and-roll playmaking, which he's done since being inserted into the starting lineup. At the start of the third quarter, he connected with Chandler off a screen set. It was a play they had discussed during a first-quarter timeout.
Chandler was also the recipient of an alley-oop pass from Felton, who continued to knock down shots off of screens and get deep into the paint for layups. He scored in double figures (11 points) for the sixth straight game.
"Ray had a great series,"
Jason Kidd
said. "He's the engine that goes, and when he gets us going, it puts us in a position to win."
As a result of Felton's penetration and the team's focus on making the extra pass, they had their best 3-point shooting night in the series (42.9 percent). Shumpert (17 points) was 3-for-3 from downtown, and even Anthony, who had missed 19 long balls in a row, finally nailed a big one with 1:43 remaining to put the Knicks up 84-75.
J.R. Smith
(13 points) also got going in the fourth quarter.
"We did have a nice balance offensively," Mike Woodson said. "I'm proud of the New York Knick players and what they've done today."
You can follow Jared Zwerling on
Twitter.
May, 3, 2013
5/03/13
8:37
PM ET
By
Jared Zwerling
| ESPNNewYork.com
BOSTON -- The
New York Knicks
jumped out to a 24-10 lead in the first quarter, a credit to their defense and controlling the tempo in transition. Meanwhile, the
Boston Celtics
struggled to hit even open shots (midway through the second period);
Paul Pierce
was 1-for-10 with three turnovers. On the flip side,
Carmelo Anthony
scored 14 points on 5-for-12 shooting. Melo also got his hand in the game in other important ways, finishing with five rebounds, two assists and two steals.

Here are four other main observations at the half:
1. Defense on point:
The Knicks dominated the first quarter like they did the first three games of the series, and they did it with their defensive rotations, quick hands and aggressiveness. In the opening period alone, the Knicks had four steals and scored four fast-break points; the Celtics had none.
A key to the Knicks' defense was their early halfcourt trapping right when the Celtics' ball handler passed midcourt.
Iman Shumpert
was especially aggressive, playing all over the court. Mike Woodson said before the game that because half-court scoring would be hard to come by, they needed to collect steals and then push the ball to score. That's what they did in the first quarter.
2. Pablo Prigioni's playmaking:
Woodson has credited Prigioni, once he was inserted into the starting lineup, for setting the tone of the team's offense. Well, in the first quarter, he hit three 3-pointers, fueling the Knicks to their big first quarter. The Argentine utilized his creativity and experience weaving back and forth in pick-and-rolls, which allowed him to create space to pull off his quicker release, something he's been working on in practice. He was also aggressively boxing out
Avery Bradley
and grabbed five rebounds in the first quarter.
3. Tyson Chandler's improved bounce:
The starting center has made some progress game to game in the series. So far tonight, he has two blocks, five rebounds and four points (an offensive putback and alley-oop dunk). However, he was limited by three fouls in the first half.
4. Lack of second-chance opportunities:
As the Celtics slightly clawed back midway through the second quarter, they controlled the defensive glass and then capitalized in the open court. The Knicks had only two second-chance points from an Anthony jump shot.
You can follow Jared Zwerling on
Twitter.
May, 2, 2013
5/02/13
3:27
PM ET
By
Ian Begley
| ESPNNewYork.com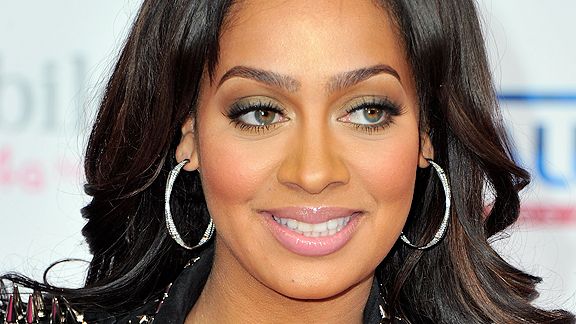 Alberto E. Rodriguez/Getty Images
GREENBURGH, N.Y. -- The on-court beef between the Knicks and Celtics turned into a Twitter feud Thursday afternoon.
Jordan Crawford
took to Twitter to deny allegations that he made a nasty reference to
Carmelo Anthony
's wife, LaLa, as the teams walked off the court after Game 5.
"I would never talk trash about that man's wife. I don't [know] him," Crawford wrote on his verified Twitter account. "All I did was respond!!"
LaLa Anthony also chimed in via social media. She tweeted on her verified account, "Try again. You on the bench for a reason," in a reference to the Celtics' reserve guard. She included a link to a post on Instagram featuring a picture that said "Strong women only intimidate weak men."
The back-and-forth on social media was in response to a dustup in the aftermath of the Celtics' Game 5 win over the Knicks.
Television cameras showed Crawford cursing at Anthony as the Knicks and Celtics filed off the floor.
Raymond Felton
took umbrage and approached Crawford and teammate
D.J. White
. Felton had to be restrained by his teammates.
Celtics coach Doc Rivers rushed his players off the floor. No punches were thrown.
"Just some words," Felton said after the game. "That's the game of basketball; it happens. You get in the playoffs, it gets intense sometimes. Just words, nothing serious."
Anthony downplayed Crawford's actions. He even took a dig at the Celtics reserve.
"I'm not thinking about no Jordan Crawford, not at this point in time, I'll tell you that," Anthony said. "I don't even think he deserves for you to be typing [his name] right now."
On Thursday,
Tyson Chandler
said Crawford crossed a line if he did address Anthony's wife, though Chandler made it clear that he did not hear the conversation.
"There are certain things that you leave outside [the game]," Chandler said. "If he did say any of those things, then he definitely crossed the line."
Added Felton: "Did he cross the line? Uh, some people may say yes, some people may say no. Whatever. It's all in the game, man. People are going to talk junk. People are going to say what they want to say. You have a right to voice your opinion. You have a right to say what you want. We know what he's trying to do. He's trying to get us away from what we need to focus on the most and that's playing basketball."
Mike Woodson said he addressed the issue of trash talk and advised his team to "let things go."
"I don't know what was said, but it doesn't matter what was said. The bottom line is you still have got to play the game," Woodson said. "Like I said, I've addressed that with our guys. We've just got to let things like that go and just play."
Woodson was also upset with his team for its decision to wear black before Game 5 to mimic a funeral for Boston.
The Celtics trailed in the series 3-1 heading into Game 5 and forced a Game 6 with a 92-86 win at Madison Square Garden. Boston is the 11th team in NBA history to force a Game 6 after trailing 3-0 in a best-of-seven series. Three teams have won Game 6.
Woodson insisted Thursday that his team is still confident heading into Boston.
"We're 3-2 in the series and still facing a close-out game. I feel pretty good about it, and our guys feel good," he said. "We just got to go give back what we gave away last night. We got to go back there and try and figure it out tomorrow night."
The Knicks have not won a playoff series since 2000.
You can follow Ian Begley on Twitter.
May, 2, 2013
5/02/13
1:24
AM ET
By
Jared Zwerling
| ESPNNewYork.com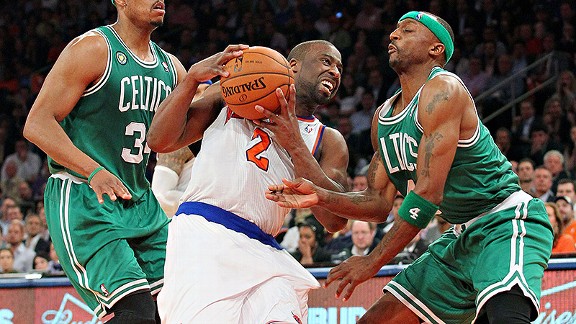 Brad Penner/USA TODAY SportsRaymond Felton scored 21 points and dished out four dimes despite the Knicks' struggles on offense.
Before the Knicks take the practice court Thursday morning, the coaching staff is going to spend a considerable time going through the offensive game tape of Game 5's loss.
While the Knicks haven't averaged 100 points per game in the series like they did during the regular season, their offensive flaws have been particularly exposed after back-to-back losses.
"Offensively, we were searching," coach Mike Woodson said after Game 5. "I'll go back and break this tape down, and we've got to come up with another plan."
The first thing Woodson is going to notice is how the Knicks' subpar defense didn't lead to much offense -- something he preaches constantly to his guys. Entering Wednesday night, the Knicks had 44 steals in the series compared to the Celtics' 21. But the Knicks had only eight steals in Game 5 and didn't capitalize that much in transition off of defensive rebounds. When the Knicks went up 3-0, those factors led to the Knicks controlling the tempo and scoring more points in the open court with their guard-oriented lineup.
"We're just not getting into our offense quick enough," Woodson said after Game 5. "We're just laboring. Our pace has got to pick up; that's on me."
Give some credit to the Celtics. In the past two games, they limited the Knicks' transition game while picking up their own pace. In the past two games, the Celtics had 25 fast-break points compared to the Knicks' 19. The Celtics have slowed down the Knicks to make them play half-court basketball through
Carmelo Anthony
, and the abundance of isolation caused by that slowing -- 28.6 percent of their plays in Game 4 and 26.3 percent in Game 5 -- has hurt them. The Celtics excel more defensively with their physical, grind-it-out style, and they're now winning that battle.
"The playoffs are like a game of chess, and Doc [Rivers] is winning," a veteran NBA scout said. "Doc is better than Mike at making adjustments. Doc is one of the best in the game at that."
The pressure is now on Woodson, so what might he do if Game 6 is more halfcourt-oriented?
It all starts with Anthony. Because the ball is in his hands the majority of the time, six assists won't cut it. That's how many he has in the entire series. While Melo "takes it personal with the Celtics," according to
James White
, he can't get caught up in trying to be a one-on-one hero. He needs to trust his teammates more and make quicker reads in pick-and-rolls and out of double-teams, utilizing skip passes to throw off the Celtics' defense.
The bottom line is: The Knicks need better ball movement. That team approach was a major difference for the Celtics in Game 5.
"I thought we moved the ball well,"
Kevin Garnett
said. "In order for us to be successful, we need to lean on one another on both ends of the court."
Woodson also needs to play
Pablo Prigioni
more so he can set the tone offensively. The Argentine logged only 13 minutes in Game 5. And what about
Chris Copeland
? The Knicks have no other low-post threat besides Anthony, and a surprise substitution can come in handy. The Knicks also need to inject some clever screen sets to get their 3-point shooting going.
"If they don't go off from the 3-point line in the next game, it's big trouble in the Big Apple," the scout said.
After Game 5, some of the Knicks just felt they missed shots they normally make. But it's more than that, and the team will need to make some adjustments in Game 6.
Even Anthony knows the Celtics won't go away.
"It wasn't going to be a walk in the park," he said. "Those guys were going to fight, and they're showing some fight right now."
You can follow Jared Zwerling on
Twitter.
April, 27, 2013
4/27/13
1:22
AM ET
By
Ian Begley
| ESPNNewYork.com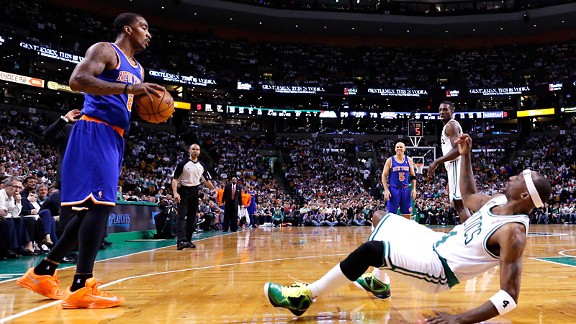 Greg M. Cooper/USA TODAY SportsJ.R. Smith was called for a Flagrant 2 on Boston's Jason Terry.
BOSTON -- The
New York Knicks
may have to take the floor in Game 4 without their sixth man.
J.R. Smith
was ejected from Friday's win over the
Boston Celtics
because he hit
Jason Terry
in the face with an elbow.
Smith was assessed a Flagrant 2 foul by officials and ejected from the game. The league will review the flagrant and can opt to suspend Smith. If he's suspended, he will serve the suspension on Sunday.
Per playoff rules, if Smith gets one more flagrant 2, it will trigger an automatic suspension.
Smith said he was trying to draw a foul on Terry on the play, which occurred with seven minutes to play in the game and the Knicks ahead by 19.
"That was a bad basketball play on my behalf, just cause I got kicked out of the game and my team needed me," said Smith, who won the NBA's Sixth Man Award earlier this week.
Smith was asked if he thought his actions warranted a Flagrant 2 call.
"I don't really know, I'm not really the judge of that. I'm gonna let [referees] do what they do," Smith said. "I really try to stay away from getting into it with the officials, so I gotta keep my head."
Terry was incensed after the play and charged after Smith. Smith walked to the Knicks' bench before the incident escalated further.
Doc Rivers was visibly upset when asked about the play after the game.
"I wish I was playing," he said. "I didn't like that. You're up [by 19 points]."
Rivers then declined to elaborate at the risk of being fined by the league. He'd already been docked $25,000 for criticizing officials after Game 2.
"I've already given up money," he said.
Mike Woodson said he would discuss the incident with Smith, who was whistled for two Flagrant 1 fouls in the regular season.
"He'll learn from it," Woodson said. "I don't think he was trying to hurt the kid. I thought he was trying to clear space. They saw it differently and he had to exit the game. That's something he will learn from and I'm going to stay in his ear and make sure he learns from it."
April, 18, 2013
4/18/13
12:47
AM ET
By
Jared Zwerling
| ESPNNewYork.com
[+] Enlarge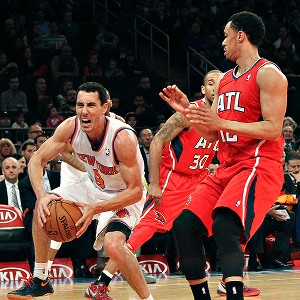 AP Photo/Mary AltafferKnicks starting PG Pablo Prigioni sprained his right ankle in the first quarter. He is listed as day-to-day.
Mike Woodson didn't play six players on Wednesday night due to rest --
Carmelo Anthony
,
J.R. Smith
,
Jason Kidd
,
Raymond Felton
,
Tyson Chandler
and
Kenyon Martin
-- which left the roster against the Hawks with eight players.
But for the last five minutes of the game, that number whittled to six. That's because
Pablo Prigioni
suffered a sprained right ankle in the first quarter (X-rays were negative), and then
Iman Shumpert
took the bench in the fourth quarter with leg cramps.
Prigioni is listed as day-to-day, but
Steve Novak
doesn't believe the starting point guard's injury will keep him out of Saturday's Game 1 against the
Boston Celtics
.
"To lose him and his energy and his defense and just his vision on the court, would be huge," Novak said. "But I don't think that's the case. I know he's a tough guy, and I know he'll play if he has to. He's not a big icer, but I imagine he'll ice now if he has to."
Shumpert doesn't anticipate any setbacks, but the cramps are something to monitor because he's had them in the past, especially during his rookie season.
"I haven't felt them in a while," he said. "It was just a bad charley horse in my thigh. I think I was just a little too excited, stomped too hard when 'Flight' [
James White
] caught the dunk in the fourth. I get happy when my teammates do exciting things."
[+] Enlarge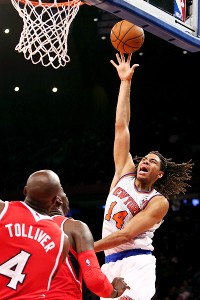 Debby Wong/USA TODAY Sports Chris Copeland scored 33 points before leaving the game with a shoulder injury.
There was actually a chance the Knicks would only have five players available for most of the final period because
Chris Copeland
suffered a left shoulder injury about five minutes before Shumpert was subbed out. Copeland got hurt when he drew a foul on
Anthony Tolliver
going up for a shot in the paint.
"It doesn't feel too great right now -- I'm sure tomorrow won't be even better -- but I'll be fine by Saturday," he said. "It popped out for a second. It was one of those quick pops, and it went right back in. They called it a stinger."
Copeland continued the game and finished with a career-high 33 points on 14-for-29 shooting. He became the first Knicks rookie in 33 years (since
Bill Cartwright
) to score 30 points in back-to-back games.
"That's cool, man," Copeland said. "Just one of those things. I'm glad we got the win more than anything and finished the season the right way for our fans at home."
Q'S DEBUT:
It had been four years since
Quentin Richardson
took the court at the Garden. In his season debut Wednesday night, he scored five points and grabbed 10 rebounds. Afterward, he joked he was so tired that he needed some fluids.
"I'm gassed. There's no doubt it," he said. "I said, 'They better have the IV waiting for me,' but I made it through. It was cool."
Richardson reflected on his New York return.
"It was awesome, man," he said. "I feel really blessed. The crowd was great; I heard a few 'Q's' when I was going in, so that made me feel really good. The fans have been great on Twitter and all of that stuff since they heard about the signing, so it's just great to be back."
SHEED LEAVES:
Novak shared his thoughts on
Rasheed Wallace
retiring -- for the second time -- and his impact on the Knicks this season.
"He's been just such a huge part of our team this year," he said. "He's a voice in the locker room, someone who's won a championship and someone who everyone respects. Obviously to hear that he's done for good -- although he's said that before and come back -- I know this is probably it, and it's just been a honor playing with him."
MELO MAKIN' MOVES!:
For the first time in his 10-year career, Anthony won the NBA scoring title, outdoing Olympic teammate
Kevin Durant
28.7 to 28.1 points per game. The closest Melo had been previously was a second-place finish in 2006-07, when he averaged 28.9 points per game.
Kobe Bryant
was at 31.6.
You can follow Jared Zwerling on
Twitter.
April, 17, 2012
4/17/12
12:22
PM ET
Welcome to ESPN New York's NBA podcast, in which
Jared Zwerling
and
Ian Begley
will talk Knicks, a little NBA and occasionally the world of basketball.
Zwerling and Begley give you an
Amare Stoudemire
health update, debate which player the Knicks are currently missing more (Stoudemire or
Jeremy Lin
), discuss
J.R. Smith's
future with the team and preview the Knicks-Celtics game Tuesday night at the Garden.


You can follow Jared Zwerling on Twitter.
You can follow Ian Begley on Twitter.
April, 13, 2011
4/13/11
12:21
AM ET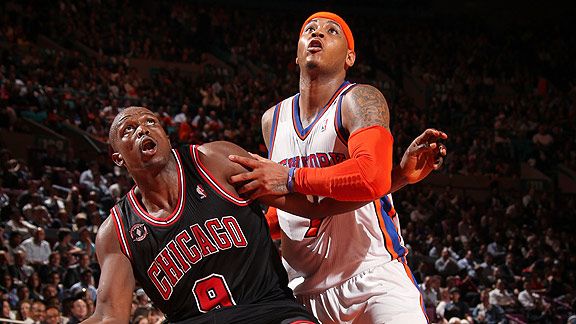 Nathaniel S. Butler/NBAE/Getty ImagesCarmelo Anthony and the Knicks set their sights on this weekend's playoff opener.
NEW YORK -- The New York Knicks were already locked into the No. 6 seed and a first-round playoff matchup with the Boston Celtics prior to Tuesday's game with the Chicago Bulls.
After their 103-90 loss to the East-leading Bulls -- a game in which the Knicks led 55-52 at halftime, but lost control of after a 26-2 Bulls run to start the second half -- the Knicks admitted that they were already looking ahead to the playoffs.
(The Bulls did have something to play for, as they're trying to secure home-court advantage throughout the playoffs.)
"My mindset right now is definitely the postseason," Knicks forward
Carmelo Anthony
said after the game. "That is what I am focusing on right now. This weekend I have already started watching film and just trying to break things down on Boston and to get my mind right for that series."
Another playoff veteran,
Chauncey Billups
, is already looking ahead, too. And that includes past Wednesday night's regular-season finale in Boston.
"Nothing we can really accomplish tomorrow, to be honest with you," Billups said. "Tomorrow, to me, is nothing. [In the playoffs] everything will be different, intensity will be different, players will be more focused, it will be a totally different game."
This will be the Knicks' first playoff appearance since 2004. When asked what advice he would give to his younger teammates who don't have much, if any, postseason experience, Billups said: "It's basically just no-nonsense. Come in, get work done, and we watch film. It's all business."
The Knicks will be in Boston on Wednesday night. But the real business trip will come this weekend.
April, 13, 2011
4/13/11
12:06
AM ET
NEW YORK -- Standing in a hallway outside the visitor's locker room Tuesday night at Madison Square Garden, about 25 minutes after his Bulls defeated the Knicks 103-90, Chicago head coach Tom Thibodeau was singing the Knicks' praises -- not necessarily for how they played on Tuesday, but for how they've played of late, and how they could play going forward in the postseason.

"They're gonna be a dangerous team," Thibodeau said of the Knicks. "And if you look at the way they're playing right now, they're playing at a very high level, and that's without [Amare] Stoudemire."

The Knicks had won seven straight prior to this defeat, including the last two without Stoudemire, who is nursing a sprained left ankle. Stoudemire also missed Tuesday night's game, but is expected to be healthy and ready to go when the sixth-seeded Knicks take on the No. 3 Celtics in an Eastern Conference first-round series, starting this weekend in Boston.

Thibodeau knows that Celtics team well -- prior to taking the job with the Bulls last June, he served as the associate head coach with the Celtics for three seasons, helping them to two NBA Finals and a championship in 2008.

As fond as he is of those Celtics, Thibodeau gave the Knicks a fighting chance to pull the upset in the upcoming series.

"They've got three stars," Thibodeau said of the Knicks. "It comes down to -- most playoff games are gonna be the ability to get your three primary scorers better shots than your opponent can get their three primary scorers. So they have three primary scorers, as do the Celtics. So then it'll be how well you execute, who's healthy, and I think you've gotta be well-balanced too."

Thibodeau even went so far as to (gasp!) praise the Knicks' defense.

"The Knicks have come a long way," Thibodeau said. "Their defense is vastly improved. They're very unselfish. They play smart. [And] I think at the end of games, you have got a guy in [Chauncey] Billups, who's been in a lot of tight situations and can get things done."

The Knicks (42-39) took two of three this season from the Bulls, who will be the top seed in the East at 61-20. Yes, the two wins came in November and December -- long before the Carmelo Anthony trade. And the Bulls were missing a key player each time.

But the Knicks are dangerous -- just listen to the coach of the best team in the Eastern Conference.