New York Knicks:

Houston Rockets
February, 17, 2013
2/17/13
7:01
PM ET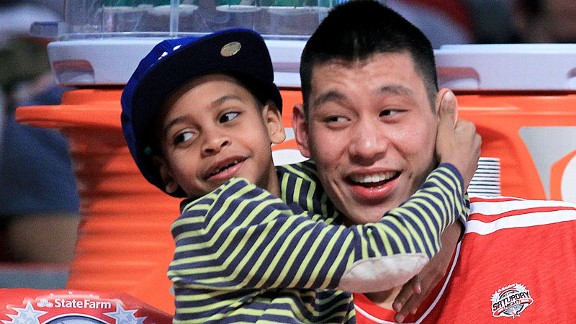 Ronald Martinez/Getty ImagesKiyan Anthony, who turns 6 in March, hugs Jeremy Lin.
Wasn't there supposed to be drama between
Carmelo Anthony
and
Jeremy Lin
last year?
If so, nobody told Melo's son, Kiyan, who sure seemed happy to see Lin at All-Star Saturday night, greeting the Rockets guard with a big hug.
December, 17, 2012
12/17/12
10:04
PM ET
By
Ian Begley
| ESPNNewYork.com
WHAT IT MEANS:
Apparently, some things never change.
Jeremy Lin
played his best basketball with the Knicks last year when
Carmelo Anthony
was out.
It was no different on Monday in his return to the Garden.


Lin made it look like "Linsanity" all over again at MSG, pouring in 22 points and handing out eight assists to help Houston to a 109-96 win over the Knicks.
James Harden
added 28 points and 10 rebounds for the Rockets, who beat the Knicks without Anthony, missing his second game due to a left ankle injury.
The Knicks' loss was their first at home. They'd started the season 10-0 at Madison Square Garden.
JUST LINSANE:
The day before his return to the Garden, Lin told reporters that he wanted to get his one and only game in New York over with.
But he sure looked like he enjoyed himself Monday.
Lin got off to a hot start with 16 points and four assists in the first half as Houston took a 56-42 lead after two quarters.
The Knicks, thanks to 11 points from
Chris Copeland
, got within five points midway through the third, but that's when Lin made his presence felt again.
He had four assists and two baskets as the Rockets reeled off 15 unanswered points to build a 23-point lead heading into the fourth.
Harden had three straight baskets in the run, including two 3-pointers.
The Knicks tried to chip away in the fourth, but Lin's layup with five minutes to go gave Houston a 20-point lead.
LIN CHEERED, BOOED:
Lin received a warm ovation from the Garden faithful, which drowned out a small smattering of boos. He was then booed repeatedly during the game as he and the Rockets began torching the Knicks.
Lin was also drilled by
Tyson Chandler
, one of his buddies on the Knicks, in the second quarter on a hit that refs ruled a flagrant foul. It's Chandler's second flagrant of the season, both coming against the Rockets.
BETTER THAN FELTON:
Lin badly outplayed Knicks point guard
Raymond Felton
. Felton finished with 14 points on 7-for-18 shooting. Felton had three assists and four turnovers.
Jason Kidd
also struggled, with five points on 2-for-9 shooting to go along with an uncharacteristic three turnovers.
The rookie Copeland led the Knicks with a career-high 29 points on 11-for-19 shooting.
WHAT'S NEXT:
The Knicks will take on the
Brooklyn Nets
at Madison Square Garden on Wednesday at 7 p.m.
December, 17, 2012
12/17/12
2:04
PM ET
By
Jared Zwerling
| ESPNNewYork.com
A familiar face,
Jeremy Lin
, returns to MSG on Monday night. More importantly, a winnable game is on deck for the Knicks, who have an NBA-best 10-0 home record.
Tipoff will be at 7:30 p.m. Here is what the Knicks need to do:


1. Dominate with their pick and roll.
With
Carmelo Anthony
being a game-time decision,
Raymond Felton
/
Jason Kidd
and
Tyson Chandler
in the two-man game will be the main offensive priority. This month, they've taken the pick and roll to new heights, especially Chandler, who has been averaging 15.1 points and 11.3 rebounds per game, while shooting 73.8 percent. Felton has noticed the difference.
"He's learning how to finish in many ways," he said. "He's not only just looking for a lob. He can catch a bounce pass and finish, he can catch the ball in traffic and go up and get and-ones. I think he has a lot of that this year, so he's added a lot to his game. He's really worked this summer, he's really worked at his game. Tyson's been big for us this year, very big."
2. Defend the Rockets' isolations and 3-point looks better.
In their first matchup on Nov. 23, in which the Rockets won by putting up a season-high 131 points, they shot 14-for-25 (56.0 percent) from downtown.
James Harden
,
Daequan Cook
and former Knick
Toney Douglas
each had three 3s.
Chandler Parsons
had four. Harden's playmaking in isolation and off the pick and roll really allowed the Rockets to get open looks. He finished with nine assists, to go along with a team-high 33 points.
The Rockets ran isolations on 12.2 percent of their plays that night -- one of the highest percentages by a Knicks opponent this season -- and they were very efficient, scoring 1.21 points per isolation. What's more critical is how the Knicks defend Harden. Expect more double teams, especially after
Kyrie Irving
lit up the Garden for a career-high 41 points on Saturday night. After the game, Mike Woodson said, "I didn't make the adjustments. We should've ran Tyson at him more with Kidd to try to get the ball out of (Irivng's) hands."
3. Reduce the Rockets' transition and inside games.
On the season, they're averaging a fifth-best 16.8 fast-break points per game. Lin and Harden like to push the ball and look for quick penetration into the lane. Harden, especially, loves to take 3-pointers in transition. The Rockets' starting backcourt also makes plays when they pick up the pace because their teammates run the lanes and are great shooters. That's a credit to their youth, being the youngest team in the league with an average age of 23.9. On the flip side, the Knicks are the oldest at 31.2.
Inside, the Knicks will have to worry about
Omer Asik
. He gave Chandler and the Knicks fits in the paint the first time they played, as he went off for 18 points and 14 rebounds. While he's about the same height as Chandler, he has 15 pounds on him. He's also skilled. Without
Rasheed Wallace
(sore left foot) and
Marcus Camby
, that could present a red flag. Chandler can't get caught up in foul trouble. He needs to be effective throughout the entire game, especially if Anthony doesn't play.
You can follow Jared Zwerling on
Twitter.
December, 17, 2012
12/17/12
10:50
AM ET
By
Darren Rovell | ESPN.com
The heat of "Linsanity" seems like a long time ago.
Those were days when
Jeremy Lin
was on the cover of every New York paper, when people waited at stores for the No. 17 jerseys to arrive, when the greatest out-of-nowhere sports story forced Time Warner's hand to carry Knicks games in its New York City homes after months and months of negotiating tension, and when seven trademarks were filed for "Linsanity," including one by Lin himself.
[+] Enlarge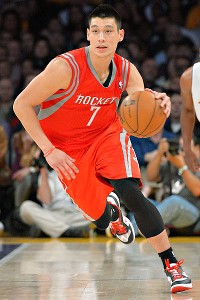 AP Photo/Mark J. TerrillJeremy Lin is averaging 10.8 points, 6.0 assists and 4.0 rebounds for the Rockets.
It's early but, as Jeremy Lin makes his way back to Madison Square Garden on Monday for the first time since he left, the fall is pretty astonishing.
The guy who ignited water-cooler talk across the nation last winter has all but disappeared from the national discussion.
In February, Google Trends had Lin's search volume at 100 out of 100, which is what the search engine calls the peak of a certain individual's search volume
This month, the search volume for Lin is at a 6 on that same scale.
Nine months ago, there were more than 20,000 Lin items on eBay at the same time, more than any other NBA player. Today, that total has been halved and the prices have deflated.
It doesn't help that those most interested in him have easily been able to move on now that the Knicks are 18-5 with the likes of
Jason Kidd
and
Raymond Felton
. It doesn't help that Lin's Rockets are playing under-.500 ball.
But the greatest factor in Lin's decline as a marketing icon is not that the Knicks decided not to sign him. Being in the biggest market certainly helps, but it's not everything. His problem now is that he's not breaking through the clutter like he used to. He's not a regular on SportsCenter's nightly highlights. He hasn't yet justified the three-year, $25.1 million contract Rockets general manager Daryl Morey gave him.
"Linsanity" didn't end when Lin got traded to the Rockets, but what was understood is that he'd somehow have to continue to have those incredible games we got so used to. In his first 22 games with the Rockets, he has scored 15 points on four occassions. In his first 22 starts with the Knicks, he surpassed the 15-point mark 15 times.
Lin is still, and will always be, marketable in Asia. No matter what happens here, his hero status there has been cemented, which has to be one of the reason why he still has a shot to be voted into the All-Star Game, which happens to be in Houston. But he has quickly fallen off the radar in this country, meaning any new deals that come to him from multinational companies likely won't pay him significant dollars for a U.S. campaign.
Perhaps that doesn't matter to him. He's making $61,000 a game, up from about $9,000 last season. And we presume he's not sleeping on a couch anymore.
December, 16, 2012
12/16/12
4:56
PM ET
By
Ian Begley
| ESPNNewYork.com
Will Knicks fans greet
Jeremy Lin
with a warm reception or will they shower him with boos?
It's one of the more interesting dynamics surrounding Lin's return to Madison Square Garden on Monday night.
Raymond Felton
-- who was brought in to replace Lin and is one of the driving forces behind the Knicks' 18-5 start -- knows where he stands on the issue.
He wants the Garden faithful to cheer Lin.
[+] Enlarge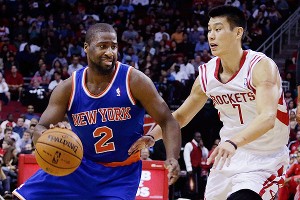 Scott Halleran/Getty ImagesRaymond Felton and the Knicks lost by 28 points to Jeremy Lin's Rockets on Nov. 23.
"They should. By all means, I hope they do," Felton said. "They should give him a standing ovation when he comes back here, without a doubt."
"I think they're going to give him a heck of an ovation. I'd be shocked if it was anything else," added
Steve Novak
, one of Lin's closest friends on the Knicks. "Unless everybody changed their mind and hates him, he's one of those guys that people are going to remember for his time here. It wasn't a very long time, but it was special. He played unbelievably well. I think there will be a movie about it one day."
There's no doubt Lin had a made-for-Hollywood run with the Knicks last February.
Undrafted and twice released, Lin was fresh off of a recent D-League stint when he emerged off of the end of the Knicks' bench in early February to lead the team to seven straight wins, almost single-handedly saving the season in the process.
Lin did it with
Carmelo Anthony
and
Amar'e Stoudemire
on the bench, and became an international phenomenon in the process.
But even the best Broadway shows have a shelf life around here, and Lin's time in New York was no different.
In mid-July, the Knicks decided against matching the
Houston Rockets
' three-year, $25 million offer sheet, which contained a "poison pill" $14.9 million figure in Year 3 that could have cost New York upward of $40 million due to the luxury tax.
Instead, general manager Glen Grunwald obtained Felton in a sign-and-trade deal and signed
Jason Kidd
in free agency.
The two veterans have played pivotal roles in the Knicks' hot start. New York averages the fewest turnovers per game in the NBA and has the second-best offense in the league, based on a rating of points per possession. Plenty of credit for that goes to Felton and Kidd.
Lin, on the other hand, has had an inconsistent start in Houston. He's averaging 11 points, 6.1 assists and nearly 2 steals per game, but is shooting 39 percent from the field for the Rockets (11-12).
He has shown flashes of brilliance, such as a 38-point night against the Spurs last week, but has struggled at times to find his role in the Rockets' offense and to fit in with
James Harden
.
In Lin's first game against the Knicks, a 131-103 win in Houston in late November, he had 13 points, 7 rebounds and 3 assists.
Many Knicks mentioned that night -- and not Lin's return to New York -- as their source for motivation on Monday night.
"It's one that we obviously want to get back," said
Tyson Chandler
, who remains close with Lin. "I'm not excited for him, I'm excited for us to beat him."
By and large, the Knicks have moved on from Linsanity. They are 10-0 at home, off to their best start at home since 1991-92, and their focus is on this season.
Said one player: "We don't really talk about him. Whenever someone talks about the Rockets, we usually talk about Harden."
Felton, who has seemingly picked up right from where he left off during his first stint in New York, respects what Lin did last season. But he said on Saturday that it's time to turn the page on Linsanity.
"What Jeremy did was amazing, was great. I'm happy for him, he got his money. He's the starting point guard in Houston," Felton said. "I used to watch him every game. But it's time to move on. We're 18-5, we're 10-0 at home, so there's no need to talk about that no more."
December, 10, 2012
12/10/12
4:23
PM ET
By
Ian Begley
| ESPNNewYork.com
There's Hanukkah and its eight crazy nights.
Then you have the 12 days of Christmas.
Thanks to the NBA schedule makers, Knicks fans have a little holiday season of their own coming up.
Just call it Nine Days of The Knicks.
Mike Woodson's club tips off an intriguing nine-day stretch Tuesday night against their East River rivals, the
Brooklyn Nets
.
Let's break it down:

Tuesday at Brooklyn:
The Knicks will be looking for payback at Barclays Center after dropping their first game in Brooklyn late last month. They were missing
Jason Kidd
in that first matchup due to back spasms, but they should have Kidd for Tuesday's game.
It's the Nets who are dealing with injury issues. They're listing center
Brook Lopez
(foot sprain) as questionable for the game. They've gone 1-4 without Lopez.

Thursday vs. Lakers:
Mike D'Antoni will return to the Garden for the first time since he resigned from his post as Knicks coach last March. D'Antoni left the team after he and
Carmelo Anthony
clashed over the Knicks' playing style. He resurfaced with the Lakers but has struggled in L.A. without the injured
Steve Nash
, going 4-7 in his first 11 games on the bench.
The Knicks, on the other hand, are 33-11 in the regular season under Mike Woodson, D'Antoni's replacement. The sexy story line going into this one will be Carmelo vs. D'Antoni. You think Melo will want to beat D'Antoni's Lakers at MSG?

Saturday vs. Cleveland:
OK, so NBA schedule makers clearly didn't consult with us before they scheduled the Cavs in the middle of this stretch.
This doesn't really fit with our narrative but, hey, at least
Kyrie Irving
might be healthy by the time Cleveland comes to town.

Dec. 17 vs. Houston:
Depending on where you fall in the
Jeremy Lin
debate, your favorite or least favorite international sensation will be back in town next Monday when the Rockets pay their lone visit to the Garden. The Knicks will again be out for revenge, as the Houston thrashed New York in a 28-point home win on Nov. 23.
Will Lin get booed or cheered at MSG? Either way, it's hard to argue with owner James Dolan's decision to let Lin walk over the summer. The Knicks are 15-5 and
Raymond Felton
has been a driving force behind their success.

Dec. 19, vs. Brooklyn:
The Knicks welcome Brooklyn to Madison Square Garden for the first time. The crowd at Barclays Center on Nov. 26 was about 60-40, Nets to Knicks fans. It should be a different story at the Garden, which is unquestioned Knicks territory. If not, that will be an interesting development.
Also interesting? If Lopez is healthy, it will be great to see him and
Tyson Chandler
go at it. With the dearth of true centers in the NBA, this is one of the best head-to-head matchup between big men in the league.
November, 24, 2012
11/24/12
9:01
PM ET
By
Jared Zwerling
| ESPNNewYork.com
When the Knicks got off to a 7-1 start, holding opponents to an NBA-best 90.0 points per game, they did it with their team defense. More specifically, their defensive rotations, communicating and moving strategically to guard shooters.
One reason the Knicks were so effective with their rotations was because their opponents ran more pick-and-roll/spread-out schemes. But something significant changed in their past two games against the Mavericks and Rockets, leading to back-to-back losses.
The Mavericks and Rockets ran more isolation plays -- and the Knicks couldn't defend them. In fact, they're allowing a league-high 1.04 points per isolation, the worst mark in the league.
The Rockets ran isolations on 12.2 percent of their plays Friday night, the third-highest percentage by a Knicks opponent this season.
James Harden
and
Chandler Parsons
did their most damage in isolations. Of the four Knicks opponents to run isolations on at least 10 percent of their plays -- the Rockets, Mavericks and 76ers twice -- Houston was the most efficient on those plays, scoring 1.21 points per isolation.
Here's how the Knicks' prominent isolation defenders have stacked up this season, in order of rank (there have been 171 players who have guarded at least 10 isolations):
•
Carmelo Anthony
: 6-for-8, one turnover, one foul; ranks 171 of 171
•
Jason Kidd
: 5-for-11, no turnovers, one foul; ranks 165 of 171
•
J.R. Smith
: 7-for-14, four turnovers, two fouls; ranks 148 of 171
•
Pablo Prigioni
: 4-for-10, no turnovers, one foul; ranks 145 of 171
•
Raymond Felton
: 2-for-6, two turnovers, three fouls; ranks 116 of 171
•
Steve Novak
: 4-for-12, two turnovers, no fouls; ranks 57 of 171
Interestingly,
Ronnie Brewer
, a perimeter player, has only defended four isolations all season.
The Knicks have run isolations more often than each of their opponents this season. But five of their last six opponents have scored more points per isolation than the Knicks (the Hornets are the only exception).
By comparison, when defending non-isolation, half-court plays this season, the Knicks have been more effective. Here's how opponents are shooting against individual Knicks players, in order of attempts:
• Felton: 32-for-98
• Anthony: 30-for-80
• Smith: 28-for-76
• Kidd: 25-for-54
• Novak: 18-for-45
• Prigioni: 20-for-41
The Knicks won't be facing star slashers like Harden every night, but even Parsons, a second-year forward, got in on the action. Now opponents have added "weaker defending isolations" on their scouting report on the Knicks. The Rockets represent the plenty of young legs around the league that will want to run on and attack the older Knicks.
The Knicks face the lowly Pistons on Sunday afternoon, but on Monday they'll face two star isolation players in
Deron Williams
and
Joe Johnson
.
A big test awaits.
Research assistance: Ryan Feldman, ESPN Stats & Info
You can follow Jared Zwerling on
Twitter.
October, 28, 2012
10/28/12
1:32
PM ET
By
Ian Begley
| ESPNNewYork.com
So
Deron Williams
thinks the Knicks
are better off
with
Raymond Felton
than
Jeremy Lin
.
We happen to agree.
For what it's worth (and that may not be much), based on the preseason, Williams is dead right.
Lin has struggled through an up-and-down exhibition season. Felton, on the other hand, has thrived with the Knicks.
Lin ended his preseason on a high note, scoring 13 points on 5-of-10 shooting (including four 3-pointers) in a win over the Magic on Friday night.
Prior to that night, though, Lin wasn't exactly lighting it up in Houston. He'd made just 22.2 percent of his shots, having a tough time adjusting to teams being focused on stopping his attempts to get to the rim.
Was Lin feeling pressure to live up to expectations associated with his three-year, $25.1 million contract, the same contract the Knicks declined to match? It's hard to say.
According to reporting
by Jonathan Feigen of the Houston Chronicle, Lin seemed to be forcing the issue by driving to the rim instead of settling for mid-range jumps shots. Lin attributed it to getting used to life in a new system.
Overall, Lin averaged 6.3 points, 6.0 assists and 2.5 turnovers in the preseason. He shot 28.3 percent from the floor.
Felton, on the other hand, was solid in the Knicks' six preseason games. He scored 11.3 points per game on 42 percent shooting (38 percent from beyond the arc). He handed out 5.8 assists and grabbed 2.3 rebounds a night.
Williams said he thought Felton was the better point guard because he'd been playing at a high level for seven seasons, while Lin's only done it as a starting point guard for 25 games. He made no reference to the preseason. But if he had, it certainly would've supported his point.
Question: Do you agree with Deron Williams? Is Felton better than Lin? Are the Knicks better off with Felton running the show?
Please leave your thoughts in the comments section below.
October, 27, 2012
10/27/12
11:10
PM ET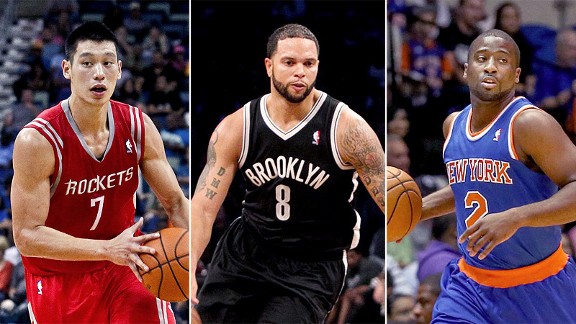 US PresswireJeremy Lin, Deron Williams and Raymond Felton
EAST RUTHERFORD, N.J. --
Brooklyn Nets
All-Star
Deron Williams
said Saturday that
Raymond Felton
is a better playmaker than the point guard he replaced in New York,
Jeremy Lin
.
Lin outplayed Williams last Feb. 4 in a stunning performance off the bench, starting a phenomenon that became known as Linsanity. But the Knicks opted not to match the $25.1 million deal Lin signed with Houston, having already completed a sign-and-trade deal with Portland to reacquire Felton.
Felton played well in a previous stint with the Knicks.
"I would say Raymond Felton is a better point guard than Jeremy Lin, in my opinion," Williams said at the Nets' practice facility.
The Nets host the Knicks on Thursday in their first game at the new Barclays Center.
It would've been hard to imagine Lin not being there after the 10 games that started when he scored 25 points in a 99-92 victory over the Nets at Madison Square Garden. Williams scored 21 points and shot just 7 of 19 that night, though he made amends later in the month when he scored 38 points as the Nets won in their return to New York.
For the full news story, click here.
July, 18, 2012
7/18/12
12:26
AM ET
By
Ian Begley
| ESPNNewYork.com
WHAT IT MEANS:
Raymond Felton
is in,
Jeremy Lin
is out.
The Knicks declined to match Lin's three-year, $25 million offer sheet from the Houston Rockets on Tuesday night. They will now hand their offense over to Felton.
If they get the same Felton who thrived for 54 games with the Knicks in 2010-11, the drop-off might not be as significant as some have predicted.
Felton averaged 17.1 points and 9.0 assists in 38 minutes per game with New York before he was dealt to Denver in the
Carmelo Anthony
trade.
But the 28-year-old is coming off of a tough year in Portland, in which he averaged 11.4 points and 6.5 assists per game and hit just 40 percent of his shots.
Also at point guard for the Knicks is 39-year-old
Jason Kidd
. If things don't work out with Felton, the Knicks may be forced to play Kidd major minutes. And that could be a problem.
WHY NOT MATCH?
A team source told ESPNNewYork.com before the Knicks made the announcement on Tuesday that owner
James Dolan
was hesitant to pay Lin $14.8 million in 2014-15. That's what Lin will be paid in Houston.
For most of the offseason, though, it was widely assumed that Dolan would match any offer to Lin, luxury-tax implications be damned.
But the team source stressed that notion wasn't entirely true.
"He does care (about spending)," the source said. "He's also paying to renovate the Garden. That's not cheap."
WHAT'S LEFT:
It looked like GM
Glen Grunwald
was having a solid offseaon. The Knicks brought back
Steve Novak
and
J.R. Smith
and acquired veterans
Marcus Camby
and Kidd.
But with Lin out of New York, there's a significant portion of the Knicks that are at the,
ahem
, latter stages of their career. Kidd's 39, Camby's 38 and
Kurt Thomas
, who was acquired in the sign-and-trade deal for Felton, is 39.
There's also a lot of wear and tear in the starting five.
Carmelo Anthony
has been in the league for nine years,
Amare Stoudemire
has been a pro for 10 years and
Tyson Chandler
has been playing for 11.
RIGHT CALL?
Public opinion seems to be split here.
There's the camp out there that couldn't see the logic in paying Lin -- who has started just 25 games in his career -- $14.8 million in one season.
Then there's the other side. Those who thought there was no way you could let Lin walk for nothing, that he was the team's best option at point guard.
So what you you think? Was it the right call? Something the Knicks will regret?
Let us know in the comments section below.
You can follow Ian Begley on Twitter.
July, 17, 2012
7/17/12
11:35
PM ET
Houston, you can have him.
That was the message the Knicks sent on Tuesday when they decided not to match
Jeremy Lin
's three-year, $25.1 million offer sheet from the Rockets.
The team announced its decision Tuesday night, confirming several reports that surfaced over the weekend stating that the Knicks would not match Lin's offer.
"Much love and thankfulness to the Knicks and New York for your support this past year...easily the best year of my life#ForeverGrateful," Lin tweeted Tuesday night.
"Extremely excited and honored to be a Houston Rocket again!!#RedNation," Lin added in another tweet.
A team source told ESPNNewYork.com earlier this week that the third year of the Rockets' offer -- worth $14.8 million -- caused the Knicks to consider letting Lin go. If the Knicks matched the offer, they would have been subject to a luxury tax in the third year, potentially bringing their total out-of-pocket cost for the team's salary to about $43 million in 2014-15.
The Rockets' offer to Lin would pay him $5 million in the first year, $5.225 million in the second and $14.8 million in the third, according to sources.
The Knicks will turn to
Raymond Felton
at point guard. Felton was acquired in a sign-and-trade announced on Monday.
Click here for the full story.
You can follow Ian Begley on Twitter.
NBA
NHL
COLLEGE BASKETBALL
MLB
MLS