November, 26, 2014
Nov 26
11:45
AM ET
By
Mark Simon
| ESPNNewYork.com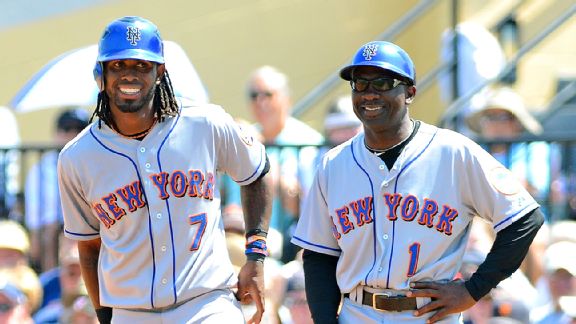 Mark Cunningham/Getty ImagesThe two fastest Mets of all-time, side-by side, circa 2011.
This is the fourth in a series of lists we will be generating related to the history of the New York Mets. We've previously covered the Mets' most notable home runs (part 1|part 2), best pitching performances (part 1|part 2) and best defensive players (part 1|part 2).

Part 1 of this piece ran on Tuesday. Part 2 runs today. Feel free to share your thoughts on this week's piece in the comments.
Jerry Seinfeld threw down the gauntlet
a few months ago, challenging me to figure out whether
Jose Reyes
would beat Mookie Wilson in a footrace.
My response was to expand the project and come up with a list of the fastest Mets of all-time. The "also-rans" (pardon the pun) were revealed yesterday. Today we cover those who finished in the top five among our voting panel (which included Mets play-by-play voice Gary Cohen, ESPN's Jeremy Schaap and others who have followed the franchise for a minimum of 30 years).
5. (Tie) Carlos Gomez and Lance Johnson
These are two Mets whose stints were brief, but who left long-lasting impressions. The Mets have certainly gotten a good look at what they've been missing when they traded Gomez in the
Johan Santana
, as his speed has come in handy both with regards to basestealing and home-run robberies. Scouts described Gomez's energy from his days as a prospect
as Willie Mays-like
, which may have been tabloid-fitting hyperbole, but paints a picture of what made him listworthy to our voting group.
Johnson was arguably the team's best one-season wonder (
this series
is worth a read), who hit .333 with a club-record 21 triples and 50 steals in 1996, then left on
not-so-great terms
in a trade with the Cubs that got the Mets Brian McRae and Turk Wendell. The diehard fans remember
4. Roger Cedeno
The Mets got the most out of Cedeno in the first of his two stints with the team. In one of Steve Phillips' better deals, he was able to obtain closer Armando Benitez and Cedeno in a three-way deal with the Dodgers and Orioles in which the Mets got Todd Hundley.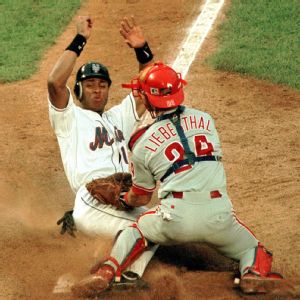 AP Photo/Lou RequenaRoger Cedeno's speed was responsible for a few memorable moments, like the time he scored the winning run in a five-run ninth-inning comeback against the Phillies.
Cedeno thrived with the Mets in 1999, hitting .313 with a .396 on-base percentage and a then-club record 66 stolen bases. This is the Cedeno our panelists voted onto our all-speed team (not the one whose on-base percentage dipped to .319 in his second stint spanning 2002 and 2003, though that Cedeno
did record the team's first straight steal of home in more than 30 years
).
Cedeno
learned the tricks of the trade
from his idol, Rickey Henderson, which wasn't a bad choice when it came to the subject of speed.
And he was a good pupil.
"He has exceptional speed,"
Bobby Valentine told the media after one game in 1999.
"It doesn't matter who the pitcher is or who the catcher is. If he starts on time, it's nearly impossible to throw him out.
3. Vince Coleman
Coleman would probably top a list of the most disliked Mets of all-time, as he was one of the poster children of the "Worst Team Money Could Buy" era that spanned 1992 and 1993 (the Mets signed Coleman after losing Darryl Strawberry to the Dodgers in free agency).
"He just brings fear into the hearts of the opposition each time he gets on base," said general manager Frank Cashen at the time of the signing. This was true. But he eventually reached the point of being feared by his own fans.
The player nicknamed "Vincent Van Go" stole 99 bases with the Mets, but was a disappointing signing in so many ways. He played three seasons with the Mets and didn't make it through 100 games in any of them due to both injuries and suspension (his worst offense was throwing a firecracker into a crowd of fans in Los Angeles, for which he was sentenced to 200 hours of community service).
But our panel was able to put the dislike and poor behavior aside and concede that Coleman, for all the trouble he brought, was the fastest Met this side of Mookie Wilson and Jose Reyes.
2. Mookie Wilson
Mookie Wilson served as my introduction to the value of speed in baseball. He's the first fast player I can remember following (my first year watching the Mets avidly was 1982) and perhaps I'm biased, but I haven't seen any Mets player since then who could beat Wilson going from first base to third base.
Taking the extra base was a specialty for Wilson, who was known to advance two bases even on routine ground balls (something that won a game or two along the way).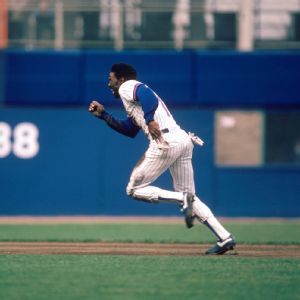 Getty ImagesIf you followed the Mets in the 1980s, this sort of image is burned into your brain.
I've seen very few athletes of whom I would say: "That guy can fly!"
Wilson may not have been able to jump like
Michael Jordan
, but when he was in full gear, it definitely looked like he was walking (or in this case sprinting) on air.
One quick personal anecdote. A year after Wilson was traded to the Blue Jays, our family went to Toronto on vacation and went to a Red Sox-Blue Jays game.
With the score tied in the ninth inning, Wilson went from first to third on an errant pickoff throw. Two batters later, Kelly Gruber hit a grounder to third. We didn't even have to watch Wade Boggs' throw home to know that Wilson would score the winning run with no problem whatsoever. He made it look easy.
1. Jose Reyes
Reyes won our voting fair and square and though I disagree, I think it's a close enough call not to be bothered at all by the result.
Chances are if you're reading this, you don't need me to tell you how fast Reyes was (simple synopsis: 370 steals, 99 triples, both all-time club record).
So instead, let me close with an anecdote-- a feel-good story to remember on Reyes' speed.
In spring training, 2006, My father and I each made predictions for the upcoming season. I don't remember any of mine. But I do remember one of his (because he often repeated it): This was going to be the year that Reyes hit an inside-the-park home run.
Late that fall, my father was diagnosed with cancer and was scheduled for surgery in early September.
The night before the operation Reyes hit an inside-the-park home run.
"I thought that was an omen that everything would be alright," my father said.
It wasn't the easiest of recoveries, but everything did turn out alright. So I don't mind conceding that Reyes is the fastest Met of all-time. He's a legit honoree in every respect.