March, 2, 2015
Mar 2
2:32
PM ET
PORT ST. LUCIE, Fla. --
David Wright
reacted with humor when reporters circled his locker Monday for the second time in four days, again trying to get reaction from the captain to facing
Matt Harvey
in a batting-practice session.
"Who?"
Wright playfully said. "So we're going to do this after every live BP, huh? Can we start games already?
Turning slightly more serious, Wright added: "He looked good. He looked just as good as last time."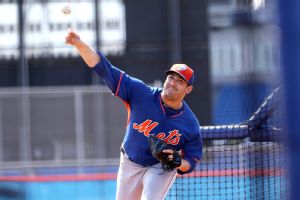 Adam RubinMatt Harvey throws batting practice Monday at Mets camp.
Harvey threw 26 pitches in one simulated inning while facing
Curtis Granderson
and Wright on Monday -- with the batters swinging at limited pitches and making little contact. It marked Harvey's final tune-up for Friday's Grapefruit League start against the
Detroit Tigers
. That will be a big milestone, since it will be Harvey's first time in a game since Aug. 24, 2013 -- two months before undergoing Tommy John surgery.
Pitching coach Dan Warthen said the target for Harvey is 35 pitches on Friday, ideally over two innings. The Mets will not let Harvey throw more than 40 pitches.
"I don't want to go out there and overwork or get too excited about one or two innings or however many pitches we're going to throw," Harvey said. "I've been through spring training before. I realize there's a lot of work to be done. There's still a lot of steps to be taken to be game-ready."
Harvey will oppose Detroit Tigers ace
David Price
in the Mets' spring-training home opener. The two have known each other for years, since Harvey was pitching at the University of North Carolina and Price was a
Tampa Bay Rays
minor leaguer assigned to Triple-A Durham in 2008 and '09.
"I appreciate his support and excitement to have me back out there," said Harvey, who has been exchanging text messages with Price. "It's much-appreciated that people are recognizing that I'm coming back."
Harvey downplayed the significance of Monday's batting-practice event, but noted it does mean that "we're close."
Said Harvey: "Once the hitters start swinging, that's kind of a sign games are near and the season is coming closer. For us it's exciting. Especially being 18 months from a competitive game, it's a good feeling."
Hitters were complimentary of how Harvey looked.
"The big thing is he went to both sides of the plate really consistently and accurately and effectively," Granderson said. "If he did miss, it was a miss that he wanted to make -- not toward the middle of the plate."
During his major league career, Harvey has thrown his curveball 12.4 percent of the time. It was a pitch he used more frequently while at UNC to complement his fastball. Harvey has found it very sharp of late, especially during Monday's session when he was using it to get batters to chase down in the zone while simulating two-strike counts.
"I don't know if I figured out something in my mechanics or it just magically appeared, but it's nice having that and it felt good out there," Harvey said.
Warthen confirmed Harvey is not a consideration for Opening Day because there are pitchers who accomplished a lot last season who are more deserving. Still, Warthen added, Harvey looks ready to compete.
"I thought that he was ready to pitch at the end of last year," the pitching coach said. "And I think Matt thought he was ready. I think we made the right decision. It would have done us no good. But he was ready to pitch then, has stayed ready all winter long, and came out throwing."