April, 16, 2014
Apr 16
9:00
AM ET
Kevin Plawecki
struck out only eight times in 223 at-bats during his junior season at Purdue. That helped persuade the Mets to select the catcher 35th overall in 2012, with a supplemental pick obtained for losing
Jose Reyes
to the Miami Marlins.
The 23-year-old Plawecki's propensity for making contact has continued as a pro, albeit not at that unsustainable college rate. In 693 career at-bats as a Mets farmhand, Plawecki has produced a .374 on-base percentage and struck out only 80 times.
This season, he is off to a .286/.333/.357 start through seven games with Double-A Binghamton.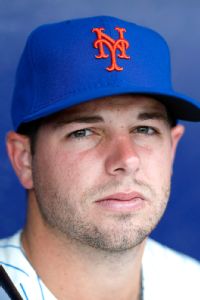 Chris Trotman/Getty ImagesKevin Plawecki
"I really don't know how to answer the question every time I'm asked it," Plawecki said about his low strikeout total at Purdue. "I just say that I like getting good pitches to hit, and I feel like I get myself in good hitter's counts. I try not to chase and expose any weaknesses that the pitcher on the other team might be able to use against me at any point in the at-bat or in the series.
"And with two strikes I'm just up there battling, just trying to put the ball in play. Make them get you out any way possible -- with errors and all that stuff, any way to get on base. I'd rather have a slow-rolling groundball to third base."
Plawecki was a non-roster invite to big-league camp during spring training, so he had the opportunity to receive tutelage from bench coach
Bob Geren
, visiting instructor
Mike Piazza
as well as
Travis d'Arnaud
.
"One thing Mike Piazza told us: When he wasn't hitting really well, he focused on doing the little things -- catching and working with the pitching staff," Plawecki said. "He felt he could make a big difference behind the plate as well."
Throwing technique to second base became a spring-training emphasis for Plawecki. Accomplished offensively, Plawecki has thrown out 29 percent of runners as a pro (15 of 51).
"I think my throwing is getting a lot better from last year," Plawecki said. "I worked on a few things in spring training to get my arm going a little bit. I think that's improved. … In the past, sometimes there was a 'hitch.' That may be a bad term.
"Just a more fluid motion," he continued, referring to the mechanical retooling. "I was kind of getting caught up, and my feet were working too quickly, and my arm was having to do something extra in the process. It was almost like a false movement that we're just trying to eliminate. It takes a lot of stress off the arm in general and obviously makes it quicker in the process. That's just one thing we're trying to clean up a little bit, and I think we're on the right track with that right now."
Plawecki does not need to be added to the 40-man roster next offseason to protect him from the Rule 5 draft, so his big-league debut may wait until 2015.
Last year, in his first full professional season, which he split between Savannah and St. Lucie, Plawecki appeared in 17 second-half games at first base. That primarily was designed to keep his bat in the lineup as he wore down from the grind. The position was open anyway with St. Lucie teammate
Jayce Boyd
dealing with a shoulder issue that eventually required surgery.
There is at a modest chance Plawecki could end up full time at first base eventually, depending on how he progresses behind the plate. However, Plawecki clearly envisions himself a catcher.
"I don't think they play on using me at first at all this year. At least nobody has brought that up to me," Plawecki said. "I'm strictly a catcher. Last year was one of those deals where Jayce, with his arm surgery and stuff like that, they couldn't really use him at first base. I played a few games in college, and it just happened to work out that I played a few games over there, but nothing long term."
Organization leaders
Average:
Matt Clark, Binghamton, .394; Brandon Nimmo, St. Lucie, .391; T.J. Rivera, St. Lucie, .390; Darrell Ceciliani, Binghamton, .367; Wilfredo Tovar, Binghamton, .355; Dilson Herrera, St. Lucie, .340; Stefan Sabol, Savannah, .323; Zach Lutz, Vegas, .318; Jared King, Savannah, .316; Kirk Nieuwenhuis, Vegas, .310.
Homers:
Brian Burgamy, Binghamton, 4; Matt Clark, Binghamton, 4.
RBIs:
Zach Lutz, Vegas, 12; T.J. Rivera, St. Lucie, 12; Eric Campbell, Vegas, 11; Jared King, Savannah, 11.
Steals:
Patrick Biondi, Savannah, 3; Jeff McNeil, Savannah, 3.
ERA:
Hansel Robles, Binghamton, 0.00; Jacob deGrom, Vegas, 0.50; Domingo Tapia, St. Lucie, 0.90; Darin Gorski, Binghamton, 0.93; Robert Gsellman, Savannah, 1.46; Rainy Lara, Binghamton, 2.19; Daisuke Matsuzaka, Binghamton, 2.25; Gabriel Ynoa, St. Lucie, 2.38; Rafael Montero, Vegas, 2.60; John Gant, Savannah, 2.77.
Wins:
Josh Edgin, Vegas, 3.
Saves:
Jeff Walters, Vegas, 3; Chasen Bradford, Binghamton, 2; Robert Coles, Savannah, 2; Randy Fontanez, St. Lucie, 2; Beck Wheeler, St. Lucie, 2.
Strikeouts:
Rafael Montero, Vegas, 18; Jacob deGrom, Vegas, 15; Jack Leathersich, Binghamton, 14; Akeel Morris, Savannah, 14; Hansel Robles, Binghamton, 14.
Short hops
• Right-hander
Akeel Morris
, a 10th-round pick in 2010 from the U.S. Virgin Islands, earned the South Atlantic League Pitcher of the Week award. In three relief appearances this season, Morris has struck out 14 and allowed only one hit and three walks in 6 2/3 innings. Morris, 21, had a 1.00 ERA and struck out 60 in 45 innings with Brooklyn last season.
• Right-hander
Cory Mazzoni
(lat) is expected to resume throwing later this week. He was injured in the final Grapefruit League game.
• 2011 first-round pick
Brandon Nimmo
is hitting .391, which ranks third in the Florida State League. His .491 on-base percentage ranks second, and he leads the league with 13 runs scored. Nimmo has an eight-game hitting streak and has reached base in all 13 of his games. He has five multi-hit performances in his last six games.
•
Matt Clark
and
Brian Burgamy
are proving too advanced for the Eastern League. The 27-year-old Clark, who slugged 25 homers in Japan last season with Chunichi, has four homers through 10 games with Binghamton while splitting time between DH and first base. Burgamy, 32, also has four homers in 10 games while seeing action at third base, second base and first base. Burgamy played last season for York and Sugar Land in the independent Atlantic League as well as in Mexico with Campeche.
• Second baseman
Dilson Herrera
, who was acquired with
Vic Black
last August for
Marlon Byrd
and
John Buck
, has led off for eight straight games with St. Lucie. He is hitting .389 (14-for-36) in that span with eight runs scored. The Colombia-born Herrera has a seven-game hitting streak.