New York Mets:

Jurisprudence
June, 9, 2012
6/09/12
8:42
AM ET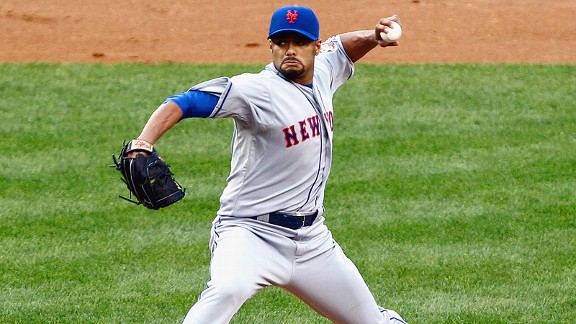 Debby Wong/US Presswire
Johan Santana wasn't sharp in his first game after the no-hitter. Terry Collins blamed himself, saying two extra days of rest deprived Santana of his sharpness.
In his first start since last Friday's no-hitter,
Johan Santana
matched a career high by serving up four homers -- including back-to-back-to-back blasts by
Robinson Cano
,
Nick Swisher
and
Andruw Jones
in the third inning -- as the Yankees routed the Mets in the Subway Series opener, 9-1, Friday in the Bronx.
Yankees starter
Hiroki Kuroda
held the Mets hitless until
Omar Quintanilla's
two-out double in the sixth.
Santana, who entered the outing having tossed consecutive shutouts, had never allowed homers to three straight batters. The last Met to surrender three straight homers:
John Maine
at Dodger Stadium on June 12, 2007. Santana had only surrendered four total long balls
total
in his first 11 starts of the season. His line in an 86-pitch effort: 5 IP, 7 H, 6 R, 6 ER, 1 BB, 5 K, 4 HR.
Afterward,
Terry Collins
blamed himself for Santana's performance, suggesting the two extra days of rest upset the ace's sharpness.
Collins originally wanted Santana to pitch on one extra day of rest Thursday, with
R.A. Dickey
pitching a day early and
Jeremy Hefner
unneeded for a spot start. Santana replied that he did not want to disrupt Dickey's groove. So Santana requested to go on normal rest Wednesday, albeit with a low pitch count. Instead, Collins opted for the two extra days following Santana's 134-pitch no-hitter.
"He's rusty," Collins said. "It's my doing, not his. ... We erred on the side of caution and it cost us the game tonight."
Tonight at 7:15 p.m. on Fox,
Dillon Gee
(4-3, 4.48) opposes Yankees right-hander
Phil Hughes
(5-5, 4.96) in the Bronx.
Saturday's news reports:
• Rookie
Elvin Ramirez
could not limit the damage after Santana departed. Ramirez, making his third major league appearance, walked four and was charged with three runs in 1 2/3 innings. The Mets' lone run came with two outs in the ninth inning against ex-teammate
Ryota Igarashi
. Read game recaps in the
Post
,
Journal
,
Daily News
,
Star-Ledger
,
Newsday
and
Record
.
•
Jon Rauch
rejoined the Mets bullpen after skipping the series in D.C. to allow the inflammation in his "debris"-littered right elbow to calm. He entered with the Mets trailing by nine runs in the eighth and tossed a scoreless frame that included one bloop hit. Rauch said he took anti-inflammatory medication while remaining behind in New York. He assigned the root of the issue to bones grating with each other and irritating a nerve. He told reporters surgery will not be necessary. Read more in the
Star-Ledger
and
Record
.
•
Jason Bay
, scratched from Thursday's lineup because of nausea he blamed on antibiotics being taken for a sinus infection, made his first appearance with the Mets since April 23 in the series opener. Bay started in left field and batted seventh. He went 0-for-3 with a strikeout.
Lucas Duda
served as the DH.
Scott Hairston
, who entered Wednesday's starting lineup after Bay was scratched, started a second straight game against a right-hander over odd-man-out
Andres Torres
. The current outfield crunch is not as severe as it will be next Friday, when the Mets return to National League play at home against Cincinnati and lose the DH. At that point, Duda could shift to first base and
Ike Davis
could be vulnerable. Davis went 0-for-3 with two strikeouts in the opener against the Yankees. Former hitting coach
Howard Johnson
(@20Hojo)
tweeted about Davis
:
"Ike's reputation of questioning umpires on every strike is coming back to haunt him...anything close goes against him..."
Read more on Bay's return and the outfield in the
Post
,
Record
and
Newsday
.
• The Mets could have kept
Chris Young
on paternity leave Friday and activated him today. But team officials opted to activate him a day early, so that he could be at the ballpark and prepare for Tuesday's start in Tampa. The other, and perhaps bigger surprise related to that roster move?
Pedro Beato
, not
Hefner
was optioned to Triple-A Buffalo. Collins reasoned that the Mets needed a long man/spot starter, so presumably
Miguel Batista
is going to take on more bullpen responsibility than mop up. The problem about Friday's game is that Hefner had thrown 99 pitches Wednesday and undoubtedly needed recuperation time, so Ramirez and Batista relieved Santana. Beato did not appear in a game with the Mets during a two-game cameo after coming off the 60-day DL.
•
Josh Satin
cleared waivers and will return to Buffalo.
Jack Egbert
, who cleared waivers the previous day, rejoined the Bisons on Friday. The Mets needed their 40-man roster spots for the addition of Young and activation of Beato. Beato didn't count against the 40-man roster while on the 60-day DL.
• A second X-ray of Quintanilla's left index finger, which was taken in New York after returning from the Nats series, revealed the shortstop had a fracture at the tip. Still, Quintanilla resolved to gut through any pain without missing time.
Ruben Tejada
, who was examined in New York, now will proceed to the Mets' complex in Port St. Lucie, Fla. He is due to next test his balky right quadriceps Monday by running -- six days after pulling himself from a rehab game in Buffalo. Meanwhile,
Ronny Cedeño
(calf) should run this weekend and may be in a rehab game within days. Read more in
Newsday
.
• Did Collins do the right thing giving Santana two extra days of rest? The manager questioned himself after Friday's game. Writes columnist
Bob Klapsich
in the Record
:
The best-case scenario is that Santana was a victim of nothing more than the law of averages: He was due for a stinker after the no-hitter, which was preceded by a complete-game shutout of the Padres. With a streak of 18 consecutive scoreless innings, it figured that Santana would finally return to the race of men. But the darker possibility is that Santana's surgically repaired arm was at least drained and maybe injured after back-to-back complete games. If it's a health-related issue, the real concern is how long it'll take to Santana to bounce back and whether he'll regain the magic in his change-up.
Writes columnist
John Harper
in the Daily News
:
So while taking a beat-down from the crosstown Yankees obviously stings, the Mets can at least take some consolation in the fact that Santana apparently survived the 134 pitches without any long-term effect. At least that's what he was insisting afterward, noting that his fastball velocity was normal (88 to 90 on the radar gun), while saying that he felt strong on the mound. "I just left some pitches up," he said. "My changeup wasn't as sharp as I wanted it to be. You can call that rust or what you want. I just didn't execute some of my pitches, and the rest is history.''
Wrote columnist
Mike Vaccaro
in the Post
:
May, 31, 2012
5/31/12
10:13
PM ET
Judge
Jed S. Rakoff
on Thursday evening has approved the settlement agreement between Mets owner
Fred Wilpon
, brother-in-law
Saul Katz
and their family and trustee
Irving Picard
, who is charged with recovering money for victims of
Bernard Madoff's
Ponzi scheme.
The formality cements previously agreed upon terms.
The family agreed to repay $162.7 million in profits from certain Madoff investments made over a six-year period. But the Wilpons will never pay anything close to that amount.
That's because the Wilpons can apply to the trustee like other victims to recover $177.6 million in losses from other Madoff investments -- and deduct whatever is recovered from the amount owed in the settlement. The Wilpons, like other victims, will not receive 100 percent of their loss claim, but they likely will recover more than half.
Read the full news story
here
.
April, 15, 2012
4/15/12
8:28
AM ET
David Wright
went 3-for-5 with a homer in his return to the lineup with a fractured right pinkie,
Jon Niese
tossed 6 2/3 scoreless innings and the
Mets blanked the Phillies, 5-0
, Saturday at Citizens Bank Park. The Mets already have clinched the series win. They had been 1-7-1 in their past nine series at Philly.
Mike Pelfrey
opposes
Cole Hamels
this afternoon, with the Mets aiming for their first sweep in Philly since June 13-15, 2006.
Today is
Jackie Robinson
Day across MLB.
Sunday's news reports:
•
Terry Collins
said that on Friday he believed Wright
almost definitely would land on the disabled list
this weekend. The Mets even flew in
Josh Satin
to be prepared for that seeming eventuality. Yet Wright returned to the lineup and blasted his 16th homer at Citizens Bank Park, the most by any visitor at the stadium since it opened in 2004. Read more in
Newsday
.
• Read game recaps in the
Times
,
Star-Ledger
,
Newsday
,
Post
,
Daily News
and
Record
.
•
Steven Marcus
in Newsday
inquires about why the Mets have retired only one player's number -- 41, for
Tom Seaver
.
Casey Stengel's
37 and
Gil Hodges'
14 as well as the universally recognized Robinson's
42 also are retired. The Mets placed
Gary Carter's
No. 8 on the outfield wall for this season -- appearing as it does on the patch on the Mets' uniforms.
"I think the general point of view is we don't want to get to the point where it's somewhat gratuitous and you've got dozens and dozens of people whose numbers are retired,'' Mets executive VP
Dave Howard
told Marcus. "Historically, from a Mets perspective, this is a very high honor. Certainly from a player standpoint, it's only been Tom Seaver. He's in a class by himself.''
Added
Keith Hernandez
to Marcus: "Too many teams are retiring too many numbers. They lose their import. So I'm in the camp that it should be something that is special, it shouldn't be marginalized. Who wouldn't want to have their number retired? But it's not something that I think about.''
One obvious number to consider is
Mike Piazza's
No. 31. Newsday's
David Lennon
tweeted earlier this year that the Mets are expected to retire Piazza's number after he is inducted into Cooperstown.
• Columnist
John Harper
in the Daily News
discusses the ramifications of Wright's speedy return and Saturday's series-clinching win. Writes Harper:
Injuries are a delicate subject around the Mets, after all the problems they've had in recent years. In some cases they made matters worse by allowing the likes of Jose Reyes, Carlos Beltran and even Wright last season, with his broken back, to play hurt, so now they tend to proceed with extreme caution. That's why it was a bit surprising, even for Collins, to hear him say on Wednesday that he had a "gut feeling" Wright would play with his broken finger here on Friday.
Even if it wasn't the manager's intent, that put a certain pressure on his star player. If Wright couldn't play, he would look less than tough, at least in the eyes of many fans who took Collins' gut feeling to heart. Perhaps that's why Wright sounded a bit defensive when he couldn't play on Friday, repeatedly saying he couldn't "functionally" grip or swing a bat because of the swelling in his finger. But then it felt good enough on Saturday to try it, and in a way he made his manager look like a prophet with his big day that raised his batting average to .588.
• Columnist
Kevin Kernan
in the Post
writes that Wright's leadership is clear:
David Wright sent a message to his teammates yesterday: Play hard, play through pain, or go home.
•
Mike Kerwick
in the Record
says Citi Field spectators should not boo
Jason Bay
. Writes Kerwick:
Here's my advice to Mets fans: Shackle your venom. And give the guy some space. Was it just a coincidence that Bay hit no homers in six games at Citi Field, then blasted one during his first at-bat in a visiting park? Possibly. On Friday night, he said the first week of games was not enough to cause his shoulders to slump. But he has also admitted he hears the boos. Bay is a decent person. And most decent people sag when exposed to this degree of enmity. I can't help but think the booing, on some subconscious level, penetrates his psyche.
•
Bobby Parnell
recorded the ensuing four outs after Niese departed, including covering the eighth inning for a second straight day. Between the Grapefruit League and regular season, Parnell has not allowed a run in 17 1/3 innings. Read more in the
Record
.
• Niese has carried a s
coreless effort into the seventh inning
in both of his outings. Read more in
Newsday
and the
Post
.
• In the court filings made late Friday regarding the settlement of the lawsuit against
Fred Wilpon
and family over
Bernard Madoff
accounts, one reason trustee
Irving Picard
cited for settling was the Mets owners' tight finances made getting more money via further litigation dicey. Writes
Anthony M. Destefano
in Newsday
:
In federal court filings late Friday night, trustee Irving Picard said the "restrictive" cash flow, as well as the owners' obligations to banks that lent them money, contributed to doubts that further litigation against Fred Wilpon , Saul Katz and their partners in Sterling Equities would produce a bigger payout. "We have become satisfied that defendants' cash flow and lender covenants would not have enabled me to recover more for the [Madoff] customer fund in the foreseeable future by litigating to the point of judgment," Picard said in an affidavit. The settlement "is a practical and fair compromise" that avoided "a protracted and expensive trial and lengthy appeals," Picard explained in a statement.
Richard Sandomir
in the Times
also notes the trustee's language in expressing concern about collecting debt from the Wilpons.
•
Domingo Tapia
tossed seven scoreless innings as Savannah won via shutout for the second straight day. Read the full minor league recap
here
.
• On the club's 50th anniversary, there is an excerpt
in the Daily News
about the creation of the Mets from the book, "The Mets: A 50th Anniversary Celebration," written by
Andy Martino
and
Anthony McCarron
.
TRIVIA:
Johan Santana
and Niese started the Mets' two shutouts at Citizens Bank Park. Which Mets pitcher started the last shutout at Veterans Stadium, the home of the Phillies through 2003?
Saturday's answer:
Jason Bay's
homer Friday against
Cliff Lee
was the outfielder's 19th long ball as a Met.
March, 21, 2012
3/21/12
10:29
AM ET
Diane Henriques, author of the Bernard Madoff book "The Wizard of Lies," told CBS News that Madoff was "desperately disappointed" that one-time good friend Fred Wilpon did not take the lawsuit against him to trial.

The Wilpons settled for $162 million, but will never have to pay a figure close to that sum.

"He wrote me last weekend that he was so looking forward to that trial," Henriques told the network. "He was hoping that the Mets' defense would make the case he was making to me that they had no reason to doubt Madoff."

Henriques said an email from Madoff to her called trustee Irving Picard, the man who sued Wilpon on behalf of net losers in the Ponzi scheme, derogatory terms.

"He calls Picard a fool, an amateur, says he doesn't understand the market, says he never understood the market, that he's just lost on Wall Street," Henriques told CBS.
March, 21, 2012
3/21/12
6:42
AM ET
Johan Santana
will attempt to
up his pitch count to 80
in his fourth Grapefruit League start as the Mets travel down I-95 to Jupiter to take on the Cardinals this afternoon. Also scheduled to pitch:
Miguel Batista
,
Bobby Parnell
and
Manny Acosta
.
Jake Westbrook
starts for St. Louis. Bullpen catcher
Eric Langill
, after serving a team-imposed seven-day suspension following a DUI arrest, is listed for the trip, according to the Record.
Wednesday's news reports:
•
Jeff Wilpon
golfed with
Terry Collins
on Monday and was visible at the Mets' spring training complex Tuesday, but
Sandy Alderson
spoke to the media on behalf of the organization. Alderson suggested the owners' settlement of the
Bernard Madoff
-related lawsuit resembled
clouds parting over the organization
. The GM said the Mets were on much firmer footing with the clawback lawsuit resolved and with a $240 million infusion of capital from minority investors. While Alderson said the Mets still primarily will focus on their farm system, the GM noted the positive financial developments will make it easier to have the option to pursue free agents. Alderson added that the developments do not materially change how the organization will deal with
David Wright
as free-agency eligibility approaches. Alderson also did not promise the payroll would rise next season from this year's roughly $91 million. Listen to a podcast of Alderson's comments
here
. Read more in the
Post
,
Journal
,
Times
,
Record
,
Newsday
,
Daily News
and
Star-Ledger
.
• The Mets formally
announced the sale of 12 ownership shares
at $20 million apiece, although they did not identify the investors.
Fred Wilpon
previously has acknowledged SportsNet New York would buy four of the shares. Jeff Wilpon and
Saul Katz
, who is Fred Wilpon's brother-in-law, purchased two others. The Times reported three of the shares are actually going to family members and that only five shares -- worth $100 million -- are from outside investors. The Wall Street Journal
outed two investors
who combined to purchase part of one 4 percent, $20 million block --
Bob Pittman
and
Kenneth Lerer
. The infusion allowed the Mets to pay off a $25 million emergency loan from Major League Baseball as well as a $40 million bridge loan from Bank of America, the team announced.
•
Andres Torres
departed after two innings on Tuesday night against the Washington Nationals after
suffering a strained left calf muscle
. With
Scott Hairston
(oblique) still sidelined,
Collins resolved to take a look
at left fielder
Jason Bay
and infielder
Jordany Valdespin
in center field. Torres hopes he is day-to-day and the injury is not longer term. Hairston
started to work out with teammates Tuesday
, but is not yet swinging a bat and is iffy for Opening Day. Read more in the
Daily News
,
Record
,
Post
and
Newsday
.
• Wright said he is purposefully
taking "baby steps"
in returning from his abdominal muscle tear. Collins hoped to have the third baseman in a game this weekend, or no later than early next week. Read more in the
Star-Ledger
.
• The Mets snapped a nine-game winless streak in Grapefruit League play with a
2-0 victory against the Nats on Tuesday night
at Digital Domain Park.
Dillon Gee
contributed 5 2/3 scoreless innings.
Lucas Duda
had an opposite-field solo homer against phenom
Stephen Strasburg
.
Ruben Tejada
played five innings in his first game action in nine days and turned a pair of double plays with
Daniel Murphy
. The Mets are now 4-11-1 in the Grapefruit League.
• 2010 first-round pick
Matt Harvey
allowed three earned runs in six innings for Triple-A Buffalo on Tuesday.
Jean Luc Blaquiere
had a two-run homer in the Bisons' 4-4 tie with the Miami Marlins' top affiliate. Read the minor league recap
here
.
• A team official said the Mets do not intend to sign any of the left-handers on the market --
C.J. Nitkowski
(who auditioned in Port St. Lucie),
Hong-Chih Kuo
,
Scott Kazmir
or
Dontrelle Willis
. Willis actually is headed to the Baltimore Orioles, ESPN.com's
Jerry Crasnick
reports.
•
Ken Belson
in the Times
notes the trustee recovering funds for victims of
Madoff's
Ponzi scheme and the Wilpons are now allies. That's because every dollar trustee
Irving Picard
collects on behalf of victims helps defray the $162 million settlement amount to which the Wilpons agreed. The Wilpons are entitled to apply to recover $178 million in losses, which will lessen their settlement burden. "In a sense, we're now partners," Picard's chief counsel,
David Sheehan
, said according to Belson. "They have an interest in us getting 100 percent recovery and they should be supportive, and we will be supportive by trying to collect all those funds."
• Columnist
Harvey Araton
in the Times
says there is no secret method to energize a fan base and give it hope: Just spend money. That will continue to be easier said than done with the Mets. Writes Araton:
Winning apparently clears the slate and cleanses the soul. Wilpon could spend the next few years climbing trees, saving cats and parking fans' cars. They won't stick with him if his team can't play. Fans in the 21st century, often feeling like victims of another kind of Ponzi scheme, are just willfully blind that way.
TRIVIA:
Which player in Mets major league camp was selected with the earliest pick in the draft?
Tuesday's answer:
Bubba Bell
led Triple-A Buffalo in stolen bases in 2011 with nine.
March, 20, 2012
3/20/12
3:28
PM ET
Sandy Alderson told reporters Tuesday afternoon that a cloud has been lifted from the Mets' heads with Monday's settlement in the Bernard Madoff-related clawback lawsuit against Mets principal owner Fred Wilpon and family.
General manager
March, 20, 2012
3/20/12
12:42
AM ET
After an eventful off-day, much of the narrative about the Mets' looming financial ruin is due to take a backseat for the near future.
First, at the U.S. District Courthouse in lower Manhattan on Monday morning, the parties in the
Bernard Madoff
-related lawsuit against
Fred Wilpon
and family announced they had
settled the case for $162 million
. In reality, the Wilpons ultimately will be responsible for repaying far less than that sum, since trustee
Irving Picard
will allow the family to claim losses of $178 million from other Madoff investments. The Wilpons won't be reimbursed that entire $178 million sum, but the fraction to which they are entitled to recoup after Picard collects money from net winners in the Ponzi scheme will be deducted from the $162 million they owe in the settlement. Also relevant: The Wilpons will not have to pay Picard whatever they ultimately owe until 2016 and 2017.
Secondly, word came that the Wilpons
successfully had received a $240 million equity infusion
from minority investors, allowing them to pay off a $25 million emergency loan from Major League Baseball and a $40 million bridge loan from Bank of America. The investment -- albeit with at least half coming from SportsNet New York,
Jeff Wilpon
and
Saul Katz
-- should allow the Wilpons to withstand any 2012 operating losses and meet immediate debt obligations without jeopardizing their ownership of the team in the near term.
Still, this does
not mean the days of payroll austerity have ended
for the Mets.
More may come Tuesday when the Wilpons are expected to be at Mets camp in Port St. Lucie, Fla.
Tuesday's news reports:
• Although the consensus is the Wilpons fared very well with the settlement, both sides had compelling reasons to reach a compromise, which was brokered by former New York Governor
Mario Cuomo
. Even if the Wilpons felt they did not act in bad faith in their investments with Madoff, a jury could have found otherwise and awarded Picard an additional $303 million aside from the up to $83.3 million to which Judge
Jed S. Rakoff
already had decided the trustee would be entitled. On the other side, by settling for $162 million -- the Wilpons' profits from certain funds in the six years before Madoff's arrest -- Picard restored that six-year clawback period as the appropriate standard. Rakoff had ruled that Picard could only go back two years, which would have capped the amount Picard could have recovered at $83.3 million -- unless the trustee could have demonstrated to a jury that the Wilpons acted "willfully blind" to Madoff's Ponzi scheme. The Wilpons, as part of the settlement, are free and clear of any bad-faith accusations.
Wrote
Anthony M. Destefano
and
Steven Marcus
in Newsday
regarding Cuomo's role as mediator:
About 10 days ago, he called Wilpon and Katz again into his office at Willkie Farr & Gallagher in Manhattan for a frank talk. "They came. I spoke to them, I simply made the pitch. 'This is your last chance,' " recalled Cuomo. Then, in the past week lawyers for Picard, Wilpon and [Saul] Katz started to hunker down for some serious deal making. Each knew a trial had risks. "Number one, they may lose. Number two, they may win and then face an appeal. Number three, in either case it's going to cost a fortune," Cuomo said. Lawyers for Picard and the Mets owners swapped proposals and counterproposals through Cuomo, his partner Brian E. O'Connor and firm associate Emma J. James. At times, opposing lawyers talked directly by phone. What solidified the deal for Wilpon and Katz was Picard's willingness to drop his claim they were willfully blind to Madoff's fraud, an allegation that stung them deeply -- and could have cost them $303 million in damages if it stuck.
Read more settlement coverage in the
Journal
,
Times
,
Daily News
,
Post
,
Star-Ledger
and
Newsday
.
• The $240 million equity infusion -- which comes in $20 million blocks each worth 4 percent of the team -- averts any short-term danger of the Wilpons being unable to meet their debt obligations. The only known investor without existing ties to the Mets is
Steve Cohen
, who is a finalist to purchase the majority share of the Los Angeles Dodgers, which would force him to divest his new share of the Mets.
In addition to paying back the $25 million to MLB and $40 million to Bank of America with the newly infused funds,
Josh Kosman
in the Post
reports, $100 million of the money immediately went to pay down roughly $430 million in team debt. Kosman wrote:
The Mets have not refinanced their remaining loans, but have bought the team goodwill. Last year, team lender JPMorgan wrote a letter warning that the team had breached its debt covenants. The owners first must prove they can come close to hitting their budget after missing it badly the last two years, one source said. In 2011, the Mets lost roughly $70 million. After big payroll cuts in the off-season, the team could break even this year.
Marc Ganis
, the president of a prominent sports consulting firm,
told Newsday
: "This is a good day for the Wilpons, but their financial troubles with the Mets are still very significant. It's really a situation that needs a lot of work before Mets fans can start feeling like a corner has turned."
Read more on the minority ownership sale in the
Journal
and
Daily News
.
• Columnist
Bob Klapsich
believes
Mets fans are losers in the settlement
. Writes Klapisch:
So it's fair for Mets fans to ask the Wilpons what's in store, other than years and years of debt pay-down. The family owes $430 million in principal of a loan against the team, due in 2014. They owe $450 million in principal of a loan against SNY, back in 2015. They owe an estimated $600 million, due in $25 million increments every six months, on the ballpark. These are the fiscal realities that figure to keep the Mets locked in a nasty catch-22. They haven't had enough extra cash to upgrade the roster, but without enough on-field talent to compete with, say, the Phillies and Marlins, let alone the Braves and Nationals, how are the Wilpons going to generate ticket-sales that would fund a renaissance?
ESPNNewYork.com columnist
Ian O'Connor
has similar
concerns about the Wilpons as owners
. Writes O'Connor:
The Mets are a big-market joke with small-market bottom lines, and Wilpon's dreadful decisions in business and baseball are to blame. His fan base wants him out, and even the Mets' loyal, good-natured customers were hoping for some outcome before a judge and jury that left them with a new rich guy in charge. So when Mario Cuomo, the Kissinger of this case, told reporters outside federal court in Manhattan that this resolution would allow Mets owners to "return to normalcy," no season-ticket holder was seen popping open a bottle of chilled champagne. For Mets fans, normalcy is a team in the world's biggest, noisiest marketplace that slashes payroll by more than $50 million.
•
Anthony McCarron
in the Daily News
got brief reaction to the settlement. "As players, we've never been preoccupied with Madoff, but we understand it's a huge burden lifted off the shoulders of Fred Wilpon and
Saul Katz
,"
R. A. Dickey
told McCarron. Said
Terry Collins
: "I'm glad this episode is in the past now."
• The Mets return to action Tuesday at 6 p.m. against the Washington Nationals after a team day off. They are winless in their past nine Grapefruit League games and have the worst exhibition record in baseball at 3-11-1. On a positive note,
Daniel Murphy
and
Ruben Tejada
are expected to start against the Nats in the middle infield. The two have logged only six innings together in Grapefruit League play because Tejada has nursed a groin injury for the past week. Read more in
Newsday
.
•
Andrew Keh
in the Times
wonders what the settlement means for the future of
David Wright
. Writes Keh:
The theory was that the Mets, if they found themselves buried in the standings this summer, would be tempted to trade Wright to a contender before the July 31 trading deadline and receive prospects in exchange. But that was before Monday's settlement did away with the financial threat the trustee posed. Whether Wilpon might now feel more tempted to try to keep Wright for the long term remains to be seen. But he might, if for no other reason than to send a signal to the team's discontented fan base that he is willing to make at least one investment in the team's future at some point this season. Jose Reyes was let go this winter without a fight; letting fans know that Wright might be staying put might soothe some wounds.
TRIVIA:
Who led the Triple-A Buffalo Bisons in steals last season?
(Monday's answer: The trial was due to begin Monday in the
Daniel Patrick Moynihan
U.S. Courthouse on Pearl Street in lower Manhattan, which was named for the late U.S. Senator from New York.)
March, 19, 2012
3/19/12
12:23
PM ET
Here are statements from Mets principal owners
Fred Wilpon
and
Saul Katz
:
Statement from Saul Katz
"We're pretty pleased to have this behind us. As we've said all along, the fact is we have done everything in good faith. The settlement itself bears that out—that we've acted in good faith. I want to thank all my friends who backed us during this period of time, and our lawyers from Davis Polk who were incredibly supportive and critically helpful during this incredibly difficult time, and now we're moving forward, which is the most important thing. We can now refocus our lives on taking care of our families, our business, and our community involvement. So I thank you very much."
Statement from Fred Wilpon
"I am very pleased for ourselves and our families to get the litigation behind us. I want to thank everybody, because this really was a team effort. Our partners were fantastic— our families were behind us and our friends. Mario Cuomo did a great job—he never gave up. As we've said from the very beginning when this lawsuit started, we are not willfully blind, we never were, we acted in good faith, and we're very pleased that this settlement bears that out. That's very important to us. Now I guess I can smile—maybe I can take a day off, but I can't wait to get back to our businesses which I love. The first order of business and the first priority will be getting down to Florida tomorrow, getting to the spring training camp, and trying to bring the New York Mets back to the prominence that our fans deserve and the City of New York deserves."
March, 19, 2012
3/19/12
10:48
AM ET
Here is the actual settlement agreement issued by the court:

The Trustee (the "Trustee") for the Liquidation of Bernard L. Madoff Investment Securities LLC ("BLMIS") and the Defendants (the "Defendants") in the litigation (the "Madoff Litigation") captioned Picard v. Katz, et aI, Clv. 03605 (JSR), agree to a final settlement (the "Settlement") on the terms set forth below.

I. Legally Binding Agreement. This agreement, which is made as of March 16, 2012, (the "Agreement") sets forth all ofthe material terms of the Settlement and is intended to be legally enforceable and binding on the parties.

2. Mutual Releases. The Trustee and the Defendants will release each other from ally and all claims that have been or could have been asserted in the Madoff Litigation or any other present or future litigation or proceeding relating to or arising out of the liquidation of BLMIS (the "Trustee Claims"). Such releases shall exclude any claim arising out of the enforcement of this Agreement.

3. Payment Obligations. The Defendants will payor cause to be paid to the Trustee an aggregate amount of $162 million (the "Settlement Payment"). The Settlement Payment will be made as follows:

(a) The Defendants will unconditionally and irrevocably assign to the Trustee 100% of all recoveries in respect of their Customer Claims from any source, including from any forfeiture fund established by the U.S. Department of Justice pursuant to 28 C.F.R. Part 9 ("Customer Claim Recoveries"), up to and including the amount of the Settlement Payment during the five years from the date of court approval of this Agreement. For the avoidance of doubt, the Defendants will be entitled to retain any Customer Claim Recoveries in excess of the Required Payment.

(b) During the first three years after the date of court approval of this Agreement, the Defendants' payment obligation hereunder is limited to Customer Claim Recoveries (i.e., during such three year period, the Defendants will be under no obligation to make any payments in excess of Customer Claim Recoveries).

(c) If by the end of the third year, the payments to the Trustee from Customer Claim Recoveries have not satisfied the Settlement Payment, the remaining unpaid amount (the "Remaining Amount") shall be divided into two equal annual installments payable by Defendants at the end of the fourth and fifth years, less any additional Customer Claim Recoveries received and assigned to the Trustee during those years. Subject to paragraph 5 below, payment obligations pursuant to this clause (c) will be several, not joint, among the Defendants proportional to the respective "six year fictitious profits" claims against each Defendant, as set forth in the Madoff Litigation.

4. Claims Against Madoff Estate and Similar Matters. The Defendants' Customer Claims shall be allowed in full and will be entitled to full recovery thereon on the same basis as all other "good faith" BLMIS customers, except that (i) SIPC will not be obligated to "advance" funds to the Defendants pursuant to SIPA Section 78 fff-3 and (ii) Customer Claim Recoveries will be assigned as set forth above. "Customer Claims" means all claims of any Defendant against the BLMIS Estate, the fund for victims of BLMIS established by the U.S. Department of Justice or any similar fund for the benefit of BLMIS customers. The parties agree that Defendants' Customer Claims total approximately $178 million.

5. Guarantee. Fred Wilpon and Saul Katz, jointly and severally, and on behalf of all Defendants, will irrevocably and unconditionally guarantee the payment of the Remaining Amount up to a total aggregate amount of $29 million.


March, 19, 2012
3/19/12
9:44
AM ET
WHAT HAPPENED:
The owners of the New York Mets have settled with trustee
Irving Picard
for $162 million, their alleged profit from certain Ponzi scheme funds in the six years before
Bernard Madoff's
arrest.
In reality,
Fred Wilpon
and family will be on the hook for only a fraction of that amount -- and will not be required to make any payments until 2016 and 2017.
That's because, as part of the settlement, the Wilpons will be able to apply to the trustee to be reimbursed for $178 million in losses from certain funds. Obviously, like any victims of Madoff's Ponzi scheme, they won't recover every dollar. But they will get a certain percentage based on how much the trustee collects overall from net winners -- likely 50 percent or more.
As a result, the Wilpons' actual payment to Picard -- once the Wilpons' loser funds are reimbursed like other victims -- should be a fraction of the actual $162 million settlement.
Say if Picard pays to victims 50 cents on the dollars they lost. That means the Wilpons could be credited $89 million (half of $178 million) toward their $162 million owed as a result of the settlement. That's a net of only $73 million remaining to pay Picard to satisfy the settlement.
Any disbursements owed by Picard to Wilpon loser funds over the next three years will be deducted from the $162 million owed by the Wilpons to Picard in the settlement. The Wilpons then will owe the remaining amount in equal installments in four and five years.
The lawsuit sought to recover $386 million. Judge
Jed S. Rakoff
previously had decided that Picard likely was entitled to at least $83.3 million in profits from the two years before
Madoff's
arrest.
The original suit was for $1 billion, but it was reduced by Rakoff, who decided that Picard could only recover money from the Wilpons from the immediate two years before Madoff's arrest, not the six years Picard advocated. The settlement, while not overturning Rakoff's decision, does establish for the trustee six years as an acceptable period to recover profits.
The settlement talks were brokered by former New York governor
Mario Cuomo
.
WHAT IT MEANS:
It's unlikely the Wilpons would have settled unless they felt they could withstand that financial obligation without jeopardizing their ownership of the team.
Still, the Wilpons are not out of the woods yet as owners.
Remember, the Mets still have a ton of debt unrelated to the lawsuit. Among the more immediate obligations are a $40 million bridge loan from Bank of America and $25 million emergency loan from Major League Baseball.
UPDATE: The Mets have paid those immediate loan obligations thanks for a $240 million equity infusion from minority investors, many of which had existing ties to the ballclub.
You can read about the extent of the debt in
Part 1
and
Part 2
of the financial series from ESPNNewYork.com from late January.
WHAT'S NEXT:
Back to baseball, hopefully.
Actually, it's going to still be the Mets on austerity for a while, because of the financial obligations mentioned above. That means the Wilpons will be utterly dependent upon fan attendance revenue in order to maintain ownership.
The Mets eventually hope to sell 10 to 12 minority shares of the team at $20 million apiece, although a good deal of that appears to be shifting around money among Mets-related entities. For instance, two of those shares are going to
Jeff Wilpon
and
Saul Katz
, who is Fred Wilpon's brother-in-law and Mets president. Another four will go to SportsNet New York, the regional sports channel primarily owned by the Wilpons/Mets.
There is only one known minority buyer without direct connection to the Wilpons or Mets. And that's
Steve Cohen
, who reportedly is the front-runner for majority ownership of the Los Angeles Dodgers, which would eliminate him as a Mets candidate.
Read the ESPNNewYork.com news story
here
.
March, 19, 2012
3/19/12
7:38
AM ET
The Mets' complex is closed today -- for major and minor leaguers -- allowing for a near-48-hour break before the big leaguers regroup for a Tuesday night game against the Washington Nationals at Digital Domain Park. So all of the action today should be in lower Manhattan, where jury selection and opening statements are expected to begin in the clawback lawsuit against
Fred Wilpon
and family brought by the trustee trying to recover funds for victims of
Bernard Madoff's
Ponzi scheme.
Monday's news reports:
•
Richard Sandomir
and
Ken Belson
in the Times
wonder if the Wilpons might settle soon, for some number between the $83 million for which the judge has indicated they likely already are on the hook and the maximum $386 million with the most adverse outcome from the district-court round of the trial. Write Sandomir and Belson:
Mario M. Cuomo, a former New York governor who is the mediator in the case, has attended hearings but there has been no palpable optimism about a deal. Asked Sunday if a settlement could come as early as Monday, he said by telephone, "You'll have to wait until tomorrow to find out." He said that his goal in meeting with the sides had been to reach a settlement which could theoretically come at any point during the trial. Any settlement would logically be between $83 million and $386 million. The Mets might think that they could afford to pay a potential settlement in the neighborhood of $165 million. Still, producing a lot of cash quickly might be difficult.
•
Tim Byrdak
returned to camp five days after surgery
to repair a torn meniscus in his left knee and said that while Opening Day is a "long shot," the team's projected six-week absence is way too conservative. Read more in the
Star-Ledger
.
•
Mike Pelfrey
allowed eight runs in 2 2/3 innings
Sunday against the Houston Astros, as the Mets' Grapefruit League
winless streak increased to nine games
. Pelfrey said he was trying to overthrow to get his arm strength up for fastballs during the season, and his sinker control suffered as a result. Read more in the
Post
,
Star-Ledger
,
Newsday
,
Daily News
,
Journal
and
Record
.
•
David Wright
, working his way back from an abdominal tear, hit off a tee and swung at soft flips Sunday. Meanwhile,
Terry Collins
said
Ruben Tejada
(groin) should be in the lineup Tuesday night. The manager hopes to see
D.J. Carrasco
(ankle) and
Pedro Beato
(shoulder) on a mound soon.
Wright told columnist
Kevin Kernan
in the Post
that he's certain he will be ready for Opening Day on April 5 at Citi Field. "Each day I get better and better and I'm doing more and more,'' Wright told Kernan. "I think I got lucky where I did it so early in camp [so] I had the luxury of waiting and being patient, and I haven't had any setbacks. I'm at the point now where I'm feeling good, but I can't go out there and overextend myself and set me back."
•
Fernando Martinez
struck out three times and walked in four plate appearances against his former club. F-Mart said he was
surprised by being placed on waivers
by the Mets during the offseason, but insisted he had no bitterness toward his former employer. Read more in
Newsday
, the
Daily News
and
Post
.
• Outfielder
Cesar Puello
and right-hander
Jeremy Hefner
were
optioned to minor league camp
after Sunday's game, reducing the number of players in camp to 40. Puello, who turns 21 on April 1, hit .259 with 10 homers last season at Class A St. Lucie. Hefner was claimed off waivers by the Mets during the offseason after going 9-7 with a 4.98 ERA for San Diego's Triple-A affiliate last season. Hefner could be exposed to waivers again in the next two weeks with the Mets needing to clear as many as three 40-man roster spots, for backup outfielders and a lefty relief specialist in Byrdak's absence.
• The Mets' top two minor league affiliates
lost exhibition games
to Marlins farmhands Sunday.
•
Mike Kerwick
in the Record
looks at the range of Mets on Twitter.
Josh Thole
had a bad experience last season and dropped it, but the list of participants is growing. The latest addition: Byrdak (@Givemethelefty).
Sandy Alderson
(@MetsGM), by the way, has been idle since a Feb. 28 tweet about his dog,
Buddy Alderson
.
TRIVIA:
For which former public official is the lower Manhattan courthouse where the Wilpon-Madoff trial is due to take place named?
Sunday's answer: The eight players to start for the Mets in right field last season were
Carlos Beltran
(91 games),
Lucas Duda
(38),
Scott Hairston
(11),
Mike Baxter
(7),
Jason Pridie
(6),
Nick Evans
(4),
Willie Harris
(3) and Martinez (2).
March, 18, 2012
3/18/12
4:06
PM ET
Jury selection begins Monday in lower Manhattan as Fred Wilpon and his family try to stave off a "clawback" lawsuit in U.S. District Court by the trustee charged with unraveling jailed financier Bernard L. Madoff's Ponzi scheme.

Judge Jed S. Rakoff has already determined that the Wilpons will need to return as much as $83.3 million -- representing profits from the final two years of their investments with Madoff. At stake is an additional $303 million, representing the alleged principal from the family's investing with Madoff during that period.

Wilpon family members and fellow investors will have to prove that they were not willfully blind to the fraudulent nature of the Madoff investment scheme. The Wilpons reject all assertions that they acted improperly.

The trustee charged with liquidating assets from the Madoff business is Irving H. Picard, who is setting out to show that the group of investors affiliated with the defendants were sophisticated enough to spot potential fraud. Picard contends that the Wilpons were so motivated by the Madoff money that they were not more diligent in verifying the fund.

Security will be tight, and reporters will have to jockey for a limited number of seats in the courtroom.

Once the jury is selected, the Wilpons have asked to call Hall of Fame pitcher Sandy Koufax as a witness, as well as former Manhattan District Attorney Robert Morganthau. The judge has yet to rule on several contested issues, notably the appearance of Koufax, a Wilpon friend and Madoff investor. Picard has asked Rakoff not to allow the former pitcher to testify, claiming his celebrity could sway the jury.

Picard's most interesting witness could be Noreen Harrington, a former Wall Street whistle-blower who is expected to testify that she told Wilpon and Saul Katz -- Wilpon's brother-in-law -- that Madoff's returns were too good to be true.

Ultimately, the outcome of the trial could affect the ability of the cash-strapped Wilpons to keep the Mets, who are seeking investors and operating under an austerity budget this season.

Wilpon addressed the media at spring training, saying fans didn't have to worry about the outcome of the case. "They shouldn't be concerned about us owning the franchise, because we intend to own the franchise for a very long time," Wilpon said.
March, 18, 2012
3/18/12
7:03
AM ET
Mike Pelfrey
takes the mound as the Mets make a two-plus-hour drive to Kissimmee to take on the Houston Astros. The Mets then will have Monday off, with the complex closed until a Tuesday night game. Monday will not be quiet, however. Inside U.S. District Court Judge
Jed S. Rakoff's
courtroom in lower Manhattan, jury selection and opening statements are expected to occur Monday in the $386 million lawsuit against
Fred Wilpon
and family regarding
Bernard Madoff's
Ponzi scheme. The trial is scheduled to last 10 additional days.
Sunday's news reports:
•
Jon Niese
tossed 5 1/3 scoreless innings despite allowing all six leadoff batters he faced to reach. Still, the Mets
lost to a split-squad Atlanta Braves team, 3-2
, on Saturday at Digital Domain Park.
Daniel Murphy
had a two-run single for the Mets, but
Chuck James
and
Ramon Ramirez
combined to allow three eighth-inning runs. The Mets are 0-7-1 in their past eight games and
have the worst record
either in the Grapefruit or Cactus League. Read more in
Newsday
and the
Daily News
.
•
Zack Wheeler
allowed an unearned run while
tossing three innings for the Double-A squad
in the first day of minor league exhibition games. Read the full Buffalo and Binghamton recaps
here
. Watch video of Wheeler facing Cardinals farmhand
Raniel Rosario
here
. Read more on Wheeler's outing in the
Daily News
,
Star-Ledger
and
Newsday
.
• The Mets signed infielder
Oswaldo Navarro
to a minor league contract
.
•
Anthony Destefano
in Newsday
previews the Madoff-related civil trial that opens Monday. Writes Destefano:
[Trustee Irving] Picard's case, Rakoff has said a number of times, is far from rock solid. The trustee has to prove that the Wilpon defendants were willfully blind and ignored warnings about Madoff. Noted white-collar defense attorney and author Stanley Arkin describes the concept of willful blindness this way: "You turn your head away from facts that cry out for inquiry and you take no steps to make inquiry." Rakoff said it will be up to the Wilpons and partners to demonstrate that they weren't willfully blind to the fraud.
Barry Meier
in the Times
suggests Mets fans may want the Wilpons to lose the entire $386 million at stake. Of that amount, Rakoff already has declared the trustee is entitled to the profits made in the two years before Madoff's arrest -- as much as $83 million. Writes Meier:
The proceeding took place in the people's food court (technically, the bar and snack stands along the right-field line) at Digital Domain Park before Friday's game, in which a Mets squad was demolished by the Detroit Tigers, 9-0. The verdict of fans polled, while not unanimous, was clear. Put simply, they would like to see Wilpon and Katz have their financial clocks cleaned so the only option will be selling the team. "That is the biggest hope that I have for the Mets this year," said Judy Sromovsky, a longtime fan who lives in Bridgewater, N. J.
The Daily News also outlines
what's at stake in the case
.
•
Jeff Bradley
in the Star-Ledger
has a Q&A with
Justin Turner
. Turner credits former Cincinnati Reds GM
Wayne Krivsky
, also a former special assistant with the Mets, for his opportunities at the major league level. "He was the GM of the Reds and drafted me in 2006," Turner told Bradley. "He got let go by the Reds and went to the Orioles and traded for me there. And then he came over to the Mets and picked me up when the Orioles put me on waivers. I owe a lot to him. He believed in me. He's the reason I got this chance." Krivsky now has landed with the Minnesota Twins, where his career first ascended.
• Bench coach
Bob Geren
, a former major league catcher,
tells the Star-Ledger
Josh Thole
is going to be prepared for games. Writes Bradley:
"He's going to come to the field at a certain time at the start of the series to do his preparation from the video," Geren begins. "Then, at a certain time, he's going to meet with the pitching coach to go over it. He's going to be heavily involved in the pitchers' meeting, passing on what he's observed. He'll talk to the pitchers in between innings about how that inning went and who's coming up next. That's just the beginning." Geren says when other players are playing cards on team flights, he expects to see Thole with his iPad, watching video of the next opponent. Not only does Geren want to see Thole putting in extra time, he wants the pitchers to see it.
•
Mike Kerwick
in the Record
looks at the competitors to take the lefty specialist role in the bullpen while
Tim Byrdak
takes approximately another five weeks to recover from surgery to repair a torn meniscus in his left knee.
Garrett Olson
likely is the frontrunner. The Mets have pulled
Josh Edgin
into major league camp, even though he has not pitched above Class A. James appears the primary consideration beyond Olson.
Daniel Herrera
is the fourth competitor. Writes Kerwick:
On road trips, the left-handed reliever likes to sneak away, stealing a moment for himself in the cheap seats. Accompanied by his Nikon D700, he sets up shop high above home plate. Garrett Olson chooses a lens. He snaps a photo. Then he quietly returns to the clubhouse. These are his butterflies, the camera his net. Olson has attempted to capture a portrait of every major league stadium. During his six seasons in the majors, he has compiled a modest collection. "Not all 30," Olson said before the Mets' 3-2 loss to the Atlanta Braves on Saturday at Digital Domain Park. "Maybe half. Just a guess." There is one important stadium missing – the leopard absent from his safari. "This one," he said. "Citi Field. Certainly this and a lot of National League teams."
Mike Puma
in the Post
quotes pitching coach
Dan Warthen
regarding Edgin as saying: "I'm not going to talk about major leagues right now for him. But I wouldn't be surprised if some time this year we saw him."
• The Post quotes a Mets official as saying it's "50-50" whether the Mets sign left-hander
C.J. Nitkowski
. Newsday reported last week a deal was likely and seemed imminent.
• Columnist
Joel Sherman
in the Post
wonders whether
Johan Santana
or
Andy Pettitte
will contribute more this season. Writes Sherman:
Both lefties missed all of last season, albeit for different reasons. Santana was recovering from shoulder surgery while Pettitte took what now amounts to a one-year sabbatical. Santana is close to a necessity for the 2012 rotation-thin Mets. Pettitte appears a luxury for the rotation-deep Yankees. Santana is seven years younger than Pettitte, but the shoulder ailment he is trying to return from does not come with a high success rate, and certainly not a speedy one.
• Sherman also says there really are
only four positives for the Mets
-- Santana, the middle of the order, the bullpen and their pitching prospects.
• Infield coach
Tim Teufel
tells columnist
Kevin Kernan
in the Post
that he is using
Chase Utley
as an example to Murphy of how to turn double plays, because Utley also has a larger frame. Teufel also is repositioning his middle infielders. "The goal for us is to become better at double-play turns, and that means being more aggressive on groundballs, getting the transfer a little bit quicker,'' Teufel told Kernan. "So I'm moving the guys in a step and one step closer to the bag. We're going to give up a little bit in the hole, but it's more important that we are on time and under control, a little less lateral and back movements and a little more angle direct to the ball movements as an infield.''
TRIVIA:
Eight players started in right field for the Mets last season. Can you name them?
Saturday's answer:
Jose Valentin
started for the Mets at second base on Opening Day in 2007.
Luis Castillo
had the Game 1 nod at the position the next three seasons, followed by shortlived Rule 5 pick
Brad Emaus
in 2011.