March, 5, 2015
Mar 5
11:00
AM ET
By
Mark Simon
| ESPNNewYork.com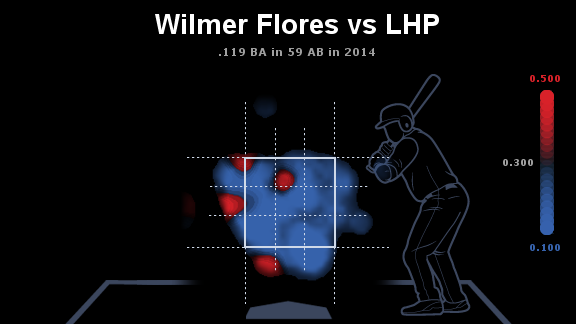 Wilmer Flores had a surprising issue with lefties last season.
We'll run through most of the Mets' roster for 2015 with a look at the key stats to know heading into this season.
2014 Recap
Wilmer Flores
was adequate though not great in a little less than half a season's worth of starts for the Mets. Flores' time at shortstop increased after the Mets grew frustrated with the play of
Ruben Tejada
. Flores hit .251 with six home runs in 259 at-bats, and the hope is that he'll find his way to a better on-base percentage than last season's .286.
Flores showed the ability to make contact. He missed on only 14 percent of his swings. But he may have been too selective, as 38 percent of the pitches he took were called strikes (the major league average is about 33 percent).
The primary concern with Flores at shortstop is his defense. He had minus-3 defensive runs saved in 443 innings at the position. Flores was able to handle most of what he could get to, but he showed a limited amount of range due to a lack of quickness. An offseason spent in conditioning camp might improve upon that a little bit.
A surprising comfort zone
Flores was a capable shortstop in one regard: handling the double play. Flores converted 32 of 39 double-play opportunities at shortstop as either the fielder or the relay man. That's an 82 percent success rate, which is excellent, though it's for a small sampling of games. The major league average was 64 percent; Tejada was at 62 percent last season.
Odd splits
Flores hit .285 against right-handed pitching, with all six of his homers coming against righties. He was only 7-for-59 against left-handed pitching, though some bad fortune may have been in play there. He was 1-for-35 when hitting either a ground ball or fly ball against left-handed pitching. He had hit lefties well in the minors prior to this.
A good close
Flores looked most comfortable with the pressure off in the final two weeks of the season. He hit .333 with 18 hits, eight for extra bases, in his last 14 games. That included a two-homer, six-RBI game against the Marlins.
What2Watch4 in 2015
Can Flores handle shortstop full time? The Mets don't necessarily need him to be great. They just need him to be decent. Mets shortstops had a .594 OPS the past two seasons, the second-lowest in the majors, ahead of only the Yankees (.588).