Move over, Steve Henderson. Ike Davis is now third on the franchise's all-time RBI list for rookies.
Davis went 4-for-4 to match a career high for hits, drove in three runs and lifted his average to .264 as the Mets held on to beat the Philadelphia Phillies, 4-3, on Saturday.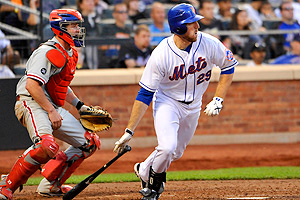 AP Photo/Kathy Kmonicek
Ike Davis went 4-for-4 and drove in three runs on Saturday.
Davis now has 67 RBIs. The franchise rookie record is 74 by Darryl Strawberry in 1983, followed by Ty Wigginton with 71 in 2003. Henderson had 65 in 1977.
More impressively, Davis' final two hits came after Phillies manager Charlie Manuel inserted a southpaw to face the lefty-hitting rookie -- Antonio Bastardo in the sixth and J.C. Romero an inning later. In the latter at-bat, Davis worked ahead in the count 3-0 before delivering a two-run single up the middle as the Mets built a 4-0 lead in the seventh.
Davis is now hitting .314 (33-for-105) this season against lefties. His overall average has climbed 24 points since sitting at .240 on Aug. 19.
"I adjusted by not trying to hit the ball as far as I can every time," Davis said. "I'm taking easier swings, just loose swings, instead of muscle and upper-body swings."
"He has made some adjustments at the plate," Jerry Manuel said. "Last night you saw him choke up against [Roy] Halladay and put the ball into left-center. Ike is constantly making the adjustments as the opposition is adjusting to him. That's the sign of a good player."