Mike Pelfrey never did get to display his affection for Jerry Manuel on the mound during Thursday's series finale against the Pittsburgh Pirates.
Instead, Pelfrey struck out Neil Walker to strand two runners in scoring position and complete the top of the seventh inning. Pelfrey then went to the dugout with his pitch count at 110 and learned he was done in the less-visible locale.
Pelfrey, who had received flak for having his back to Manuel when the manager removed the right-hander from the right-hander's previous start, this time hugged Manuel as the two men smiled.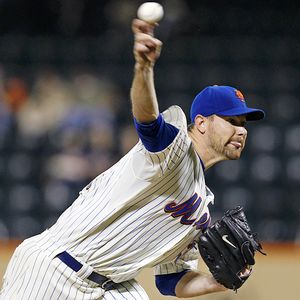 AP Photo/Kathy Willens
Mike Pelfrey has the most home wins by a Met since Mike Hampton in 2000.
"He joked around and said, 'Hey, I was afraid to come out there. I didn't want you to turn your back on me,'" Pelfrey said. "It was funny. Last week there wasn't any [malicious] intention. I was obviously upset. I wasn't upset he was taking me out. I was upset with myself. I guess that kind of got blown up more than it should have. I gave him a big hug in the dugout. I hope the camera was on."
"He said he was waiting for me to come out [to the mound] so he could hug me," Manuel said. "I said, 'No. We won't get into any of that out there now.' … There's no problem with me and Pelfrey."
With Thursday's soggy 6-2 win against the Pirates, Pelfrey improved to 15-9 and the Mets moved over .500 for the first time since Aug. 24.
Pelfrey, who is 10-3 at Citi Field, became the first double-digit winner at home since Mike Hampton had 11 wins at Shea Stadium in 2000, according to ESPN Stats & Information.
Pelfrey allowed two earned runs and six hits while striking out four and walking four in seven innings despite rain throughout his outing.
"The rain never got too bad, I didn't think," Pelfrey said. "They did a good job of keeping the mound pretty dry. I never slipped or anything like that. If you can just find a way to keep your hands dry, which I thought I did a good job of, then the rain doesn't become an issue."
His strikeout of Walker in the seventh on an 85 mph split-finger fastball, which stranded two runners and ended his outing, preserved a 3-2 lead at that point.
"All night we had pounded him in," Pelfrey said about the approach to Walker. "… I think maybe he was looking there again. So, obviously, if he's opening up, and you throw a split, all he has left is his hands. I think it might have surprised him that we threw a splitter there."
Pelfrey actually produced the tiebreaking RBI the previous half-inning and lifted his season average to .125. He chuckled recalling that at-bat, suggesting he thought Pirates reliever Sean Gallagher had thrown him a fastball.
"I looked up and it was a slider," Pelfrey said, referring to a check of the scoreboard, which displays the pitch type and velocity. "That's why I'm not even hitting my weight."
As for his season, Pelfrey raced to a 9-1 start before taking a nosedive. He went 1-5 with a 7.74 ERA and .393 opponent batting average in a nine-start stretch from June 19-Aug. 4, but has since rebounded.
"I feel good," said Pelfrey, who is making $500,000 this season and will be arbitration-eligible for the first time. "Coming into the year I wanted to win 15 games. That was one of my goals that I set. The other goal was 200 innings. We have three more starts to get there [from Pelfrey's current 182 2/3]. Hopefully we can pile on a couple of more wins and we'll see what happens. So far this season has been good.
"I had a god-awful month -- one month was awful -- but I think besides that the big picture has been pretty good. I think as you start to struggle you have to find a way to get back on track. It took me, I don't know, seven starts to get back track. It's a little longer than I would have liked. I feel like I'm back where I need to be."
Pelfrey said he got away from relying on his best pitches during his swoon.
"My strength was my fastball," he said. "I got into a little mode of almost trying to trick guys and throwing too many offspeed pitches. If I go out there and I'm going to get beat, I need to get beat with my fastball -- my best pitch -- instead of getting beat with your third- or fourth-best pitch."
Before the game, Manuel spoke about limiting the innings for Pelfrey as well as for Dillon Gee and Jon Niese down the stretch to ensure they weren't overburdened -- in terms of pitches per outing, not number of starts. Pelfrey suggested that wasn't necessary, noting he threw 200 2/3 innings in 2008 and that endurance can help in future seasons.
"Obviously you don't feel as good as you felt early in the year," Pelfrey said. "… I feel good enough to go out there every day and compete and pitch. As long as I feel like that and nothing is bothering me, I don't see any reason why I shouldn't be able to keep going out there."